Saudi Arabia's Woes Continue
Currently, an investment in USO (NYSEARCA:USO) is something I would avoid at the moment. The United States Oil fund moves coordinately with crude oil prices, and in the short term there may be enough relevant headwinds in oil to minimize potential upside in USO.
Saudi Arabia is a country that is synonymous with oil. You always put the two together, as Saudi Arabia has long been a behemoth in the industry. Since agreeing to lower production with other OPEC members back in November, the price of oil has rebounded decently, but has recently nosedived to similar pre-agreement prices: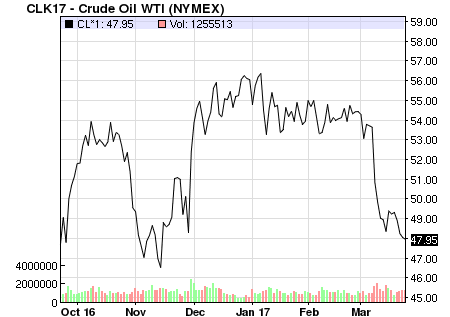 (NASDAQ)
Why has oil dived all of a sudden? Mostly because the United States has continued to ramp up its oil production as of late. First, before we factor in US supply, let's take a deeper look at the state of Saudi Arabia, Russia, and OPEC as a whole.
Saudi Arabia has cut daily oil production by approximately 800,000 barrels per day, around a 60% increase in production cuts than originally agreed to. The extent of their cuts are necessary due to Iran's significant entrance back into the global market. Iran had plenty of oil in inventory, and managed to wrestle an allowance to actually INCREASE production while other countries in OPEC were forced to decrease production. Iran also has discounted its oil, allowing it to steal a drastic share of the European market from Saudi Arabia. This discount let Iran oil shipments increase by 45% in December, compared with August. Saudi shipments to Spain, Italy, and France have decreased by 11%, and Saudi shipments to the United States have decreased in recent weeks as well (as the US becomes more reliant on Canadian oil). Asia, which accounted for 15% of Saudi oil imports back in 2015, only took in 13% of Saudi oil imports in 2016. Russia has begun fighting for a stronger foothold in the region, and despite pledging to cut back production, it has been consistently producing plenty of oil to gain more market share in the Asia region. Russia and other oil-producing countries had already agreed to cut 1.8 million bpd in production, but that target may be a bit stretched. All in all, it looks like top oil producers are taking advantage of the Saudis. This could mean that in the near-term, Saudi Arabia, which currently under-produces by 2 million bpd per day, has the opportunity to flood the market at any point to re-establish share.
Saudi Arabia's concerns will be intensified after Fitch, a major rating agency, lowered the credit rating of the country. The outlook has been changed to negative, and James McCormack (head of sovereign ratings) said:
The primary reason is really the impact on public finances of lower oil prices, even though oil prices have started to come up again
Structural reforms such as a scale-back of public spending are unlikely to mitigate oil revenues, which accounted for 60% of government revenue last year. This furthers the theory that Saudi Arabia may give up on the deal which has seen poor compliance both inside OPEC and outside, and can elect to increase production once more.
The US Situation
In my last article on USO, I mentioned oil rig counts as indicators for increased US production and exploration. According to the US EIA, an approximate increase of 412,000 bpd has been added to US production, helping crude exports surpass 1 million bpd (in addition to being sold domestically). The demand for companies to continue fracking has increased, as has the demand for sand, according to the WSJ. According to the piece:
they are using more sand to help supersize their wells. Sand props open underground fissures, which allows oil and gas to escape to the surface.

But the millions of pounds of sand being poured down wells is pushing up sand prices, eroding some of the profits that energy companies have managed to regain since the oil bust ended. Some are concerned sand supplies, diminished during a two-year oil-price downturn, could stall the drilling renaissance.
The good news: this may be a catalyst for the oil market, which can help prevent further decreases. The bad news: clearly the US has companies still very much intent on ramping up oil production, which can further saturate the market (and anger the Saudis). Inventories have been on the rise domestically (rising to over 582 billion barrels), meaning that demand is clearly not matching the increased US supply. Over the past month, this is how USO has traded in response to this increased US production: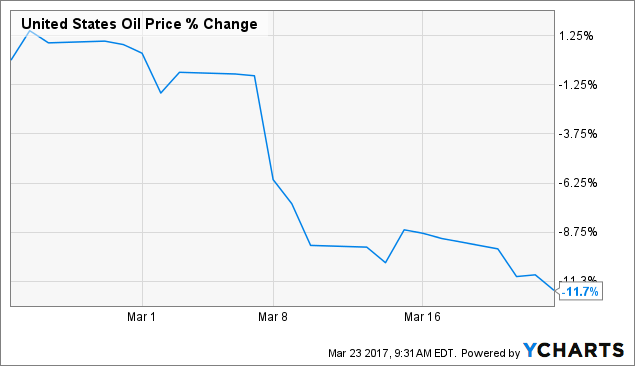 USO data by YCharts
Conclusion
Clearly material information has cast doubt as to whether or not OPEC will extend its 6 month production freeze. If Russia were to be uncooperative, the deal will almost certainly fall through, while production in the US and Africa continue to rise. It is only a matter of time before the Saudis get frustrated with the low compliance rates, and ramp up their own production.
Disclosure: I/we have no positions in any stocks mentioned, and no plans to initiate any positions within the next 72 hours.
I wrote this article myself, and it expresses my own opinions. I am not receiving compensation for it (other than from Seeking Alpha). I have no business relationship with any company whose stock is mentioned in this article.