I was quite pessimistic about Annaly Capital's (NYSE:NLY) future prospects last year. Luckily, for investors, rate hikes were delayed again and again, until now. The company is hugely dependent on short-term rates (which are quickly influenced by rate hikes) as short-term repurchase agreements are used as a source of funds to invest in higher yielding assets. Now that the Fed has carried out two recent hikes, the path to higher rates is clear. I believe that this alone will be enough to cripple Annaly Capital's business model.
"Free Money" Will Be Gone
As Annaly Capital deals primarily with fixed-rate agency securities, the company essentially generates "free money" by buying up higher-yielding agencies and funding them with lower yielding repos. Of course, investors still have to bear price risk, reinvestment risk, and a whole bunch of other risks; but generally speaking, the income has been viewed as safe since agency securities are guaranteed. As most investors invest in Annaly Capital for the income, the stability and safety of the dividend is what really matters. But now that rates are going up, it will be more difficult for the company to generate income.
The graph below illustrates the declining spread between the long-term treasuries and the 3-month treasury.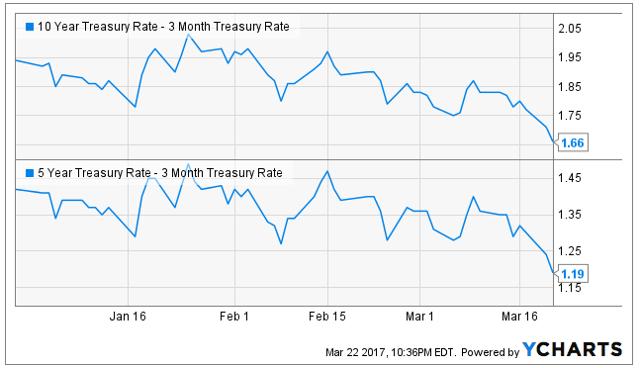 This spread shows how effectively the management can put new money to work. While the spread is still positive, it is already razor thin. I believe that the impending rate increases will shrink this spread even further, but why is the company still standing?
Why Is Annaly Capital Still Going Strong
While Annaly Capital's ability to generate income will be severely impaired should short-term rates increase, its investment portfolio will also book gains in value if the long-term rates decrease (price increases as yields go down). First, this establishes a floor as the company should at the very least trade at the book value (currently, the stock has a P/B ratio of 1x).
So even though the return on reinvestment may shrink in the future, the value of the investment portfolio can still increase. This is why estimating the current book value is an important factor for total return investors. Interested investors can check out some of ColoradoWealthManagementFund's articles for his estimates.
For income investors, the book value is also important, but for a different reason. Instead of the company generating return on capital to pay dividends, it can also return some of the profits from the appreciation. While some investors may not care where the dividends come from, a return on capital denotes a viable business model while a dividend dependent on a return of profits from price appreciation requires the market to be consistently favorable. In other words, unless you expect long-term rates to fall over the coming years, you better be looking at the spread instead.
Perfect Storm?
What looks strange to me is that even though the equity market is expecting a big stimulus from Trump (implying higher inflation), long-term rates have not experienced a big spike. This may suggest a demand for safety amid uncertainty, lack of clarity over future short-term rates, or a host of other reasons, but the end result is the same: the yield curve is flattening.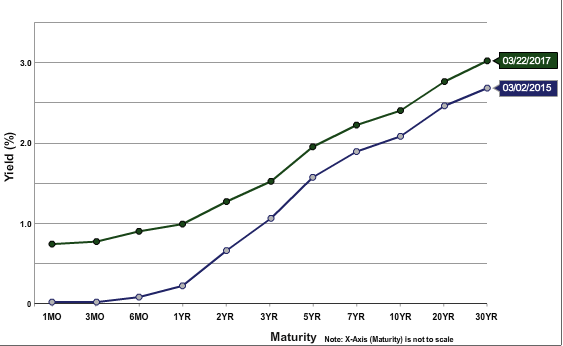 Source: treasury.gov
Long-term rates are not moving much while short-term rates are almost guaranteed to go up given the Fed's current sentiment. So not only will Annaly Capital earn less income from the spread, it won't be able to book a gain on the investment portfolio either.
That being said, there is always a chance for the current trend to reverse course. Perhaps long-term rates will be on the move again if Trump makes good on his promise of higher infrastructure spending, or perhaps the Fed will delay future hikes again. I'll leave it to you to judge those events' possibility, but the market is telling me that Annaly Capital's business model is on thin ice should current trends persist.
If you have your own idea about how Annaly Capital can be a viable business going forward, I encourage you to leave a comment below.
Disclosure: I/we have no positions in any stocks mentioned, and no plans to initiate any positions within the next 72 hours.
I wrote this article myself, and it expresses my own opinions. I am not receiving compensation for it (other than from Seeking Alpha). I have no business relationship with any company whose stock is mentioned in this article.