Occidental Petroleum Corporation's (NYSE:OXY) Permian Basin position is considered the bedrock of its growth and future income potential. Its Permian production base is about evenly split between its CO2 injection and hydraulic fracturing operations, and both have a considerable amount of upside investors should keep in mind.
With one of the largest production profiles and acreage footprints in the Permian Basin in West Texas and SE New Mexico, Occidental Petroleum Corporation is a contender for the superlative title 'King of the Permian'.
Its Permian position includes acreage in the core of both the Delaware and the Midland basins. Occidental's footprint in New Mexico's Lea and Eddy counties is especially expansive, along with large holdings in Reeves and Pecos counties down in Texas. Over in the Midland Basin, Occidental has a nice position in Howard and Glasscock counties.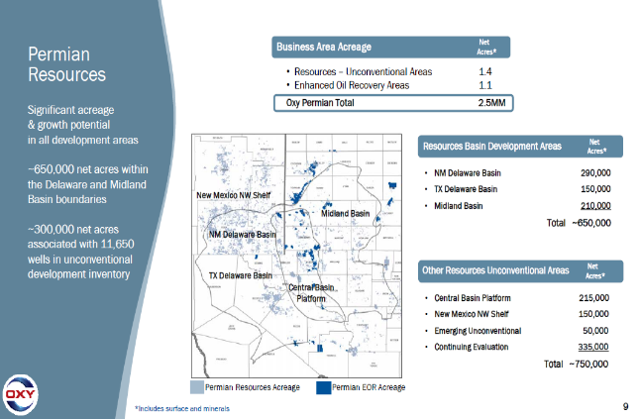 Source: Occidental Petroleum Corporation
Overview
Across 2.5 million net acres through 24,460 gross operated wells (production, injection, and idled wells) Occidental's Permian asset pumped out 269,000 BOE/d net on average last year (equal to ~45% of its upstream production base). Enhanced oil recovery methods under its Permian EOR division produced 145,000 BOE/d and its unconventional Permian Resources unit produced 124,000 BOE/d.
After its modest acquisition of additional Delaware Basin acreage in Q4, Occidental is now sitting on 440,000 net acres in the play. Over in the Midland Basin, which also houses very prolific drilling inventory, the firm has 210,000 net acres.
It's important to keep in mind that this is the acreage prospective for economical unconventional plays. Occidental has hundreds of thousands of acres prospective for unconventional plays in other basins in the region but those don't house the kind of well locations that are worth developing in a $50 WTI world.
Expanding on that, Occidental sees its Permian Resources division housing 11,650 well locations but what really matters is the 2,500 wells that sport breakeven (on an incremental well basis) rates at sub-$50 WTI levels. Since the end of 2015, that inventory has doubled to 2,500 locations. The purchase of additional top tier acreage, an acreage swap allowing for better development schemes (longer laterals, centralized facilities), and stellar operational improvements helped Occidental build up that impressive portfolio.
That is enough locations to sustain ten rigs across its best acreage for 14 years, all while those wells sport longer laterals. Occidental is moving the average lateral, horizontal reach, length up to 7,100 feet from 5,950 feet previously.
Longer lateral lengths tend to shrink drilling inventories while increasing well productivity by enough to boost incremental well returns (EUR, estimated ultimate recovery, increases offset additional capex requirements). This development scheme is aided by Occidental posting a roughly 50% cut in drilling days for a 7,500-foot lateral since the beginning of 2015.
2017 strategy
Over the next few years Occidental's Permian Resources division should see a material amount of growth while its Permian EOR operations continues to generate significant amounts of free cash flow. The low cost, low decline nature of CO2 injection projects complements the capital intensive (relatively speaking), high decline rates of unconventional drilling activity.
Management has allocated $1-1.4 billion of Occidental's $3-3.6 billion capital expenditure budget to the Resources division and $460 million (includes midstream investments) towards its EOR operations. This will grow its Permian Resources output by 17% to ~145,000 BOE/d on average in 2017, as the firm runs six operated rigs and two non-operated rigs.
While cost inflation is expected to push up Occidental's Permian Resources' completed well costs by $200,000, investments in water handling infrastructure (allowing the use of recycled produced water to be used in the fracking process) and reductions in drilling costs is forecasted to generate $900,000 per well savings this year. That will result in a net 11% cut in completed well costs compared to current rates.
Gathering & processing projects that will soon be completed will support Occidental's future production growth with the possibility of incrementally reducing operating expenses. Permian Resources' opex on a BOE basis has fallen by 39% since 2014, limiting the scope of additional gains.
A 19% reduction in its Permian EOR opex and a 23% cut in its well costs helped drive strong performance at this sleepy but profitable asset. Occidental's Permian EOR output is expected to be flat this year, aided by production outperformance at its South Hobbs unit. With a production base that is basically all crude oil, any movement in oil prices has a significant impact on that assets cash flow. What makes this asset important is that it's generating free cash flow as a standalone entity as long as WTI is above $30-35/barrel.
Significance for Occidental Petroleum
Almost half of Occidental's upstream production base comes from its Permian position. While there is plenty to like about the firm's international profile, really it's Occidental's Permian asset that will drive additional value creation going forward. Being able to turn on growth within a couple of quarters of ramping up drilling activity and having a massive, easily repeatable drilling inventory makes investing in the Permian a sure bet if oil prices are above $50/barrel.
How Occidental balances strong incremental well returns, sunk costs (G&A, dividends, interest, leasehold), and a weaker oil price environment as of late will play a big role in determining its 2017 performance. Returning to a growth for the sake of growth mentality when Occidental requires $60 WTI to break even on the cash flow basis (courtesy of generous dividend payments and more on that here) would destroy value by weakening its balance sheet.
Final thoughts
Occidental Petroleum Corporation is sitting on a vast portfolio of well locations that are economical to bring online in a $50 WTI world, on an incremental basis of course, but that is the problem. Organized reductions in oil production are being mitigated in part by a return in US output growth and Saudi Arabia getting fed up with its partners for not doing more to get to full compliance.
For Occidental Petroleum Corporation to truly make the most of its top tier acreage, it needs to know both when to jump on board the growth train and when to steer clear of reckless spending. The difference between ramping up Permian production as WTI climbs to $60 versus falling to $40 is huge, you don't want your investment becoming the 'Dead Broke King of the Permian'.
Disclosure: I/we have no positions in any stocks mentioned, and no plans to initiate any positions within the next 72 hours.
I wrote this article myself, and it expresses my own opinions. I am not receiving compensation for it (other than from Seeking Alpha). I have no business relationship with any company whose stock is mentioned in this article.