Chevron Corporation (NYSE:CVX) is a major player in Angola's oil & gas sector which is primarily an offshore ordeal. Representing a significant part of its upstream and LNG profile, here is how the oil giant is fixing past mistakes and delivering on its revamped promises. Chevron Corporation counts BP plc (NYSE:BP), Eni (NYSE:E), and Total (NYSE:TOT) as its major partners in Angola (plus other nearby nations) and this article covers assets all three of those firms have a material stake in alongside Chevron.
Why the Mafumeira matters more than you think
At first glace the Mafumeira Sul project would look less significant than it actually is for Chevron Corporation. The development had the main production facility come online on March 8, and investors should take note. With a 39.2% operating stake in the upstream venture that lies off the coast of Angola's Cabinda exclave, Chevron needs to showcase that it is a capable operator for the sake of its LNG business.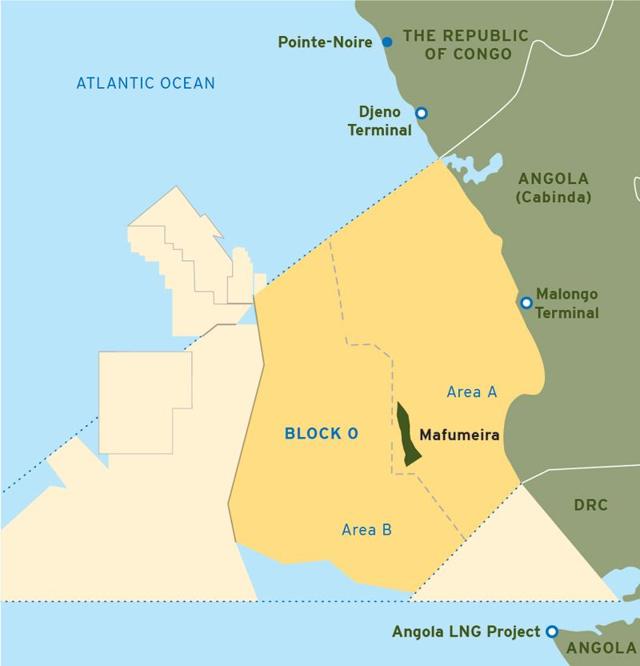 Source: Chevron Corporation
The dry natural gas produced from this project will supply the Angola LNG facility with much needed supplies in order to maintain a steadily utilization rate. Located in Soyo, Chevron owns 36.4% of the "$10 billion" project. Chevron hasn't updated the cost of the Angola LNG venture after a flare line rupture in 2014 forced the facility offline after achieving its first LNG export just a year prior.
Other parties with egg on their face include Angola's state-run energy firm Sonangol (22.4%), BP plc (13.6%), Total (13.6%), and Eni (13.6%). Building an LNG export facility to connect domestic natural gas production to overseas markets, enabling the commercializing of gas output that otherwise wouldn't be possible, was a good idea. Running at only a fraction of its capacity due to engineering flaws then being forced offline is not.
Even before being forced offline, the Angola LNG facility was far from making the most of its 5.2 million ton capacity and sported a utilization rate around 50%. This was due to the plant's inability to process a wider array of specific gravities and levels of "wetness", a problem that appears to have been fixed after a series of upgrades over the past three years. By expanding the scope of its gas processing capacity, the Angola LNG consortium now has access to much more supply.
Upstream importance
The second part of this equation comes from the upstream front and this is where the Mafumeira Sul project comes in. Expanding on the Mafumeira Norte development that brought the Mafumeira Field online back in 2009, the second phase will add 110,000 bpd of crude production, 320 MMcf/d of dry gas output, and 10,000 bpd of NGLs production to the field. Bringing the entire field's output up to 150,000 bo/d, 350 MMcf/d, and 10,000 bpd of NGLs.
330 MMcf/d of additional natural gas supply to Soyo and extending the life of the field, along with addition NGLs output which the plant also has the ability to process and export, helps secure the future of a major investment Chevron embarked on. Sonangol (39.2%), Total (10%), and Eni (9.8%) also have a material stake in the Mafumeira Field. The Mafumeira Sul development was originally estimated to cost $5.6 billion.
At first, the Mafumeira Sul reached first-oil back in October under a temporary production system but it wasn't until recently that output could really begin ramping up. For conventional projects it usually takes at least a year, if not several, to bring output up to peak/nameplate capacity. Chevron is aiming to reach peak capacity by late-2018 or early-2019.
Midstream importance
The third piece of the puzzle is the completion of the Congo River Canyon Crossing Pipeline. Built with the capacity to ship 250 MMcf/d of dry gas production from Angola's offshore production Blocks 14 and 0 (the Mafumeira Field is located in Block 0), the 87-mile pipeline brings it all together. That project started operating back in September and Chevron owns 38.1% of the pipeline.
Significance for Chevron
Last year, Chevron produced an average of 114,000 BOE/d net in Angola and 25,000 BOE/d net in the Republic of the Congo. On a side note, Chevron also pumped out 2,000 BOE/d net in the Democratic Republic of the Congo.
The Mafumeira Sul facility will be connected to the Angola LNG plant sometime during the second quarter. The plant can process up to 1.1 Bcf/d of dry gas and 63,000 bpd of NGLs. Production came in at just 172 MMcf/d gross (62 MMcf/d net) and 7,000 bpd of NGLs (3,000 bpd net) on average in 2016 due to the facility only operating during part of the year at partial capacity.
Management expects 670 MMcf/d gross sales of dry gas to be reached, leaving plenty of room to push that higher on the back of future upstream growth. NGLs and crude oil exports will grow alongside larger production levels as well. Expect to see Chevron's Angola production move higher over the next couple of years on the back of additional output from the Mafumeira Field and other fields coming online.
Other upstream developments
Another development to keep in mind is the start-up of the Lianzi Field back in December 2015. Located in the unitized offshore zone between Angola and the Republic of Congo, the $2 billion project had a nameplate production level of 40,000 bo/d. That is split between Chevron (31.25%), Total (26.75%), Angola Block 14 BV (10%, private oil & gas firm), Sonangol (10%), GALP Energia (Spanish oil & gas company, 4.5%), Eni (10%), and SNPC (Congo's state-run firm, 7.5%), with Chevron as the operator.
The Lianzi Field is estimated to hold 70 million of proven oil reserves. What makes this development interesting is that it could set the stage for future projects that utilize infrastructure associated with the facility. Regardless if there is a gas or oil find in the future, Chevron and its partners will have the resources in place to commercialize that discovery.
Final thoughts
For a company as large as Chevron Corporation the importance of an upstream project like the Mafumeira Sul coming online can easily get lost in a sea of other headlines. Having its Angolan operations, which makes up a decent sized portion of its upstream and LNG production base, start performing well will have a material impact on its financial statements. While crude prices may be weakening at least Chevron Corporation can take coalesce in the fact its Angola operations are finally back on track.
Author's note: Some of the companies mentioned above may not trade on a major US stock exchange, which comes with its own set of risks and rewards. Always do your own due diligence before investing.
Disclosure: I/we have no positions in any stocks mentioned, and no plans to initiate any positions within the next 72 hours.
I wrote this article myself, and it expresses my own opinions. I am not receiving compensation for it (other than from Seeking Alpha). I have no business relationship with any company whose stock is mentioned in this article.