Recently, I've begun writing a bit on REITs and have found that I enjoy doing so. In the past, I've written articles about Omega Healthcare Investors (NYSE:OHI), Realty Income Corp. (NYSE:O), and W.P. Carey (NYSE:WPC) but I've found myself wanting to add another firm to my list. A little research has led me to Sun Communities (NYSE:SUI), a provider of manufactured homes and recreational vehicle facilities that its customers can either rent or buy. In what follows, I will dig a bit into the company and give my thoughts on the prospects it offers investors moving forward.
A look at Sun
Before I get into the numbers, I believe it's a wise idea to break down exactly what Sun is and what it offers conceptually. As of the end of 2016, the company operated in 341 different communities spread across 29 states in the US as well as throughout Ontario, Canada. As you can see in the image below, there are a lot of areas where the company has operations and also a lot where it doesn't. This is great because, A) it's a well-diversified operator that will provide some degree of safety for shareholders and B) the large area of spaces where the company does not currently operate gives it the chance to grow meaningfully over time.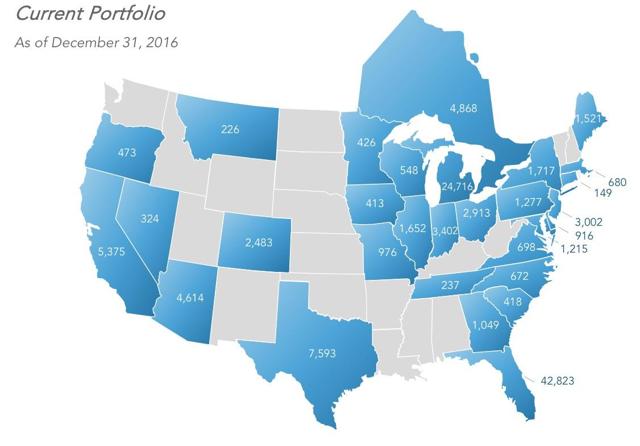 *Taken from Sun
Across these communities are spread 117,376 sites. Not surprisingly, the most significant state for Sun as of the time of this writing appears to be Florida. Of its locations, 68.3% happen to be manufactured housing sites while the rest are recreational vehicle sites and, of the latter, 56% are locked down under annual or seasonal contracts while the remainder are transient in nature. In December of last year, the average monthly rent spread across all of its properties came out to $489.
While the view of manufactured homes being lower-quality in nature than a more traditional home has merit, there is also a compelling reason to consider buying or renting one of these facilities. Take, as an example, the image below. According to management, the average cost for a manufactured home to a customer is about $68,000 (management cites elsewhere an example where the cost for them of about $42,000 with rent of $880 per month for a payout of just under four years). This compares favorably when you consider than an average home's cost in 2016 came out to $276,284 (single-family). These numbers are radically different when you consider that the average cost of a manufactured home is around one times median income in the US compared with five times for a traditional single-family home.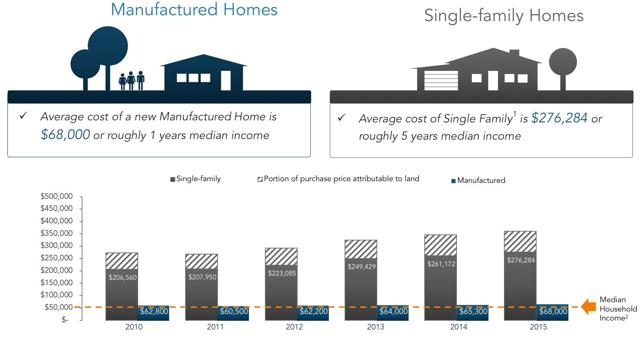 *Taken from Sun
Management has generated impressive results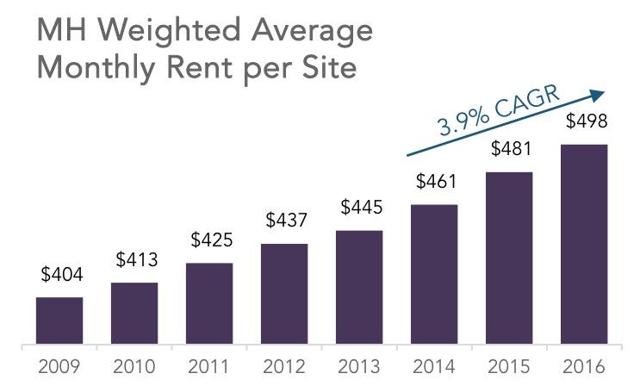 *Taken from Sun
Over the past several years now, the management team at Sun has done a great job in improving the company. Take, for instance, the graph above. In it, you can see that the average rent of a manufactured house in 2009 came out to $404. Between then and the end of 2016, that number increased at a roughly 3.9% rate, per annum, growing to $498 per month. What's more is that management has seen the occupany rate pop higher in recent years as well. As you can see in the graph below, the occupancy rate has popped from just 83.4% in 2009 to 96.6% last year.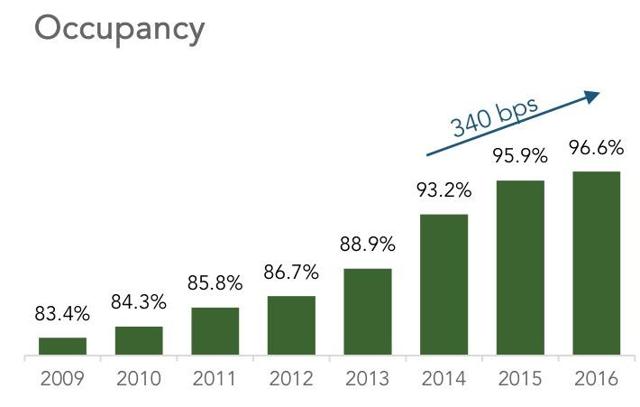 *Taken from Sun
What's more is that management has done a phenomenal job in increasing its occupancy rates while adding significantly to its physical footprint. In the image below, you can see that management has increased the number of sites from just 54,811 at the end of 2011 to 117,376 units by the end of 2016. In seeing this growth, management saw the number of communities under its portfolio grow from 159 in 2011 to 341 by the end of last year. Of its 341 communities, 28 are a mix of manufactured housing and recreational vehicle sites, 87 are for recreational vehicles only, and the remaining 226 are for manufactured homes only.

*Taken from Sun
In part, some of this growth has been driven by a larger disparity between its FFO (funds from operations) and its distribution per share. In the graph below, you can see that, between 2012 and 2016, the distribution per share paid out by Sun grew by 3.2% from $2.52 to $2.60. Meanwhile, however, the rate for its FFO per share, on an adjusted basis, increased by 18.8% from $3.19 to $3.79. If everything goes according to plan, management now anticipates FFO per share this year of between $4.16 and $4.24, which would represent a one-year increase of between 9.8% and 11.9%.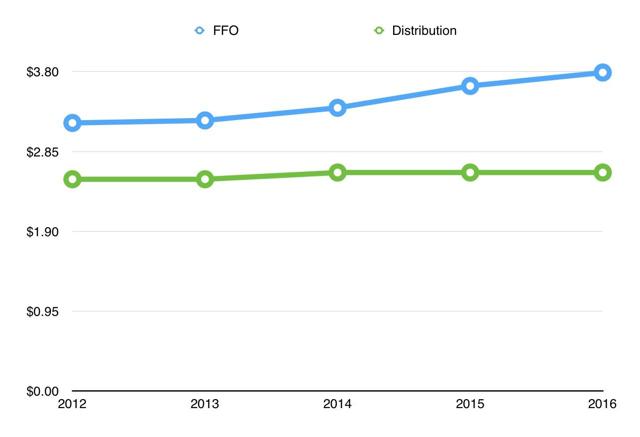 *Created by Author
Takeaway
Based on the data provided, Sun appears to be a high-quality firm that has benefited from a growing market in manufactured housing and from a growing market in recreational vehicle sites. What's more is that the firm's cash flow generation is impressive, and shares are pricey but not ridiculously high at just under 20 times forward FFO. Debt, at 1.32 times total equity, is a bit high but not so high that it's a major concern, especially when you consider that this number is down from the 1.52 times seen a year earlier. All-in-all, I like what I see with Sun and, while I am not planning to buy into shares right now, it's going on my watchlist of firms to consider down the road if the right conditions arise.
Disclosure: I/we have no positions in any stocks mentioned, and no plans to initiate any positions within the next 72 hours.
I wrote this article myself, and it expresses my own opinions. I am not receiving compensation for it (other than from Seeking Alpha). I have no business relationship with any company whose stock is mentioned in this article.