This month Bank of Cyprus (BACPY) has published its preliminary FY2016 results. I think the bank made good progress, and my investment thesis that the bank should be worth at least it's tangible book value over time is still valid in my opinion. Nevertheless, the stock price fell this quarter from Euro 3.35 to Euro 2.84.
As I discussed in previous articles, Bank of Cyprus has two major challenges: (1) Liquidity issues and (2) a mountain of non-performing loans.
As of January 2017, the liquidity of the bank has been completely normalized. ELA funding has been paid off, which means the bank is not dependent anymore on emergency funding from the European Central Bank. On top of that, the loan-to-deposit (L/D) ratio is now at 95%, with the result that BOC can finance its loan-book completely with deposits. This is important because BOC will not have a dependency on market funding and consequently have less interest rate risks (of course deposit rates will vary as well, but they usually don't change as rapidly as free market rates).

Source: Preliminary FY2016 results official filling.
The L/D has developed in the right direction thanks to a decline in the loan book and due to a stunning 16% growth in deposits. Deposits are now 74% of total assets (16.5bn) and are fully obtained in Cyprus since UK deposit levels stayed flat. I think it is safe to say the Bank solved its liquidity situation.
If we look at the non-performing loans (NPLs), the ratio is still very high at 41.3%. Nevertheless, it has improved every quarter since December 2014. The legal framework for restructuring and recovery of troubled loans has been adjustments favorably last year, so I expect the trend of a lower NPL ratio to continue: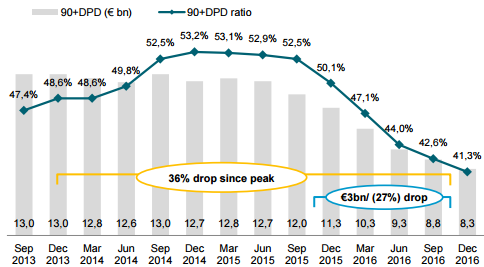 Source: Preliminary FY2016 results official filling.
Virtually all of the NPLs are located in Cyprus (94%), and the overall reserves for these troubled loans seem to be fine. The NPLs are covered for 63% with collateral and for 53% with cash, meaning the overall coverage is 116%. However, most of the collateral is property and if the property prices fall further BOC will not have enough reserves to cover the NPLs. For now, the Cypriot economy is growing and residential property prices have been stabilized, but I would have felt more comfortable with additional cash coverage. Just to make sure a significant decline of property prices could be absorbed.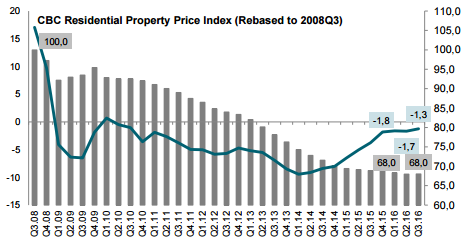 Source: Preliminary FY2016 results official filling.
The CET1 capital position of the bank improved to 14.7% (2015: 14.0%). The regulatory threshold for BOC has been set at 13%, so the capital of the bank is at comfortable levels. However, on the 12th of January 2017, new subordinate Tier2 loans (250 million) have been issued which will enhance CET1 to c.16%. To be frank, I have no idea why management decided to issue new loans, because the interest rate is somewhere in the 9% range. I can only speculate: not feeling comfortable with the current capital position, new capital needed for growth, expecting stricter BASEL regulations (like more equity reservations for mortgages) etc.
Looking at the assets of the bank, 'Net Loans' have been shrinking and are now 70.6% of total assets (2015: 73.9%). Two other asset items have been growing significantly: 'cash' and 'Other Assets'. Cash is now 6.8% of total assets, which is quite a lot for a bank. Other assets are now 14.6% of total assets. I like this development because it diversifies the NPL exposure away. Unfortunately, the preliminary results are not very clear about what is included in 'Other assets'.
I am afraid we will have to wait for the annual report. However, I am almost sure this entails the real estate management unit of the Bank: REMU. This is the unit where recovered collateral and debt-for-equity swaps end up. The first worry I had about this unit is whether the accounting values also correspond with actual market values. Luckily I found the following slide in the FY2016 presentation: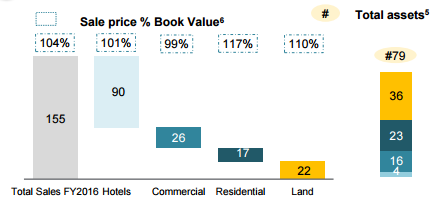 Source: Preliminary FY2016 results official filling.
Land sold at 110% of book value and the good news is that 36% of the REMU portfolio (516 million) consists out of land parcels. So my first impression of the actual asset value of REMU is quite positive for now.
Valuation
BOC is still valued at 0.5xTBV and thus trades below liquidation value. The troubled loans seem to be reserved for prudently (at 116%) and recovered properties seem to sell for book value(at 104%). A new major recession could make things worse, but I think chances are low for that scenario.
From a cash-flow perspective, BOC made a small profit in FY 2016 of 0.71/share. At current prices, this implies the bank is currently trading at a P/E of 4. I think that is a very low multiple for a dominant bank with a great cost structure.
Disclosure: I am/we are long BACPY.
I wrote this article myself, and it expresses my own opinions. I am not receiving compensation for it (other than from Seeking Alpha). I have no business relationship with any company whose stock is mentioned in this article.
Editor's Note: This article discusses one or more securities that do not trade on a major U.S. exchange. Please be aware of the risks associated with these stocks.