CNBC: 11:44 EST
US equities (NYSEARCA:SPY) churned in the overnight session, but have tried to get some movement higher in Thursday's morning session as the health care vote approached. Gold is roughly flat, and oil has fallen a bit off its highs, though it is trading quite range-bound as well.
On tap for later today, we see a continuation of Fed speakers, with Neel Kashkari slated for 12:30 PM EST at the Strong Foundations Conference, where chair Janet Yellen delivered opening remarks earlier this morning. Recall that Kashkari was the lone dissenter to last week's FOMC interest rate decision.
VIX was down a modest 1.50% before the opening bell, and has since drifted lower for a 4% decline as we push the piece to publication.

CNBC: Wednesday Close

Stocks (NASDAQ:QQQ) had a mixed comeback yesterday amid reports of a terror incident in London, and growing concerns regarding certain aspects of President Trump's economic agenda. Widely seen as a proxy for the administration's overall mandate, the US House of Representatives will vote later today on the American Health Care Act (AHCA), the GOP bill meant to serve as a replacement for Obamacare.
Though most of the S&P sectors finished higher Wednesday, technology (NYSEARCA:XLK) and utilities (NYSEARCA:XLU) were the standout performers. Posting a gain of 0.48%, XLU added to its sector-best 3.03% gain over the last month. Elsewhere, both energy (NYSEARCA:XLE) and financials (NYSEARCA:XLF) continued to struggle; in addition to being the bottom performers yesterday, the two sectors have been the biggest drags on equities over the last 30 days.
Article Shout-Out
Today we highlight a piece from fellow Seeking Alpha contributor MoneyDuck, who penned an interesting piece yesterday morning. Titled " Bull Or Bear, The Outcome Is The Same", the author discusses a few macro themes, and ties them together in a way that should give investor's pause before continuing to pile into the long side of US stocks.
MoneyDuck summarizes the piece by noting that credit growth, a key component of the US economy, has slowed, delinquencies in consumer loans are on the rise, and stagflation (high inflation with low growth) has begun to set in.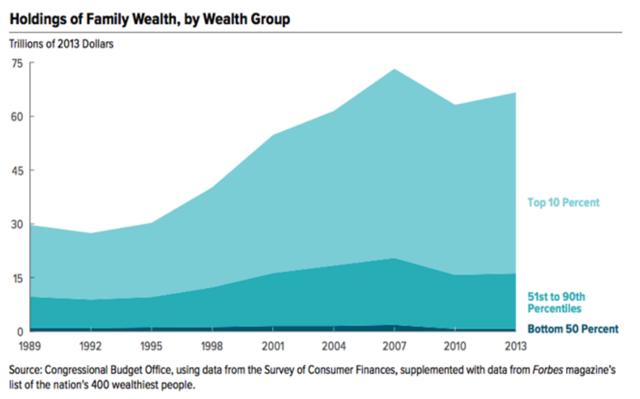 The author displays the chart above, pointing out not just the issue with the overall distribution of wealth, but more so the decline in wealth held by the bottom 50% since 2007. According to the author, this issue is beginning to show itself in rising delinquency rates in virtually all loan categories.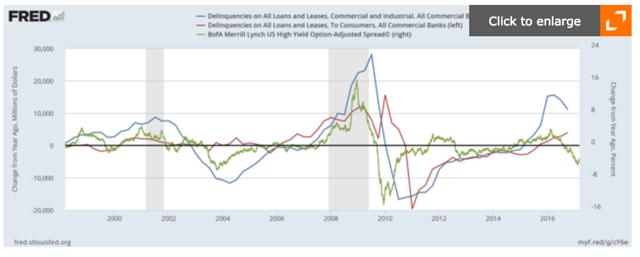 Observe in the chart above, how high yield spreads (NYSEARCA:HYG) have continued to tighten, even as delinquency rates have risen, which indicates a possible mispricing.
The author closes the piece with a discussion on what a stagflating environment means for individuals. Namely, it is one where individuals experience standard of living declines, as growth is too low to outpace inflation.
Thoughts on Volatility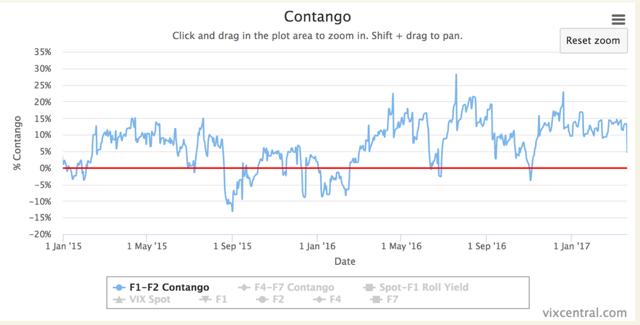 While the overall VIX futures curve has changed little from yesterday, we see a continued flattening as spot VIX values have continued slightly higher. We see front-month contango sitting at a relatively small 5%, though it may still be enough to give investors pause before initiating a long VIX position. Observe in the chart the many different paths front-month contango has taken after dropping down to around the 5% mark, both up and down.

As we've seen recently, VX futures remain unconvinced of a sustained down move in equities. With the House set to vote on the health care bill later today, we see the markets as cautious, but ready to move swiftly in either direction. Additionally, and now only 30 days away, the French elections continue to pose a threat to the continued market complacency.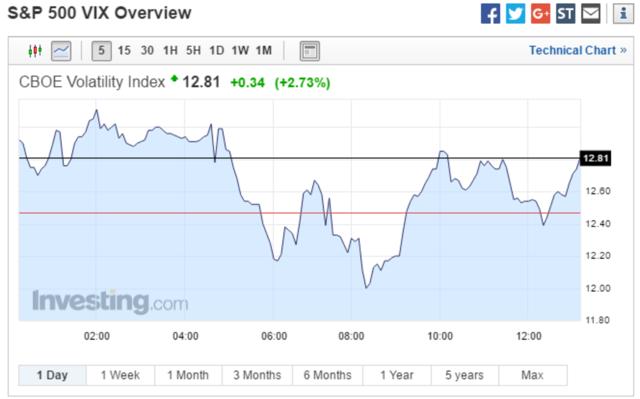 Though equities attempted to stabilize yesterday, we saw a modest increase in VIX values as investors price in the possibility of increased trading ranges over the next 30 days. The VIX ETPs delivered varied returns yesterday, with UVXY and TVIX tracking the CBOE Volatility Index most closely.

As a reminder, both TVIX and UVXY are exchange-traded products designed to provide 2x-leveraged exposure to the VIX, generally using a mixture of first- and second-month futures contracts. For a more in depth look at each individual product, be sure to click on the links above. As an interesting side note, due to the date of April VX contract expiration, on Tuesday both products consisted of virtually 100% April futures contracts. They are currently split about 95%/5% April to May.
Like yesterday, though with much more reserved movement, we see these products performing quite similarly to each other. On admittedly brief observation, we have seen TVIX move slightly more on average than UVXY, generally getting closer to actual VIX movement.
We prefer to capture VIX movement using ES options, as we can keep a tight watch on both the VIX and the VIX futures curve, though we understand that market participants have differing preferences. Regardless of how you prefer to participate in the volatility market, make sure you really understand the core drivers of the products you use.

We've got yet more backwardation in one-week/one-month ES (see column two above)! All the vols are quite low: we're essentially clustered around 11. We don't report two-day vol, but ATM is currently trading at 13.4 for tomorrow's expiry!
This tells us that S&P's bearish movements are not so much believed here, at least not so far. That said, options traders are making some room for the next week or so to be touchy. This is reasonable in our view. Given the quiet of the last several months, it makes sense not to jump the gun too early.
At-the-money ES is relaying that message: "Don't get over-excited for now." Still, seeing one-week straddle prices trading above $30 indicates that the options market sees some scope for wider ranges.
Tracking the Trade*(please read disclosures) - Trade Initiation:
In last Tuesday's bulletin we began a new trade to follow over the next two weeks. We will take the perspective of someone who has about $50,000 in cash in a trading account, with no current positions, who wishes to speculate on a market sell-off.
Trade End Date: Mar 24, 2017
Trade Instrument: ES (e-mini futures contract on S&P 500)
Trade Strategy: Modified Risk reversal
Strategy: Thesis (Set out on Mar 14)
We are of a mind that the S&P 500 is an over-believed market. Market internals appear to be getting sloppy. The aftermath of the Fed meetings could provide opportunities for some of the S&P to trade over a broader range of values, with movement favoring the downside. As of this morning, the market is at 2353.
We also believe that the market is presently range-bound, and that a meaningful narrative shift may need to occur in order to make the S&P sustainably shift into a different range (either up or down). Two-day ES has quite a bit of vol on it - so there is still strong potential to break out of the range.
To implement this strategy, we will work with a spread known as a "risk reversal". We'll refer to the spread as a "RR". In the Chicago trading pits, these are short-handed to being called "a risk".
For a pure RR, the strategy is as follows:
For a particular expiry,buy an out-of-the-money ("OTM") put
For the same expiry, sell an OTM call
Buy an OTM put, sell an OTM call. That's the essence of the spread. In retail these are frequently called "collars", but we here are using the terminology that is used in the trading pits: "RR". In fact, in Chicago terminology a collar is long a put spread, short a call: similar, but not quite the same.
Tactics
The specific RR we implemented was:
Buy the May 31 2250 put
Sell the Apr28 2410 call
These two options have different strikes, and as such this might be considered a modified RR.

Source: Interactive Brokers
The solid line shows P&L for varying levels of this trade as of the day of initiation, whereas the dotted line shows the "final" P&L as of the Apr28 expiration.
It is clear that this trade is not very different from "going short" the S&P 500. It has "unlimited downside", and it has more or less unlimited upside. From a practical standpoint, the risks are fairly balanced, especially if monitored and adjusted properly.
"Where does the trade stand now?"

With the ES at 2355, there is a 135 x 165 market priced with a $11.35 midpoint debit. Our core position is down $6.50 from yesterday, and up $3.60 from where we initiated. With a 50x multiplier, that is $180 after commissions, .3% of our theoretical $50,000 sim account.
"How is Monday's trade mod going?"
In order to tone down our delta Monday we traded the following modification:

This is more or less a call diagonal (long the shorter-dated near-strike call) with a put diagonal (short the near-dated "near-strike" put). We paid $8.50, and the mid now stands at 8.70.

"What about the Iron Condor you traded yesterday?"
Yesterday we recommended the following Iron Condor to mellow out the vega and collect some theta:

We said that this was an order not to reach for, and to sell it only if it got to $15.25.
We did sell it, and it has now moved higher, with a mid of $17.25, for a $2.00 loss. This trade we think was pretty defensible, but frankly the VIX has not calmed down on an up-move the way we thought it would.
"Should you do anything now?"
We're not jumpy traders. We feel like our position is within its risk parameters. Bear in mind that these trades are educational in nature, and as such the main goal is to make them relatively streamlined. The trade winds down tomorrow: there is no compelling action we need to take today.
Naturally we are not happy with the move up, but that's pretty natural. Not closing yesterday is in-line with a strategy that seeks meaningful gains.
Fear and greed are the two emotionally charged reasons for trading, and you should steer clear of both. The fearful trade would be to tighten up our position to lock in winners. The greedy trade would be to adjust the May strikes higher or to double down.
Our experience in these markets over the past five years or so indicates that it is quite rare for ES to travel straight down; straight up is fine, but down is quite jerky, when it happens at all. Yesterday we hit a temporary bottom, and now we're higher; at least the market has shown that down moves are possible.
Mechanics: We're leaving things alone for the day. Tomorrow we'll wrap up our trade, and so mechanics will feature prominently.
Closing Thoughts
ES in backwardation, VIX trying out a new range, the S&P having dropped a jaw-dropping 1.25% a couple days ago… so much to take in! ES options say that there is a chance for more movement over the next week or so (up or down).
Regardless of whether you are a "trader" or an "investor" (whatever those words mean!), consider how breaking your ideas down into strategy, tactics, and mechanics could help you incrementally improve in whatever it is you do (or don't do) in the markets.
Have any questions or suggestions? Let us know! We really enjoy reader comments, and post strong comments from our readers with regularity. We appreciate that.
Please consider following us. And check out our commentary on last Wednesday's Fed decision!
Disclosure: I am/we are short SPY.
I wrote this article myself, and it expresses my own opinions. I am not receiving compensation for it (other than from Seeking Alpha). I have no business relationship with any company whose stock is mentioned in this article.
Additional disclosure: We actively trade the futures markets, potentially taking multiple positions on any given day, both long and short. It is our belief that the S&P 500 is meaningfully overvalued. As such, we typically carry a net short position using ES options and futures.