Overview:
When I wrote my first article on AMD in February of 2015 "10 Reasons Why AMD Will Be $10 By 2017" many commenters thought I was crazy. They may still be right about the crazy part but my prediction actually turned out to be low as AMD closed at $12.07 on December 27, 2016. Subsequently, I raised my target price to $15 then $20 and finally to $25 in these two articles "AMD: Calendar Of Events Leading To $25..." and "AMD: The Ryzen Good News Overwhelms The Bad News".
In this article, I will continue outlining my arguments for the $25 price. As AMD delivers new products, analysts will keep raising their 2017 and 2018 sales and profit forecasts.
Quarter 1, 2017.
I am not expecting AMD (NASDAQ:AMD) to do anything spectacular for Q1 ending March 31, but exceeding the projection of management (18% YoY revenue increase) would be a pleasant surprise. From the January 31 press release:
"The midpoint of guidance would result in Q1 2017 revenue increasing approximately 18 percent year-over-year. "
With the Ryzen 7 series release on March 2, there should be some boost in sales but I assume those were included in the forecast. But an 18% increase in revenue is a lot all by itself. It appears that the motherboard shortage from early March has resolved itself with 7 now available both on newwegg.com and amazon.com.
Also for the first time in probably years, 7 of the top 20 CPUs sold on Amazon are now AMDs (see here). According to wccftech.com, historically, there are typically 2 or 3 in the Top 20 (see here). And I wonder how long it has been since an AMD CPU (Ryzen 1800X @ $499) was the highest-priced processor on the Top 20 list? Keep in mind this list is updated every hour so it may vary somewhat over time.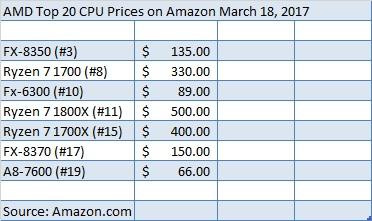 Note the new Ryzens are generating at least 3 to 4 times the revenue per unit compared to the older products. The fact that there are still four older CPUs on the Top 20 list tells me that these Ryzen sales are add-on sales not replacement sales. When the Ryzen 5 hits on May 11, it is quite possible AMD will have the majority of the Top 20 list.
Last year Q1 AMD lost .12 a share (non-GAAP), so this year with the increase in sales by 18% and lower interest costs from the bond redemption they will probably be close to break-even or lose a few pennies a share. If somehow they actually show a profit even if it is a penny a share, that should have a positive impact on the share price.
Quarter 2, 2017
Quarter 2 will have a full quarter (well from April 11 anyway) of Ryzen series 5 and 7 sales. Most of these will be to the "gamers" group of buyers those who buy and make their own PCs from parts purchased on newegg, Amazon or others. There are also custom distributors that assemble and sell high-end gaming units such as Cyberpowerpc.com (see here).
Note the high review scores given to this Ryzen 1700 model. Up until Ryzen, AMD had nothing going here except at the low end with their FX series, which you can see on the amazon list above and on the cyberpowerpc website when you sort price low to high. Then switch to cyberpowerpc sort high to low and you can see Ryzen 1800X starting to sneak into the high end. That is good news for AMD sales.
And the game market is huge; in fact, much bigger than most people realize. According to Jon Peddie Research, it is a $30 billion business.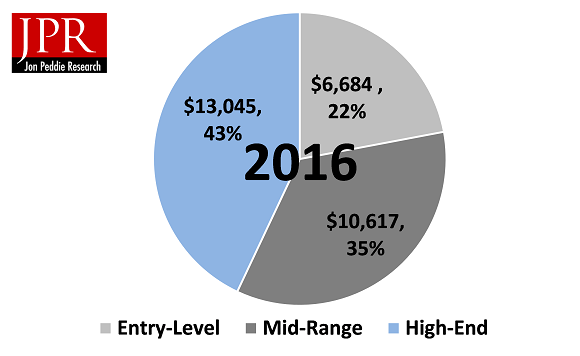 This page doesn't give a unit count, but at an average of $1,000, that would be about 30 million. So let's be conservative and say 25 million units. How many will AMD get? At a modest 16% market share, that would be about 3 million units; at a modest $250 average per unit, that's about $750 million in new revenue not including the increase in Vega GPU sales that would certainly result from the new CPU sales.
The next market for the Ryzen 1800X and eventually Naples is the workstation market. And this week a new rumor surfaced indicating that AMD would release a monster 16 core, 32-thread Ryzen desktop chip (see here) to attack the HEDT (High-End Desk Top) market.
These are big desktops used in engineering and video editing requiring huge amounts of horsepower both CPU and GPU. AMD's biggest CPU customer HP (NYSE:HPQ) is the leader of this market but Dell and Lenovo are also big AMD customers. And workstations are designed to utilize the multi-core, multi threads of the Zen CPUs. Combine that with Vega and you will have a very powerful workstation option.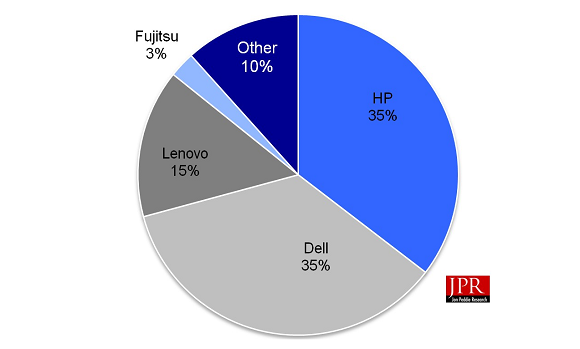 According to Jon Peddle Research (see here), the workstation market is about 4 million units a year. I think it is safe to say AMD's current share approaches zero. Some of these workstations can cost $20,000 or more. Look at this configuration page from HP's website (see here). Notice you can upgrade the CPU to dual Intel® Xeon® E5-2699v4 2.2 2400 22C for the price of $16,260. The 2nd CPU alone costs $7,400. The Xeons are 22 core, 44-thread units, which makes me think the Naples 32 core, 64 thread units could get more than a few sales at the high end. And, hey, let's give 'em a discount at say $6,000.
We know the gaming market is absorbing Ryzen chips right now, but I think the workstation market will take a while longer maybe to the 3rd quarter. But whatever sales AMD gets in the workstation market will be all high-value CPUs and GPUs and all new i.e. not replacement revenue.
As far as revenue for the 2nd quarter goes, if the first quarter is up 18% or more with only 3 weeks of Ryzen shipments, then the 2nd quarter with a full quarter of Ryzen 7 and Ryzen 5 shipments should be up even more than 18%. And add in some Vega shipments too and perhaps even Naples maybe we get 20% plus increase. We won't get a feel for that number until the next earnings release sometime in April. So I think the 2nd quarter will show some excellent earnings and boost the stock some more.
Another big question is when do the shipments to OEMs begin? HP, Dell and Lenovo have to gear up for the holiday season, but typically, the CPUs are the last component to be ordered because of their high cost relative to other components like cases, motherboards and power supplies. I am confident that any motherboard problems being seen now will be resolved well before any big shipments begin to the OEMs. Whether that is late 2nd quarter or early 3rd quarter I am not sure, but when it happens, it will be much higher revenue than it has been the last few years.
Keep in mind that according to Intel's 10-K, HP, Dell and Lenovo combined for 46% of Intel's sales or more than $25 billion. It is easy to see how AMD could get 20% of that which by itself would more than double their annual revenue ($4.3 billion).
Quarter 3, 2017
As I have stated before, I think the 3rd quarter of 2017 will be the big breakout quarter for AMD and will be the most significant event driving the price towards my $25 price target. Just a quick review of 7 things that should occur in Q3:
1. Full quarter of Ryzen desktop sales (all models).
2. Full quarter of Naples server sales.
3. Full quarter Vega GPU sales.
4. Game consoles' biggest quarter with Microsoft's (NASDAQ:MSFT) new Scorpio and Sony's (NYSE:SNE) new VR consoles driving sales higher.
5. At least some degree of OEM sales (HP, Dell, Lenovo, Acer, etc.).
6. AMD's re-entry into the high-end workstation market.
7. And perhaps a licensing and/or semi-custom deal will be in hand.
And this does not include any free money that might occur via AMD's patent lawsuits, which were recently approved by the ITC (International Trade Commission).
Conclusion:
I would say things are going extremely well and I see nothing but upside ahead for the next 9 months or so. This is a conservative group of executives under Lisa Su, and I would expect results to be even better than predicted. So far, they have done everything they said they would do and more.
Recently, two firms have raised there price target for AMD. Canaccord raised its target price to $17 (see here). And Jefferies analyst Mark Lipacis said this about AMD:
"As such, cheering AMD bringing in the heat as its "competition returns to the performance market," the analyst reiterates a Buy rating on shares of AMD while lifting the price target from $13 to $16, which represents a just under 10% increase from where the stock is currently trading. In total, we estimate Zen could represent incremental sales between $1.1 billion and $4.6 billion," predicts Lipacis."
Note that $4.6b in sales exceeds AMD's 2016 annual sales of $4.3 billion. I estimate the Naples server itself is worth at least $1.5 billion in incremental revenue and $1 per share in earnings. (see here).
AMD remains a strong buy with a price target of $25 by 2018.
If you found this article to be of value, please scroll up and click the "Follow" button next to my name.
Note: members of my "Turnaround Stock Advisory" service receive my articles at least 48 hrs. prior to publication, plus real-time updates.
*Anchorite is rated in the Top 1% of all 15,000 analysts rated by Tipranks.com.
Disclosure: I am/we are long AMD.
I wrote this article myself, and it expresses my own opinions. I am not receiving compensation for it (other than from Seeking Alpha). I have no business relationship with any company whose stock is mentioned in this article.