Investment Thesis
I have been bullish on Pier 1 Imports (NYSE:PIR) for a little while now, writing the first article back on the 1st of November, and surprisingly in spite of the company releasing numbers that definitely show that the turn around is very much underway, Mr. Market is still not willing to shake its depressed mood against Pier 1.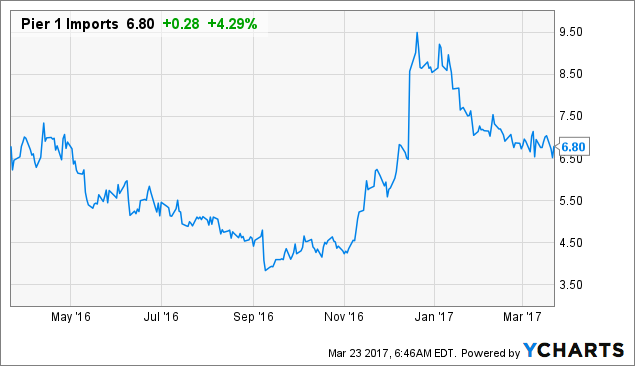 Business Overview
On a superficial appraisal of Pier 1 it is very much understandable why Pier's stock is trading at such a depressed multiple. It is a retailer with many brick and mortar stores together with its associated operating leases and has not materially grown its top line within the past decade (10-yr financials displayed below).
But a superficial appraisal is not sufficient in Pier 1's case as it misses some of the tangible turnaround efforts that are coming to fruition at Pier 1.
Financials

Source: morningstar.com; author's calculations
Pier 1's financials are not fantastic, but they are fairly stable having made a profit each year over the past 8 years. As fair retailers go, it produces quite good returns on capital. It also pays out a growing dividend over the past 4 and half years, currently yielding 4.12%.
Financial Position
According to its press release, Pier 1 is expected to finish the year with a pretty clean balance sheet, with cash and cash equivalents of $154m compared to $115m in the prior year. And the total number of shares outstanding expected to be approximately 81m having repurchased nearly 5% since the same period last year.
Elimination of Last Fiscal year's non-recurring costs
Fiscal 2017 had two material non-recurring expenses that weighed down its results, namely:
1) Mr. Smith's (former CEO) severance package which added up to approximately $10m in costs.
2) The $3.7 million of expense for legal and advisory fees related to Alden Capital (Activist Shareholders).
Forward Guidance
The company will release its earnings for the full year in 3 weeks time. Comparable sales are expected to be up 0.2%, in spite of having on average approximately 3% fewer stores, driving overall net sales down 2.6%.
The company has made significant efforts in squeezing its supply chain and has increased its merchandise margin significantly. This has driven an increase in profitability for 2017 Q4 up from its previously guided range of $0.26 to $0.30 per share (GAAP) to an expected range of $0.31 to $0.33 per share (GAAP).

Source: Press statement; author's calculation
Conclusion
So far, the market is unsure whether Pier 1's turnararound efforts are here to stay. However, I feel that if Pier 1 is able to sustain this progress and use Alden Capital's guidance to "enhance shareholder value", this stock might have an upside potential of 35% and drive the share price back up to $9.50 per share where it was only a couple of years ago.
Please remember that this article is not a recommendation to purchase shares of any of the securities mentioned. Investing in out-of-favor securities has risks that may not be suitable for you. Please do your own due diligence to reach your own conclusions. If you have enjoyed reading this article, please click "Follow" to get more articles of mine in real time
Disclosure: I am/we are long PIR.
I wrote this article myself, and it expresses my own opinions. I am not receiving compensation for it (other than from Seeking Alpha). I have no business relationship with any company whose stock is mentioned in this article.