AMD (NASDAQ:AMD) recently released the 8x core / 16 thread Ryzen CPU to mixed reviews. Frankly, it fell a little short in gaming - while utterly ruling in multithreaded applications. However, optimizations for games are just now starting to pop up. Case in point: Dota 2 (with its over 12.5 million players per month) just patched Dota 2 making it much more "Ryzen-friendly."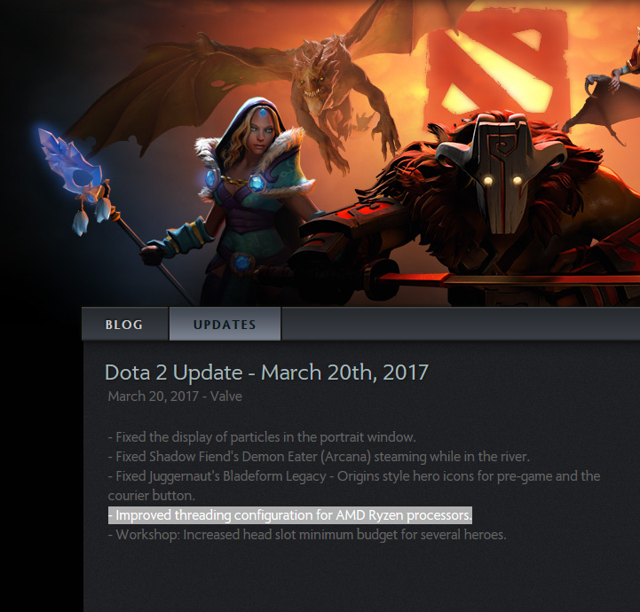 We note also (per the AMD blog) AMD is tooling a set of optimizations that addresses power-idle "issues." Per the AMD blog post
"By the first week of April, AMD intends to provide an update for AMD Ryzen™ processors that optimizes the power-policy parameters of the Balanced plan to favor performance more consistent with the typical usage models of a desktop PC."
This should result in better performance for the average gamer. Thus, performance for Ryzen in gaming will improve more and more over time as developers provide ryzen patches. This will encourage gamers to gravitate to AMD's Ryzen CPU.
Supply Issues
AMD has a problem: That problem is supply. Currently, demand for Ryzen is out stripping supply of various motherboards. As of March 16, 2017, Newegg.com shows that of the 17x motherboards carried only 4x are in stock. It has been written that the motherboard makers were rushed. This might be true to some extent, but speculating that all of the motherboard manufacturers did not make enough boards is unlikely. Demand is strong for Ryzen and motherboard availability is improving.
OEM's and April 11th Ship Date
AMD recently put out a press release announcing the availability of its newest CPU Ryzen. Buried in the press release were a few blurbs from Dell, HP Inc, and Lenovo that they would be selling Ryzen eventually. Sounds nice but vague, other than the release which states "in the coming months, consumers will also be able to purchase Ryzen-based systems from top PC vendors."
We wanted to know more and thus reached out to Dell. We were informed that Ryzen would be in the top of the line "Alienware" brand. Per Dell Sales Chat: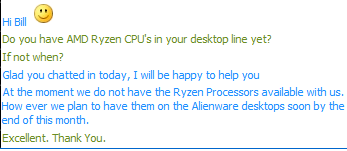 It appears the major OEMs are taking time to build systems based on the high-end Ryzen 7, but also the mid-range Ryzen 5. This makes perfect sense as the sweet spot of sales is the mid range.
Hype Machine
Right now we are in a quiet period for AMD. The calm before the hype storm. In April, we have several catalysts which could impact the stock in a positive way:
1. April 11th is the launch of Ryzen 5. Expect several big OEMs (Dell, HP, and Lenovo) to make announcements.
2. Earnings are due in the latter part of April. We should have just a little bit of Ryzen sales mixed into this. Look for a beat on revenue.
3. Radeon 500 series GPU refresh. Basically, it is just the 400 series given a fresh coat of paint and some minor optimizations. Rumors point to a 6% increase in speed.
4. Come June (give or take) we should be seeing a lot more news about AMD's high-end GPU Vega. Some speculate they will beat Nvidia (NASDAQ:NVDA) while others say they will lose. In the end - it all comes down to price vs performance and will customers actually buy it. It does the company no good if it is priced out of 99.7% of the population.
5. Naples server CPU. AMD will return to the high-margin server market to take on Intel (NASDAQ:INTC). Expect wins here and the subsequent PR hype this summer.
Takeaway
All is quiet on the home front. Sit back, relax, and drink a mint julep. Possibly sell a few covered calls month-to-month on a small portion of AMD holdings.. This will generate month-to-month revenue while you wait for the hype storm to build.
Buy a few cheap puts before earnings as fire insurance and maybe pick up a few lotto ticket calls for April 21st once we get closer and time decay has run its course.
Extras
Naples Information via Semiaccurate.
and
A 16 core / 32 thread Ryzen CPU Rumor.
If you liked the article follow us.
Disclosure: I am/we are long AMD.
I wrote this article myself, and it expresses my own opinions. I am not receiving compensation for it (other than from Seeking Alpha). I have no business relationship with any company whose stock is mentioned in this article.