Note: This article was originally published Mar. 3rd on Value Investor's Edge, a Seeking Alpha subscription service.
Overview
Maritime trade liquid natural gas - "LNG" - is a crucial link in the natural gas supply chain for many nations where domestic demand outstrips available supply. These vessels transport natural gas, which has been reduced to a liquid state by cooling it to minus 162°C, achieving a volume reduction of approximately 600 to one. Upon delivery, this LNG can be stored in a liquid state until the market demands, whereupon it enters a re-gasification process.
Companies that engage in LNG transport include, but are not limited to, Dynagas LNG Partners LP (NYSE:DLNG), Golar LNG Limited USA (NASDAQ:GLNG), Golar LNG Partners LP (NASDAQ:GMLP), GasLog Ltd (NYSE:GLOG), GasLog Partners LP (NYSE:GLOP), Tsakos Energy Navigation Ltd. (NYSE:TNP), and Teekay LNG Partners L.P. (NYSE:TGP).
Background
This report should be considered an extension of a report published last year entitled LNG Shipping: Demand-Side Macro Outlook For April. In this extensive report we focused on several key changes in trade flows and how they would impact the market over the short-run and long-run. If you haven't read this report I encourage you to review it before proceeding since it should help provide a bit of context.
LNG Demand
The majority of LNG demand comes from Asia. While traditional demand epicenters such as Japan and S. Korea have been declining or stagnating, with that trend projected to continue, other regions have posted significant gains.
LNG World Shipping noted that a "Moody's study highlights the impact of falling demand from traditional import giants Japan and South Korea. It expects Japanese imports to fall to 80 mta by 2020, a 9 per cent drop on the country's record 2014 imports. Moody's also expects "flat" demand from South Korea to 2020."
However, the gains in new and existing markets over 2016 more than offset the declines in demand which created a 17 mt increase in total global LNG exports.
New LNG importers to continue to emerge with exceptional growth in places like Poland, Pakistan, Lithuania, Jordan, Egypt and Jamaica.
Just a couple years ago Egypt wasn't even in the picture, but it now is seeking its third FSRU and some analysts are expecting an incredible 120 LNG cargos this coming year. This serves to highlight how quickly a new and significant demand source can emerge as Egypt was responsible for the second highest amount of LNG demand growth in 2016.
In fact, Egypt, Pakistan and Jordan, all new importers since 2015, made up three of the top five fastest growing LNG importing countries in the world in 2016.
Pakistan, another relatively new entrant into the LNG import market, has also experienced soaring demand. The country started importing LNG in May 2015 via a FSRU at Port Qasim, and saw 2016 imports rise to 3.9 million tonnes, or about 28 percent higher than in 2015. Pakistan is also considering the possibility of adding two more FSRU's in the near future.
Speaking of the potential for additional FSRU's, which are key to promoting demand, Indonesia is considering or planning four FSRU's across the archipelago in addition to the current one already in operation. Reuters reported that Shell's Executive Vice President of gas and energy marketing and trading, Steve Hill, theorized that the bulk of Southeast Asian import growth would come from Indonesia, which he said was suited for small-scale import projects as the country, spread across some 17,500 islands, is too large to be linked via natural gas pipelines.
Declining natural gas production, growing demand from industrial, fertilizer, and power sectors in the country, coupled with attractive import prices look to drive LNG import demand in Indonesia. Some analysts believe that the LNG market in Indonesia is projected to surpass 5.9 MMT by 2025.
Additionally, new demand epicenters are forming in both China and India with a 40% and 30% increase in LNG demand last year, respectively.
China appears to be playing an increasingly important role going forward.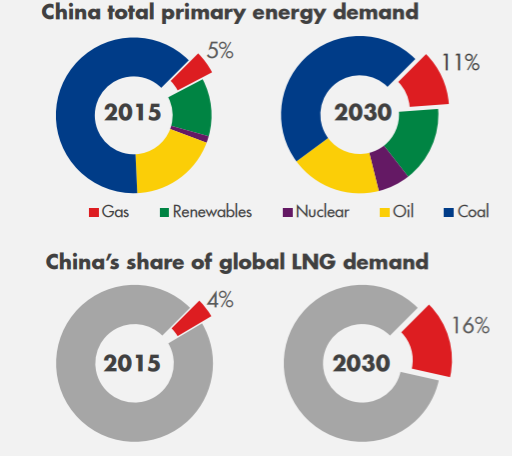 Source: Shell
China's impressive growth rate in 2016 has positioned the country to overtake South Korea in the near future to become the world's second-biggest LNG importer, after Japan.

Source: Business Insider Australia
In the last decade China's LNG imports have grown by approximately 600% and new policies being implemented are designed to promote its use even further.
India is the largest LNG importer after Japan, Korea, and China and its import capacity over the next four years is expected to double to 45 mt annually against 22 mt currently, according to a report by Citi Research.
Turning once again to the FSRU's, which of course are a reliable indicator of planned future import volumes, India is considering or planning five offshore regasification units which could come into service in the near future.
The chart below illustrates the importance of Asian markets when it comes to future projections of LNG demand growth.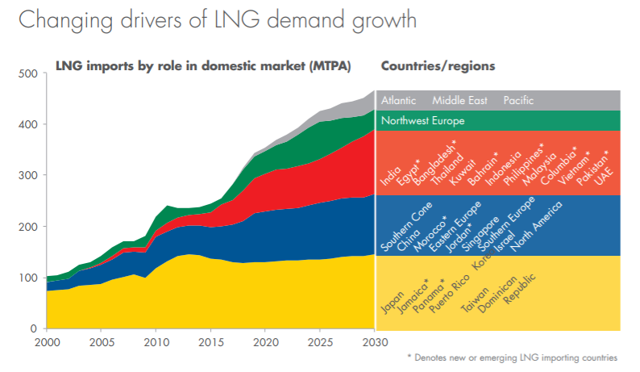 Source: Shell
Another important consideration is declining rates of domestic production in key nations reliant on natural gas. Nations such as Pakistan, Thailand, Bangladesh, Malaysia, Indonesia, and Vietnam are set to experience declining rates of domestic gas production, requiring accelerated LNG imports. When the trend of declining production is coupled with increasing demand for LNG it presents a sort of compounding effect.
Overall, while global demand for gas is expected to increase by 2% a year between 2015 and 2030; LNG is set to rise at twice that rate at 4 to 5%.
This trend is supported by historical data regarding the increasing percentage of LNG in the overall gas trade.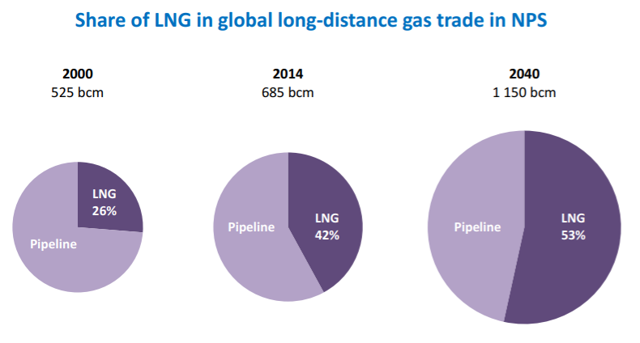 Source: IGU
Prices
While exports increased by 17 mt in 2016, it is noteworthy that approximately 34mt of additional supply capacity came online last year. This difference between increased demand and available supply should keep prices for LNG highly favorable from a demand side perspective.
LNG World Shipping reports:
LNG oversupply will keep prices low beyond 2020, according to a new study by Moody's Investors Service, as demand from Asia's traditional importers slows and as uptake from new importers is "insufficient to absorb the new supply capacity".
This continuing LNG glut comes at a time when global crude oil prices have increased following a supply cut orchestrated by OPEC. This divergence should help to promote increasing use of LNG. If OPEC extends the agreement and crude oil prices are perceived to remain elevated the trend of substituting natural gas in place of crude should strengthen where applicable.
LNG Bunkering: A New Source Of Demand
As illustrated below, LNG bunkering is set to become an increasingly important of the demand side picture.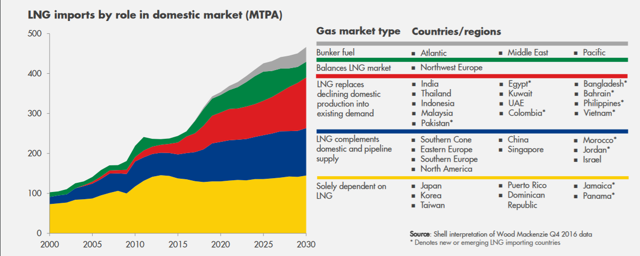 Source: Shell
Intermodal's Katerina Restis, from the Tanker Chartering department noted:
Nowadays, natural gas in most nations is a significant power source for residential, commercial & industrial sectors' energy needs. Several arguments indicate that LNG utilization as transportation fuel and in particular its shipping implementation may provide a future-fit solution as it has nearly no Sulphur content (0.004%). Even though LNG requires more tank space (volumetric) compared to other transportation fuels to generate equivalent energy, is of lower cost and environmentally friendly.
As a result LNG bunkering facilities are being proposed and even constructed in several regions across the globe. Germany, France, Australia, China, Singapore, are just a handful of nations with facilities currently in operation and/or under construction which should further LNG powered maritime trade.
Distribution and purpose built LNG bunkering vessels are under construction with the potential for many more if things fall into place.
Hua Xiang 8 is set for domestic service in China, distributing LNG along the coast and to the new bunkering stations in the country's major river estuaries.
Engie Zeebrugge is the first of a new type of LNG vessel, of which several are under construction was delivered in mid-February boosting the nascent fleet of gas-powered ships. LNG World Shipping reports that "ship-to-ship (NYSEMKT:STS) fuelling with gas tankers of the Engie Zeebrugge type will allow many more vessels to bunker with LNG economically and efficiently than truck-to-ship and shore-to-ship transfers allow."
CCGT
A Combined Cycle Gas Turbine plant represents one of the most efficient ways to produce electricity which should promote more widespread adoption of LNG.

Source: Shell
Cost efficiency is a major reason why 45% of LNG growth through 2030 is projected to come from the power generation segment.
Conclusion
Low prices, a massive amount of LNG supply, and ample fleet have allowed nations to begin utilizing LNG with increased confidence. Already we have seen new entrants ramp up their dependence on this fuel as the majority of existing importers become more reliant.
Future LNG demand growth will be based on competitive pricing, government policies, decreasing reliance on carbon intensive fossil fuels, availability of FSRU's, replacing declining domestic production, cost efficient construction of gas fired power plants, as well as increasing use in industrial, agricultural, commercial, residential, and transportation segments.
Overall, while the very short-run will still experience some rough patches, the long-run is looking increasingly promising. The main obstacle going forward may be the time needed to construct regas units in areas wishing to increase utilization. More on that in the upcoming supply side article coming soon.
Value Investor's Edge
Value Investor's Edge is a top-rated Seeking Alpha research service which focuses primarily on the volatile and therefore potentially very profitable, shipping industry. Members receive a two-week lead time on all reports by James Catlin alongside exclusive content by J Mintzmyer, a top tier deep value analyst. This platform offers actionable trades and strategic income opportunities through Mr. Catlin's data driven macro analysis which often complements Mr. Mintzmyer's company-specific analysis. This winning team has developed a dedicated following of highly knowledgeable investors and industry professionals who also share their own thoughts and ideas on Value Investor's Edge.
Disclosure: I/we have no positions in any stocks mentioned, and no plans to initiate any positions within the next 72 hours.
I wrote this article myself, and it expresses my own opinions. I am not receiving compensation for it (other than from Seeking Alpha). I have no business relationship with any company whose stock is mentioned in this article.