By Elaine Kim, Hannah Koschmeder, Rui Hui and Youce Ji.
Introduction
FactSet Research Systems (NYSE: FDS) is one of the top three financial data service providers in the data services industry. They collect financial data from over 1,500 sources, package it into useful tools, and sell a subscription to their services. The stock in currently trading at $177. We recommend a long position for this stock due to the bullish outlook of the market, improving technology in the finance industry, the impact of increasing interest rates on FactSet's clients, and FactSet's competitive pricing.
Advantage: Inherent Increasing Demand
Despite slow growth and low interest rates since the recession, demand for financial data and analysis has increased.
Approximately 86.4% of FactSet's revenues are derived from buy-side investment management clients whereas the sell-side makes up approximately 17.4% of its revenues. One of the company's main risks is the uncertainty in the asset management industry. Investment failures will lower the confidence in the market and in turn decrease the demand for FactSet's services. Furthermore, consolidation would decrease the number of FactSet's clients.
Despite the fluctuation in the performance of FactSet's clients, FactSet has been able to maintain steady growth. This speaks to the quality of and robust demand for FactSet's services. As the outlook for some of FactSet's clients remains optimistic, the case for going long FactSet is all the more convincing.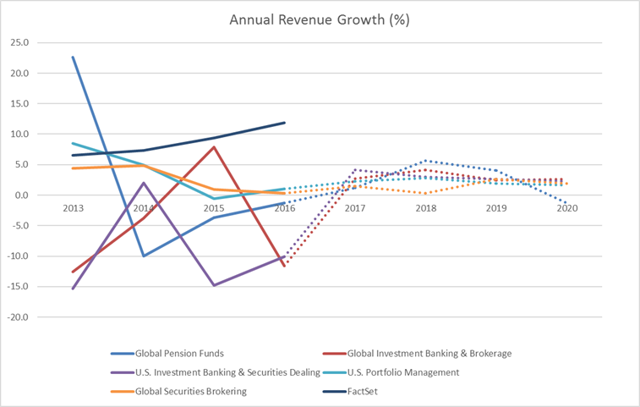 Furthermore, improvements in technology, innovation and increasing technological adoption in the financial industry will drive up the demand for high-quality data and the tools to extract knowledge, which are provided by FactSet. The 2017 Data and Analytics Report by MIT Sloan Management Review finds that "the percentage of companies deriving competitive advantage" from data analytics has increased for the first time in four years, and that "innovation from analytics is surging." Since, as innovation increases, demand for more data analysis will follow, there is a positive feedback loop between improvements in technology in the finance industry and the value of data analysis services, which suggests a long-term increasing value of and demand for FDS services.
Advantage: Bull Market Increases Investors and Investment, Increasing Demand
A long position for FactSet also is supported by the bull market. A bullish market contributes to FactSet's revenue growth as the number of investors and the amount of funds increase, leading to an increasing demand for financial data services from both buy- and sell-side clients.
Since the election of President Trump in November, the market has undergone a continuous rally - the S&P 500 index has gone up by 6.4% since the beginning of 2017. The market is presenting a bullish outlook as Trump's administration promised higher government expenditures on infrastructure and more jobs for U.S. workers. Also, the proposed tax cut plan is giving investors more confidence in corporate profitability. There are several phenomena and numbers that indicate further growth in the stock market.
Copper price has been a good indicator of the global market activity and economic growth because of its continuous high demand from a variety of industries. A strengthening global economy will lead to high demand for copper and result in its price hike. As the price of copper has risen 5.6% since the beginning of 2017, one can sense a world-wide revival of industrial activities, not only in emerging markets and China but also in America, where according to Trump, more factories will be built. Therefore, it is reasonable to expect a stronger performance from the global economy.
The worldwide low level interest rate is driving money into investments rather than saving accounts as borrowing becomes cheap. For instance, China has lowered its interest rate from 6% to 4.35% in the past two years while Europe has lowered it to 0% (Source: Tradingeconomics). These fiscal decisions result in an increase in the aggregate amount of investment and borrowing. For America, despite the highly anticipated interest rate hikes in 2017, the real federal fund rates, calculated by subtracting GDP inflation from the policy rate, land at -1.75% last month. This negative rate suggests that people should be spending and borrowing more instead of putting money in their savings' accounts. Moreover, the Goldman Sachs Financial Condition Index's current movement also is worth noting as below: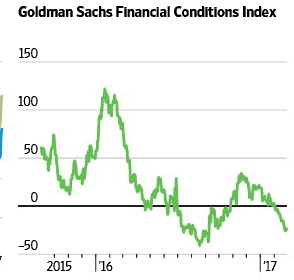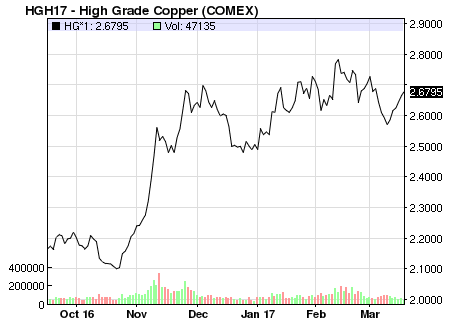 (Source: Wall Street Journal) (Source: Nasdaq.com)
This index measures the ease of raising capital and the current low figure suggests that money is easy to borrow. Furthermore, this indicates an imminent influx of credit in the market as well as global investment activities. Consequently, this bullish outlook with more market activities in the future will increase the demand for research as more investors and more capital are entering the market, leading to revenue growth for FactSet.
FactSet's acquisition streak makes the case all the stronger. Major acquisitions in the past two years include Portware, CYMBA Technologies, and Vermilion Software. In January 2017, FactSet announced an agreement to acquire Interactive Data Management Solutions from Intercontinental Exchange. With these acquisitions, FactSet has garnered a tremendous amount of potential to expand and empower its product offerings. The growth in the past three years despite the volatile environment attests to this. Going forward, FactSet is well positioned to enhance its services and outperform its competitors.
Competitors: Market Conditions and Competitive Advantages
A major uncertainty for FactSet is the competition they face from Bloomberg LP, which has a market share of 34.1%, and Thomson Reuters Corporation (NYSE:TRI), which has a share of 29.9%. In comparison, FactSet has a market share of 6.6%. These three companies make up almost three quarters of the market share, and in 2016 made a total of 1.1 billion in revenues. Although each company packages the data differently, all create revenues through subscriptions to their products and services.
Industry competition is increasing due to an increasing demand for data services and moderate barriers to entry, which creates smaller, niche entrants. This trend caused Reuters to lose significant market share of 3.8% in 2011. Additionally, because it is a highly skilled industry, and there is a greater demand for skilled labor than there is supply, the industry faces high labor costs.
Among its two major competitors, Bloomberg is the only private company, while FactSet and Thomson Reuters are public. This allows Bloomberg to take on more risks with their operation. However, their prices are often steep for smaller investment firms and these extra services can be omitted without detriment, giving FactSet an advantage.
Advantage: Competitive Pricing Strategy and High ROIC
Due to the similarity in the services and concentrated market share, FactSet and its main competitors, Bloomberg and Thomson Reuters, compete on price and quality. FactSet is able to provide quality services at a lower price because it does not depend on a single resource for the data, which allows FactSet to keep its operational costs lower by creating competition between its suppliers. FactSet features a competitive pricing scheme with similar quality as their competitors. FactSet offers a subscription to its service for $12,000 per year. In comparison, Bloomberg offers subscription to each terminal for $24,000 per year, and Thomson Reuters offers a-la-carte services that can also run up to $24,000 per year.
FactSet's revenues and market share have steadily increased for the past few years despite the slow growth of the market since the recession. This trend is mainly due to FactSet's strong pricing power as a result of high switching costs and high customer loyalty, shown through a customer retention rate greater than 94%. Moreover, with an annual subscription system rather than a one-time payment, the company is able to achieve growth without investing heavily in client acquisition. FactSet's consequent high profitability is reflected through the return on invested capital (ROIC) ratio as below: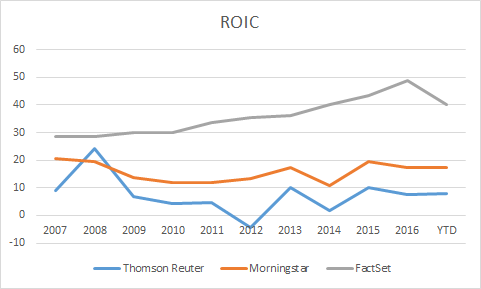 The graph shows that FactSet's ROIC is more than double its competitors. This explains FactSet's growth during poor market performance, and even in spite of a correlation between FactSet's success and its client's success. When the market is not performing well, investors and institutions tend to reduce spending on research facilities and as a result they will turn to cheaper options. Even though FactSet is still subject to negative effects from the market, its affordable products and high operating margin will protect the company's revenue.
Additional Risks: Data Breaches and Changes in Regulations
Data security poses a continuous risk for FactSet due to the large volumes of confidential data that FactSet receives from its clients. Any security breach could adversely impact FactSet's reputation and performance.
Changes in regulation may both benefit and suffer from changes in regulation. On one hand, decreased regulation on financial markets could decrease the demand for FactSet's services. Since the 2008 recession, there has been a push for stronger financial regulations, which has been beneficial to demand for data service providers like FactSet. Due to the increasing need in the finance industry for assistance with disclosure requirements, financial institutions are increasingly outsourcing data research to service companies like FactSet. Even though more regulation can increase the number of clients, regulation also puts "pressure on prices," not necessarily leading to higher revenue.
Simultaneously, the new president has been supportive of the deregulation of financial institutions, including promises to repeal Dodd-Frank. These promises, if carried out, and this attitude of deregulation may decrease the uncertainty in the investment banking industry, FactSet's largest subset of clients, and therefore increase demand, but also may put pressure on prices of services.
Conclusion: Long Position
A long position in FactSet will reward investors for several reasons. First, although the company has experienced a rise in its stock price, its P/E ratio is currently at 21 while the industry average is around 30, and its main competitor at this stage, Thomson Reuters, is at 31. Thus, there is much room for price increases. Second, FactSet's high ROIC, competitive pricing and ROE suggest that this is a profitable company with more potential growth in its businesses. Finally, increasing interest rates and bullish market will lead to more funds and more of both buy-side and sell-side clients in the market. Combined with improving technological innovation in the finance industry, these will result in higher demand and revenues for FactSet.
Disclosure: I/we have no positions in any stocks mentioned, and no plans to initiate any positions within the next 72 hours.
I wrote this article myself, and it expresses my own opinions. I am not receiving compensation for it (other than from Seeking Alpha). I have no business relationship with any company whose stock is mentioned in this article.