Rigel Pharmaceuticals (NASDAQ:RIGL) has an SYK inhibitor named fostamatinib which is in Phase 3 trials for chronic immune thrombocytopenic purpura (ITP). The drug went through two other Phase 3 clinical trials for the treatment of adult patients with chronic/persistent immune thrombocytopenia (low blood platelets), which, according to this source, is the same disease. The first trial went through well, but the second failed to achieve its primary endpoint by what I can only term as a placebo fluke.
It went like this. In the first trial, FIT 047, the response rate in the drug arm was an 18% while the response rate for placebo was 0% (n=0/25). This is normal because one doesn't expect people to recover from chronic immune ITP on a dosage of sterile water. However, that is exactly what happened in the second trial. The response rate in the fostamatinib arm was again 18% (n=9/50), but in the placebo arm, one patient had a response rate, so placebo response was 4% (n=1/24). That did not allow the drug to meet stat sig. However, if you pool together the two trials, the data is statistically significant (response rate = 18% (n=18/101) vs. 2% (n=1/49) for placebo; p=0.007).
This is a number game - I am sure the FDA will look at the placebo response as what it is - a fluke. What should concern investors more is the 18% response rate from the drug. Is this a good enough number? Can the drug be approved based on that, given its severe side effects, and also given that there was no control arm in the trial? Recall that treatment-related AEs in the 047 study was 77% compared to 28% in placebo arm.
I have my doubts. It is true that the drug supposedly works only in a subset of ITP patients, but the trial does not come with a proper subset analysis that can raise the response rate in the relevant population. Moreover, the drug may need combo support in those patients who had mixed/partial response to the drug. Finally, the drug has seen a few cases of severe side effects. Given all that, I believe the drug needs to demonstrate a better efficacy profile and a higher response rate before one can bet the house on the drug.
In the latest study, study 049, responders from the two earlier trials who enrolled in Study 049 (n=17) have maintained a median platelet count of 106,500/uL (median treatment period = 16 months). In addition, 22% (n=9/41) of patients treated with fostamatinib, for a minimum of 12 weeks, achieved a stable platelet response. Note, however, that if you combine all three trials, the response rate becomes 29% (29/101) compared to 2% (1/49) for placebo (p=<0.0001). This is a much better number than earlier.
Adult chronic ITP has an incidence of 3.3 new cases per 100,000 adults per year in the USA, and fostamatinib has been granted an orphan drug designation by the FDA. About 60,000 Americans suffer from the disease. There are no specific approved treatment options - current standard of care includes using corticosteroids, IV infusion of immunoglobulin etc., and in second line treatment, splenectomy, and some immunosuppressive and even cytotoxic agents. However, fostamatinib goes at the root of the disease, instead of simply stimulating platelet formation.
Besides IPT, fostamatinib is being studied in two other indications. Rigel also has multiple partnerships in various other early stage trials.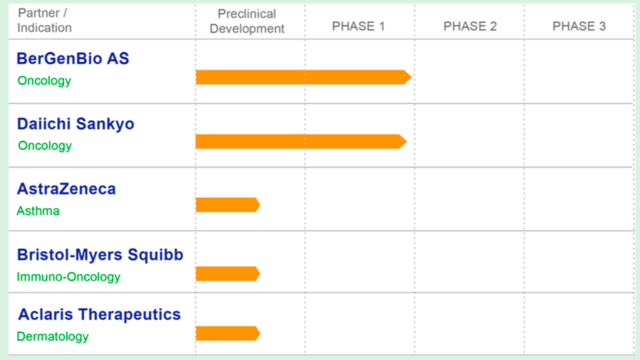 (Source)
Rigel has cash balance of about $84mn, which is about a third of its market cap of $280mn. The company just recently announced a secondary offering with gross proceeds of around $4.6mn. Institutional investors seem to have a lot of confidence in the stock, holding 90% of the float. Bottom line, this stock, now trading near its 52-week low, represents a speculative buying opportunity before the upcoming NDA.
Disclosure: I/we have no positions in any stocks mentioned, and no plans to initiate any positions within the next 72 hours.
I wrote this article myself, and it expresses my own opinions. I am not receiving compensation for it (other than from Seeking Alpha). I have no business relationship with any company whose stock is mentioned in this article.