Most of my articles are simple studies of one of the companies in my retirement income portfolio. Sometimes, I offer an insight I've gleaned from investing and from the Seeking Alpha community.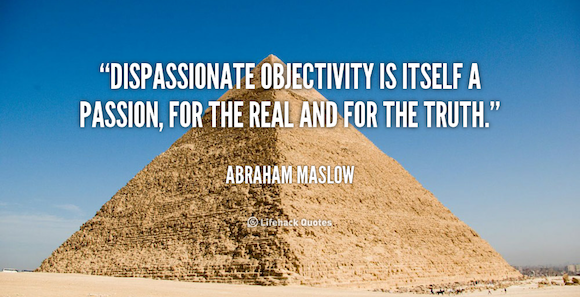 (Quote from Relatably.com)
Observations about objectivity and emotion in investing
The most recent leg of this historic bull market seems to be luring back some investors who abandoned the market after the 2008-2009 recession. At the very time that skepticism is in order, our emotions urge us to plunge headfirst into the market. At the very time stocks are "on sale" at bear market prices, our emotions urge us to flee the market.
It's always prudent and perhaps very timely now to take a quick look at the power of emotion and the value of objectivity.
It appears to me that some stocks (and some sectors) generate stronger emotional responses within the Seeking Alpha community. It also seems that as the emotions escalate, we tend to lose our capacity for objectivity. I'm convinced that the more objectivity we can bring to the task of stock analysis, the better we are able to avoid letting emotion color our perspective.
Apple generates plenty of salutes and a few cannon shots.
My most recent article was about Apple (NASDAQ:AAPL). It was my first article about Apple, which became part of the portfolio in September 2016. I was reluctant to write about Apple because it is widely covered on SA and because Apple tends to bring out both passionate supporters and passionate skeptics.
I try to hear each reader's comments at face value, with respect and with an expectation that there is the potential to learn something important from each comment. Prior to the article, I didn't know who held pro or con views about Apple. However, patterns emerged.
Numerous comments were made by people who greatly benefited from early investments in Apple. One reader said, "I have never written on this forum before.... I bought my original 100 shares when Steve Jobs returned as CEO in 2000. I ... currently have 2000 shares left due to splits. My basis is $1.84 per share. Yea!"
Another reader said, "Bought in 1997, my basis is 87¢!" Another reader's appreciation was very personal, "I will forever be thankful to Steve Jobs for sparing me and my family from the financial hit and mental anguish that a lot of people suffered during the great recession." Another reader said Apple "made my retirement."
Some Apple followers (pro and con) were familiar with each other. One reader said, "It drives me crazy how much misinformation is on SA around Apple." Another reader countered this with, "...you're responsible for 90% of it." The comment thread included a spirited conversation between an Apple skeptic who provided 9 comments and an Apple supporter who provided 7 comments.
I welcome spirited conversations about stocks. As a young investor in the early 1980s, my investment philosophy was shaped in an investment club where we presented ideas for stocks to study for other club members to consider. I learned that emotion can hinder good judgment and that it's wise to disconnect one's ego from the question of whether a particular purchase is a good or bad idea.
Objectivity is a valuable tool for studying stocks and for designing a portfolio, so I try to park my ego at the door and look at each company as dispassionately as possible.
One of the 4 principles of the National Association of Investment Clubs (now BetterInvesting.org) is diversification. Diversification helps me be more objective. I'm long Apple but it's just one stock in a diversified portfolio. Perhaps concentration in one or just a few stocks "ups the ante" of one's emotion about a position.
IBM as an objectivity test
I studied International Business Machines (NYSE:IBM) for a long time before I made an investment. In my youth, when my knowledge of the stock market was limited to the abbreviated stock tables in the daily newspaper, my only memory of those tables was the price of IBM, which was much higher than other stocks in those days.
When I became an investor in my early 30s, occasionally I would look at IBM as a potential investment, but I avoided the technology sector for a long time. Technology changes fast and my understanding of the "how" of technology is very limited. When I became a regular SA reader in 2012, I enjoyed articles about IBM and began to think about IBM as a possible investment. In those days the price was north of $200 and the yield was south of 2%. On dips, the yield was respectable for a tech stock and it was clear that IBM was committed to growing the dividend.
I began to seriously consider IBM after Pete Greulich's first IBM article appeared in SA on May 1, 2014. Pete is a former IBMer and devotee of Tom Watson (Junior and Senior). His articles have been critical of subsequent and current IBM management. On the date of Pete's first article, IBM closed at $193.53. I bought a copy of Pete's book, "A View From Beneath the Dancing Elephant." I joined in the comment threads of IBM articles by Pete and others.
IBM's stock price began a slow decline. In March 2015, I made an initial purchase of IBM at $160. I built a position within 2 weeks at an average cost of $158. Downward pressure on the stock continued throughout 2015 and into early 2016. I trimmed on strength and bought on weakness. My last transaction was in May 2016. My current basis of $137.09 comes from purchases at $141.78, $140.55, $138.56, and $121.19.
The comment threads of IBM articles contain spirited debates similar to those found in Apple articles. The debates have been helpful to me. IBM dropped to a low of $116.90 on February 11, 2016, and it finished the year at $165.99 on December 30, 2016. On January 21, 2016, Bill Maurer wrote a thoughtful article entitled "IBM: The Bottom Is Not Yet In." That day, IBM closed at $122.91.
One reader commented on the article by saying, "I also believe that IBM has likely not seen the bottom yet. 2016 will be very challenging for IBM on numerous fronts, including currency as you've highlighted. I hope to someday initiate a long position in IBM, but unfortunately, I really don't see that happening any time soon." In hindsight, the period between Bill's article and the February 11 low was a golden opportunity to buy IBM.
IBM was a test of my capacity to remain objective. Within 11 months of my initial purchase at $160, IBM dropped almost 27%. There were times I was tempted to cut my losses, but I stuck with IBM and "averaged down." So far, the strategy has worked, but all along the way I have been tempted to sell. I've been openly critical of IBM's management. Even though I agree with Pete Greulich's basic assessment of IBM, the company has made just enough progress in its turnaround efforts for me to maintain my long position. This has been a case where on many occasions my emotions told me to sell, but I've tried to remain objective and have continued to hold.
I'm long IBM because it has a Standard & Poor's credit rating of AA-, it continues to raise its dividend and its efforts to shift the company's business model seem to be slowly gaining steam. I hold it in spite of its increasing debt level and in spite of CEO Ginny Rometty's absence during quarterly earnings calls. (I confess this is a pet peeve and so far I've looked beyond it.)
Kinder Morgan: Competing viewpoints
There was a season in which Kinder Morgan was one of SA's most lively-debated enterprises. This was before and after Kinder Morgan Energy Partners (NYSE:KMP) converted to corporate status through its acquisition by sister company, Kinder Morgan, Inc. (NYSE:KMI).
As a dividend investor, I was long KMP. Because of issues with owning a MLP in an IRA I converted my KMP units into shares of KMI in June 2014, before management announced the conversion. I made an initial purchase of KMI shares in June 2014 at $35.02 and doubled the position in October at $34.40.
For a brief period, KMI was my largest position. However, between October 2014, and January 2015, I became a conflicted holder of KMI shares. There was an ongoing, spirited debate over Kinder Morgan within SA. About this same time, I also thought the market was a bit overheated and I was becoming concerned about relative dividend safety.
I sold one-fourth of my KMI shares in December 2014 at $42.88, and I closed the position in January 2015, at $41.65. During this period, many analysts that I respect were quite positive about KMI. The December 11, 2014, "Kinder Morgan: Buy the Dip" article by David Alton Clark is instructive. He wrote, "Kinder Morgan has a fortress balance sheet, tremendous backlog, and a strong track record of returning capital to shareholders. A significant buying opportunity presents itself." This general bullish theme was echoed by many other capable analysts.
However, some cracks began to appear in the thesis as early signs of the oil crisis began to appear. Clayton Rulli wrote a January 21, 2015, article that questioned an apparent revision in KMI's dividend forecast. The following comment by a reader was one of many during that period that caused me to question my ability to understand both the macro economics and KMI's internal finances: "The elephant in the room is OPEC. Not KMI and its dividend projections. We just witnessed Continental sell its midstream resources folks. Supply destruction is OPEC's stated objective and its working rather well. What amazes me is analysts think midstream oil and gas services are somehow immune from shrinking income and margins in the oil patch. That is simply not true. Ultimately supply will shrink and tariffs will be REDUCED and throughput will decline. We will have pipelines operating at reduced capacity and at lower tariffs. Defaulted junk debt from excessive lending into oil E&P speculation using $100 bbl oil as COLLATERAL is going to be a disaster. Those letter of credits and guaranteed payments to midstream oil service firms will also go into default. The only salvation for the N American energy resurgence is if Oil miraculously returns to $80. I personally wouldn't hold my breath. There is virtual chaos in the Middle East and all the players in that region are selling as much oil as fast as they can. Long positions held for years in NY and London are still just beginning to unwind. We will see $30 oil before we see $80. KMI will survive but they may want to walk back their dividend guidance for the next couple years anyway."
Prospect Capital: Loyalty through yield
One of my earliest SA articles was about my purchase of Prospect Capital (NASDAQ:PSEC). I owned shares of PSEC from February-September 2013. Over time, as I learned more about the sector, I began to agree with BDC Buzz, Scott Kennedy, Factoids and other SA contributors who see the importance of conservative management and relative safety. This narrowed my focus to Main Street Capital (NYSE:MAIN) and Monroe Capital (NASDAQ:MRCC). Currently, I have no position in MAIN and I'm long MRCC.
PSEC grew revenues from $321 billion in FY 2012 to $576 billion in FY 2013 to $712 billion in FY 2014. Rapidly growing PSEC was a popular topic on SA because of its high yield. The high yield for PSEC (provided by BetterInvesting.org) ranged from a low of 13.1% in 2013 to a high of 19.2% in 2016. The dividend moved from $1.22 in 2012 to $1.32 in 2014, but down to $1.19 in 2015 and to $1.00 in 2016.
An attempted buyout of Nicholas Financial (NASDAQ:NICK) caught the attention of NICK shareholder Lawrence Zack Galler, who thought the price offered by PSEC was too low. This led to numerous articles by Galler about PSEC, such as his March 3, 2014, article, "Prospect's Growth Hides Bad Underwriting." Galler was clear about his financial interest in opposing the proposed NICK deal. I appreciated his transparency and the strong investigative analysis about PSEC that he brought to SA.
The 2014-2015 period was a time of very lively debate in the comment threads of articles about PSEC. I have not kept up with PSEC since late 2015, so I cannot speak to its current situation, but in those days I learned that I could always count on BDC Buzz and Scott Kennedy, for example, to provide professional clarity based on the fundamentals. During that period, I noticed in the comment threads a strong sense of loyalty among some of the readers who had invested in PSEC. Occasionally, it appeared to me that this loyalty prevented a higher degree of much-needed objectivity.
While some investors have a low tolerance for an opposing viewpoint, my experience with PSEC taught me not just to value opposite opinions but to seek them out. When it comes to investing, a 360-degree surveillance of the horizon is crucial. We need as much objectivity as we can muster, and this usually means weighing analyst opinions that vary widely.
Objectivity about investments can help in other areas of life
Objectivity is valuable because it helps us make better investment decisions. I have found that if I can practice objectivity in one area of life, such as the study of companies, it helps me avoid dualistic, "us versus them" thinking in other areas of life, such as politics and picking winners in a NCAA basketball bracket.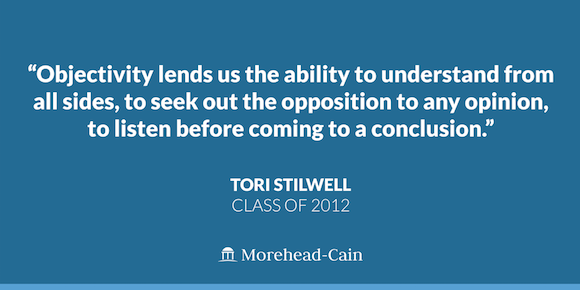 (Tori Stillwell quote from Morehead-Cain)
My goal is to produce about one article per week, usually about one of the holdings in my retirement portfolio. (This article is an exception.) You can access previous articles here.
To be notified of future articles on a real time basis, just click "Follow" at the top of this article, then choose "follow this author" and "real-time alerts."
Your comments are an important part of my learning process. We are co-learners. I'm grateful for my SA colleagues and friends.
It's not my intent to advocate the purchase or sale of any security. I offer articles and blogs to provide ideas for stocks to study and to share a journal of my effort to design and build a retirement portfolio that puts a priority on relative safety, a history of dividend growth and solid future prospects. Your goals and risk tolerance may differ, so please do your own due diligence.
Disclosure: I am/we are long AAPL, IBM, JNJ, MSFT, MMM, PG, PFE, MRK, ADP, WMT, KO, CSCO, GWW, RY, TD, NSRGY, GE, IBM, CL, UL, TXN, GPC, PSA, VFC, SO, WEC, PPL, DUK, BIP, BCE, VTR, O, EPD, AGR, WPC, BEP, BIF, HASI, MRCC, PEGI, APLE, VTI, VEA, VWO, VYM, VOE, VNQ, VPU.
I wrote this article myself, and it expresses my own opinions. I am not receiving compensation for it (other than from Seeking Alpha). I have no business relationship with any company whose stock is mentioned in this article.