"Tiffany & Co (NYSE:TIF)" is one of the largest jewelry manufacturer in the world, well-known for its distinctive blue box, which faced difficulties weathering the storm of the luxury industry in the last couple years due to its mono-product exposure (jewelry represents 92% of worldwide sales). In fact TIF was trading at $64 at the time of our first article about the company, it was a great investment opportunity back then as shares soared almost +50%!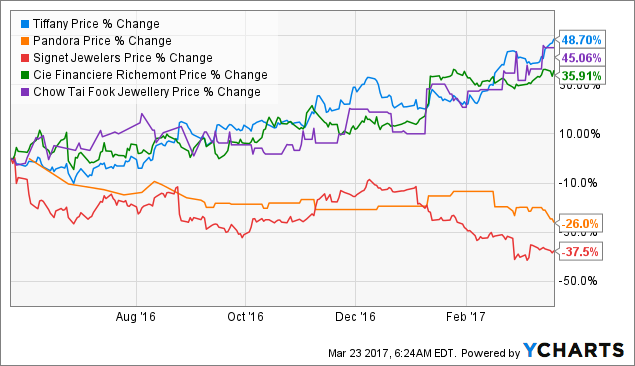 TIF data by YCharts
The company filed its latest 10-K on March 17th, we will discuss some key elements of the report and whether current valuations are still attractive.
1. Consumers Are Deterring From High-End Jewelry
Last year, Tiffany announced that it would introduce new collections "at or below $500" to fight back against competitors such as "Signet Jewelers (NYSE:SIG)" and enter the "everyday luxury" segment in order to expand its image from being exclusively an engagement-ring jeweler. This strategy has been a success, consumers were starting to be reluctant to enter Tiffany stores as they viewed its products being beyond their price range. In the latest report you will notice that in some new markets such as Asia-Pacific, where the company has opened 19 stores in the last 4 years, the proportion of Fashion jewelry sales has reached 35%. Greater China represents more than half of Asia-Pacific net sales. Japan, the only reportable segment where comparable store sales were positive in 2016, saw its portion of Fashion jewelry increase from 14% to 19% since 2014. As a reminder, Fashion jewelry consists of non-gemstone jewelry containing silver or gold with an average price of $350. The interesting point is that the average price of Fashion jewelry products has increased by +13% in the last 2 years, meaning that the company was able to increase its profit margins in this fast-growing category (price increase not justified by precious metals). At the exception of Europe, Engagement jewelry & wedding bands represented a lower portion of sales in each region as the average price of merchandise sold was in the upper-end at $3'400. Engagement jewelry & wedding band is the only product category which saw its average price decline in the last 2 years. The average price decreased by -10% since 2014, which is a clear sign that consumers are moving from engagement jewelry products towards lower price wedding bands. Last but not least, Fine & solitaire jewelry sales decreased in every region while the average price of merchandise sold remained stable at $6'300 which shows that consumers have less appetite for the high-end price category and are clearly shifting away from Fine & solitaire jewelry.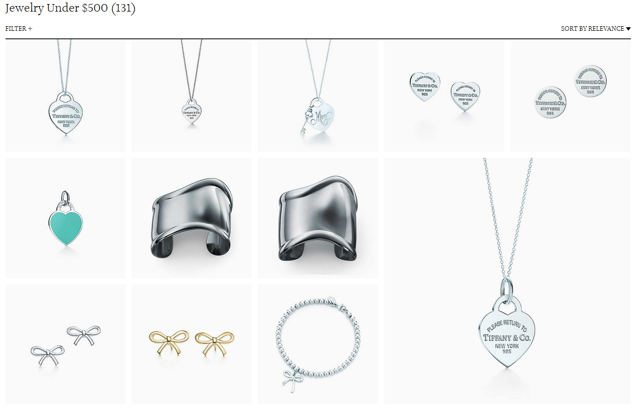 Source: Tiffany website - Jewelry under $500
We would like to add that our internal research from our worldwide distributors (being the investment division of Swiss luxury watchmaker Franck Muller) enabled us to come to the conclusion that consumers were more optimistic at the beginning of 2017 which could lead to higher sales of high-end jewelry this year.
2. Management is focused on key long-term financial objectives
Since the appointment of Mark Erceg as CFO of the company last October, we are confident that key metrics under scrutiny will be improved. For instance, gross profit margins increased by 110 basis points to 64.1% during the last quarter of the year thanks to a tight control on product input costs as well as the effect of the price increases mentioned above. We believe this metric should continue to improve as gold jewelry is becoming more and more important within the Fashion jewelry category (largest category at 33% of sales), a tailwind as gold prices remain close to the lows. It will be reflected in the company's margins with a certain delay as the inventory on hand is among the highest in the industry at 520 days. Nonetheless, inventory levels are closely monitored and decreased in Q4 at a faster pace than sales growth which is a good message.
In addition, management is putting a lot of attention to optimize the utilization of square footage and grow sales per square foot. Indeed, in Asia-Pacific, where most of the new store openings have been achieved, the average gross retail square footage was among the smallest at 2'800 compared to 5'500 for Americas and 3'200 in Europe. The company has understood that new stores can be smaller than existing retail square footage to increase its ratio of sales per square foot. Consequently, store productivity is the highest in Asia at $4'300 a foot while worldwide average is $2'900 for TIF. Europe is the second region where new store count grew the fastest since 2012 however the bad management of space has lead to only $2'300 a foot, lower than the company average. We would like to highlight that Japan is not only generating higher sales with the same store count as 2012 but also representing the highest productivity per store after Asia-Pacific at $3'200 a foot. Japan is also outstanding compared to other regions as its share of EBIT to total company EBIT has grown from 19% in 2014 to 22% this year.
Finally, Tiffany was able to preserve a capital structure that allows the company to generate enough cash for future investments but also to increase the dividend payout ratio. Cash conversion ratio increased at a CAGR of +4% in the last decade to 97% and free cash flow although decreasing in 2016 has increased by more than +10 since 2007.
3. Discussing whether current valuations leave room for an upside
The stock is approaching $100 and we wonder if it still make sense to invest or overweight Tiffany & Co. now? Current PE valuation at 27x is approaching levels we have not seen in the past 18 months, so we need to understand if that's justified.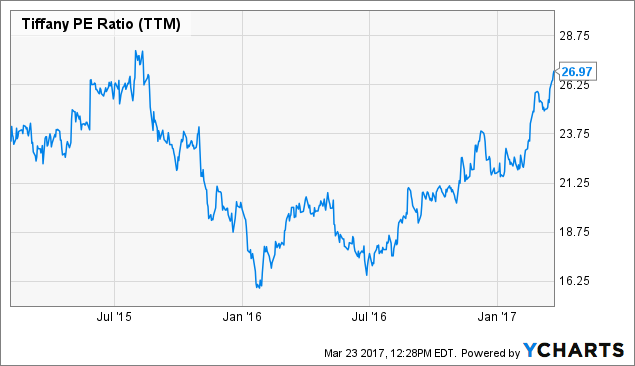 TIF PE Ratio (TTM) data by YCharts
First, as the earnings growth was sluggish in the last 3 years, the price to 3-year normalized earnings is 30 times which is expensive. Then, if you look at price to book value per share, you are currently paying 4 times which is much higher than sector peers.
Secondly, price to sales is 3 times which is in line with the industry average composed of Signet, Richemont (OTCPK:CFRUY), Pandora (OTCPK:PNDZF) and Chow Tai Fook (OTCPK:CJEWF). Also, the price you are paying for the earnings growth is relatively acceptable at 2.4 times compared to competitors.
Thirdly, we have to look at future projections to better assess the investment case and we realize that there isn't much upside in EBITDA margin to expect for the next 2 years. However, earnings are forecasted to grow at 7% CAGR until 2019 which leads to a PE of 21.5 times.
In conclusion, we believe Tiffany is well positioned among the list of companies that are best fit for the "branded jewelry" category which is expected to capture most of the growth in the next couple years. We also think that short-term headwinds (strong dollar, lower tourists in the US, search of new CEO) will continue to weigh on the company's share price. Despite comforting results and targeting to be back to positive top line growth in 2017, we would not invest at levels above $100 as markets might have got a bit too excited.
Author's note: If you have enjoyed this article, feel free to hit the "Follow" button for more articles with a long-term investment horizon.
Disclosure: I am/we are long TIF, PNDZF.
I wrote this article myself, and it expresses my own opinions. I am not receiving compensation for it (other than from Seeking Alpha). I have no business relationship with any company whose stock is mentioned in this article.
Editor's Note: This article discusses one or more securities that do not trade on a major U.S. exchange. Please be aware of the risks associated with these stocks.