It is clearly evident that an increasing number of consumers are opting to shop online from the comfort of their homes and offices. Convenience, more competitive pricing and better selection-not to mention privacy when making discreet purchases-are touted as just a few of the reasons consumers are spending more time clicking online than physically going to stores. The rise of mobile shopping is also fueling this trend. With people spending more and more time on their smartphones, it makes sense to also shop there.
So just how much more are consumers shopping online than in brick-and-mortar stores?
A lot. A fast-growing number of retailers are reporting closing stores due to slowing sales. Sears just joined the list, posting its seventh consecutive annual loss. Sears Holding Corp suffered a 39% stock drop over the past year (through Tuesday's close) and dropped 13% on Wednesday morning after raising doubts about its ability to stay in business.
Just look at the number of store closures YTD: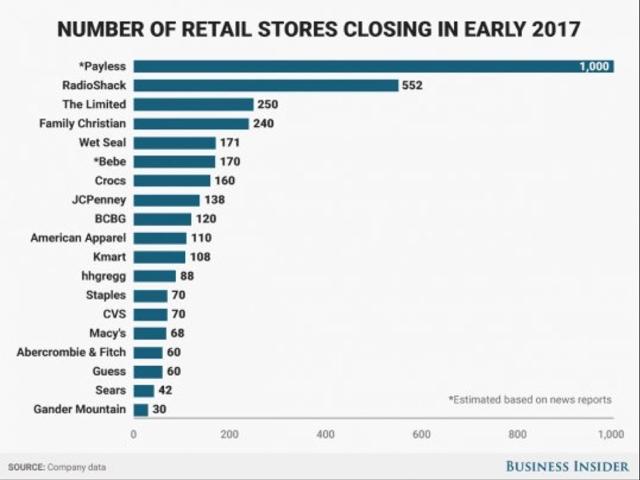 Commenting on Sears announcement that it has "substantial doubt" it will stay in business, eBay (NASDAQ:EBAY) CEO Devin Wenig opined that the fourth quarter of last holiday season was a really important moment, representing "an inflection point where that was the end of retail as we know it."
The U.S. Commerce Department released new data last week revealing that U.S. consumers spent $49.9 billion on retail products outside of stores in February-a 13.0% jump compared with February of last year, and a 1.2% jump from January.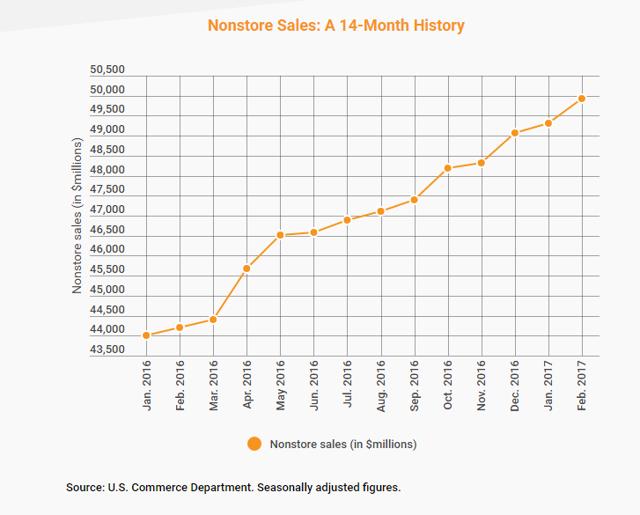 In the fourth quarter, U.S. e-commerce sales grew 14.3% to $123.61 billion, versus a total retail sales increase of 3.9% when factoring out items not normally bought online, like automobiles, fuel, and bar and restaurant sales.
That growth rate, reported Feb. 17, suggests e-commerce represented 13.3% of total retail sales in Q4.
Consider that this strong growth occurred despite relative weakness in most other areas of retail. Total retail sales, excluding food service and the sale of automobiles, increased 0.1% month over month, versus a non-store increase of 1.2%. Sales in electronics and appliances stores dropped 2.8% compared with January, and sales of clothing fell 0.5%.
Looking at more long-term numbers, online sales have grown more than 2000% since 1999. That's a 20% compound annual growth rate. (Source: U.S. Department of Commerce Quarterly Retail E-Commerce Sales, 3 rd Quarter 2016, Reported 11/17/16). And these numbers are only expected to keep on rising.
Growth of U.S. Online Retail Sales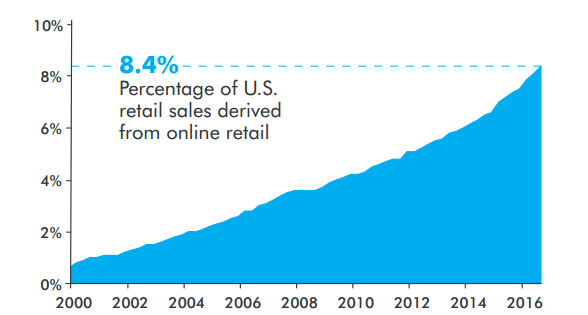 Source: U.S. Department of Commerce Quarterly Retail E-Commerce Sales, 3rd Quarter 2016, Reported 11/17/16
There's an ETF for This
For investors wanting to take advantage of the uptick in e-commerce, The Amplify Online Retail ETF (NASDAQ:IBUY), made up of global online retail stocks, seeks to take advantage of the explosive growth in e-commerce. Since its inception on April 20, 2017, it's up roughly 13% (as of March 22, 2017) and it's recently hit a $10M under management milestone.
Relative to its traditional retail ETF peers, IBUY has significantly outperformed, outpacing the S&P Retail ETF (NYSEARCA:XRT) by an astounding 23% since its inception.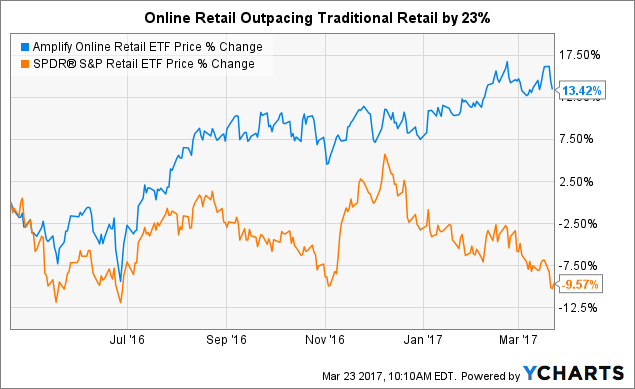 IBUY seeks to provide a cost-efficient way for investors to own a basket of companies with significant revenue from online and virtual retail sales. The fund's portfolio offers convenient diversification across market capitalizations, geography and business focus. While many traditional retail ETFs own only U.S. stocks, IBUY reflects a global marketplace with a 25 percent allocation to international stocks. Portfolio holdings fall into three categories: traditional retail, marketplace and travel. Top holdings include names such as Petmed Express ( PETS), Etsy ( ETSY), FTD Cos ( FTD), and eBay ( EBAY).
The End of Retail?
So what does the future have in store for retail? Will every store move entirely online?
While eBay CEO Wenig doesn't think physical stores are completely going away, he does see a mass restructuring of retail underway which will mean "drastic changes in store footprints and what stores do." He thinks consumers still want stores, but they must transform themselves into "mini distribution centers" in order to succeed.
The physical store "experience" will also play a critical in the survival of traditional retail. Consumers are tired of poor in-store experiences such as lines at the register, limited inventory, and bad customer service.
All the evidence suggests that we are indeed at a critical inflection point in retail as online commerce takes a bigger share of the pie and permanently transforms the way we shop. Ultimately only those retailers that can successfully adapt to this radical disruption of retail will survive. The rest, sadly will die.
Disclosure
EQM Indexes is the creator of the EQM Online Retail Index which has been licensed to Amplify ETFs as an ETF. It is not possible to invest directly in an index. Exposure to an asset class represented by an index is available through investable instruments based on that index. EQM Indexes does not sponsor, endorse, sell, promote or manage any investment fund or other investment vehicle that is offered by third parties and that seeks to provide an investment return based on the performance of any index. EQM Indexes makes no assurance that investment products based on the Index will accurately track index performance or provide positive investment returns. EQM Indexes is not an investment advisor, and makes no representation regarding the advisability of investing in any such investment fund or other investment vehicle. A decision to invest in any such investment fund or other investment vehicle should not be made in reliance on any of the statements set forth on this website. Prospective investors are advised to make an investment in any such fund or other vehicle only after carefully considering the risks associated with investing in such funds, as detailed in an offering memorandum or similar document that is prepared by or on behalf of the issuer of the investment fund or other vehicle. Inclusion of a security within an index is not a recommendation by EQM Indexes to buy, sell, or hold such security, nor is it considered to be investment advice.
Disclosure: I am/we are long IBUY.
I wrote this article myself, and it expresses my own opinions. I am not receiving compensation for it (other than from Seeking Alpha). I have no business relationship with any company whose stock is mentioned in this article.