Note: This article was originally published Mar. 6th on Value Investor's Edge, a Seeking Alpha subscription service.
Overview
Maritime-traded liquid natural gas - "LNG" - is a crucial link in the natural gas supply chain for many nations where domestic demand outstrips available supply. These vessels transport natural gas, which has been reduced to a liquid state by cooling it to minus 162°C, achieving a volume reduction of approximately 600 to one. Upon delivery, this LNG can be stored in a liquid state until the market demands, whereupon it enters a re-gasification process.
Companies that engage in LNG transport include, but are not limited to, Dynagas LNG Partners LP (NYSE:DLNG), Golar LNG Limited USA (NASDAQ:GLNG), Golar LNG Partners LP (NASDAQ:GMLP), GasLog Ltd (NYSE:GLOG), GasLog Partners LP (NYSE:GLOP), Tsakos Energy Navigation Ltd. (NYSE:TNP), and Teekay LNG Partners L.P. (NYSE:TGP).
Background
In 2016 the big story was Australian supply ramping up. As noted in my previous report "India, Taiwan, South Korea, Japan, and China are all receiving LNG from regions much further away from Australia, like Qatar for example. The shorter haul for LNG out of Australia will provide a significant competitive advantage and will most likely promote a shift in flows, hurting ton mile demand." I concluded, "headwinds remain in the form of ton mile demand. This is due to decreasing demand from far off destinations and new supply coming online which should sort of cannibalize longer haul routes."
While I believe this trend will continue to play out in the coming years the introduction of US LNG to the market could mitigate some of the negative impact regarding ton mile demand. With the US poised to become a major supplier we should see a shift in trade flows as well as ton mile demand through 2020. Here we will take a closer look at how US supply will impact the market.
Shifting Trade Flows
However, 2017 could see the beginning of a different trend.
Cheniere started exports from the Sabine Pass liquefaction plant in February last year with the majority of cargoes landing in Latin America. Since that time there have been approximately 60 shipments from Sabine Pass to 17 different countries.
Prior to the US entering the LNG export market much of the supply had originated from the Middle East, Asia, and Oceania.
As more LNG export capacity continues to come online the USA is projected to become the world's third-largest LNG supplier by 2020 with an export capacity of 60 million mt.
The majority of LNG out of the USA has gone to Latin America.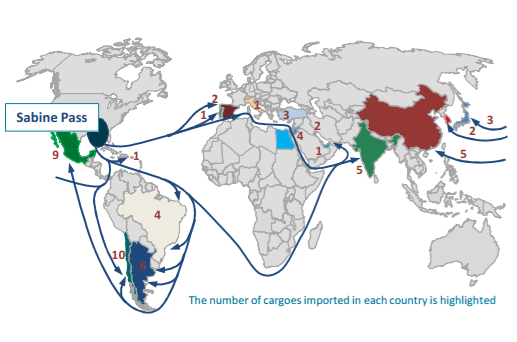 Source: GasLog
But as noted in a recent article, Asia has been receiving more US LNG due to arbitrage in the short-run and will continue to receive it in the long-run due to several contracts set to gradually promote this trade route.
LNG out of the USA could redefine the market in three ways. First, the price of LNG out of the USA is highly competitive. Second, the USA represents a stable supply source. The first two both promote the willingness to adopt LNG out of this region. Third, the USA to Asia represents a long haul voyage which will impact ton mile demand. The third point deserves some elaboration.
Ton Mile Demand
Ton mile demand is just a fancy way of saying how far a ship must travel to deliver a specific cargo. The longer a ship is out to sea for a given cargo, the longer it is removed from the supply side thus reducing available supply.
In short, less supply given a constant demand will produce a supply side shift resulting in higher prices, which in this case is charter rates.
Cargos originating in the USA almost always present a longer travel time. More laden days means more vessels will be required per MTPA. This creates a sort of multiplier effect.
The chart below illustrates that almost all destinations receiving LNG cargo out of the USA require more travel time with the exception of Brazil and Portugal.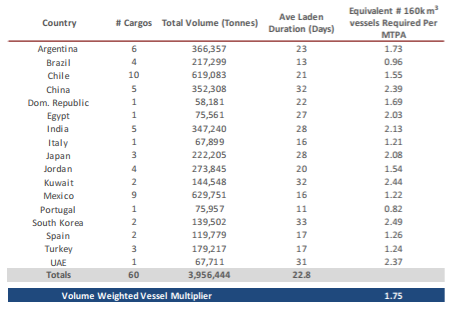 Source: GasLog
GasLog chief executive Paul Wogan notes:
Recent cargoes from Cheniere's Sabine Pass terminal have been shipped through the Panama Canal to China, Japan and Korea, 9,000-10,000 miles (14,500-16,100km) in total. This is more than double the historical average trading distance for LNG voyages, of around 4,000 miles (6,500km). Poten recently calculated, based on completed voyages from Sabine Pass, that every million tonnes of LNG will require about 1.7 ships, significantly more than historical averages. Of the first 60-plus Sabine Pass cargoes, others traveled some 10,000 miles (16,100km) to the Middle East and India, and South America, where a journey to Rio is about 5,000 miles (8,000km).
This highlights the fact that LNG trade is becoming more global in nature. Historically the trade had been ore regional with main sources of production close to their markets. Spot cargoes were only available when volumes exceeded contractual demand. But two key changes have taken place recently. First, an enormous amount of supply has hit the market and will continue through 2020 meaning spot cargoes are more readily available as well as contractual opportunities. Second, the LNG fleet has increased considerably from 120 vessels in 2000, which were typically smaller and focused on regional trade, to just under 500 currently, with an increase in average capacity. Both the number of vessels available and increased cargo volume allow more global flexibility.
Drewry senior research analyst LNG Shresth Sharma reports:
Drewry expects LNG tonne-mile growth to average 8 per cent annually in 2017-2020. This year, we expect tonne-mile growth of 8 per cent - against trade growth at 7 per cent. However, from next year, tonne-mile growth will surpass trade growth. In 2018 and 2019, tonne mile growth should average 9 per cent against a trade growth averaging 5 per cent, as most trains coming online will be in the US. These trains will increase trade on the US-Asia and US-Europe long-haul routes, which will boost tonne-mile trade.
LNG exports out of the USA have support from the current administration. President Trump's nominee for energy secretary, former Texas governor Rick Perry, said at his Senate confirmation hearing in January that he wanted to boost US exports of LNG. Mr. Perry stated, "if we produce it in America, it makes abundant good sense to me for us to sell it to the world."
Mixed Reviews
As noted in the beginning there is a sort of tug of war between new supply coming online near key markets and increasing supply/voyages out of the USA which is a long haul route.
Paul Wogan predicts a hike in tonne-mile demand to 2020, thanks to new import nations emerging and to growth in demand from India and China. Jefferies analyst, Douglas Mavrinac echoed that sentiment stating that "US LNG production could/should result in increasing ton-mile demand."
But Simpson Spence Young Gas director Debbie Turner notes that the increasingly diverse supply, thus far concentrated in Asia in Oceania, has led "many to believe this dramatic increase in production could make moving these volumes more inter-regional, reducing - in theory - demand for tonne-miles." However, she also notes that "we have not yet felt the real impact of US shale gas volumes and Australian production continues to increase."
MSI director Stuart Nicoll reports "MSI estimates that trade growth to 2020, accompanied by shortening average hauls in our base case forecast, will add nearly 20 million m³ to ship demand, based on an increase in average voyages to 12.4/year," up from 11.6 in 2013-14.
While there are many more predictions these three were selected to illustrate the varying views which range from net gain, to net loss with the potential for a shift to net gain, and finally a net loss in ton mile demand.
Personally, I believe that a net loss turning to a net gain makes the most sense for how this dynamic market will evolve.
New Supply
Looking at the volume of USA supply projected to come online compared to other regions seems to support my assumption that greater ton miles may be in store in the long-run.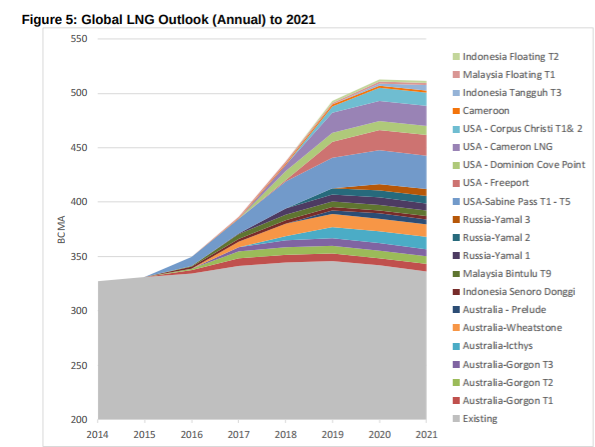 Source: Oxford Institute For Energy Studies
Notice that US LNG for export makes up a large portion of the supply projected to come online. Once again, most destinations for US LNG carry with them increased ton miles over the historical average.
As of January, FERC reported that there were 4 terminals approved but not yet under construction and 14 additional LNG export terminals proposed in the USA. If these projects come to fruition it could have a significant impact on the LNG market over the long-run.
Currently, Qatar is the world's biggest and lowest-cost LNG exporter, shipping 77 million metric tons a year. However, it has a moratorium on adding more capacity, meaning it will probably relinquish the top spot to Australia in 2018-19. That is when seven big LNG projects are expected to reach maximum output at Gladstone in Queensland, and in Western Australia and the Northern Territory.
But Australia's reign at the top may be short lived according to the Nikkei Asian Review which stated:
Under current calculations, Australia may hold the top LNG export spot for about five years before American suppliers, buoyed by renewed enthusiasm in the oil and gas industry under the Trump administration, overtake it as new LNG export terminals on the Gulf of Mexico and Atlantic coasts come onstream.
Conclusion
Ton mileage is an important consideration. A loss in ton miles traveled reduces laden time and increases the available supply of vessels which impacts rates accordingly. However, the opposite is also true. Increases in ton miles traveled absorbs vessel supply and can lead to higher rates.
In a previous article entitled LNG Shipping Demand Side Macro Update: March 2017, we have seen that demand for LNG is set to continue growing at a robust pace.
With demand increasing and ton miles potentially increasing this scenario can have a sort of compounding effect on the market leading to higher rates over the long-run.
Of course, this impact will be felt in the spot markets but should also carry over to the long term time charter markets as new contracts are negotiated under increasingly favorable conditions.
Value Investor's Edge
Value Investor's Edge is a top-rated Seeking Alpha research service which focuses primarily on the volatile and therefore potentially very profitable, shipping industry. Members receive a two-week lead time on all reports by James Catlin alongside exclusive content by J Mintzmyer, a top tier deep value analyst. This platform offers actionable trades and strategic income opportunities through Mr. Catlin's data driven macro analysis which often complements Mr. Mintzmyer's company-specific analysis. This winning team has developed a dedicated following of highly knowledgeable investors and industry professionals who also share their own thoughts and ideas on Value Investor's Edge.
Disclosure: I/we have no positions in any stocks mentioned, and no plans to initiate any positions within the next 72 hours.
I wrote this article myself, and it expresses my own opinions. I am not receiving compensation for it (other than from Seeking Alpha). I have no business relationship with any company whose stock is mentioned in this article.