As we all know, the price of oil has taken a tremendous hit from the oversupply of crude since 2014. The slump in oil prices made the sector a perfect hunting ground for value stocks. The oil crash has left huge scars on the offshore drilling players, as Transocean (NYSE:RIG), Ensco Plc (NYSE:ESV), Rowan Companies (NYSE:RDC) and other companies struggle to survive in the trough of the market.
Of the aforementioned companies, I find Transocean to be a high-probability value bet. Transocean is the leader of the deepwater drilling sector with a backlog of $10,070M, and it has a presence in the shallow water area. Transocean is one of the world's largest offshore drilling contractors and has a fleet of 56 rigs with nine under construction.
Current Fleet Breakdown

| | |
| --- | --- |
| Ultra-deepwater floaters | 30 |
| Harsh environment floaters | 7 |
| Deepwater floaters | 3 |
| Midwater floaters | 6 |
| High-specification Jackups | 10* |
*Note: Transocean
plans to sell
its jackup fleet to Borr Drilling.
Transocean has a strong customer base; its main customers include Chevron (NYSE:CVX), BP (NYSE:BP), Shell (NYSE:RDS.A), and Petrobras (NYSE:PBR). None of these firms contribute more than 25% of the firm's revenue. I believe the diversification of its customer base helps spread the risk of the company around.
Revenue Contribution
| | |
| --- | --- |
| Chevron | 24% |
| BP | 12% |
| Shell | 12% |
| Petrobras | 11% |
| Others | 41% |
Financial Analysis
Since oil's plummet from 2014, Transocean's revenue dropped from $9,174M in 2014 to $4,161M in 2016, while gross profit dropped from $5,110M to $2,286M in the same period. In other words, revenue dropped 54.6%, while gross profit only dropped by 43.75% in comparison. This is mainly due to the decrease of costs. Looking into the income statement, the decrease of the cost is mainly due to the drop in operating and maintenance costs, dropping 63% in two years.
In 2014, operating costs made up 55.5% of the operating revenue, while the same number decreased to 45% in 2016. This might be due to fewer activities of rigs because of declining demand, but also shows management has responded to the crisis efficiently. Another thing to take note of is that the company has gained $148M on the retirement of debt, which decreased future interest expenses.
Transocean's revenue is likely to further decline in 2017 and 2018 because the uncommitted fleet rate of all fleets is increasing. Of five major fleet types the company operates, deepwater floaters, midwater floaters, and high-specification jackups are estimated to reach a 100% uncommitted rate by 2019. However, such estimates were made on Feb. 7, 2017, when WTI oil hovered around the $50 level. I believe the uncommitted fleet rate will decrease when oil prices rebound, as many international oil companies will start drilling again at the $60 price level.
Transocean is currently in talks to sell its jackup fleet, including five that are under construction, to Borr Drilling for $1.2B. This takes contracting pressure off of Transocean as all the jackups are expected to be 100% uncommitted by 2019. The sale of the jackup rigs serves as a positive indicator to us as the sector only contributed 1.5% of revenue in 2016, and shows Transocean will focus on its core ultra-deepwater drilling market in the future. Another thing to take note of is that the revenue efficiency of the company has been steadily increasing since 2014, reaching 100.3% in 2016. This is spectacular for a company caught in the worst industry bear market ever seen.
Transocean's YoY Margins

Source: CreditSuisse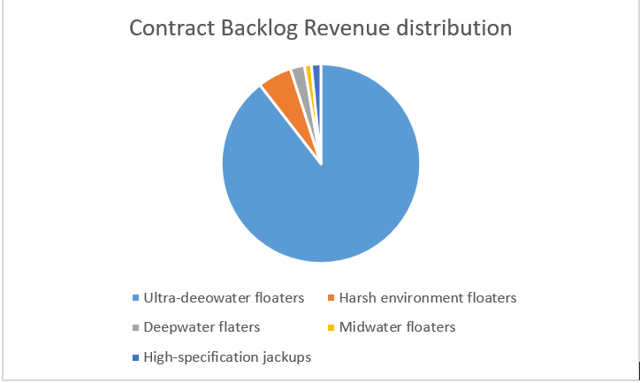 The company has $8,546M in outstanding debt with $7,31M of it due within one year. With $3,052M cash in hand plus the $1.2 billion received from the sale of jackup rigs if the deal goes through, the company is unlikely to default on its debt in such a short period. From the balance sheet, we see that the liability ratio is 41.1% and the current ratio is 2.5, both of which are not exceptionally high. Combining all this evidence, I believe that Transocean is unlikely to suffer from any default risk in the short term.
Amid the disappointing market, the company is still generating positive operation cash flow while decreasing capex. During the conference call, CEO Marc Mey said that capital expenditure in 2017 is anticipated to be approximately $500M, and $325M in 2018. Construction work in progress at the end of 2016 was $2,171M, including five jackup rigs and two ultra-deepwater rigs. Subsequent to the transaction of selling the jackup rigs, I believe the number will drop and therefore maintain a positive cash flow while the revenue continues to drop.
Another thing that sparked my interest in the stock is that management has noted an increased level of customer inquiries into contracting rigs for offshore projects. These inquiries are an early indicator that oil companies are going to restart their offshore drilling program. Additionally, during the fourth quarter the company was able to secure contracts for two cold-stacked rigs when their competitors have hot rigs that are available. I believe the increased level of customer inquiries into contracting will eventually turn into contracts in late 2017 or 2018. The increased in contracts should increase all operation metrics.
Valuation
Currently, the company is trading at $12.53 per share, giving it a market capitalization of $4.879B. Transocean has a P/B value of 0.3 compared to the industry average of 0.5 and a P/E ratio of 6 compared to the industry average of 8.3. The market has given Transocean the price of a company that is going to file bankruptcy soon; however, looking at the balance sheet items mentioned above, Transocean has enough cash to repay all its debt in the short term.
Although the current outlook seems dismal, with a fraction of its drills uncontracted in 2019 and revenue continuing to decline, current forecasts were made when crude traded at $50/barrel. When crude rebounds to a level above $60/barrel, many international oil companies will start their drilling program again. We believe that the exceptional operational quality and solid customer base of the company will lead to a brighter outlook and therefore increase the valuation.

Source: Tradingview
Technically, crude oil is currently in a triangle uptrend and the break through to either side will occur at the latest in October 2017. I remain positive about the outlook for crude because of the increasing demand from India and China and the cut in production by OPEC countries.
Conclusion
I recommend Transocean because of its cheap valuation and better outlook in 2017 and 2018. As oil rebounds to the $60 level, due to the increase in demand from India and China, oil producers will restart their offshore drilling programs. This increase in demand should drive rig demand and increase both dayrates and utilization rates for Transocean.
Disclosure: I am/we are long RIG.
I wrote this article myself, and it expresses my own opinions. I am not receiving compensation for it (other than from Seeking Alpha). I have no business relationship with any company whose stock is mentioned in this article.