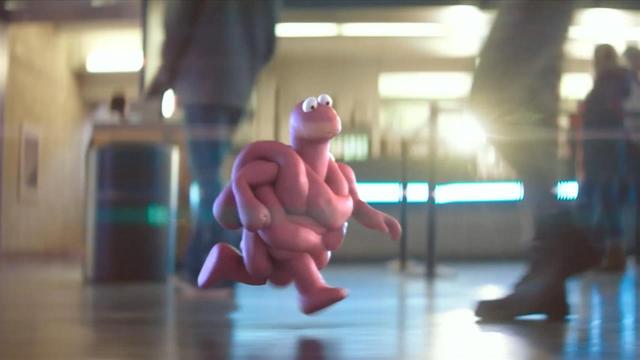 Xifaxan Super Bowl ad
Source: Wsj.com
Well Fargo's (NYSE:WFC) David Maris has been one of the most accurate analysts on Valeant (NYSE:VRX). That's why his recent warning on Xifaxan should alarm bulls:
Valeant already has enough Xifaxan problems without more competition for its leading med. But thanks to the FDA, that competition may be on its way sooner than the embattled drugmaker would like.

On Friday, U.S. regulators posted new guidance on what's needed for generics makers to show bioequivalence to the IBS-D fighter, and that guidance will make it "much easier" for them to do so, Wells Fargo analyst David Maris wrote in a note to clients. The agency will no longer look for a bioequivalence study with clinical endpoints in order to establish bioequivalence, making the copycat process much less risky and expensive.

"We believe this will open the door to a greater number of generic applicants, as the cost and risk of doing these BE studies is much lower than placebo controlled clinical trials," Maris wrote, noting that he thinks the likelihood of generics entering in 2023 or earlier "has just increased dramatically."
Last year, Valeant's Salix had previously filed a citizen petition asking the FDA not to approve generic applications that did not include evidence that copycats' active ingredients had the same polymorph profile as Xifaxan's.
Xifaxan Is Valeant's Crown Jewel
Xifaxan treats irritable bowel syndrome and is included in Valeant's Branded Rx segment. Xifaxan generated Q4 2016 revenue of $251 million and dwarfs the company's next best seller, SofLens, which generated only $78 million.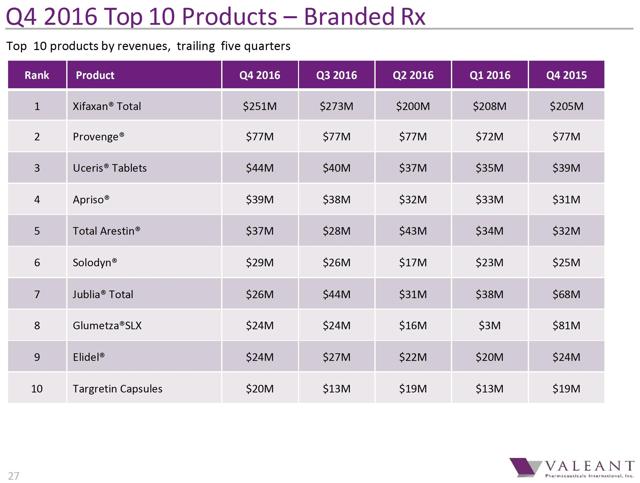 Even without generic competition, Xifaxan is beginning to show cracks. Q4 revenue was up 22% Y/Y, but down 8% sequentially. In early 2016, the company contracted to offer the drug to managed care patients. The move might have helped volume, but Valeant took a hit to the average selling price ("ASP"):
In GI, early in Q1 of 2016, we elected to contract with managed care to ensure that patients with the IBS-D indication for Xifaxan would have access to the product. Of course, that impacted the average selling price of all the Xifaxan franchise in 2016 relative to 2015. On the volume side, the 25% volume decline in derm, roughly $370 million, overwhelmed the modest gains in GI, where volume was up 3%, excluding the acquisition impact.
That said, Xifaxan sales appeared to have peaked at $273 million in Q3 2016. According to prescription data for the week ending March 10, that downtrend will likely continue:
For the week ending March 10th, new derm scripts (NRx) were up 4.5% vs. down 4.7% the prior week. Derm NRx are down 49.8% YoY on a 4-week rolling basis vs. 49.8% the prior week. We view this continued downward trend negatively but note that we cannot track net pricing levels…

Xifaxan 550mg TRx was down 1.9% YoY (vs. down 2.5% YoY last week), with TRx up 0.1% WoW vs. up 3.4% last week. We continue to note that Xifaxan is now trending down YoY…but view the WoW TRx improvement (two-consecutive weeks) positively and will closely monitor next week's scripts.
This does not bode well. If Valeant's stalwart experiences sagging sales now, what will happen if or when generics kick in?
Valeant Remains Troubled
Valeant can ill-afford to lose revenue or cash flow. Its debt load is around $28 billion or 8.1x run-rate EBITDA. Management guided that 2017 revenue could be down by high single digits, which means its EBITDA decline could be even pronounced. The company bought itself more time to right the ship after restructuring $3 billion in debt, and removing or amending certain covenants. The question remains, "What did Valeant buy more time to do?"
Q4 revenue and EBITDA fell sequentially by 3% and 16%, respectively.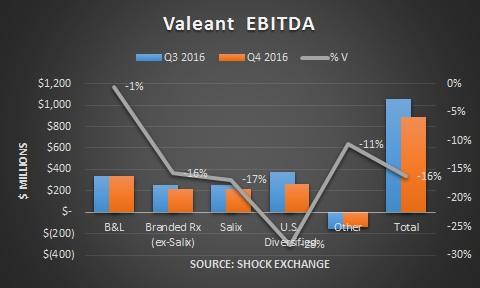 The company's two catalysts - Bausch & Lomb and Salix - both experienced declines in EBITDA. Salix's EBITDA was off about 17%. An underperforming Xifaxan could hurt Salix's deal value, leaving Bausch & Lomb as the company's only catalyst. With Xifaxan's top line trending lower, another double-digit EBITDA decline for Salix and/or Branded Rx could be in the cards for Q1 2017.
Valeant's sum-of-the parts valuation is around $26 billion. Too bad its debt load is $28 billion. The company's value could take a major hit if threats to Xifaxan materialize.
Conclusion
VRX is worthless. More time will not help the company's cause. Avoid the stock.
Disclosure: I am/we are short VRX.
I wrote this article myself, and it expresses my own opinions. I am not receiving compensation for it. I have no business relationship with any company whose stock is mentioned in this article.