Welcome to the weekly natural gas storage report edition of Natural Gas Daily!
The EIA reported a storage draw of -150 Bcf, bringing the total storage number to 2.092 Tcf. This compares to the +13 Bcf injection last year and the -21 Bcf draw for the five-year average.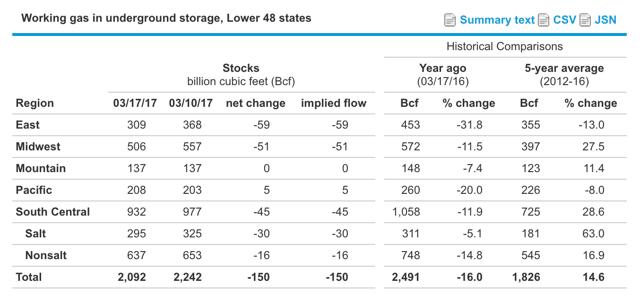 Source: EIA
Going into this report, a Reuters survey of 26 traders and analysts pegged the average at -150 Bcf, with a range between -127 Bcf and -170 Bcf. We expected -160 Bcf and were higher than the consensus. We were off by 10 Bcf on this storage report.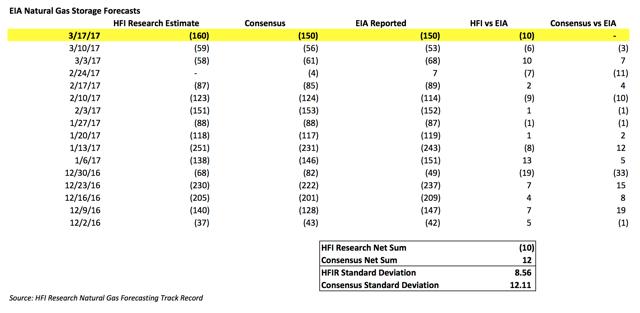 Since the start of December, our estimated storage is currently 10 Bcf lower than EIA's reported storage of 2.092 Tcf. This is demonstrated through our net-sum figure above. This is compared to a consensus net sum of +12 Bcf. HFI Research's standard deviation for each storage report is currently 8.56.
Looking at this week's storage draw of -150 Bcf, our estimate likely overestimated residential heating demand by about 1 Bcf/d last week, and underestimated supplies by about 0.2 Bcf/d.
Moving forward, next week's EIA storage report will be the last storage draw report this winter. Current implied imbalance pegs the storage draw for next week at -55 Bcf. The bulk of the storage draw reported in next week's EIA storage report came over the last two days as another cold blast hits across the East Coast. The -55 Bcf would be higher versus the five-year average again, and the following two weeks to the end of injections are currently projecting injections.
With natural gas prices bumping higher again today, traders we spoke to attribute the recently bullishness to the disappointing US gas production figures. Maintenance explains a large part for the decrease, but traders have been pointing to the abysmal increase in production they are seeing across. Are the new wells unable to replace the declines from last year and the year before? We will be reinvestigating our estimate this weekend.
As for next week's storage figures, we will be publishing our storage estimate for next week tomorrow, so be sure to tune in.
For HFI Research's analysis ONLY in natural gas markets (new premium service), please sign up here. For more info, you can read this.
For HFI Research energy equity research AND analysis in natural gas markets, please sign up here. For more info, you can read this.
Disclosure: I/we have no positions in any stocks mentioned, and no plans to initiate any positions within the next 72 hours.
I wrote this article myself, and it expresses my own opinions. I am not receiving compensation for it (other than from Seeking Alpha). I have no business relationship with any company whose stock is mentioned in this article.