Inflation has accelerated in some of the major global economies, which have been adding to the debate about interest rates and what the pace of monetary tightening should be. This debate is highly important for both equity and fixed income investors as it could indicate the trend for the S&P 500 (NYSEARCA:SPY), the 10-Year Treasury note and almost every other assets. In the past few days, however, inflation expectations have been cooling down. In this analysis we try to show why this has been happening and why we believe it makes sense for now.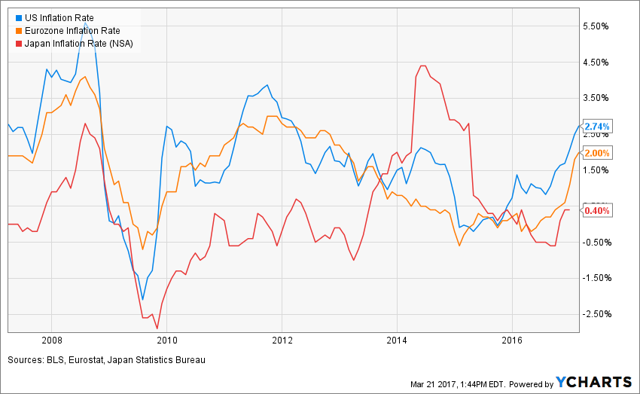 Some inflation expectations measures are telling us that this uptrend should not last long. The Wall Street Journal reported this Tuesday that investors are not pricing in an inflation acceleration scenario. Here is a quote from the WSJ:
"Many market-based inflation readings highlight this skepticism. The 10-year breakeven rate, which measures the yield premium on the 10-year Treasury note relative to comparable Treasury inflation-protected securities, or TIPS, was 2.01 percentage points Monday. That reflects investors' expectation of an annual 2.01% rate of inflation over the next 10 years, nearly the same as the 2% reading on the five-year break-even rate."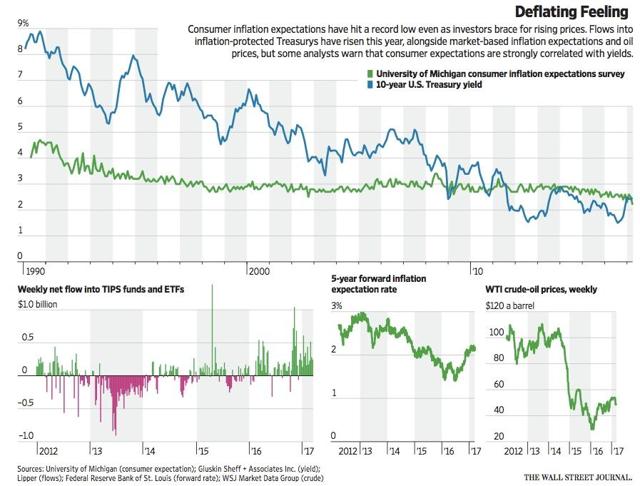 Looking at the U.S. data, we can note that the economic activity has been supportive of some inflationary pressure, although not so much to trigger any alarming sign. GDP growth has been just moderate and new manufacturing orders are gradually climbing from an apparent valley reached last year. This last measure could be more supportive of some inflation acceleration, but not enough so far to be concerning. This is in large part because capacity utilization still has room to go up.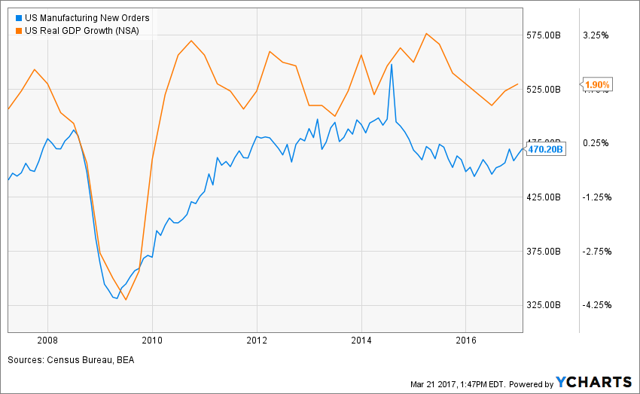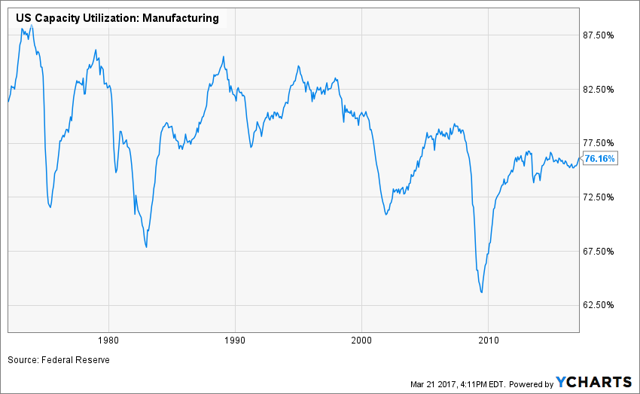 Another very important measure regarding inflation is workers' hourly earnings. The chart below shows us that wage growth in both manufacturing and business activities are not showing much different trends than in the past few years. Here too there is apparently no yellow flag to be raised.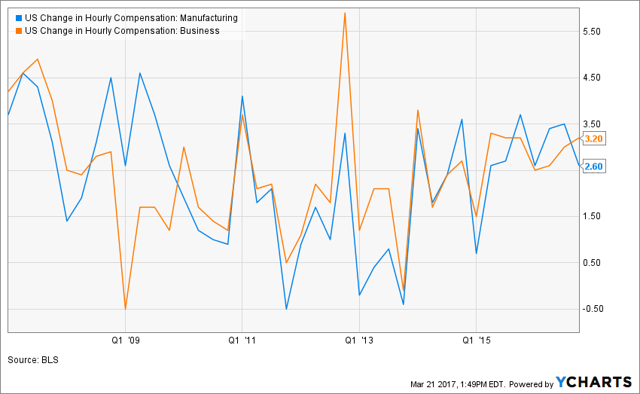 A much controversial theme, oil prices have been hovering around the US$50/barrel level. Recent expectations of higher prices that were built around OPEC's agreed production cuts seem to have vanished away by a favorable momentum in U.S. oil production. Oil prices remaining at the current levels represent some relief in terms of inflation expectations.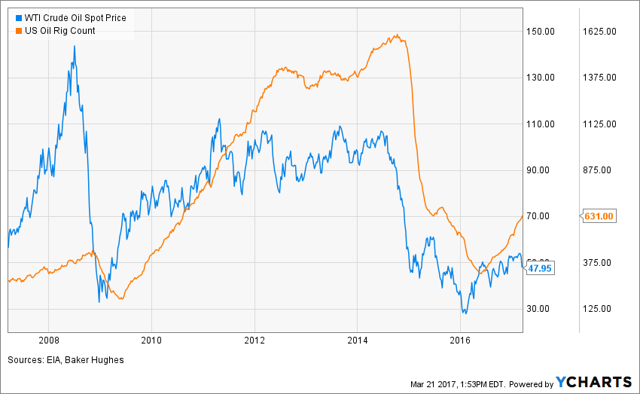 Regarding other commodities, we can see from the chart below, which measures U.S. PPI - All Commodities, that there seems to be some inflationary pressure going on. The rebound in iron ore prices is probably paving the way for this trend. If this movement continues, CPI will surely continue to be contaminated by rising PPI.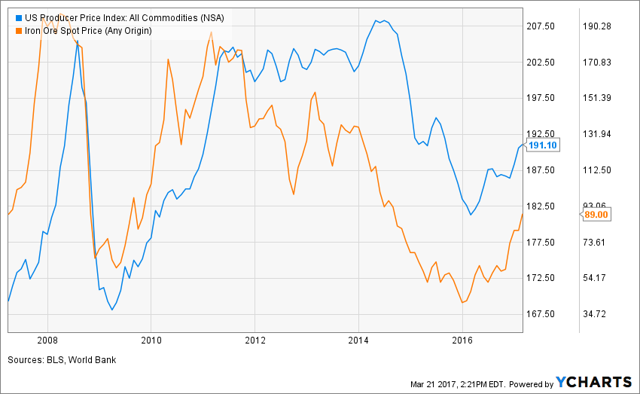 In fact, there is a high correlation (0.71) between iron ore prices and the U.S. Inflation rate, as shown in the chart below. Is iron ore therefore the real force behind the current uptick in inflation? Probably not. Although iron ore plays an important role in manufacturing prices and consequently in inflation, we find more likely that the same forces that are driving iron ore prices higher (i.e. accelerating economic activity) are also boosting inflation.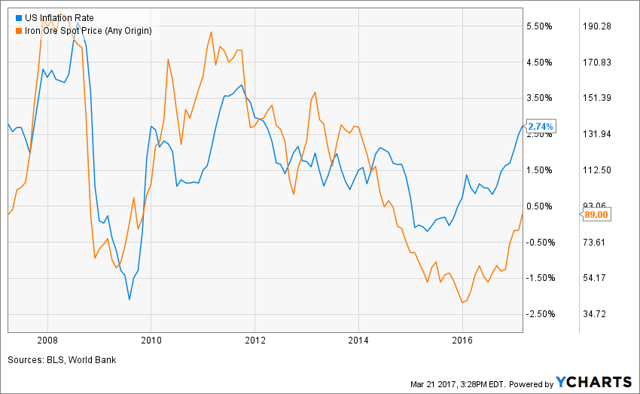 The current level of the FX rate is also positive for moderate inflation. The USD has appreciated significantly against other currencies since mid-2014, as shown by the Amex Dollar Index below. This makes imports cheaper and benefits inflation in the U.S.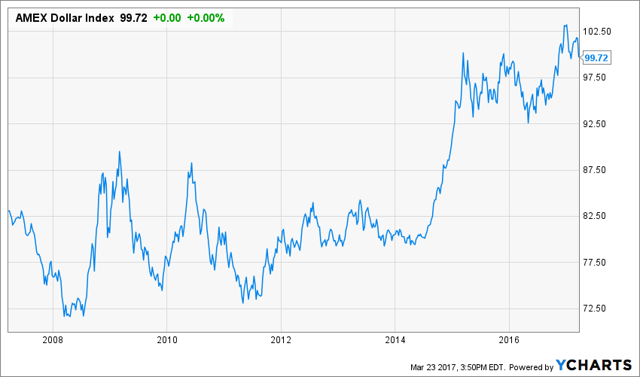 From a purely monetary perspective, there is some bullish signs for inflation as the U.S. monetary base started to expand again since December 2016, after several months of contraction.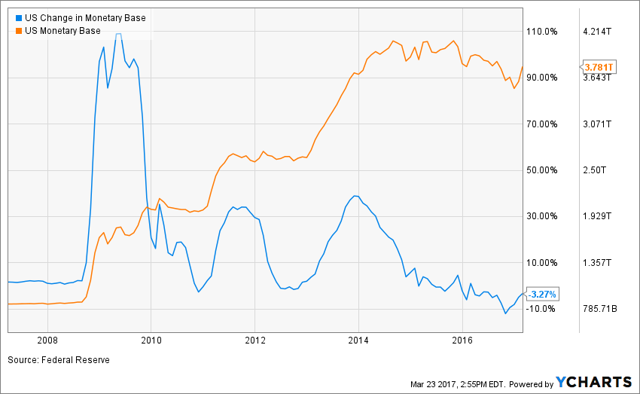 Therefore, from these key inflation indicators, we can see that iron ore, manufacturing activity and the monetary base expansion seem a bit concerning, but still at moderate levels. Oil and wages remain decently well-behaved. And even iron ore may not have much room to go up as future prices in China are already suffering.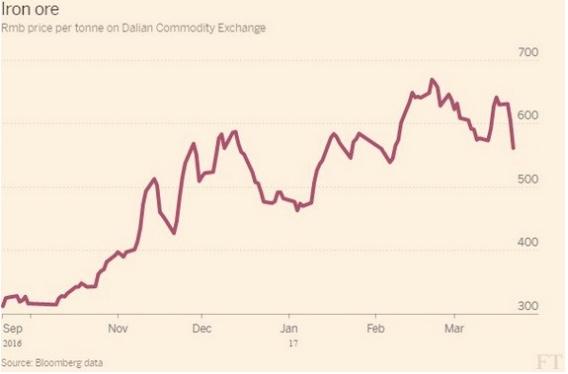 Source: WSJ's The Daily Shot
However, as we can see in the chart below, there are only a few occasions in the past years when we saw inflation running above the 10-Year Treasury rate. If there is no slowdown in the current inflationary trend, we will very likely see an uptick in the 10-Year Treasury rate. This slowdown depends not only on well-behaved oil prices and other commodities, but also on hourly wages and global trade (e.g. the possibility of increased trade barriers).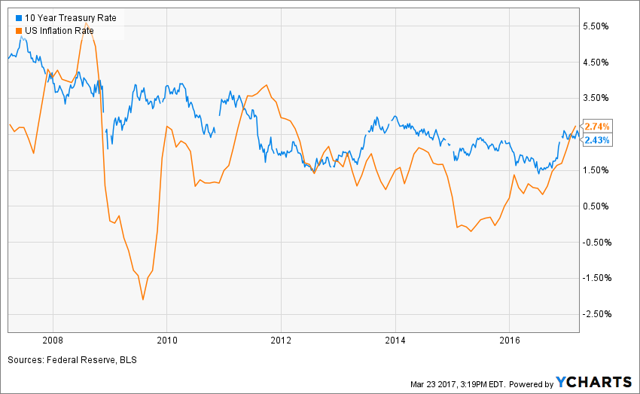 To summarize, we believe the most-likely scenario is for inflation to remain stable, which justifies the past few days decline in the 10-Year Treasury rate. If inflation indeed moderates in the coming months our reading is that it will be bullish for stocks, and bearish for inflation-linked assets, such as the ProShares Inflation Expectations ETF (NYSEARCA:RINF) and the iShares TIPS ETF (NYSEARCA:TIP). This is because although more moderate inflation expectations could indicate a slowly-growing economy, which does not help companies earnings growth, it also means that the FED does not have to raise the interest rate too much, too fast. In this case, the attractiveness of stocks versus bonds would increase. Obviously, the performance of stocks depend largely on Government's policies as well, specially with this realignment of expectations that has been happening in the past few days.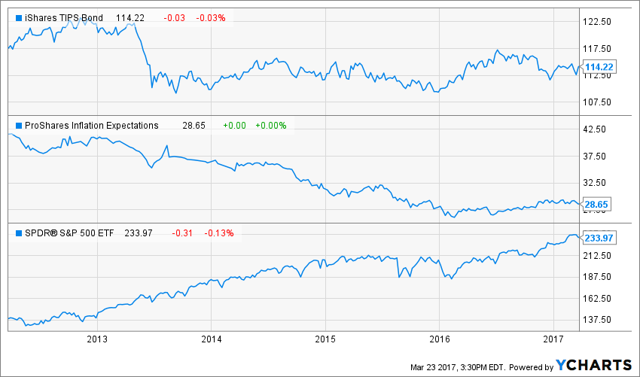 Disclosure: I/we have no positions in any stocks mentioned, and no plans to initiate any positions within the next 72 hours.
I wrote this article myself, and it expresses my own opinions. I am not receiving compensation for it (other than from Seeking Alpha). I have no business relationship with any company whose stock is mentioned in this article.