Chipotle Mexican Grill (NYSE:CMG) is fending off the volatile market this week due to a bullish research note regarding comp sales. The figure is key to the restaurant sector, though tricky for this company after the major health scare over a year ago.
The stock is trading around $415 and has traded sideways since last June. Are the suggestions of a turnaround worth buying Chipotle?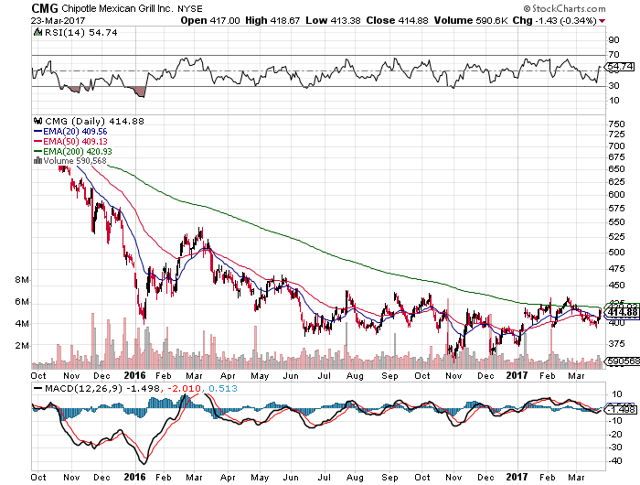 Comp Sales Trend
According to data researcher M Science, checks and proprietary models show that March comps are accelerating. What isn't really stated is how traffic relates to the peak numbers back in 2015 prior to the health scare.
M Science predicts that comp sales will easily beat analyst estimates of 15% growth. Similar bullish headlines on Q4 comps originally had the stock soar, but the market quickly realized that growing comp sales don't necessarily jive with higher profits as in the past.
For last Q1, Chipotle saw comp sales plunge a total of -29.7% with the following monthly trend:
January -36.4%
February -26.1%
March -26.4%
So, simple math suggests the Q1 target is for average store sales to remain at roughly 80% of the 2015 peak. A 15% gain after a nearly 30% decline in comp sales last Q1 still leaves the number down by 20%. Note that comp sales would need to surge over 40% to get back to those Q1 levels from 2016.
Margin Questions
The biggest question with any positive comp sales trend is whether the move is based on promotions. On the Chipotle website, one sees a couple of promotions, including Chipotle Reading Rewards and Host A Fundraiser. My kid's sports team recently hosted a fundraiser at a local store, and apparently the deal is very appealing, clearing 50% of the proceeds.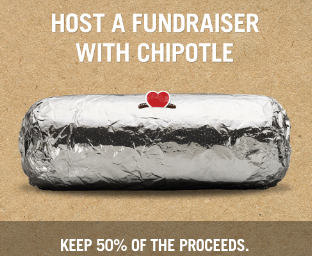 The EPS trend hasn't improved any in the last 90 days. An improving trend is needed to get the stock price through the tough resistance at $420. Chipotle trades at an incredible 50x the current $8.15 estimate for 2017.

Source: Yahoo Finance
The big question remains the level of margins after the health scare. The company saw its operating margin dip to 12.8% in 2016 after hitting 26.1% in 2015, even after a partial impact from the health scare. Buying the stock over $400 is only supported if Chipotle can rebound to those unsustainable margins, otherwise investors need to buy the stock based on forward estimates that continue to decline.
Takeaway
The key investor takeaway is that investors have to ask what they get buying Chipotle at $415. On any small gains, the stock quickly trades at 40x 2018 EPS estimates. Positive comps or not, the stock isn't appealing.
No logic exists to pay that much for Chipotle based on earnings three years after the health scare. Investors need to assume a level of normalized EPS numbers by 2018 and quit buying the stock based on the past.
Disclosure: I/we have no positions in any stocks mentioned, and no plans to initiate any positions within the next 72 hours.
I wrote this article myself, and it expresses my own opinions. I am not receiving compensation for it (other than from Seeking Alpha). I have no business relationship with any company whose stock is mentioned in this article.
Additional disclosure: The information contained herein is for informational purposes only. Nothing in this article should be taken as a solicitation to purchase or sell securities. Before buying or selling any stock you should do your own research and reach your own conclusion or consult a financial advisor. Investing includes risks, including loss of principal.