Amicus Therapeutics (NASDAQ:FOLD) has done a solid job launching Galafold in Germany, and is looking to replicate the success in other countries in 2017. Two additional commercial launches were announced recently, which should speed up the product's uptake in the following months. A lot is also going on in the pipeline, and we should see some really important clinical readouts in the Pompe disease and EB programs as well as some preclinical data of the ERT-Galafold combo for Fabry disease and preclinical data of the company's CKLD5 candidate. The stock is up 40% year to date, but I think it has significantly more room to rise in the following months and years.
Galafold doing well, growth poised to accelerate in the following months
Amicus has been adding 7-8 Galafold patients a month since the May 2016 launch.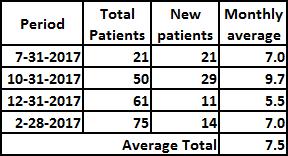 Source: Amicus
I think that's a really good number, since the majority of patients are coming from Germany, which has been the only country with full commercial reimbursement so far. The company has managed to reach 33% market share of the available switch patients by the end of February, which I believe is a remarkable achievement in just 10 months. If this model can be replicated in other countries, sales should grow at a rapid pace in the following quarters. It is also important to note that Amicus started from scratch in Germany - there were no clinical trial patients in Germany, and the company did not have any relationships there prior to launch.
The situation is different in the U.K., where Galafold was launched in late February. The company expects to quickly switch clinical trial patients to Galafold and, hopefully, to repeat the success it has had in Germany so far. The launch in Italy was announced in early March. With further patient adds in Germany and additional launches in the following months, I believe Amicus should be adding 20-25 patients a month throughout the rest of 2017, at least based on the success in Germany and the company's guidance for 300 patients on Galafold by the end of the year.
But growth will probably be lumpy and based on the timing of the launches in additional countries. I have done some back of the envelope calculations and have estimated this year's revenues to be around $35 million based on an average annual price of $200,000 per patient and around $40 million based on $225,000 per patient a year (which is the range I calculated for Q3 and Q4 based on the number of patients the company provided). There could be some upside to my estimates based on the timing of patient adds and the average net price per patient. The analyst consensus for 2017 is $32 million at the moment, but it seems to be skewed down by one low estimate of $21 million. The highest analyst estimate is $42 million.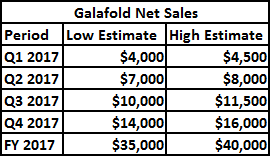 Source: Author's estimates
I also think a similar pace can be achieved in 2018, since there will be additional launches in that time frame as well, with the most important one being in Japan (the Japanese NDA should be submitted by mid-2017).
Most of the growth should be achieved through patient switches from Replagal and Fabrazyme, but longer term, I see strong growth potential based on treatment-naïve patients. There are between 4,000 and 5,000 diagnosed but untreated Fabry disease patients around the world, and between 35% and 50% have amenable mutations. There are many undiagnosed patients as well. I suspect many patients will come on board due to convenience and improved compliance, since Galafold is an oral medicine, while patients need to take infusions every two weeks with Replagal and Fabrazyme. This is an important advantage that should drive faster uptake among treatment-naïve patients. I continue to believe Amicus can get at least 2,000 patients on Galafold (ex-U.S.) in 5-7 years, which translates into $400 million in annual sales, and I am maintaining my ex-U.S. peak sales estimate range of $400-600 million. If the company can repeat the early success in Germany in other countries and increase market share in Germany to 50% by the end of 2017, it will further strengthen my case for high market share in patients with amenable mutations.
The company also intends to initiate a phase 3 trial in the U.S. this year, with a data readout in 2018 and a potential approval and launch sometime in 2019. The GI primary endpoint and good results in prior studies point to a high likelihood of success.
We should see major pipeline de-risking in 2017
Amicus reported really positive ATB200/ATB2221 data in Pompe disease over the last few months. I will not spend too much time on this program, as I have a whole article dedicated to the subject (the article is exclusive to Growth Stock Forum subscribers). But it is worth repeating that we will see some really important clinical data from all three cohorts (ambulatory switch patients, non-ambulatory patients and treatment-naïve patients) in Q2 and Q3:
Additional data on biomarkers of muscle damage and disease substrate. Early data suggests solid improvements.
Additional safety data - infusion site reactions and other potential adverse events. The combo has so far been really well tolerated.
Most importantly, we should see functional measure data - motor and pulmonary function, which could be the phase 3 trial endpoints.
I think good data will significantly de-risk this combo ahead of the phase 3 trial.
Amicus continues to expect the Zorblisa phase 3 readout in mid-2017. Enrollment is nearly complete, and once the company announces that it is completed, we should expect the data 13-14 weeks after that (since it is a 12-week trial). This is the most important event for the company this year, and a positive outcome could unlock significant shareholder value. I have some concerns about this trial (see my previous article), but believe there is a reasonable chance of success considering the changes intended to minimize placebo response and the addition of the co-primary endpoint which has shown clear separation from placebo in the phase 2b trial. A clear and positive data readout will add $4 per share to my price target at the low end of the estimate range and up to $8 based on the high end of the range.
Amicus also has two preclinical candidates that I believe are not on investors' radar at the moment:
ERT-Galafold combo. Amicus has some preclinical evidence that co-administration of Galafold enhances the efficacy of ERTs, and the company is developing its own proprietary ERT-Galafold combo which has the potential to treat all Fabry disease patients, not just those with amenable mutations. If the combo demonstrates superior efficacy to current ERTs, the addressable market for Amicus in Fabry disease should double or triple (taking the 35% and 50% estimate of patients that have amenable mutations). This combo program is similar to the Pompe program, and Amicus expects to improve uptake, targeting and tolerability compared to current standard of care. We should see the initial preclinical data in mid-2017 or in 2H 2017.
We should also see some preclinical data in the CDKL5 program. This is a neurological disorder with just around 1,200 cases documented worldwide, but patient identification is rising significantly, according to Amicus. So, an ultra-rare orphan disease that doesn't have as much potential as other candidates, but this could be a $100-200 million a year product for Amicus in mid-2020s and higher, assuming the patient pool expands in a meaningful way.
If everything goes well with Zorblisa and with the Pompe program, Amicus could be trading at least around $15 by the end of the year, as Zorblisa adds at least $4 per share to my valuation, while Pompe program's advancement into phase 3 trial puts this combo on the map and adds $3 per share at the low end of the estimate range (conservative at $500 million, which I believe is really low if additional data show the potential for it to be the new standard of care, since Myozyme/Lumizyme is already a $800 million a year product that could be significantly inferior to ATB200/AT2221).
Conclusion
2017 should be a year of significant commercial progress and meaningful clinical de-risking for Amicus. Galafold's launch is on track, and Zorblisa and ATB200/AT2221 stand to unlock (or destroy) shareholder value in the following months. Poor Galafold uptake in the following months is the main commercial risk, while Zorblisa's failure in the phase 3 trial represents the largest risk Amicus' share price in 2017. I remain bullish on Amicus despite the 40% rally over the last two months.
Author's note: Growth Stock Forum subscribers had an early look at this article, and have access to regular exclusive updates on every stock I am covering. Readers are invited to take a two-week free trial in the Seeking Alpha Marketplace.
Disclosure: I am/we are long FOLD.
I wrote this article myself, and it expresses my own opinions. I am not receiving compensation for it (other than from Seeking Alpha). I have no business relationship with any company whose stock is mentioned in this article.
Additional disclosure: This article reflects the author's personal opinion and should not be regarded as a buy or sell recommendation or investment advice in any way.