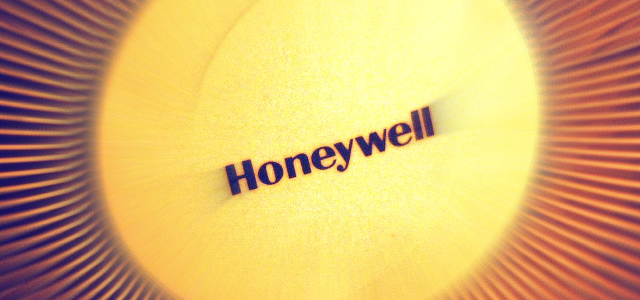 Earlier in 2016, I was following Honeywell (NYSE:HON) far more closely than I have done in the latter part of the year. Largely, this was because my portfolio saw a number of industrial stocks join its ranks, and so, I have started following other industry peers less closely. Nonetheless, after the company released its FY2016 results back in late January and given Q1 2017's results are fast approaching, I thought it high time to take another look at this industrial giant.
2017 will look a different year to 2016. Long-term CEO David Cote is moving aside after 15 years at the helm to be replaced by Darius Adamczyk. The company has also restructured the business from the previous segments into four new ones (of which two, Aerospace and Performance Materials & Technologies, have remained unchanged). What remains the case is that Aerospace is the largest segment for the business. The remainder is fairly evenly shared amongst the other three, as shown in the chart below: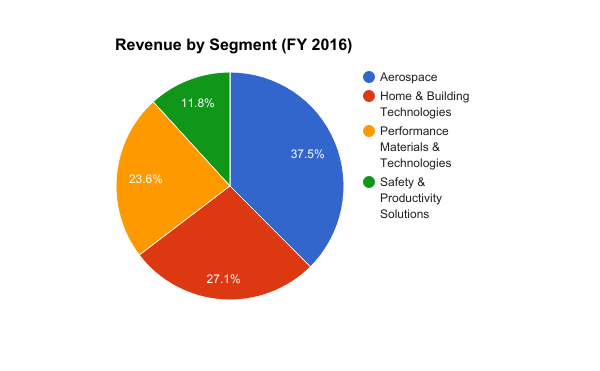 Organic revenue remains fairly lackluster across the segments, however: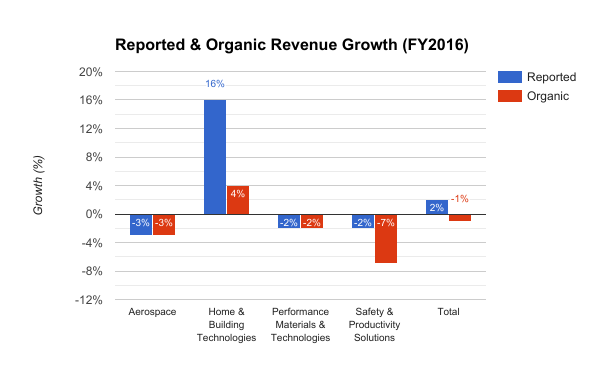 And this has been the case for the entirety of 2016, after a comparatively more impressive organic performance in 2015: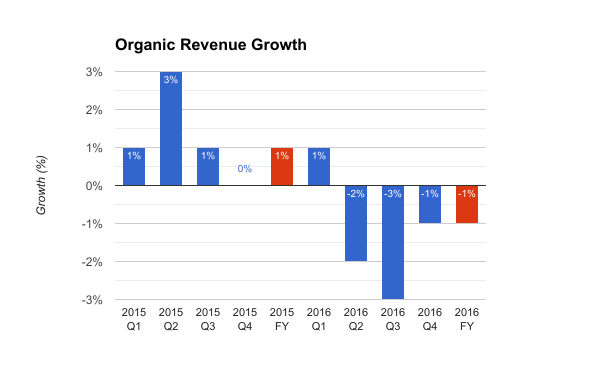 Reported growth was, however, chiefly fuelled by acquisitions. Honeywell has been a fairly consistent net acquirer of companies for most of its life. Yet, in the last couple of years, this has accelerated considerably: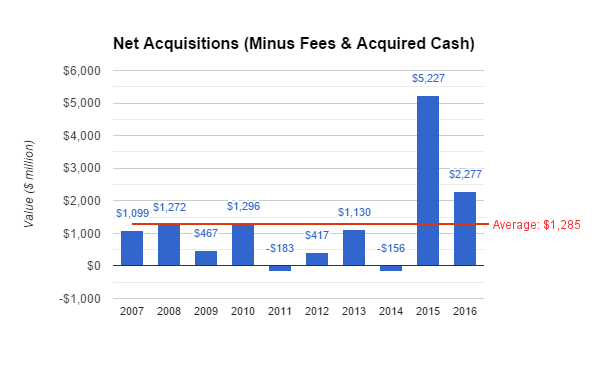 Although this is entirely acceptable over the short term, eventually, Honeywell needs to be able to prove that its mature business as well as those fresh acquisitions can start to produce consistent organic growth.
Cash Flow
Of course, Honeywell remains attractively cash generative. It is chiefly for this reason that the company's rather exaggerated acquisition record is something more to be watched for long-term progress than worried about for long-term prospects.
Such is the level of FCF generation in recent years that it has generally managed to continue to acquire businesses, whilst simultaneously expanding shareholder returns without relying too much upon leverage (though, as we will see later, the company has leaned on debt to some extent):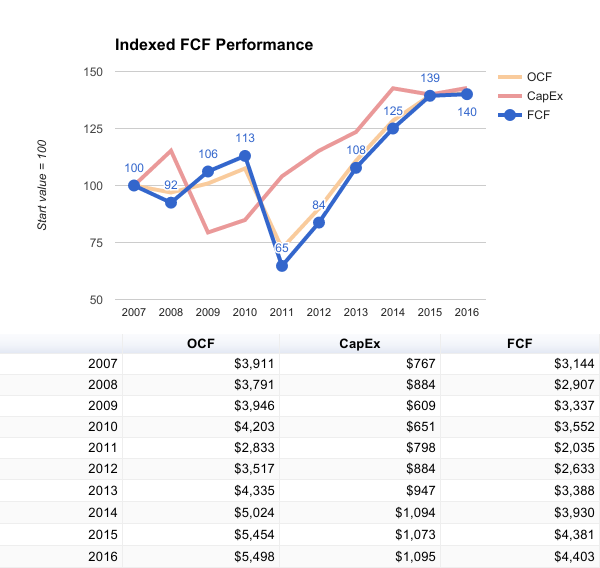 Nice-looking growth since the 2011 FCF nadir, certainly. Yet, its improving FCF generation efficiency did take a little hit in 2016 compared to 2015.
This becomes clear when we look at Honeywell's CROIC, or cash return on invested capital. Calculated by dividing the FCF by total capital invested (that is, total debt and shareholders' equity), it tells us just how much FCF a company generates for each dollar of capital invested in the business. In Honeywell's case, despite a fall in 2016, it remains a compellingly high 12.5%: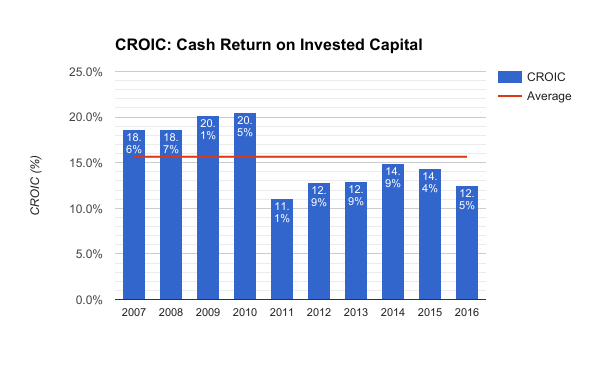 This remains comfortably ahead of the 10% target, which I consider a particularly attractive CROIC. Yet, it is clear that part of this drop in CROIC is due to the company's acquisition program (boosting equity and debt levels) alongside struggling underlying growth progress.
Debt is a particularly interesting one, just as I highlighted earlier, as this has impacted upon CROIC performance in recent years.
Debt Levels
Debt levels have been growing fast in recent years. In particular in 2015 and 2016, when Honeywell's net acquisition level was particularly elevated, debt has grown to over twice that seen a decade ago: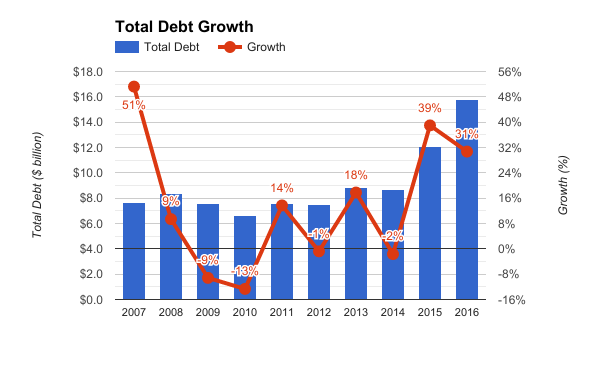 With equity levels not exactly keeping pace with this growth since 2015, naturally its debt-to-equity levels have also lifted significantly too: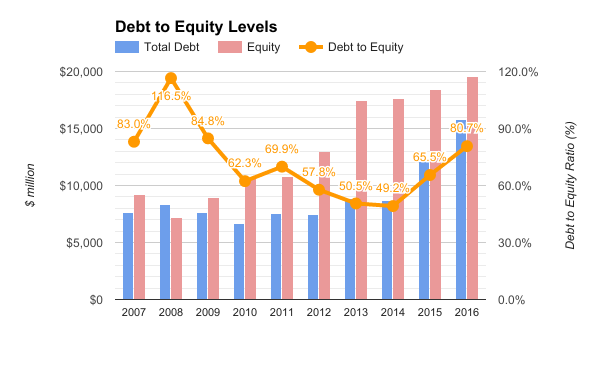 As it happens, Honeywell's debt-to-equity level is far from the worst out there. It will, however, be interesting to see what direction Adamczyk takes the company on from an acquisition and debt perspective in the future.
Nonetheless, the debt situation is perfectly fine as it stands. For instance, David Cote highlighted in the company's Q4 2016 results that:
our debt refinancing will reduce our expected 2017 interest expense by about 8% despite increasing total borrowings by $4 billion.
That is nice to hear. What's more, despite the rapid growth in debt in recent years, it still remains a very well-covered level of total debt from an FCF perspective: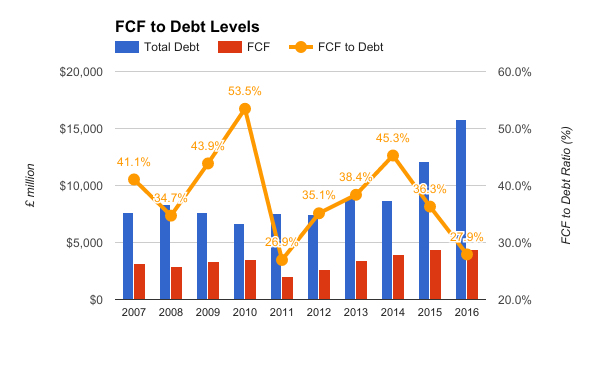 With an FCF-to-Debt ratio of nearly 28%, it means that the company could - theoretically, at least - repay its debt from FCF alone in a little over three and a half years.
Shareholders' Yield
Investors have also benefited from Honeywell's cash flow record in recent years. Through a combination of share buybacks and dividends, the company has distributed a fairly impressive shareholders' yield over the last few years (especially in 2015 and 2016):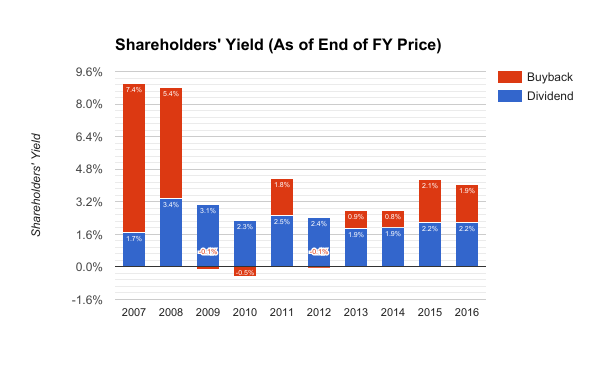 More impressive still is that this has largely remained within the bounds of the company's FCF generation record: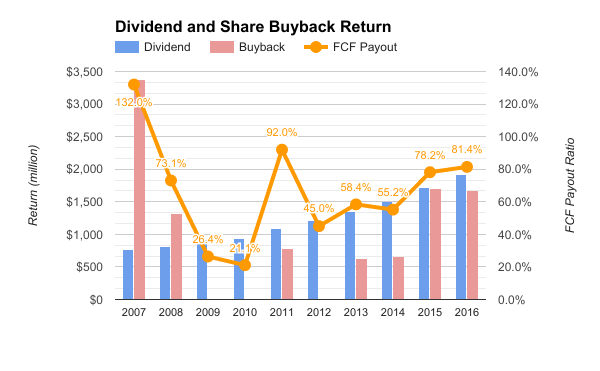 Even after the recent share price gains Honeywell has seen, the dividend yield has still stayed around the 2% mark. With its recent record of sticky cash flow and sizeable dividend hikes, it is little wonder that analysts believe another 10% annualised dividend growth can be expected over the next two years: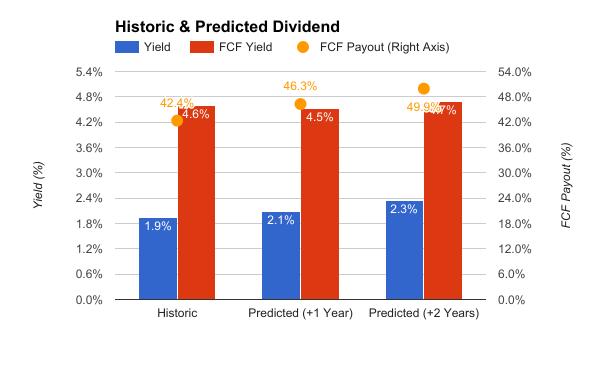 This suggests a two-year forward yield around the 2.3% mark, which looks set to continue to be more than twice covered by FCF (using my FCF predictions, which, as we will cover in a moment, are more conservative than the company's own).
All told, this suggests Honeywell should remain a pretty generous company with regard to investor returns.
Cash Flow Predictions
Despite this, it is abundantly clear that Honeywell is asking an awful lot of its cash flow. Even though it may be an impressively cash generative business, the company is still asking it to service its sizeable acquisitions, buybacks and dividends all at once. As the growing debt levels in the last couple of years have shown, it is at present struggling to do just that, despite impressive levels of cash generation.
Cash flow predictions are, therefore, important to keep an eye on going forward. For 2016, Honeywell's FCF actually came in lower than its (and my) predictions for the year. Whilst the company retained the belief that between $4.6 and $4.8 billion would enter its coffers across the whole year, only $4.4 billion actually did so. Hardly terrible, of course. Yet, it does make me look at the company's $4.6-4.7 billion FCF prediction for 2017 a little closer.
Part of the reason for 2016 slightly falling short of its predictions is reflected in the flat FCF-to-Revenue performance: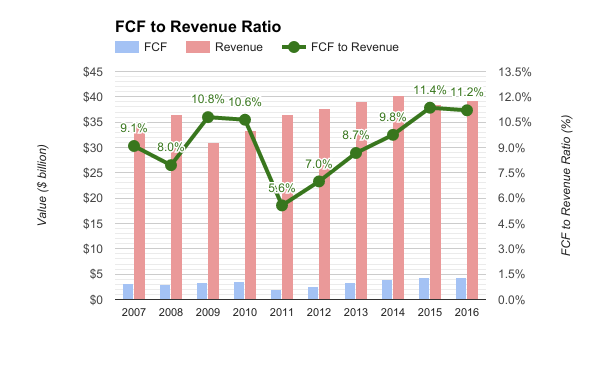 Since 2011, the company has seen it progressively expand, which helped to turbocharge FCF growth. In 2016, this expansion stopped. Interestingly, with Honeywell currently at 11.2% FCF-to-Revenue, and comparing it to the company's performance over the last decade, it may be that this is the fullest extent to which it can expand FCF conversion from revenue at present.
Assuming an FCF-to-Revenue figure of around 11% for the next couple of years and using revenue predictions of around a 1.75% annualised growth over the next couple of years suggests the FCF may come out closer to $4.35 and $4.5 billion for 2017 and 2018, respectively.
Nonetheless, Honeywell may well be right to predict higher FCF in 2017 than based on historical performance. Chiefly, this revolves around the company's targeted margin gains. After progressively expanding margins for several years, 2016 saw them stuttering: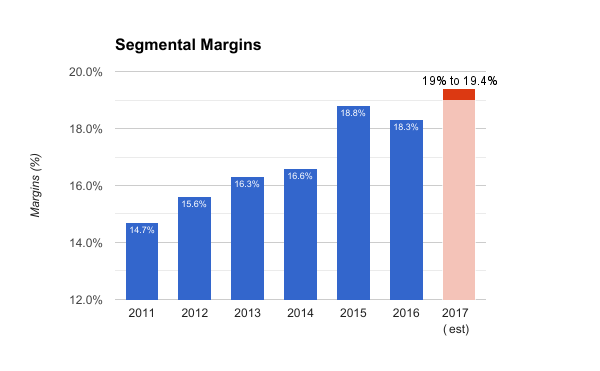 (Data sources: Company Quarterly Reports and Q4 2016 Results Presentation)
However, Honeywell expects to be able to expand margins to over 19% - specifically between 19% and 19.4% - in 2017. That is perhaps ambitious on the face of it. Yet, a large part of its success will hinge on what any future acquisitions do to margins (for instance, 2016 would have seen margins sit at 18.9% instead of 18.3% if no M&A activity had occurred). For me, this is something to watch closely as the year unfolds.
Valuation
Back in April 2016 (when organic revenue figures were looking healthier), I estimated a fair value for the company at a little over $127. Since then, the share price has indeed lifted to just shy of that figure: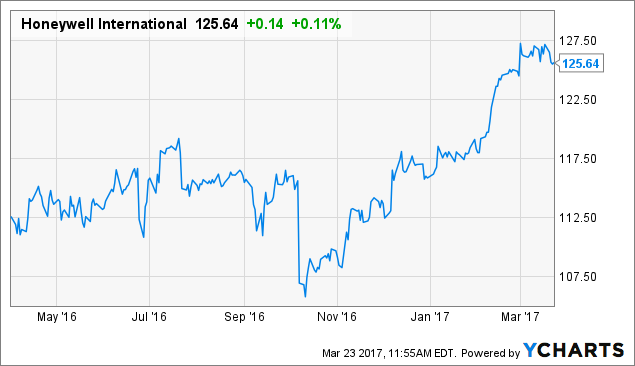 Consequently, based on my previous assessment, right now Honeywell is fairly valued, having closed up the 10% discount. So the real question is whether or not my fair value figure emerges any differently than what it was back then. As it happens, running my three-part valuation method against Honeywell today does not lead to much in the way of fair valuation movement.
Using my own FCF predictions rather than the company's own slightly more generous ones throws off a fair value of $125.50. Using Honeywell's predictions, however, does see the fair value just about cross the $128 mark. This seems a reasonable fair value range for the company today. As such, there still appears to be a very modest scope for further share price gains over the short term. Should Honeywell be able to extract some organic growth again, I think there is plenty of potential for further gains in its valuation, however. Yet, I suspect we would have to see a sustained period of genuine organic growth before that could occur. In the meantime, Honeywell looks fairly valued with a decent dividend yield and good dividend growth prospects.
Conclusion
The company clearly found 2016 a tough year on the organic growth front. With margin expansion also slowing, its full-year results were perhaps only ever going to appear solid rather than spectacular. Nonetheless, its high-quality, cash-generative reputation remains very much intact, even if the company continues to place a lot of demands on that cash flow in regard to acquisitions and shareholders' returns.
Judging from its own guidance for 2017, this year looks likely to be equally challenging: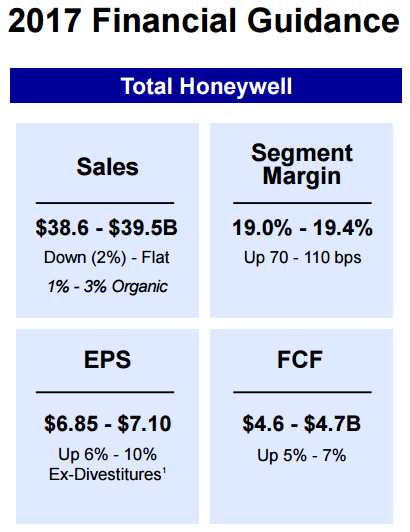 (Source: Q4 2016 Results Presentation)
Nonetheless, if margin improvements can help shift FCF levels higher still, as the company believes, Honeywell should be able to continue to handle the immense demands on its FCF without having to continue to build debt levels. As noted earlier, however, the company continues to have a strong balance sheet which could easily handle further debt builds in the short term.
Right now, Honeywell continues to look like a particularly high-quality cyclical play in an investing environment which is becoming increasingly welcoming to cyclical stocks. Risks remain, of course, yet Adamczyk is inheriting a company which still has plenty of growth levers to pull (not least of all, acquisitions, which it has historically proven very adept at choosing and integrating well). In the meantime, Honeywell continues to interest me around what I see as a fair value share price. With its safe, growing and fairly generous dividend yield as well, this is even more true.
Notes
All graphs, tables and the calculations contained within them were created by the author unless otherwise noted. All data was collected from publicly accessible company filings and reports. Creative Commons image reproduced from Flickr user macbeck.
Disclosure: I/we have no positions in any stocks mentioned, and no plans to initiate any positions within the next 72 hours.
I wrote this article myself, and it expresses my own opinions. I am not receiving compensation for it (other than from Seeking Alpha). I have no business relationship with any company whose stock is mentioned in this article.