Introduction
When we look at stocks that have been beaten up recently, Under Armour (NYSE:UAA) (NYSE:UA) fits the mold as well as any. Since its share price peaked in late 2015, the stock has declined well over 50%. Yet even with that sharp decline, UA's P/E ratio has still not come down far enough for many value investors. Admittedly, a 40+ P/E stock is not one Benjamin Graham would be raving about in "The Intelligent Investor."
However, when determining the value for a security, one metric alone cannot tell the whole story. More importantly, if someone prefers a certain metric, it is important to be able to understand the inputs that go into it. With that said, in this article, I want to get a little deeper into Under Armour's "valuation." Once I do this, I think you will see that the stock is not as expensive as it (or its P/E) looks.
Price To Sales Ratio
For context, Under Armour now has a lower price to sales multiple than both Nike (NYSE:NKE) and Adidas (OTCQX:ADDYY); its two main competitors.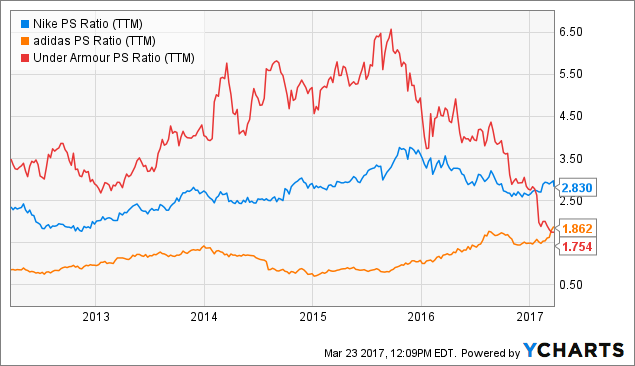 NKE PS Ratio (TTM) data by YCharts
Notice that for much of the past five years, UA commanded a considerable premium P/S ratio to both competitors.
Even with the decline though, UA's P/E ratio is the highest of the bunch.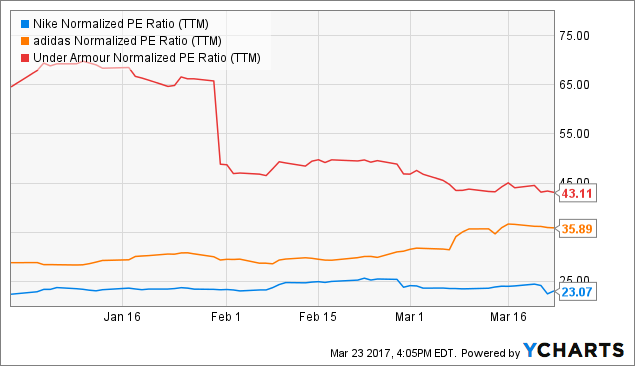 NKE Normalized PE Ratio (TTM) data by YCharts
What gives here? Two things. First, Under Armour issued a stock dividend in the first half of 2016 for class C shareholders. Around 1.5 million shares were paid out as dividends, and at the time their market value was around $59M. What's a little funky is that these count as preferred dividends and are subtracted from net income available to common shareholders on the financial statements. GAAP can be hard to understand in certain areas, and stock dividends are one of them.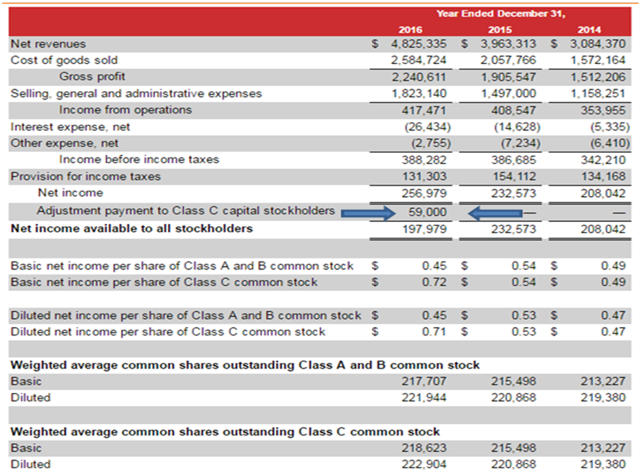 Source: Company 10-K Page 49 on Seeking Alpha
For investors focused on the long-term earnings power of the business, the stock dividend appears to be a one-time event. In its 10-K, UA mentions that the dividend was issued to settle the lawsuit filed upon creation of the non-voting class C shares. Furthermore, it is not a cash payment. Without the effect of the stock dividend, UA's net income was actually a little over $250M, and its P/E on this measure would be 34 today. That suddenly doesn't look too bad.
Still though, its P/E is higher than Nike even as its P/S is much lower. This is where profit margins come into play.
Factors Affecting Under Armour's Profit Margins
In the most recent twelve-month period, Nike's net profit margin was 12.02% compared to Under Armour's 5.33%. That's well over double.
Part of this discrepancy can be accounted for by the different tax rates each company pays.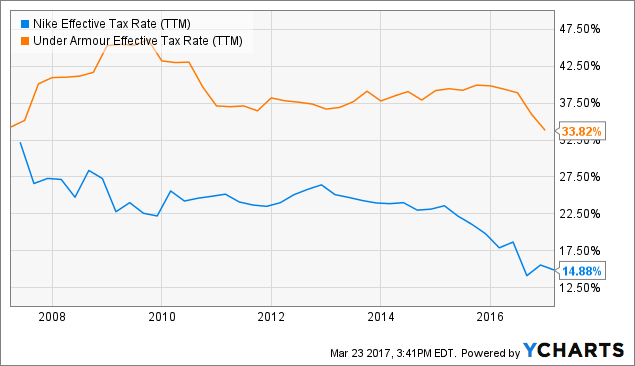 NKE Effective Tax Rate (TTM) data by YCharts
With the majority of revenue coming from North America (whereas Nike now derives the majority from overseas), Under Armour has been paying between 35-40% on average over the years. Nike, on the other hand, has rarely paid higher than 25% in the past ten years. Nike's effective tax rate has been trending down into the teens, and today it is essentially half of Under Armour's.
That's why when we move up just one line on the income statement and look at earnings before taxes (pre-tax income), the margins are closer:
Nike EBT Margin: 13.46%
Under Armour EBT Margin: 8.10%
*Note: I excluded other income from both companies' earnings before taxes.
This is an important fact to consider because the tax disadvantage is not insurmountable. Under Armour's international revenues continue to comprise a larger portion of total revenue. With that said, international revenue is like a double bonus right now. Not only is it growing faster than the domestic market, it will also lower the company's tax rate. The one caveat is that margins aren't as high for total international revenue in comparison to North America revenue, but I would have a hard time believing the faster growth and lower tax rates won't outweigh that over time.
The fastest growing geographic region for UA, Asia-Pacific, grew over 80% both in terms of revenue and operating income in 2016. Furthermore, the operating margin in the Asia-Pacific region was more than double that of North America in 2016, at 25% and 10% respectively. International is weighed down by low operating margins in Europe & Middle East (around 3%) and consistent operating losses in Latin America. However, the strong growth of the Asia-Pacific region should continue to bode well for both the company's top and bottom lines.
The equation could be altered, of course, if the U.S. corporate tax rate was lowered. In this case too, UA would benefit due to its more concentrated exposure to the U.S. than its rivals.
So in sum, look for UA's effective tax rate to trend down in the future (regardless of politics) and its profit margin up from current levels. This is a tailwind that UA will enjoy to a greater degree than its competitors. And with that in mind, as a multiple of EBT (earnings before taxes), UA looks less expensive.
Nike: 19.55x
Adidas: 25.02x
UA: 21.35x
*Note: For Adidas, I included other income in EBT because it has been consistently positive over the past five years, so it is less likely a one-time gain. If we subtract other income from EBT, Adidas would trade at 33.12x EBT. An EUR to USD rate of 1.08 was used.
Factors Affecting Profit Margin: Striving For Growth
The second part that has a downward impact on margins stem from the fact that Kevin Plank is constantly looking to grow the brand. If you look at Under Armour's financials, you will notice that their gross margins are as high as, if not higher, than Nike's.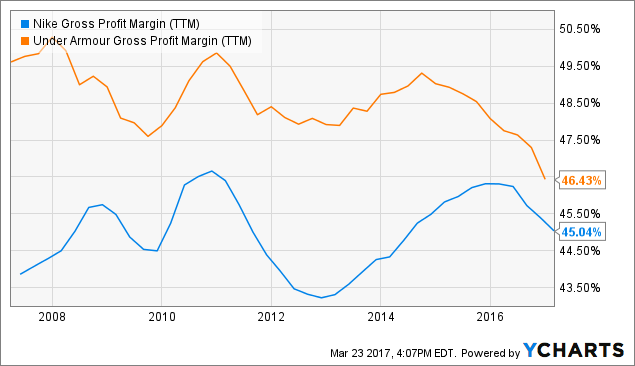 NKE Gross Profit Margin (TTM) data by YCharts
After taking into account SG&A expenses though, Nike's EBIT margins are much higher.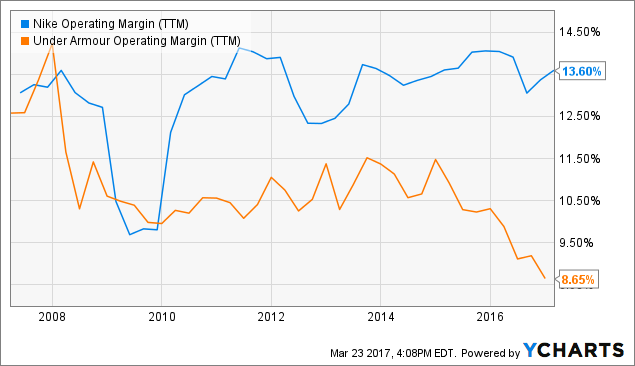 NKE Operating Margin (TTM) data by YCharts
Much of this has to do with the different stages each company is at in terms of maturity. The Nike swoosh is arguably one of the most recognized brands across the globe, and it has sponsored multiple generations of great athletes. As a comparison, let's look at basketball players. Nike started with Michael Jordan, then had Kobe, then Lebron, and now has a good young crop of NBA players (i.e. Kyrie Irving). Those athletes span over 30 years, with Jordan coming into the league in 1985.
Under Armour, in basketball, has Stephen Curry. That's just one generation and he is only 29 years old. While there have been 30 editions of Air Jordan Sneakers, Curry is currently on the third edition of his shoe. This is only one aspect of both companies, but it is a good example that shows the different ages of the brands.
Under Armour is still a long way from having a brand that sells itself to the point where up and coming young athletes aspire to sign with the company. Remember that the reason UA was able to sign Curry in the first place was largely because Nike blew their chance.
In its most recent quarter, Nike said that "demand creation" expense fell 7%, even as revenue increased 7%. You will see no such pattern anytime soon with Under Armour. While Nike can rely on its brand to sell itself to an extent, Under Armour needs to continue spending to expand and increase awareness around the brand.
Under Armour doesn't list out demand creation expense, but if it had a similar measure (i.e. endorsement costs), I would wager that it won't be decreasing 7% anytime soon. Marketing expense will continue to rise in the future as UA signs what it believes are lucrative (but also expensive) deals such as outfitting the MLB.
CapEx and Depreciation
The last factor affecting margins goes hand in hand with the increased marketing. Under Armour typically spends a much higher portion of sales on CapEx than its competitors. What this means (other than a downward effect on free cash flow) is higher depreciation now and in the future. Here is a summary of CapEx as a percentage of sales trends over the past 10 years, using data from Morningstar:
Adidas - Typically, CapEx has hovered around 3% of sales over the past 10 years.
Nike - Although as a percentage of sales, CapEx has trended upwards in the past 10 years, Nike is also around 3% today.
Under Armour - The number fluctuates more for Under Armour, going from almost 6% in 2007 to under 3% in 2012, but recently the number has been around 8%.
Again, this means more depreciation now and in the coming years. That is why UA is actually lower on an EV/EBITDA (depreciation is added back when calculating EBITDA) basis today than both of its competitors.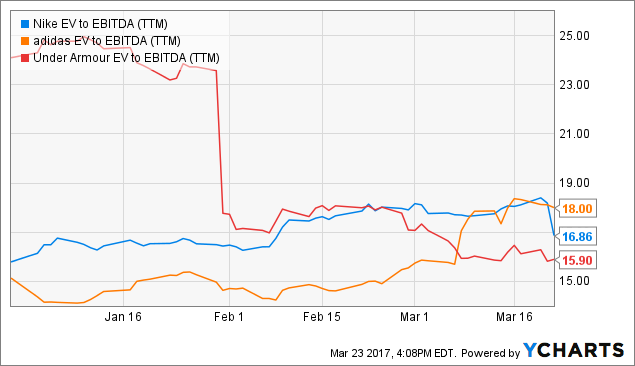 NKE EV to EBITDA (TTM) data by YCharts
The important thing, as is the case when judging higher SG&A expense overall, is to determine whether these increased investments are paying off. Each investor must decide this for themselves, but if history is any guide, it looks like they are. Not only has Under Armour had a stronger revenue growth rate year-in and year-out than its peers, it has also outpaced its peers in terms of net income growth.
Here is a look at the compound annual growth rate over the past 10 years for revenue and net income, respectively (per Morningstar):
Revenue Growth (10-year rate)
Nike: 8.03%
Adidas: 6.70%
Under Armour: 27.33%
Net Income Growth (10-year rate)
Nike: 10.45%
Adidas: 7.44%
Under Armour: 20.76%
The numbers support the fact that Under Armour's investments are paying off in the form of a higher overall growth rate on both the top and bottom lines. If we decide to look at the most recent year or quarter, we may view things differently. Let me touch on the recent performance.
Recent Performance
Without a doubt, Under Armour had a tough quarter and full year operationally. As outlined above, the company has historically outperformed in terms of overall growth. Thus, a premium multiple was assigned to the stock over the years. It's appropriate to say that Under Armour is a "growth" stock, for its performance is largely dictated by its underlying growth rates. That is why the overall slowing of growth in the most recent year and especially most recent quarter resulted in a significant share price decline.
Geographically, sales growth slowed in its all-important North America region, and although growth also declined slightly internationally, I believe the most concern is surrounding the U.S. From a segment standpoint, growth slowed in the past year from 22% to 15% in apparel, from 57% to 49% in footwear, and 26% to 17% in accessories.
The key here is to identify the root cause behind the slowdown. Is it due to factors predominantly outside of UA's control such as broad retail weakness in the U.S., or is the UA brand itself weakening? Or perhaps, is it some combination of brand weakness and retail weakness?
Everybody will have a different take here, but let's try to consider the context. On one hand, Adidas reported a very solid holiday quarter and strong growth rates (20+%) in North America. On the other hand, Nike recently reported and its fortunes weren't the same in the domestic market. Its sales rose just 3% in the region.
This mixed bag of results leads me to believe that we have both broad retail weakness along with some brand weakness. In my most recent article, I covered some of the largest U.S. apparel companies. A consistent geographic theme was weakness in the North American market. Nike's weakness helps support this notion; just a few years ago Nike was reporting 10%+ growth rates in North America.
Adidas reminds us that despite a challenging environment, strong growth is still possible.
Caught Off-Guard
Part of the contrasting fortunes can be explained by a recent shift in consumer preference. Edwin Kye summarized this in a recent article, but essentially Adidas has a lot more exposure to casual/lifestyle wear, whereas Under Armour is much more focused on performance apparel. Nike falls somewhere in the middle. Recently, the shift has been away from performance and more towards casual athletic wear.
This was part of the reason Kevin Plank and Under Armour were caught off-guard in the most recent quarter. I'm not going to spend too much time on this, but here's what I'll say. What I have learned about clothing and fashion is that trends come and go. I recently read an analyst note that mentioned Lululemon may be negatively impacted by a shift from tight bottoms and loose tops to loose bottoms and tight tops. Besides getting a good laugh, this helped me realize that trends are often very hard to predict.
What companies can do is react to changing trends. They can control both whether or not they react to a particular trend, and the speed with which they react. Not every company is going to get every trend right, but not every trend will be long lasting. Some trends are simply put, fads. What's important is getting enough of the long-term trends right. Now I don't know too much about the casual vs. performance trend or how long it will last, but what I do know about is a much more durable trend: the shift to wearing more athletic clothing in general (athleisure). This trend has been going on for some time and doesn't show signs of slowing down.
While Under Armour may be on the wrong side of the most recent one, I think in the long term, they are still on the right side of a very important one.
What's Holding Me Back
Nonetheless, the slowdown in growth rates does indicate some brand weakness. With that in mind, a decline in the share price isn't unreasonable. Beyond trends and slowing growth rates, let me quickly tell you what is keeping me on the sidelines for now.
In the most recent quarter, UA saw its accounts receivable and inventory increase faster than sales. Anyone who is familiar with finance and accounting should know that such a trend with accounts receivable may indicate a lower "quality of sales." Similarly, such a trend in inventory may indicate a company failing to properly manage inventory levels.
The inventory increase is less alarming, because as a percentage of annual revenue, it is at a level consistent with the past few years. We should still be aware that UA forecasted the first two quarters of 2017 to be tough with the higher-than-expected discounting to continue. Perhaps this is to manage inventory levels a little better and ensure they can sell more goods at full price in the second half of the year. Either way, UA expects operating income to be down $100M from 2016.
More worrisome is the increase in accounts receivable. As a percentage of annual revenue, UA's accounts receivable is significantly higher than its average over the past five years. Much of this increase has come in the past year. I may need to spend a little more time understanding if any peculiarities are affecting this number, but most of the time this is not a great fundamental trend. If you look at Nike's or Adidas's financials, you will see that receivables have remained fairly steady over the years.
These may sound like little things, but in my view, they are as important as headline growth numbers. Before I invest in a company, no matter how bright its future prospects are, I want to ensure that, at the bare minimum, things are getting better fundamentally. A lot of people would like to see a return to 20+% growth in order to invest in Under Armour. While I wouldn't mind that at all, I'd rather see 15% growth and both receivables and inventories being managed a little better. At the least, they should not continue to increase faster than sales.
I can accept slightly lower growth because, as demonstrated earlier in this article, expectations have also come down meaningfully.
Conclusion
Critics like to point at Under Armour's P/E as being too high. While I admit that was once a very valid argument, today that no longer seems to be the case. When we look closely at the P/E and some of the factors affecting it, we can see that the headline P/E may actually be overstating their valuation. In fact, on a number of other metrics, UA looks fairly attractive.
The key question is whether or not you believe the investments impacting net profit margins will pay off in the long run. Historically, their performance says yes. Recent fundamental weakness may bring doubt to that notion, but I would caution that you shouldn't come to conclusions after one bad year. I believe most of the concern was surrounding the slowdown in UA's biggest market, North America. Yet many other apparel companies are struggling in that market, including Nike which has seen its growth rates come down significantly in North America. To sum it up in one quote, Mark Parker commented after reporting earnings that U.S. retail is "not in a steady state."
Some concern over the recent fundamental weakness is warranted. I pointed out that I particularly did not like inventory and accounts receivable increasing faster than sales. That's why it was no surprise to see the company forecast a drop in operating income for the upcoming year. On a forward basis, this puts its EV/EBITDA slightly above Nike's. If we judge valuation relative to its past, a $100M drop in EBIT would result in an EV/EBIT multiple of 27. That's slightly below their average of the past ten years, but not nearly as low as during the recession.
You could say that UA is fairly priced at the current moment. But things could change very quickly if the company is able to manage their inventory, receivables, and discounts in the first half of the year, with earnings picking up in the second half of the year.
Simply put, Under Armour is definitely a stock worth keeping your eyes on.
Disclosure: I/we have no positions in any stocks mentioned, and no plans to initiate any positions within the next 72 hours.
I wrote this article myself, and it expresses my own opinions. I am not receiving compensation for it (other than from Seeking Alpha). I have no business relationship with any company whose stock is mentioned in this article.
Editor's Note: This article discusses one or more securities that do not trade on a major U.S. exchange. Please be aware of the risks associated with these stocks.