A brief overlook of the website left me with the impression that Townsquare (NYSE:TSQ) is the hipster of radio broadcasting. Judging from the trendy look of it the company is keeping up with the target audience/consumers and that is a plus. From a valuation perspective, the company also doesn't resemble classic dot.com-ish millions of dollars losing company (most of the time) worth more millions of dollars.
The stock rushed up over 25% during the week starting on Monday the 13th of March because it reported stronger-than-anticipated 4Q results. Since then the stock cooled down a bit and price corrected by roughly 10%, which presents a good entry opportunity. The general consensus was that Townsquare Media would report roughly $118 million in sales and $18 million in net income, both of which were exceeded. Sales were $119.4 million with net income of $24 million. In addition to that company reduced what it refers to as Leverage ratio - total debt over adjusted EBITDA, from 5.4 to 4.9.
Disregarding recent stock price increases I believe the price has plenty of room to go further. If I look at the company's fundamentals, projections, and its competitors, pretty much all of the metrics look favourable for the company, which still looks very cheap. It achieved more than 17% annual revenue growth over each of past few years and has current P/E of 13.89.
Townsquare Media operates in two segments: Local Marketing Solutions and Entertainment. Local Marketing Solutions is basically selling commercial time during its radio broadcasting and brought in roughly 63% of company's net revenue. Entertainment segment focuses on organizing and operating various festivals. This is one of the good points, in my opinion. The company has chance to be more in touch with general public and its tastes through involvement in festivals, can better anticipate trends in music, and this experience and knowledge can reflect in better radio content for targeted audience.
Let's take a look at hard numbers - below is very brief overview of income statement.

Source: SEC annual reports
Revenue growth is the strongest part of Townsquare. Over the years, the company grew rapidly, most of time by means of acquisitions. By 2013, the assets grew to $939 million with proportionally huge long-term debt of $651 million on its books. Since then, the company refrained from growing through boosting more debt and managed to choose the acquisitions and their financing more wisely and thus avoided what at that time might have seemed as an inevitable end. Also increasing revenue helped for sure, coupled with the company's IPO in 2014 which brought around $98 million. Since then the Townsquare made only two significant acquisitions - in October 2014 Townsquare bought WE Fest for $23 million, and in September 2015 it bought "NAME" for $75 million. None of which had significant impact on the debt of the company, although it helped with almost doubling the revenue. The company currently holds over $292 million of goodwill on its balance sheet. I believe in growth by any means, unless it's unnecessary, expensive and drags the company onto slippery slope of solvency.
Townsquare has a potential and capability to grow revenue regardless of acquisitions. According to the latest investor presentation and also 13th March earnings call, the company expects mid-single digit revenue growth over the next FY. Below is decomposition of Townsquare's revenue into growth from acquisitions and organic growth. I believe 5% revenue growth is achievable.

Source: SEC filings
Operating income increased more or less proportionally to the increase in revenue over the time. Large increase in net income is mainly because the company stayed flat with its debt. While during 2012-2014 the interest rate was roughly as large as operating income, this fundamentally changed in recent years. Current Operating Income is more than sufficient to cover current interest rate expense, although it is still rather large.
Overall loss that occurred in 2014 was caused by an abnormal increase in other expenses. This was $37.7 million stock compensation granted to management that successfully pulled off the IPO.
The other item that stands out is an increase in interest expenses in 2015. $30.3 million out of the overall number is attributable to the fees for redeeming outstanding notes the company had and was actually a good choice - it refinanced its $418 million outstanding 2019-notes bearing huge 9% interest rate, and issued $300 worth of new 2023-notes bearing 6.5% interest instead. This essentially saved roughly $72 million and cost Townsquare only $30 million.
Rationally, I don't expect any of these two items to occur in the future, and as such FY 2016 is a good baseline for extrapolation. I wouldn't be surprised if the company redeemed some parts of its outstanding debt in the future although it probably won't mean much, and given the management's appetite for acquisitions it might choose to acquire some smaller company instead.
The costs deserve more emphasis here. Gradual decrease in other expenses, which are mainly Depreciation and Corporate expenses, is almost negligible when compared to increase in cost of revenue, and if continued can negatively impact net income margin.
Townsquare is covered by an unusually large number of analysts for such a small company (yahoo.finance). And, on average, the net income growth expectation is 21% for next FY. Is such a huge increase possible? I think so. It can be supported by natural sales growth, better cost efficiency and higher income margin as well as long-anticipated tax cuts by the new administration. If tax cuts are being priced into general market - S&P 500 - it is only fair that they should be priced in Timesquare's earnings. And Townsquare's tax rate is roughly 39%.
The debt
As of the end of 2016, the company held long-term debt of $589 million according to latest 8-K filling. This breaks down into two parts: A) $300 million of notes maturing in 2023, B) $289 million of term loans.
A) Bears interest rate of 6.5% and can be redeemed by any amount at any time.
B) Bears interest rate of LIBOR + 3%
Because only the B part is susceptible to interest rate risk, raising rates wouldn't pose that much of a threat. One percent increase in LIBOR would cause $3 million increases in annual interest expense.
Nevertheless, the company has too much debt. The good thing is that the management is fully aware of it and is proactively trying to reduce it. Timesquare is targeting its leverage ratio, which stands currently at 4.9, to be 4 by the end of 2017. If that happens it would be a reassuring signal that it can meet its obligations in the future. Interest rate payments of $32 million last year represent over 6.2% of annual sales and 45% of EBIT. Given the company's large cash holding of $51.5 million, I don't think liquidity is a threat to the company, but the solvency can be questioned if the debt gets out of hand. There have been too many cases of radio companies that crumbled under the heavy interest rates expenses, such as iHeartmedia (OTCPK:IHRT), Emmis Communications Corporation (NASDAQ:EMMS) or Radio One, Inc. (ROIA).
Market comparison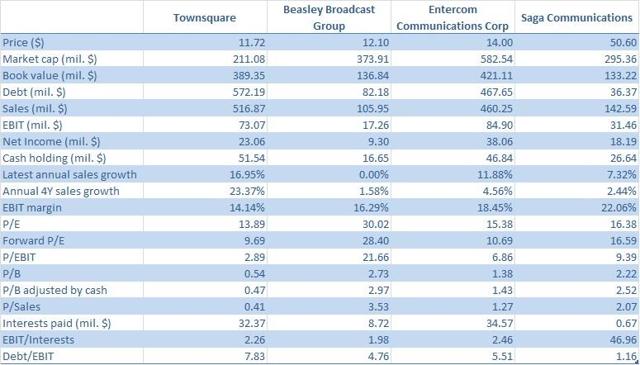 Source: SEC filings, yahoo.finance, google.finance
I decided to compare Timesquare to its nearest competitors Beasley Broadcast Group (NASDAQ:BBGI), Entercom Communications Corp. (NYSE:ETM) and Saga Communications (NYSEMKT:SGA).
Townsquare, compared to its competitors of the same size, looks cheap. Almost all Townsquare fundamentals look better, some way better, than of its peers. Standard pricing ratios such as Price to Book, Price to Sales, as well as Price to EBIT point out directly that the company is undervalued compared to the peers. A general characteristic of P/E is that high growth companies tend to enjoy larger earnings multiples. As mentioned previously, the revenue growth of Townsquare has been stellar, yet compared to the peers it's very small. I guess I don't have to point out to S&P 500 P/E.
Only two metrics are not in favor of Townsquare - income margin and indebtedness. Even though Debt to EBIT is the largest among the peers, its EBIT to Interests, which is interest expense coverage, doesn't differ that much from Beasley's or Entercom's. As a matter of fact, Entercom Communications looks like attractive stock too; however, its revenue growth cannot match that of Townsquare.
Summary
Townsquare is a small cap radio company that deserves attention. It has very attractive valuations, whether assessed independently or compared to the peers. It has had large annual growth and is still expected to grow in the future. The stock has very strong momentum since March 13th - when it released its Q4 2016 report - the stock increased more than 25%, with subsequent 10% correction. The stock still looks cheap. Current P/E ratio stands at 13.89 and Forward P/E at 9.69. Valuation ratios such as Price to Book are much lower than of its competitors. The largest risk for the company is its indebtedness, although it doesn't pose significant threat to the company.
Disclosure: I/we have no positions in any stocks mentioned, and no plans to initiate any positions within the next 72 hours.
I wrote this article myself, and it expresses my own opinions. I am not receiving compensation for it. I have no business relationship with any company whose stock is mentioned in this article.