Thesis
Huntsman Corporation (NYSE:HUN) has displayed substantial growth. Despite this the company maintains an attractive valuation. I believe that Huntsman is a good investment. I believe that the company's spinoff of its titanium oxide business is also a good investment. I think Huntsman is undervalued given past and expected growth.
About The Company
Huntsman Corporation manufactures differentiated organic and inorganic chemical products. The company is large and global with more than 100 facilities in 30 countries and a market cap of $5.5B. The company operates in five segments. These include: Polyurethanes, Performance Products, Advanced Materials, Textile Effects, and Pigments and Additives. The company's segmental breakdown of revenue and adj. EBITDA is shown in Figure 1.
Figure 1: Huntsman Revenue And EBITDA By Segment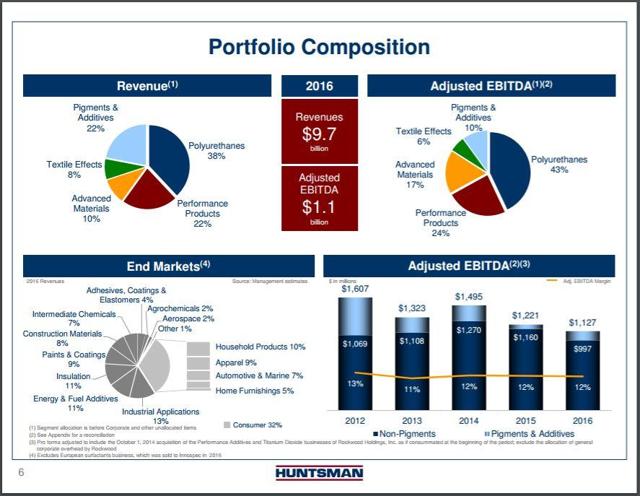 Source: Huntsman Chemistry Conference Presentation
What I Like
I believe Huntsman to be undervalued given its past and expected growth. Currently the company trades at a premium to future cash flow. However, it trades at an earnings multiple of 16. This is less than the materials industry average. Forward P/E is 10 which should satisfy the most value conscious investors. PEG is 1.2 which bakes in a little bit of growth. Price/book is 4 which is in line with the rest of the materials industry. Huntsman trades at a discount to sales with a price/sales ratio of 0.57. Valuation metrics compared to industry average is displayed in Figure 2.
Figure 2: Huntsman Valuation Metrics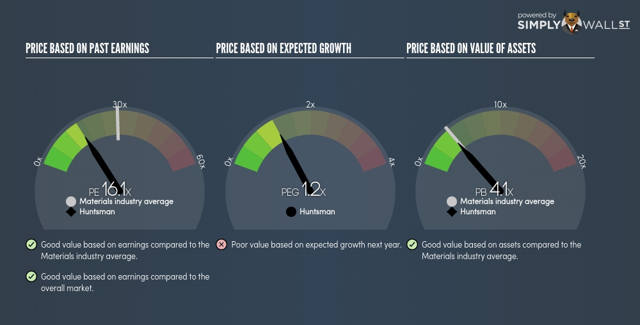 Source: Simply Wall St
Earnings for Huntsman are expected to grow 14% next year and 53% over the next three years. Profit is expected to increase by 50% in the next two years. Huntsman also has an impressive history of increasing earnings. Quarterly earnings growth is up 3100% year over year. Annual earnings per share are up 250% year over year. Remember this is a company with a P/E of 16 and a forward P/E of 10! Past and future earnings for Huntsman are shown in Figure 3.
Figure 3: Huntsman Earnings Past And Future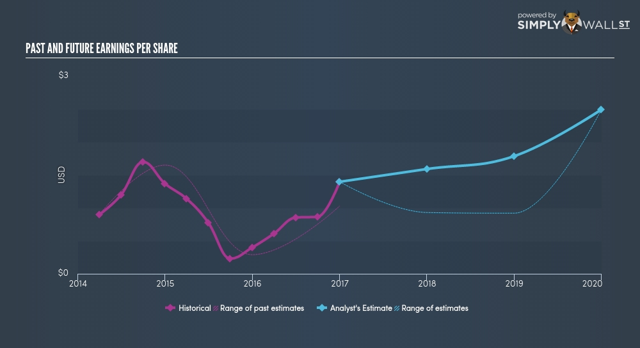 Source: Simply Wall St
The company's performance metrics are good as well. Return on equity is 23% and ahead of the materials industry average. Return on assets falls short of the industry average at 4%. Return on capital exceeds the industry average at 6%.
Now we get into what I don't like. The company has significant debt. Currently Huntsman has a debt/equity ratio of 286%. The company's debt portfolio and accompanying risk will be discussed in depth later. If the company takes on additional debt it will almost certainly be more expensive. Huntsman also pays a 2.26% dividend which is fairly respectable in today's low rate environment. Current payout ratio is 36% which is not problematic.
It is worth noting that more than 16% of Huntsman is owned by insiders. In fact, a considerable amount of shares are owned by individual members of the Huntsman family.
Opportunities And Drivers
Huntsman is spinning off its titanium oxide (TiO2) business into a company called Venator. Huntsman will maintain 40% equity in Venator and 19.9% voting rights. Huntsman is expecting to complete the spin off sometime after the second quarter of this year. A comparison of Venator and Huntsman is shown in Figure 4.
Figure 4: Venator And Huntsman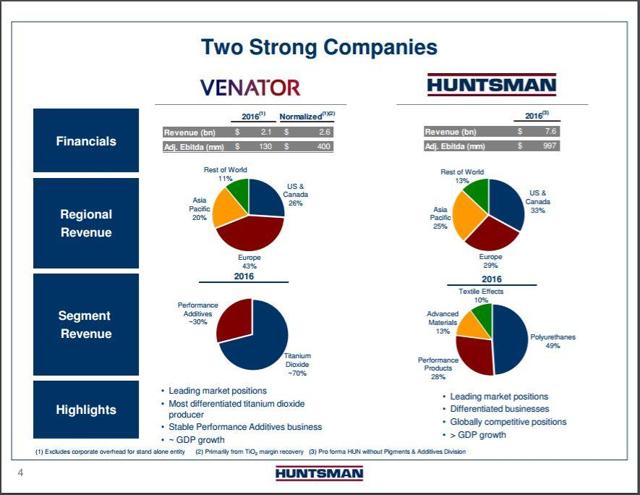 Source: Huntsman Chemistry Conference Presentation
For more on Venator see this article by fellow Seeking Alpha contributors:
Huntsman Spin-Off Creating 20-25% Upside
Venator - Large Upside Potential Post Huntsman Spin-Off
Something I like about both Huntsman and Venator is their regional revenue diversity. Huntsman is fairly equally split between major markets and the rest of the world. Venator is slightly heavier in Europe but similar. I believe this to be an opportunity more than a risk. I always believe diversification to reduce risk.
Huntsman has expressed its intention to improve its free cash flow for 2017. The company said it plans to use free cash flow to reduce its debt which gives me a little bit of relief. In 2016 Huntsman repaid $560m in debt and generated $686m in free cash flow.
Risks
The first thing that jumps to mind is the company's debt. The first thing it addresses in its 10-K risk factor section is this debt. Huntsman has a mix of fixed and floating interest rate. It goes on to say that it is hedging risk using derivatives such as interest rate swaps. The company has also stated its intention to reduce debt. I would keep a close eye on interest rate and Huntsman's debt if you decide to take a position in the company.
The company goes on to identify foreign exchange rates and commodity prices as other sources of risk. This is nothing out of the ordinary as Huntsman is a global company that sells chemicals. Debt is the largest and most concerning risk factor in my opinion. As previously mentioned, Huntsman's revenue is spread out fairly evenly across the globe. Should a trade war emerge in the coming four years Huntsman would certainly be one of many countries harmed. I do not believe this to be a reason not to invest in Huntsman.
Final Thoughts
I believe Huntsman to be an excellent investment opportunity. I think the company is undervalued given its past and future growth. I think its dividend is exceptional. I believe the Venator spin off is also a good opportunity. I understand the risk in Huntsman's debt but I believe they will take steps to combat the risk posed by this. I like Huntsman Corporation as a medium term investment.
Disclosure: I/we have no positions in any stocks mentioned, but may initiate a long position in HUN over the next 72 hours.
I wrote this article myself, and it expresses my own opinions. I am not receiving compensation for it (other than from Seeking Alpha). I have no business relationship with any company whose stock is mentioned in this article.