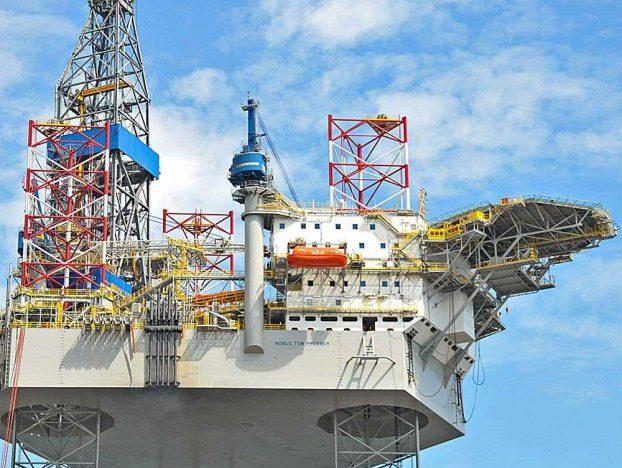 Image: Jack-up Noble Tom Prosser. Courtesy: Offshore Energy today.
Noble Corporation plc (NYSE:NE)
This article is an update of my preceding article published on February 24, 2017, about the February fleet status. I have reported the monthly FSR for over two years now.
Investment thesis
As an investor and NE shareholder, it is really important to follow regularly the monthly fleet status released by the company, because it allows us to measure the actual "temperature" of the Offshore drilling business, and deduct from this simple analysis, when a rebound potential may eventually occur that could prove an early accumulation. This is the name of the game, without contracts the company has basically no revenues.
We are not quite there, despite what the oil prices are trying to tell us. Offshore drilling is still struggling, and no signs of "green shoots" for Noble yet.
Complete Fleet Analysis and Fleet Status as of March 23, 2017.
1. Class: Drillships
#
Name

Spec.

K feet

Contract

End

Current

Day rate

K$

Location

(0-rate)

1

2013

10/40

5/17 (60-day?)

$290?

[Apache (NYSE:APA)]

Suriname

2

2011

8.25/40

Commitment split 50/50 - Joint Venture between Shell and Noble Corp.

5/17

<5/17 - 5/18

5/18 - Early 4/22

456

200 [Idle 365 days]

200+ (floor)

[Shell]

Malaysia

3

2013

10/40
Late 2/19

482

[Shell]

US GoM

15% bonus eligible

4

2011

10/40

Mid 7/17

Mid 7/17 - Mid 7/22

436

275+ (floor)

[Shell]

US GoM

15% bonus eligible

5

2013

10/40

Late 12/2018

Late 12/2018 - Early 9/2023

185 (idle)

275+ (floor)

[Shell]

Tanzania

15% bonus eligible
2. Class: Semi-Submersibles
#
Name

Spec.

K feet

Contract

End

Current

Day rate

$ k

Location
1

1981/1998

6/25

Late 6/17

128.5

[Hess (NYSE:HES)]

US GoM
4. Class: Jack-Ups
#
Name

Spec.

Feet/K feet

Contract

End

Current

Day rate

Location
1

1980/2005

300/25

Late 12/17

85

Arabian Gulf

2

2Q'2016

($409 million final payment)

492/32

Late 11/20

447 (including mobilization revenue)

[Statoil (NYSE:STO)] UKNS

2-year priced option

3

1981/

2004/2010

300/25

Late 12/17

85

Arabian Gulf

4

1981/1998

300/25

Mid 11/18

65

[Aramco (Private:ARMCO)] Arabian Gulf

(30d) 3Q17

5

2009

400/30

8/18

88 ("1")

[Shell]

UK

North Sea

6

1981/2004

300/25

Mid 11/18

65

[Aramco]

Arabian Gulf

(90d) 1Q17

7

2013

400/35

8/17

150

UAE

8

2007

400/30

Early 3/17

Early 3/17 - Early 3/22

167

159

[Aramco]

Arabian Gulf

0-rate 1Q'17 (15d)

9

2014

400/35

Mid 1/19

Q2'18 (See note below)

111

[Total (NYSE:TOT)]

Brunei

10

2014

400/35

Late 8/18

96.5

[Maersk (OTCPK:AMKAF)]

Denmark

11

2009

400/30

Early 7/17

Early 7/17 -Early 7/22

167

159

[Aramco]

Arabian Gulf

(30d) 1Q'17

12

2013

300/25

Mid 5/17

4Q17-1Q18 to 4Q19-1Q20 (up to 2 years)

Accommodation rate Not disclosed (55k/d?)

88.5

[Not disclosed]

UK NS

plus options

[Exxon Mobil (NYSE:XOM)]

Canada

13

2014

400/35

Late 5/17

Not disclosed (90k/d?)

[JX Nippon]

Qatar

14

2014

400/35

Early 9/17

Early 9/17 - Late 10/17

Available

130

[PTTEP]

Australia
("1") Client has the right to early terminate the contract for convenience subject to a notice period and, in some circumstances, a retroactive day rate adjustment.
Note: JU Sam Hartley: Original program was for six-well project, with an expected completion of three years. Because the program is running ahead of schedule, the rig could be available in the first half of 2018.
Rigs available, ready-stacked or cold-stacked, idle.
Noble Fleet Snapshot
| | | | | |
| --- | --- | --- | --- | --- |
| | Total | Drill-ships | Semi-subs | Jack-ups |
| Noble Corp. | 20 | 5 | 1 | 14 |
| Cold-stacked - Idle - Not contracted | 8 | 3 | 5 | 0 |
| Total | 28 | 8 | 6 | 14 |
Backlog Detail:
Noble Corp.'s contract backlog totaled approximately $3.6 billion now.


Note: This is an estimate only. The company is not providing the day rate of a few contracts and the deal with Shell can vary notably.
Commentary:
Noble Corp. released its March fleet status. Let see what has changed?
The Drillship Bob Douglas started its work for Apache early March until May (60-day~).
The Noble Bully I is now warm stacked after rolling off contract with Shell in the GoM. I was expecting some extension because of the nature of the relation between Noble and Shell on the Bully I and Bully II (Joint venture 50/50) but it did not happen.
The semi-submersible Paul Romano: Extension one month to June 2017.
The JU Regina Allen got a 30-day option exercised until Mid May 2017. Still two 30-day option stay.
The JU Noble Prosser has been awarded a ~65-day contract in Australia with PTTEP @$130/d starting early September 2017. Backlog addition is about $8.5 million.
Noble is now on "energy-saving" mode and basically is eating up slowly its still sizable backlog, while waiting for a recovery that seems going further away as oil prices are weakening again after Saudi Arabia indicated that its production increased again above 10 MBOP/d eliminating most of the cut realized before.
Furthermore, The US Shale oil production -- particularly the Permian segment -- is increasing rapidly and is now at 9.129 Million BOP/d according to EIA, an increase of 430k BOP/d since late November 2016 (OPEC decision to cut production by 1.2 Million BOP/d).
The Paul Romano will soon end its contract and will probably be cold stacked immediately after that. It is important to see that the floaters segment is still shrinking and recovery will have to wait probably until H2 2019. The segment has particularly suffered during the downturn and Noble submersible fleet will be totally stacked after June 2017 if the Paul Romano (1981/1998) is not awarded a new extension which is not likely.
Clearly, Noble strength resides in its drillships contracted long-term with Shell, and a strong jack-up segment that represents almost half its today's backlog.
However, this fleet status shows that the company is still in a middle of a terrible downturn, with contracts scarcity increasing, often agreed at dismal day rates close to breakeven level.
Above all, investors and traders must interpret this situation the right way!
Inexperienced doomsayers will always show the today financial situation as a deterrent for investing/trading, but this reasoning cannot be more wrong.
In fact, a few "secure" stocks in the offshore drilling sector, present a trading opportunity of a lifetime that I qualify as "sweet spot". Take companies such as Transocean (NYSE:RIG), Noble, Rowan Companies (NYSE:RDC) or Ensco (NYSE:ESV). As an investor, we see that the market has already factored in most of the downturn potential and trades in a narrow range for months. Use it for your profit.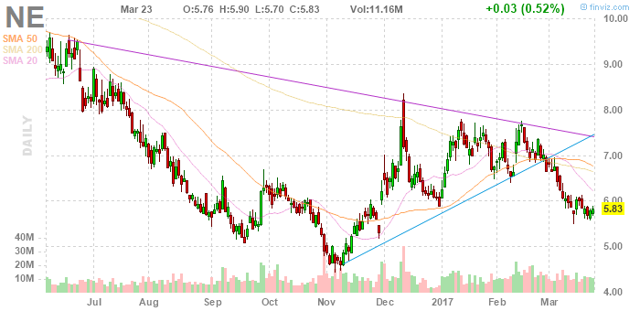 In fact, I see this situation as an excellent trading opportunity, and I have recommended my followers about trading this sector in a "sweet range". I promoted some selling early January and I advised to wait until the stock retraces due to a potential setback in oil prices. This is exactly what is happening as I speak. Then, let the ones who feel compelled to "run into doors already open" and look at the chart instead.
NE broke out from its symmetric triangle pattern early March and I waited to buy back NE at $5.70 and lower.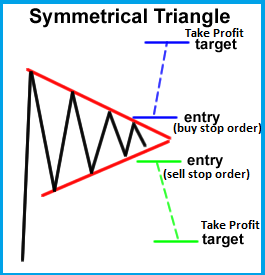 Noble is a survivor and this recent fleet status is another testimony that proves it once more. Then let's have fun trading!
Important note: Do not forget to follow me on NE and other offshore drillers. Thank you for your support.
Disclosure: I am/we are long NE.
I wrote this article myself, and it expresses my own opinions. I am not receiving compensation for it (other than from Seeking Alpha). I have no business relationship with any company whose stock is mentioned in this article.
Additional disclosure: Bought back NE below $5.70.