For those who have been invested in Titan Pharmaceuticals (NASDAQ:TTNP) for a while, the past quarter was a letdown. Despair is in the air, and this feeling has been reflected in both the stock price and on Stock twits. This article and I are here to tell you two things. One, things aren't as bad as they look. Two, you still shouldn't get your hopes up too much.
This past quarter generated almost no revenues. This was discouraging, but the revenues reported on this quarter were derived from October-December. Because of the timing of their licensing payments, TTNP has not received any of the effects from Braeburn Pharmaceuticals' full scale launch.
While the lack of immediate and organic demand is disappointing, it is hopefully nothing a sales force can't fix. The coming quarter will tell a lot. If you are confused as to who Braeburn is, what TTNP is selling or anything else, I suggest you read my first article, which will have lots of background information.
What Can We Expect
This section will include 2 sales estimates. The first is a conservative estimate based on Braeburn's projection of sales and TTNP cost projections. The second is an optimistic projection based off of a projection of sales done by Zacks in 2015 and a projection of costs done by TTNP in their latest earnings call. Some preliminary things one should know:
Estimated 850,000-1 million people on buprenorphine.
5-7.5% peak market penetration
1-2% growth per year on average
1.75 treatments a year.
Base cost of 8 million per year + 4-5 million per clinical study.
Cash balance of 14 million.
It is also worth noting that Zacks has a more recent estimate that presents a much more optimistic sales ramp than anything you will see here. An observant reader will notice that the royalty percentage would likely be higher than 15% once peak sales are reached, per their licensing agreement. While you would be correct, I am trying to simplify the model and reduce guesswork.
| | | | | | | |
| --- | --- | --- | --- | --- | --- | --- |
| | 2017 | 2018 | 2019 | 2020 | 2021 | 2022 |
| Income(conservative) | 1 | 3 | 6 | 11 | 18 | 21.25 |
| expense | 13 | 18 | 18 | 18 | 18 | |
| Cash | 2 | Dilution | 0 | | | |
| Income (optimal) | 4.25 | 14 | 33.5 | 72.5 | 97.5 | |
| Expense | 12 | 16 | 16 | 16 | 16 | 16 |
| Cash | 6.25 | 4.25 | 21.75 | 78.25 | 159.75 | |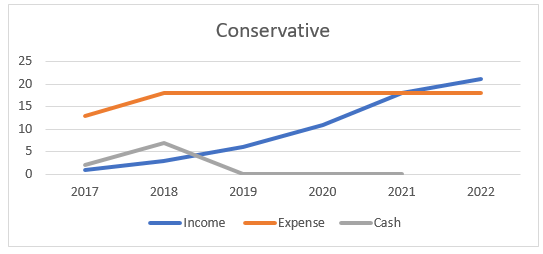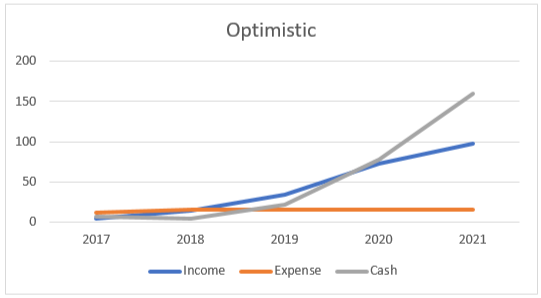 This chart follows a somewhat curved growth trajectory, not a linear one. This is to better estimate what growth will look like. When the blue line crosses the orange, the model achieves profitability. The gray line represents cash balance. The conservative projection has TTNP needing more cash at approximately the same time TTNP themselves estimated (Q1 2018). The gray line bumps to 7 million to reflect the increase in cash as a result of their possible secondary offering. The second model has TTNP avoiding running out of cash on just their Probuphine sales alone. These estimates do not consider several factors. They exclude:
The Ex-US launches of Probuphine
Any milestone payments from Braeburn
Upfront payments from new partners
Taking on debt
New TTNP products entering the market.
The growth (or shrinkage) of the opioid addiction market.
These factors are excluded because their timing/existence are uncertain. TTNP has been looking for Ex-Us partners since 2015 at least. They have made some progress on this; according to them many companies are performing due diligence. Upfront partnership payments could stave off running out of cash. Ropinirole, TTNP's Parkinson's implant, is also beginning the FDA approval process. This presents a limited opportunity for partnerships as well, though this was not discussed in the earnings call. The size and timing of Braeburn's milestone payments is unknown, and thus cannot be estimated well. The entrance of new TTNP implants entering the market is uncertain, we cannot know when or if they will. There is a possibility of the addiction treatment market shrinking or growing, but that is hard to forecast as well.
My conservative estimate points to the possibility of a secondary offering. This offering, if executed, would negatively impact the stock price. At a Stock price of $3.4, TTNP has an EPS of 13.6. For the EPS to stay the same; after dilution, the price would have to drop to $2.72. Dilution is something TTNP and its shareholders want to avoid.
The conservative estimate has TTNP running out of money the year after their secondary offering, however by that point TTNP should be able to secure more funding from somewhere to keep operations going. However, it is fairly clear that the conservative case is not a good one and presents sizeable amounts of risk.
If the next quarter brings in 250,000 than we are in line with my conservative estimate. 1,000,000 and we are in line with my optimistic one. 6,000,0000 and we are roughly in line with Zacks newest estimate.
Long Term Success
While most people seem optimistic about Probuphine's potential effects and success, some have doubts. Some doctors such as Dr. Wakeman, interview by NPR, think that patents will think the implant is enough and blow off counseling. My fellow Seeking Alpha write Vincent Tizono wrote an article outlining at many of the common concerns. I suggest you read both the article and the comments, as both are highly enlightening. The first problem he states is that patients must be stabilized on 8mg daily doses of sublingual buprenorphine and highly motivated. While this may appear to be a high bar, it is one that has already been reached by many patients.
His second problem is that they may try to get high while on using Probuphine and accidentally overdose, however if doctors stick to the use case outlined by the FDA they should be fine. His next problem is essentially, if it isn't broken don't fix it. Why would a doctor switch from sublingual buprenorphine to a more permanent and invasive option? While this is a good point, sublingual buprenorphine film has its problems. From Real Clear Health:
The introduction of Suboxone film has had another grim side effect. Because the sheets are small and easily cut and hidden, drugs sold at cash-only clinics have become a hot black-market item. About one-tenth of the 13,000 physicians authorized to prescribed buprenorphine have been cited for offenses like over-prescribing the drug, and police report increasing numbers of seizures of illegally sold Suboxone.
In addition, adherence problems, theft issues and more plague daily medications like this. On top of all this is a built in financial incentive for doctors to prescribe the implant. Doctors are paid more for procedures than they are for check ups. Probuphine is a procedure, sublingual buprenorphine is a check up. Probuphine solves these problems. While I agree with his overall thesis that we as investors should expect a slow sales ramp, this drug is definitely solving a lot of problems and that cannot be ignored.
One last potential issue is the competition of Braeburn products with TTNP products. However, Braeburn has agreed to pay small royalties to TTNP for any competing products, such as their long acting injection buprenorphine injection. Braeburn's plan is to use the injection to stabilize patients so that they can one day use Probuphine.
Potential upsides
TTNP has a lot of upside potential in the next year. They are:
An Ex-US partnership will hopefully come this year and bring with it fresh cash.
According to commenters on Vincent Tizono's article, Doctors will likely push Probuphine because they will be paid more for it. This could lead to a faster sales ramp.
A partnership for Ropinirole with some upfront payments.
The best I believe we can hope for TTNP to stave of dilution long enough for them to see a profit. This stock is currently a very risky bet, as it could lose lots of value dilution. If Probuphine falls short of my conservative estimate, I do not see TTNP surviving.
TTNP Pipeline
One factor that is not commonly discussed is the value of the Proneura platform. The current platform addresses 3.49 million people.
| | | |
| --- | --- | --- |
| Disease name | Treatment method | Market size (US) |
| Parkinson's | ropinirole | 60,000 |
| addiction | Probuphine | 425000 stable on 8mg |
| hypertension | T3 implant | 3 million treatable with t3 |
| total | | 3.49 million patients |
This is excluding Ex-U.S. markets, and the possibility of using the platform for pain and schizophrenia both of which substantially increases the number of patients. Assuming each implant brings in $800 a year in profits, and each implant captures 4% of the market this would make the Proneura platform worth 111 million. Again, this is a conservative estimate with a lot of potential upside. According to this estimate, chances are good that this platform is worth more than the current market cap. I used the income approach to value the patent.
Recent Developments
So the reader can get a rough idea of development progress I will include the recent developments in the pipeline.
Probuphine
Achieved Full launch Q1 2017
Issued J-code to facilitate in reimbursement.
2500 health care providers have received training.
70 health insurance companies include Probuphine on their coverage
Drug approval for EU going through the centralized process. EU Launch expected in 2018.
Small manufacturing status granted in Europe which brings economic benefits.
Ropinirole (Parkinson's)
Phase 1 studies should start mid 2017
T-3 implant (Hypertension)
Pre-IND review expected in Q3 2017
Analyst Estimates
Roth has a price target of 10 and Zacks has a valuation of 11. This reflects an upside of around 300%. However, keep in mind that analysts tend to exaggerate, and they are by no means foolproof. No matter what happens, this next year will be a wild ride. It is worth noting at that some people who have commented on my previous article believe that Braeburn or Apple Tree Partners will buy out TTNP before it gets above 10 dollars. This is a definite possibility, but not one that should be expected or counted on.
My recommendation
A modest allocation would be wise now. The possibility of a surprise in the short term (next year) is good and the long view of the stock (next 5 years) shows a promising future. Allocations should increase on proof of concept (hitting the sales targets I outlined).
Author's note: If you liked this analysis and you want to hear more about technology and biotech stocks, please consider subscribing. Feel free to leave a comment with your thoughts; they are always interesting and enlightening.
Disclosure: I am/we are long TTNP.
I wrote this article myself, and it expresses my own opinions. I am not receiving compensation for it (other than from Seeking Alpha). I have no business relationship with any company whose stock is mentioned in this article.
Editor's Note: This article covers one or more stocks trading at less than $1 per share and/or with less than a $100 million market cap. Please be aware of the risks associated with these stocks.