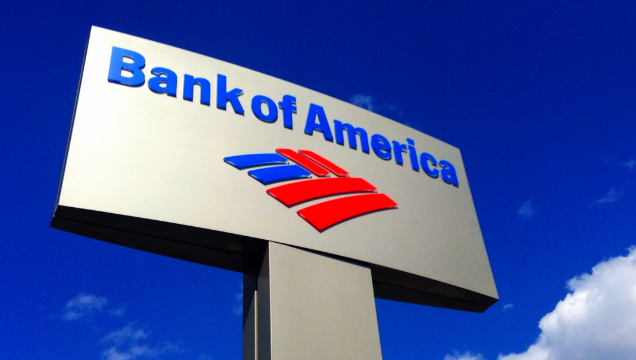 The banks have certainly been a hot trade in the past few months as rates have finally begun to take off higher. But for income investors, some large banks like Bank of America (NYSE:BAC) still aren't paying strong yields like they used to. The prospect of higher rates may help ease some of that burden through higher earnings but as stock prices move higher, the dividend has to catch up as well. The good news is that BAC has loads of preferred stocks to choose from if you want income and in this article, we'll take a look at a way to get a nearly 6% yield from BAC if you're interested in taking advantage of its fundamental strength but don't want to buy the common.
The issue in question is the 6.000% Non-Cumulative Preferred Stock, Series EE, which was issued just last year. The ticker could vary depending upon your broker but you should be able to find it under BAC-A or BAC PrA. As the title suggests, this is a traditional bank non-cumulative preferred stock, meaning it is essentially debt with no maturity date. Preferred stock is technically capital as defined by accounting rules but from our perspective, it is a fixed income security that pays quarterly distributions with no maturity date. That means this could be around "forever", or so long as BAC is a functioning entity, and that means this has the potential to offer strong yields for years to come. But the lack of a maturity date introduces a rub that traditional bonds don't have to deal with.
Specifically, not having a maturity date means that preferred stocks tend to trade more with rates than a bond that matures sometime in the relatively near future. Since preferreds have no stated end date, they float in order to maintain spreads with risk-free rates. That introduces some potential for volatility down the road but with rate hikes certainly underway and priced into instruments like BAC-A, it seems to me much of that has already happened. In other words, while there is downside price risk to BAC-A from here, if rate hikes don't happen as quickly as investors seem to think right now, there is upside risk as well. This is something that is specific to preferreds so you'll have to know what you think is coming in terms of rates before dipping your toes because there is some additional volatility potential with preferreds.
But the prospect of getting nearly 6% from BAC is outweighed by the potential for price movements and given that this is a fairly new issue, BAC cannot call it for another 4 years or so. Starting in April of 2021, BAC can call BAC-A at any time for a price of $25 per unit, which is the issue price and the price at which it yields exactly 6%. Currently, BAC-A is trading for $25.80, or about 3% over the par value, meaning that if it were to be called in four years, you'd be on the hook for 80 cents in capital losses over four years. That's less than one percent per year but it is still a loss, so that's something to keep in mind. With rates still low by historical standards, many preferreds are trading in excess of their par values. To me, that's not enough of a reason to ignore them but for others, it probably is. If that's the case, BAC-A isn't for you.
At the current price of $25.80, BAC-A's 37.5 cent quarterly distributions are good for a yield of 5.81%, slightly below the issue rate of 6%. That is roughly 450bps higher than the common pays and while BAC's dividend will continue to march higher from here, it will never be as high as 5.8%. That means BAC-A provides an opportunity to get exposure to BAC's ever-improving fundamentals but at an extremely high yield and, importantly, with no exposure to what I'd characterize as overheated valuations in the bank sector.
BAC-A, like any other bank preferred, is non-cumulative, which simply means that if BAC doesn't feel like paying the dividends on it, there is obligation to do so. BAC can, for whatever reason, not declare dividends on BAC-A or any of its other preferreds and it is under no obligation to make them up. That means that if BAC were to hit some sort of financial trouble and stop paying dividends on its preferreds, you have no right to collect them later. Were that to happen the price of the preferred would plummet and you'd have a rather sizable loss on your hands. Thus, it is still important for you to maintain interest in BAC's fundamentals, which really are quite strong right now. There is absolutely no risk in my view right now of any sort of event that would trigger such a thing for years to come, particularly in light of how stringent capital requirements have become. But it is the nature of the beast when investing in bank preferreds so it is certainly something to keep in mind.
While BAC-A contains some risks, including rates and the idea that BAC may have a capital event at some point in the future, those are outweighed in my view by the huge yield and the fact that this, being a new issue, will likely be around for a very long time to come. I think not only current rates but further hikes are already priced into fixed income securities and for that reason, the risk of downside price action seems lower than it otherwise would be. And at 5.8%, no bank common can get close to offering the yield of BAC-A. So if you're looking for a way to own a piece of BAC but, like me, you think the bank commons are a little too hot to handle here, have a look at BAC-A.
Disclosure: I/we have no positions in any stocks mentioned, and no plans to initiate any positions within the next 72 hours.
I wrote this article myself, and it expresses my own opinions. I am not receiving compensation for it (other than from Seeking Alpha). I have no business relationship with any company whose stock is mentioned in this article.