All other things being equal, the most attractive companies for investment are those that:
Operate in emerging markets;
Hold leadership positions in these markets;
Retain the capacity for quantitative and qualitative growth.
In my opinion, PayPal (NASDAQ:PYPL) meets all these criteria.
Let's start with the overall capacity of the online payment market.
The development of IT technology outstrips human habits. According to a study by DIGITAL PAYMENTS 2020 conducted jointly by Google and The Boston Consulting Group, two years ago, the cash and non-cash payments were accountable for 78% and 22% of payments respectively. Today the situation has not gone away from this ratio, and these shares will be equal only by 2023.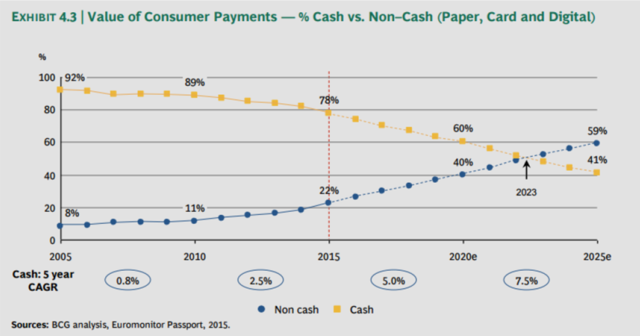 It is expected that among non-cash payments, the highest growth rate will be shown exactly by the digital payments, which will be accountable for 37% of all payments by 2025.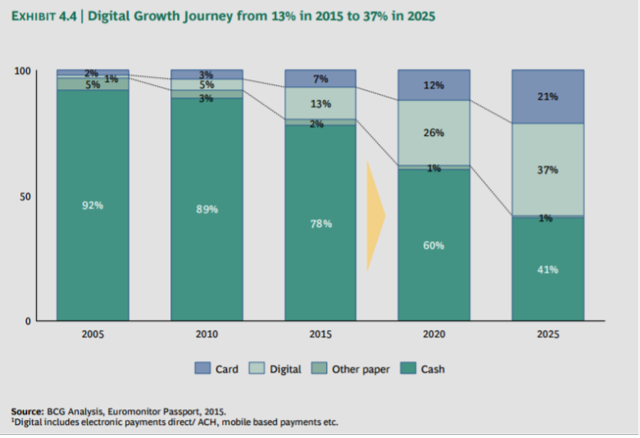 Of course, the continued growth of the mobile Internet will affect the digital payments market. For example, according to research by Ovum, by 2019 the global user base of all types of mobile payments will reach 4.8 billion, despite the fact that two years ago it did not exceed 700 million.
Directly in the United States, according to eMarketer, 31% of smartphone users will make mobile payments by 2019 (in 2016 this share was 19%). And the total value of mobile payment transactions in the US will grow by 128% YOY only in 2017, amounting $61.75 billion.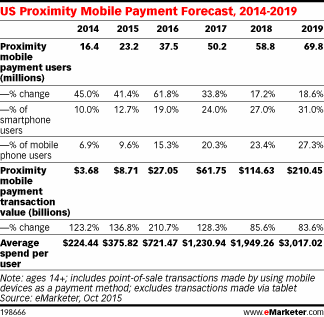 So, as we see, the digital payments market is just beginning to evolve, and at this stage, it is difficult to overestimate its potential.
Let's proceed directly to PayPal.
The number of active customer accounts of PayPal has been growing at an average annual rate of 11% per year during the last two years with no signs of deviation from the trend. Here it is important to understand that each new active PayPal account adds value to PayPal in the eyes of the clients not using the company's services. In other words, the more of your friends use PayPal, the more likely, sooner or later, you also will have a PayPal account. It is a network effect. And so I believe that in the future the growth rate of PayPal user base will increase.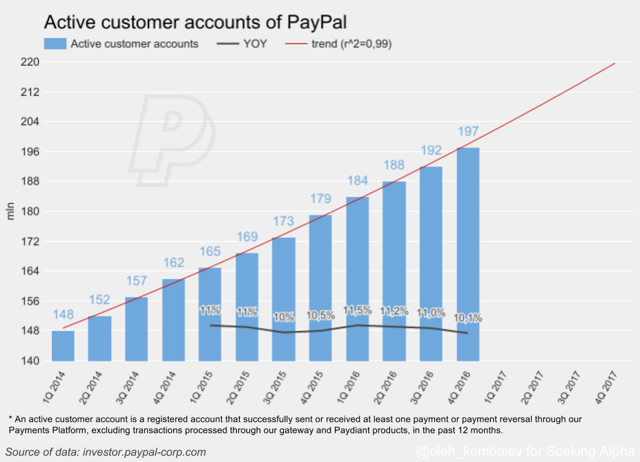 The number of payment transactions is also growing steadily by an average of 24% annually, which exceeds the rate of growth of active customer accounts. PayPal customers tend to increase the frequency of use of the company's services.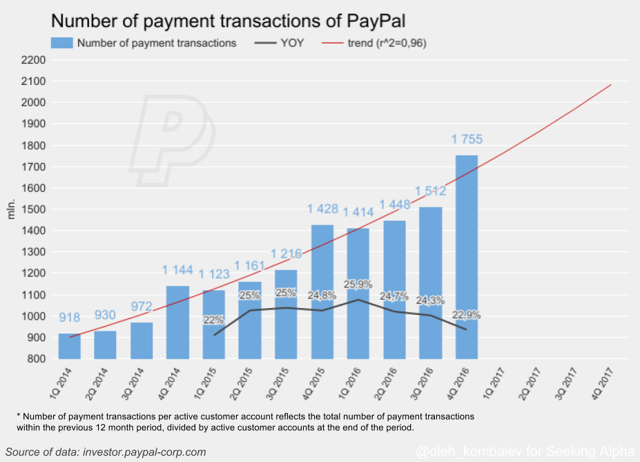 Accordingly, the number of payment transactions per active account is steadily growing: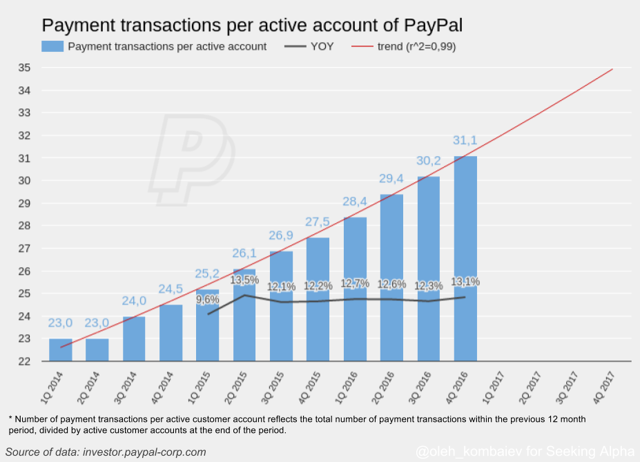 I've already mentioned that the mobile payments market would witness rapid growth in the future, and it is nice to see that PayPal corresponds to this trend. Last year, mobile total payment volume of PayPal grew by more than 50%, and by the end of this year, it will probably reach $50 billion.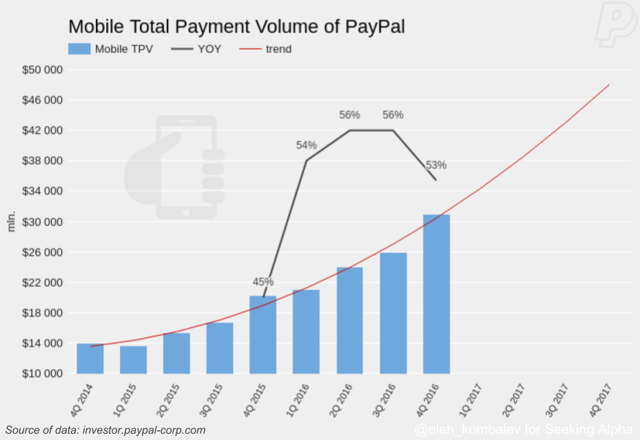 For the two previous years, the share of mobile payments in total payment volume of PayPal grew from 21% to 31%. This is encouraging because adaptation to the era of mobile Internet is integral to the success of virtually any company in the future.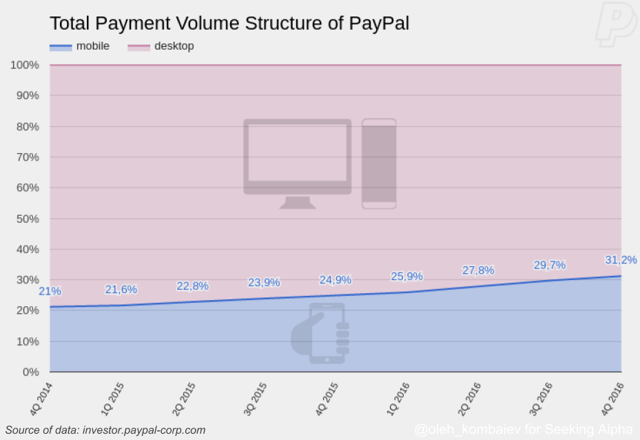 I would like to touch on Venmo, acquired by PayPal in 2015 together with Braintree. Total payment volume of this mobile payment service in Q4 2016 grew by 126% YOY providing almost 6 per cent of the total payment volume of PayPal. In my opinion, this was one of the most successful PayPal's investments for now.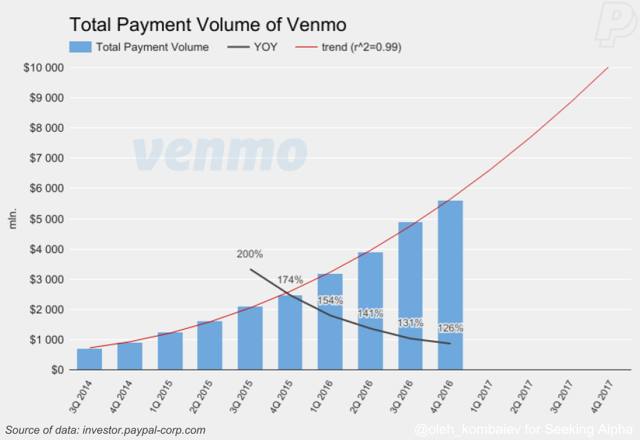 It is important that PayPal is developing with approximately equal activity in both the United States and the rest of the world. According to Q4, the "International" segment was accountable for 47% of the total revenue of the company. Such diversification of geographical sources of revenue is always a good thing.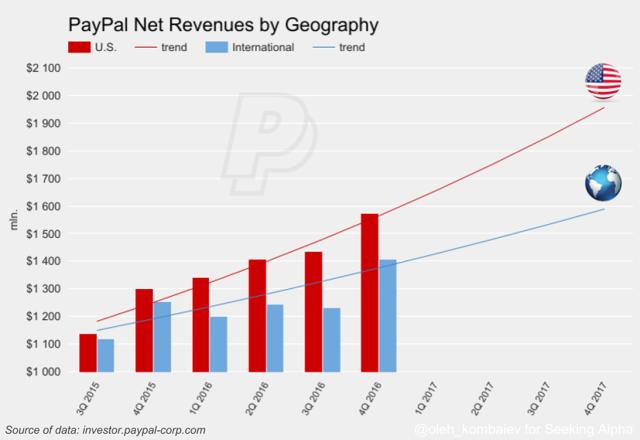 A few words about how popular PayPal is in the global world of e-commerce. According to Datanyze, PayPal is installed as a payment system on 75.89% of websites in the United States: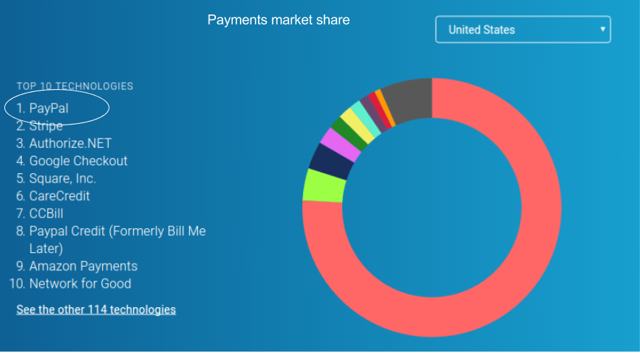 And here is the data on the other key countries: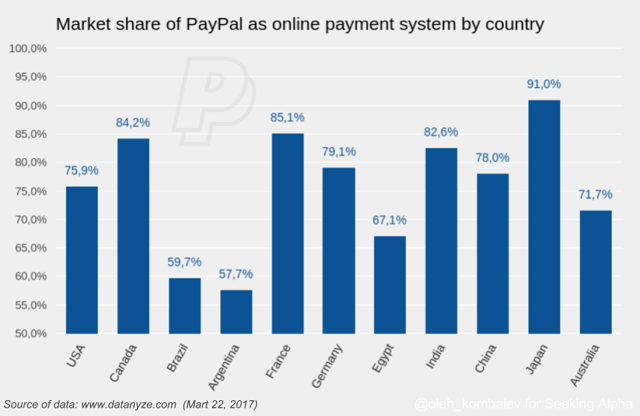 As you can see, only in South America the share of PayPal does not exceed 60%. On the other hand, in Japan PayPal is almost a monopolist. It is very important that PayPal has already entrenched in leadership positions in India and China, the e-commerce market potential of which is very far from exhaustion.
Among the key financial indicators of PayPal, I would like to highlight the dynamics of Free Cash Flow, consistently growing since the separation from eBay Inc. (NASDAQ:EBAY). The steady increase in free cash flow amid revenue growth and zero debt means that PayPal's opportunities to acquire new companies, pay dividends or implement reverse repurchase of its own shares are rising. Therefore, the sustainability of company's capitalization is growing.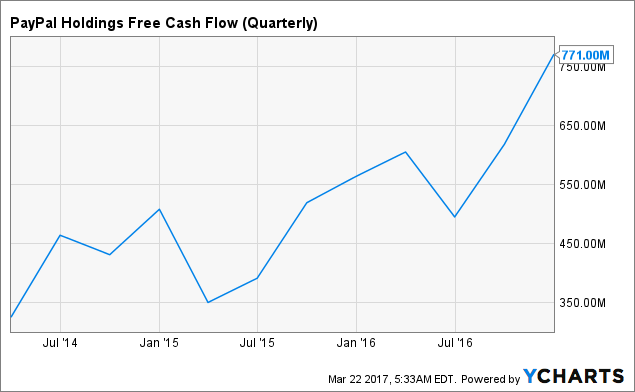 PYPL Free Cash Flow (Quarterly) data by YCharts
And now the fun part - even with all these positives, you cannot say that PayPal is overrated.
Comparing PayPal with Visa (NYSE:V) and MasterCard (NYSE:MA) through the most versatile EV/EBITDA (Forward) multiplier, we find that PayPal is substantially cheaper, although the gap is reducing.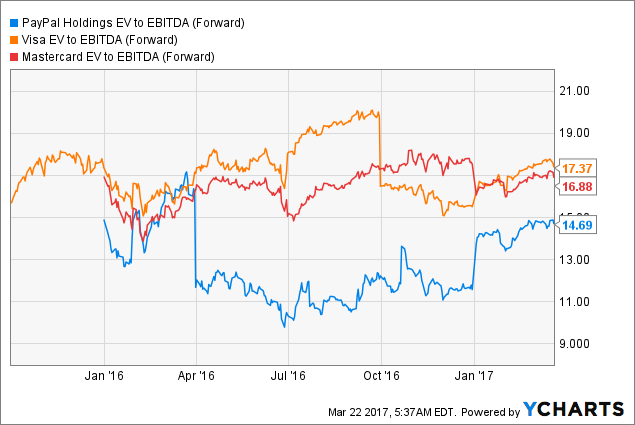 PYPL EV to EBITDA (Forward) data by YCharts
We get the same result using P/E multiplier (Forward):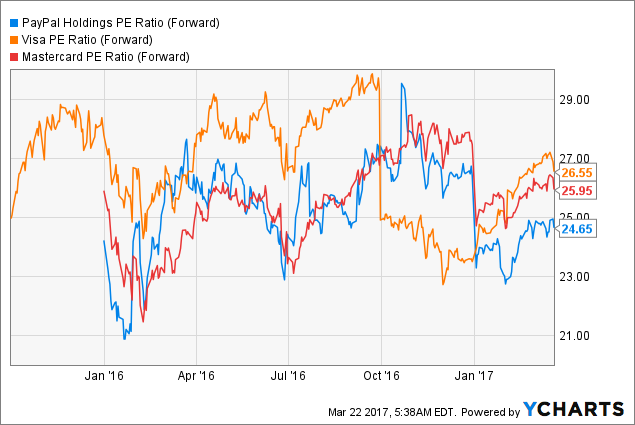 PYPL PE Ratio (Forward) data by YCharts
PUTTING IT ALL TOGETHER
PayPal operates in the market, the growth potential of which is not limited even by the following decade. Moreover, the company already occupies the leading positions, has high brand awareness and demonstrates steady qualitative and quantitative growth. At the same time, PayPal is clearly not overrated. I think this indicates that a long-term investor should consider adding PayPal shares to his portfolio.
Disclosure: I/we have no positions in any stocks mentioned, and no plans to initiate any positions within the next 72 hours.
I wrote this article myself, and it expresses my own opinions. I am not receiving compensation for it (other than from Seeking Alpha). I have no business relationship with any company whose stock is mentioned in this article.