To many investors' surprise, Ford's (NYSE:F) Q1 2017 EPS guidance came in way below analyst estimates. The CFO revealed the following bad news: instead of the consensus estimate of $0.47, which would already imply a 31% decline from Q1 2016, Ford is now only expecting $0.30 to $0.35, representing an over 50% drop if EPS were to come in at the low end.
Downside Priced In
This shockingly bad "surprise" did spook some investors, as evidenced by the initial open, but the downward momentum soon faded. The stock ended the day down by only 0.85%.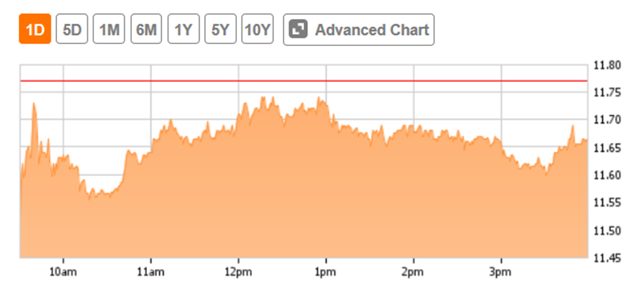 Source: Seeking Alpha
To me this is strong evidence that Ford's potential decline in profitability as we move towards the trough in the auto cycle has been fully priced in already. This was a sentiment that I expressed back in 2016 (read Ford Is Cheap Enough To Reflect Bad News). If you've read my latest article on General Motors (NYSE:GM), you probably won't be surprised to learn that I continue to hold this sentiment today.
It would appear that investors have learned valuable lessons from the financial crisis. Instead of pumping up a cyclical stock to highs when times are good, the market had priced in an expected drop in profits. This precaution led to the subdued reaction yesterday. For investors, this is both good and bad. On the one hand, further deterioration in profits will be unlikely to hurt the share price (unless something goes really wrong); but on the other hand, what can push the stock back up? Surely we shouldn't expect investors to bid up Ford during an industry downturn (though that would be the best time to buy)? This leaves Ford shareholders in a tough place, the stock can't go up during good times (which seems to be ending) but selling pressure during an industry downturn won't be conducive to share appreciation either.
"Full Year Guidance Unchanged"
Bullish investors may see this as a confirmation that the company will deliver good results in 2017. If you haven't been following the stock closely, back in January the management already gave a muddy answer regarding their 2017 outlook. The exact words used were: "We expect our key financial metrics for the company, as I said, in 2017 to be good, yet lower or about the same as 2016. Going back to what I wrote earlier regarding investor expectations, this may have also muted the impact of yesterday's announcement.
If Q1 EPS were to drop by 50%, it would be very difficult for the company to deliver a strong 2017. Given the current environment in the auto market (peak sales), it would be tough for Ford to match its performance in 2016 from Q2 to Q4. So when you really think about it, "full year guidance unchanged" really means "we are going to have a bad year." I must compliment Ford's IR team's ingenuity here, putting a positive spin on a down year, how about that?
Conclusion
Ford's Q1 guidance looks bad on paper, but I believe that the market had already prepared for this piece of bad news. Although I expect Ford to perform poorly in 2017, just like how the stock reacted yesterday to the bad news, I believe that the downside is limited due to the prevailing pessimism. That being said, I see no upside either as it is difficult for investors to buy the stock if the industry performs poorly. For the above reasons, I expect Ford to trade sideways in the near-future. What do you think? Leave your thoughts below.
Disclosure: I/we have no positions in any stocks mentioned, and no plans to initiate any positions within the next 72 hours.
I wrote this article myself, and it expresses my own opinions. I am not receiving compensation for it (other than from Seeking Alpha). I have no business relationship with any company whose stock is mentioned in this article.