Introduction to the Company
General Motors (NYSE:GM) is an automotive OEM supplying vehicles to consumers for work and play. Their brands include Buick, Cadillac, Chevrolet, GMC, Holden, and Wuling. In addition to selling vehicles, GM Financial is a global business unit providing automotive financing for GM vehicles.
Recent Company Activity
The most notable news for GM in the recent months is the planned sale of Opel/Vauxhall and GM Financial Europe to the PSA Group for $2.3 Billion. Shares went up slightly after the planned sale was announced due to investors feeling relieved that the seemingly endless money pit of Opel was finally gone.
This sale to PSA Group (EPA: UG) will provide GM with roughly $2 billion in free cash that they can use towards their share buyback program. This program was recently authorized by the Board of Directors to repurchase up to $4 billion of GM common stock shares by the end of 2017. Below you can see that the Board is only allowing GM to spend $1.5 billion on share repurchases in 2017 compared to the $2.5 billion in 2016 and the $3.518 billion in 2015.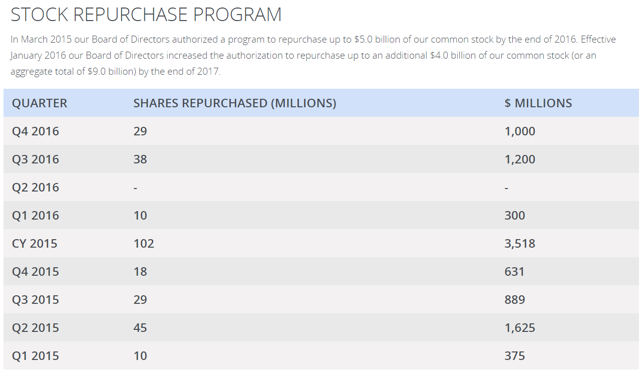 Source: GM.com/investors
The Opel/Vauxhall sale will relieve of a negative margin sales operation. GME has not been adding profit to GM's bottom line for quite some time (see the table below). This has improved investor sentiment, as well as will support managements' new initiative to focus more on EBIT and cashflow.
| | | | | | | |
| --- | --- | --- | --- | --- | --- | --- |
| Year | 2011 | 2012 | 2013 | 2014 | 2015 | 2016 |
| Total net sales and revenue ($ in millions) | $25,154 | $23,055 | $21,962 | $22,235 | $18,704 | $18,707 |
| EBIT (loss)-adjusted | $(1,041) | $(1,949) | $(869) | $(1,369) | $(813) | $(257) |
| EBIT (loss)-adjusted margin | - | - | - | - | (4.3)% | (1.4)% |
| Wholesale vehicle sales (in thousands) | 1,240 | 1,231 | 1,163 | 1,172 | 1,127 | 1,162 |
One outlook to this sale that many investors are not considering is how much money GM has put into Opel, and the miniscule $2.3 billion they are getting in return. Between August 2013 and FY 2016, GM has invested $4 billion euros into Opel to attempt to turn the brand profitable. How did that turn out for GM? Getting a return of $1.3 billion for the $4 billion they put in, not to mention the closing costs GM has yet to settle for all of the pensions that they will be transferring to the PSA Group.
Another indicator of an automotive company's performance is the inventory they have. As of December 2016, GM had 34.11 days of inventory, down from 36.95 in 2015. In addition, the inventory to revenue ratio has decreased from September 2016 (0.36) to December 2016 (0.33). This provides a key insight here is that GM is allowing their sales to increase relative to their production rate. In February 2017, GM's total sales are up four percent compared to a decrease in the industry of one percent. Market share has increased by 0.9 percentage points. Management is making sure they do not end up like Volkswagen (VLKAY) and needing to rent the Silverdome parking lot to store unsold vehicles (of course this is mainly due to the diesel-gate scandal, but a good visual nonetheless). With the vehicles in the next couple model years that are either getting a mid-lifecycle facelift or being completely redone, the last thing GM wants is to have outstanding vehicles of the old design that they need to heavily discount in order to get rid of. Specific models I'm referring to are the 2018 Chevrolet Equinox, Traverse, and GMC Terrain. These vehicles are poised to propel GM's sales further in the red-hot crossover market.
Balance Sheet
Reviewing the balance sheet will show that currently GM is undervalued when compared to their industry and the market. I'm referring to the current share price vs the book value. GM's share price as of closing on March 23 is $34.26. GM's P/E ratio of 5.7 is significantly lower than the industry average of 11, let alone the S&P 500 average of 21.1. Based upon the automotive industry sales history being cyclical, even if GM increases their market share, the trend of auto sales decreasing could stagnate GM's growth. Which, is not necessarily a bad thing, considering that GM is at its highest global sales levels of all time. The sales in China in 2016 actually outnumbered the sales in the U.S. This could keep GM at their current sales level.
Conclusion
General Motors is releasing new vehicles in the crossover segment that should help bolster sales. Even though the U.S. car sales industry could be cooling off from the past few years of high sales, the market in China is more than making up for this reduction. GM's planned sale of Opel/Vauxhall will free up some cash, but could hurt the auto giant depending on the closing costs for the pensions of the Opel/Vauxhall workers.
Disclosure: I am/we are mildly bullish on GM.
Disclosure: I/we have no positions in any stocks mentioned, and no plans to initiate any positions within the next 72 hours.
Business relationship disclosure: I currently do not have any relationship with any company mentioned in this article with regards to writing this article nor am I receiving any compensation from any company mentioned in this article for my views published in this article.