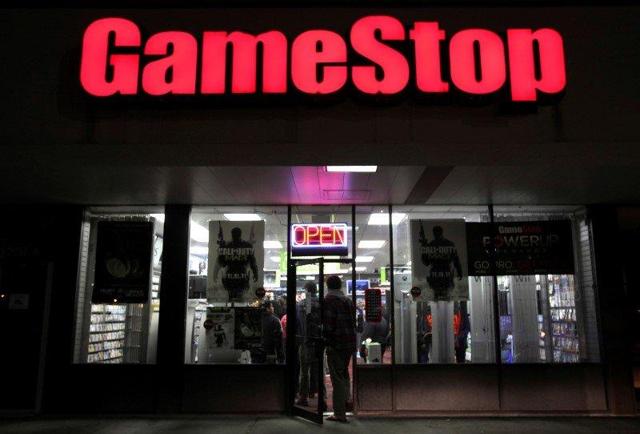 GameStop Corp. (NYSE:GME) has fallen over 10 percent after reporting weaker than expected guidance, and this is sure to make the company's six percent dividend even more attractive to yield-hungry investors.
GameStop, despite its challenges, still fills an important role in a risk adverse investor's portfolio. The stock is an excellent hedge against systematic market risk (the business cycle), it provides the best yield in gaming, and it has low valuation multiples.
An Unusual Niche
Most investors do not look at stocks like GME for growth. Despite being a gaming company, GameStop's stock is an income investment more suitable for older income investors and retirees.
The younger crowd gravitates toward growth stocks like Activision (NASDAQ:ATVI), Electronic Arts (NASDAQ:EA) and even Nintendo (OTCPK:NTDOY). However, while gaming is one of the most reliant sectors in tech, yields tend to be minuscule. The aforementioned stocks pay out less than one percent annually.
Income investors who want diversification into gaming face a dilemma due to a lack of good options. GameStop, with its six percent yield, solves this problem. On top of the high yield, GameStop is a good hedge against recession because of the nature of its business.
As a second-hand video game retailer, the company thrives during hard times. Historically, GameStop's revenue has held up during economic contractions.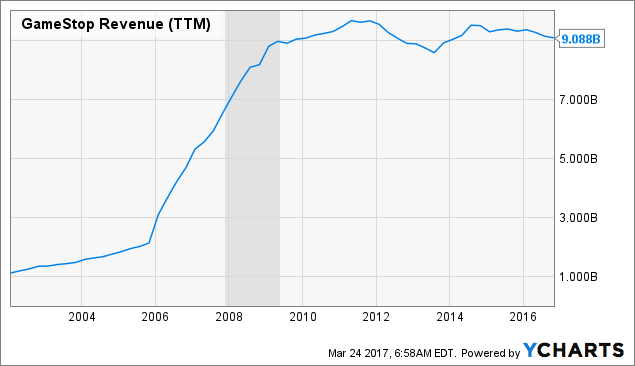 GME Revenue (NYSE:TTM) data by YCharts
Valuation Multiples of the Business
GameStop is a mature company in a somewhat low-margin business, and its valuation multiples reflect this. The company generates around $9.3b in annual revenue but has a market cap of only $2.4b.
GameStop's low P/S multiple may improve as the company improves its margins. Gross profit margin breeched 30 percent in 2016 and showed no signs of stopping the upward trajectory. Even through GameStop's revenue is stagnant, stronger margins on sales will help ensure dividend growth going forward.
Dividend Sustainability
GameStop's dividend is safe, well covered, and displays a convincing growth trajectory with five years of continuous increase. Cash flow from operations is $656m, and the dividend is only $151m - leaving plenty of room for growth in the future.
GME's payout could double or even triple without putting much strain on cash flow.
GameStop further ensures the stability of its dividend with a generous stock repurchase program that has seen total shares outstanding drop to 2005 levels.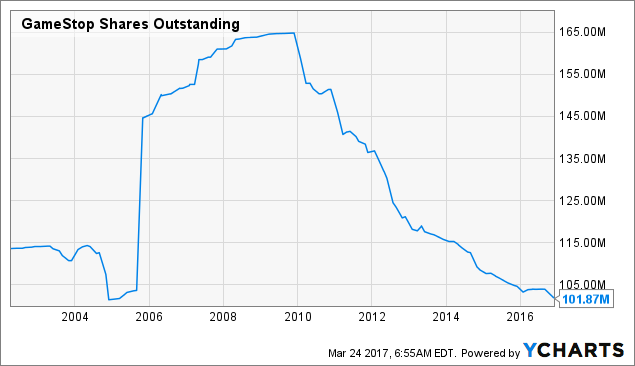 GME Shares Outstanding data by YCharts
Conclusion
GameStop is not an investment for everyone, but it fills a unique niche and fills it well. GME is a good pick for investors who want to increase the yield of their portfolio and hedge against systematic risks in the economy.
GameStop's valuation multiples are low, and its dividend is huge. Not only is the payout attractive, but it is well covered by operating cash flow and has plenty of room for growth. GameStop further ensures the safety of the dividend by a generous stock buyback program. Despite weak top line growth, GME remains a quality stock that offers convincing value to investors.
Disclosure: I/we have no positions in any stocks mentioned, and no plans to initiate any positions within the next 72 hours.
I wrote this article myself, and it expresses my own opinions. I am not receiving compensation for it (other than from Seeking Alpha). I have no business relationship with any company whose stock is mentioned in this article.
Editor's Note: This article discusses one or more securities that do not trade on a major U.S. exchange. Please be aware of the risks associated with these stocks.