Fake Introduction
What you are about to read is an abbreviated version of an in-depth earnings prediction I have written for Exposing Earnings subscribers. Here, "abbreviated" simply means I had to cut down on the massive 2,500 word article so as to give you the streamlined picture of the earnings play. This article is still large, at over 1,000 words, which is longer than my usual articles.
Still, if you want to see it, the fully detailed analysis can be found here. It includes the following additional sections:
The Current Status
Falling Prices and Fashion Trends: Have the Analysts Misunderstood?
The Time Is Right
My Prediction: 60% Is a Lowball Figure
The Timing of LULU's Expansion
No Debt = Fewer Guidance Concerns
The Play: Capturing a Rally
Real Introduction
I thought long and hard about whether to recommend this earnings play in Exposing Earnings, my earnings newsletter, and ultimately decided that it's a go. This marks our third playing Luluemon (NASDAQ:LULU). Twice last year, we played LULU long and were profitable; let's see if we can get it right once again:

Earnings Pattern
The earnings pattern on LULU is quite strong. It beats on EPS 60% of the time, meets 30%, and misses 10%. Unlike most stocks, LULU's earnings pattern actually follows common sense: It rallies on those beats and sells off on anything else.
Thus, EPS is an important metric to track for LULU. An almost-random EPS beat/miss pattern is not exactly normal in the stock market, as most stocks have predictable EPS patterns (i.e., almost always beats). LULU is a bit more random, with momentum that can suddenly stop or spike: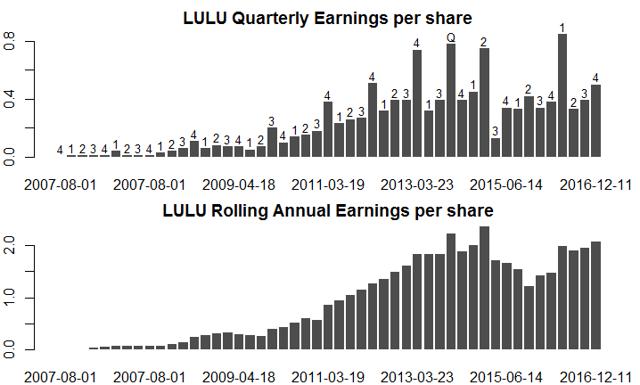 It's clear that LULU follows EPS, which makes me more confident that EPS is the main metric to track for LULU's earnings, making the stock a more simple play than other stocks, specifically those that are highly reliant on guidance. Here's how LULU has moved in respect to EPS: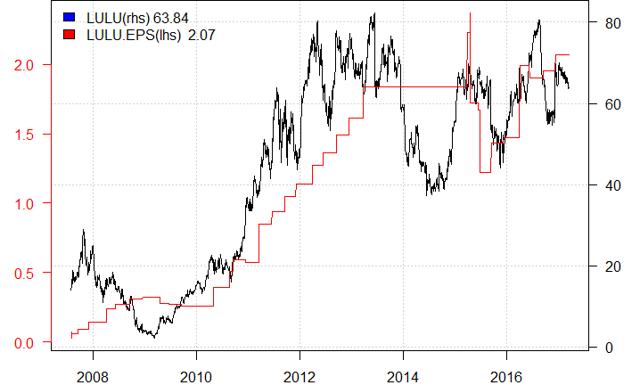 The Big Question
Right now, the question should be both whether LULU will beat and whether LULU will see its upward EPS pattern continue. The quarter we are moving into is the strongest quarter: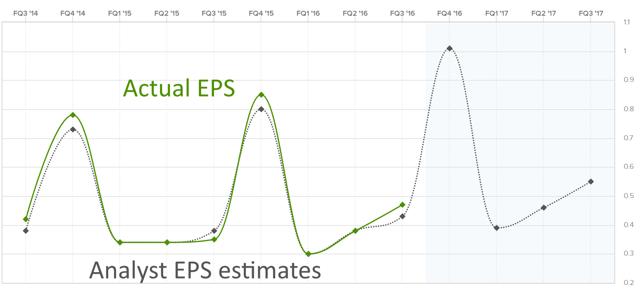 If LULU can beat here, it will be quite a rally. Last FQ4, LULU beat, as you can see from the chart. The rally was of magnitude 10%, which equals large profits for anyone holding call options at the time; I know because I was one of them. Although it was a small position, I managed to make nearly 100% ROI:

We aim to do this again this quarter. An EPS beat and strong guidance could help us see another 10% rally. The selloffs (in the case of being wrong) are also around 10%, so we will be using options as a way to convert the payoff profile to a nonlinear one.
Still Room to Run
I feel LULU has pulled back enough since last quarter's earnings rally that the price is not too high. LULU is overpriced from many valuation methods; don't get me wrong. The question is whether this quarter's earnings can surprise enough to make it even more overvalued.
I generally dislike playing overpriced stocks on the long side into earnings because such stocks have a concave payoff - if we are wrong we hurt a lot; if we are right we profit to a moderate degree, except with LULU we profit to a strong degree, even with the stock overpriced, as we have seen multiple times in the past on earnings. This makes me feel the stock is worth playing even after last quarter's rally. However, my confidence is a bit lower than it has been in the past; the reason I'm still making the recommendation is a result of the potential payoff and the fact that LULU has pulled back considerably over the past two months.
I give the stock a 58% probability of rallying on earnings. This is lower than what we usually play, as you might have noticed if you've been keeping track of my probabilities. But the payoff profile is so strong that the expected value (a statistical term) shows the play being highly enticing.
Is the Options Market Leading the Stock Market?
Notably, after seeing the stochastic buy signal, we also see a small but significant surge in call buying matched with no change in put buying. The options market tends to precede the stock market when it comes to pricing in future events. The fact that the options market is bullish should add to our confidence.
So, let's step back and review the situation for a second. We have analysts pushing sentiment down. The stock has actually fallen in response, even falling on days bullish for the market.
The reason the stock is falling is not just selling but also shorts being opened. This means that if the earnings report is bullish, we will see lots of short covering. This is what can cause the rally to become more than 10%, meaning the potential payoff is extremely high here.
Don't Forget the Strong 2016 Holiday Season
All things being equal, we can use these numbers to get an idea as to whether LULU beat expectations this quarter. Because this holiday season was one of the strongest in years, we can expect LULU's numbers to reflect a more-than-expected amount of profits. Holiday spending was up 4% in 2016, so all things being equal, LULU's real EPS should be 4% higher than the estimate.
Add to this the additional revenue from the UK and China and we have a tipping of the scales toward an EPS beat. But there's more, and this is important for guidance: Analysts are expecting a reversal of LULU's margin growth. If we don't see this - in other words, if LULU's margin continues to grow - the rally will be strengthened (and EPS will be more than expected of course).
Still Beating the Industry
A solidified growth in EPS and therefore cash flow will make the long-term picture clearer to analysts. While analysts today are pointing to slowing growth in LULU, they are pointing to a comeback growth spurt that naturally slows. In the long-term LULU's growth is still stronger than the industry average: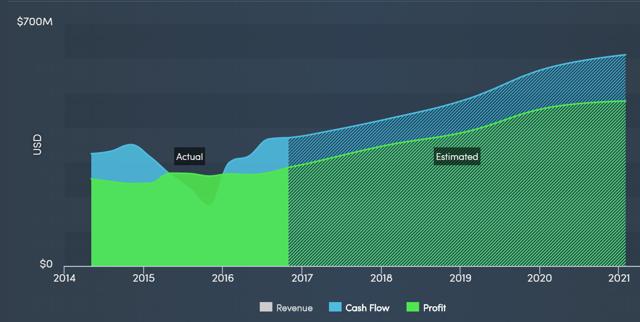 My calculation of growth shows it is indeed slowing but still positive: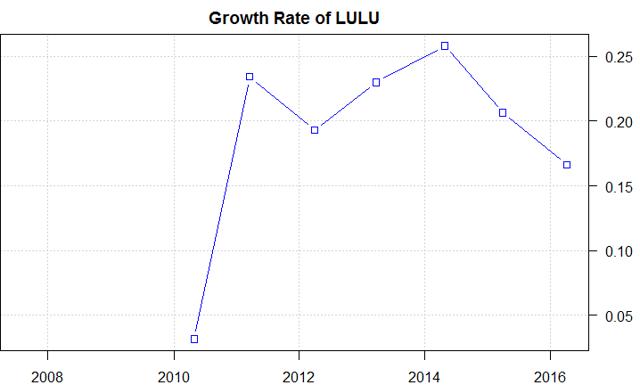 When considering the running average of the company's cash flow, the slowing growth barely drags down LULU's fundamental status: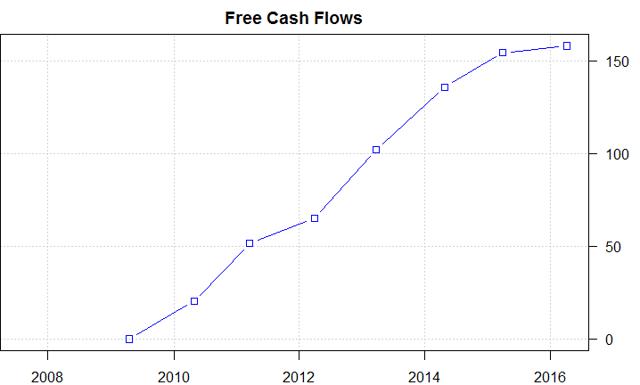 The Payoff Profile
Said pattern also shows the unequal payoff profile I mentioned. Specifically, it shows a max rally of 352% and a max selloff of 76%. Clearly, this is a lopsided payoff profile.
However, those are the maximums, and neither seem in the least bit likely for an earnings reaction, which is why we look at the average predicted movement instead. The average movement from here is upward, 14%, which is a number that wouldn't be unexpected for an earnings rally. The pattern analysis shows that a pullback before the rally is likely and is where we currently sit; either the pullback ends with a surge in buying or it continues downward with the buying surge happening at a later time (which is good news if you hold the stock, which has no time limit versus the options):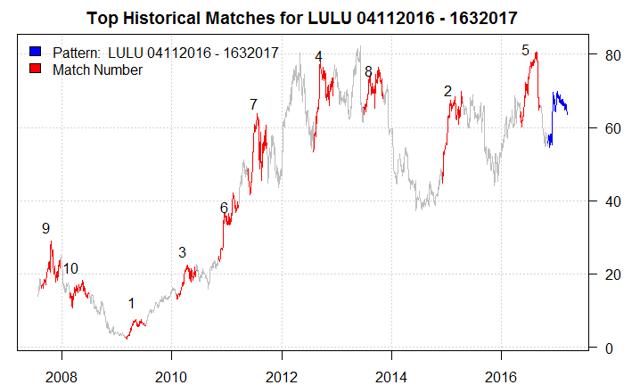 I'm going to roll the dice once again on LULU. Though my analysis does not give us an overly strong probability it does give us a great payoff on that probability. Let's aim for a third win on LULU with a long position on LULU into earnings!
Exposing Earnings
Exposing Earnings subscribers received a more in-depth version (roughly double the length in content) of the article you just read. In addition, they:
Received the above article one week earlier.
Have access to live chat.
Can submit requests for earnings predictions on their stocks of interest.
Considering joining us? Check out the info page.
Have questions? Contact me.
Disclosure: I/we have no positions in any stocks mentioned, and no plans to initiate any positions within the next 72 hours.
I wrote this article myself, and it expresses my own opinions. I am not receiving compensation for it (other than from Seeking Alpha). I have no business relationship with any company whose stock is mentioned in this article.