Last week I gave a preview on Cintas' (NASDAQ:CTAS) earnings expectations with an eye on the merger with G&K services (NASDAQ:GK). Since then not one but two major catalysts have the market moving with a third on the way.
The Merger
Wednesday, March 21st the company announced completion of the merger with G&K Services. This merger has been on the table for several months, approved by G&K last fall and then later by regulatory agencies a week or so ago. The move is expected to add at least $1 billion in revenue to Cintas' bottom line, a roughly 20% increase. The combined company is now expected to earn in excess of $6 billion dollars, aided by strong organic growth and synergies expected to be fully realized within 4 years.
Scott Farmer, Chairman and CEO, on the G&K merger, from the press release.
The combination of Cintas and G&K Services is an important investment that we expect will improve our service capabilities for the benefit of our customers, provide more opportunities for Cintas and former G&K Services employees, whom we call partners, and will contribute to continued growth in revenue and earnings per share. Cintas anticipates realizing annual synergies in the range of $130 million to $140 million. These synergies are expected to be realized in their entirety in the fourth full year after closing.
Fiscal 3rd Quarter Earnings, Calendar Q1
Cintas' earnings and revenue were better than expected, boosted by strong organic growth, improving gross margins and synergies realized from the addition of Zee to the business last year. Revenue of $1.28 billion is well ahead of expectations and up 5.3% from last year. On an organic basis, excluding impacts etc, growth is 6.5%. The core business, uniform rentals and facility services, grew by 7.3%.
Gross margin improved for the 14th consecutive quarter, up 1.1% this quarter to 44.2%. Core-business margin grew 1.0% to 45%, an industry leading figure. Margins within the Zee segment of the business grew 260 basis points, 2.6%, as the company extends roll-out of the services throughout the greater operating region.
Net income distributable to shareholders came in at $1.08, beating by a penny and up 2.8% from last year, is good but not as good as the adjusted results reveal. EPS was affected positively changes in accounting procedures related to the implementation of accounting rule ASU 2016-09. This added $0.03 to earnings, offset by a ($0.06) charge related to the acquisition of G&K. Taking those into account adjusted EPS is $1.11, up 5.7% quarter to quarter and nearly 16% for the 9 YTD period.
Looking Forward
Looking forward we can expect a few things. First, organic growth should continue to be strong into the coming years. The company is steadily expanding territory even without acquisition and that is supported by labor trends within existing territory. Gross margins and segment specific margins should continue to expand as the company realizes synergies with ZEE and now G&K. Finally, we can also expect to see further expansion of ZEE into new territories (ZEE's original operating arena was much smaller than Cintas) which will in turn boost revenue and help drive down gross margins.
The Catalyst
The first two catalysts were good, the stock is on the move and up significantly in just the last week, +5.6% as of the close 3/24. The next catalyst, perhaps the next two catalyst, are due within the next 3 to 4 months and tied to ongoing operations amplified by the addition of G&K. Helping to set this move up is the retraction of guidance that came with the merger announcement. The company says it can't give solid guidance due to the possibility of costs related to the merger and uncertain results related to the purchase accounting process.
From the Q3 earnings report
While we have estimated these integration costs and the impact of the purchase price accounting results using assumptions from our due diligence, we must confirm our assumptions and complete the purchase accounting process. Therefore, we are pulling our guidance for the remainder of our 2017 fiscal year. We will provide our expectations for results when the impact of these items becomes clearer
1) By my estimates, based on G&K's past performance and the number of Cintas shares outstanding, we can expect to see G&K add roughly $0.1325 to EPS per quarter, not counting the impacts of cost etc. That is a 12% increase to this quarters adjusted earnings. Add in the prospect of expanding margins and organic growth in the mid to high single digits and you get another $0.06 to $0.07 per share for a target increase to EPS of 17.8%. With guidance withdrawn for the time being we now have the chance for EPS to not only come in strong, but to come in better than expected with positive forward outlook.
2) Cintas is already a dividend aristocrat. The company pays a steady and healthy (relative to earnings, yield is only about 1.1%) distribution that has been steadily rising since the first payment. The distribution is paid annually, usually in the 1st fiscal quarter, which typically means October. This year we can expect another increase simply based on results from continuing operation. Add in the G&K merger and the odds for a substantial increase rise greatly. It is not uncommon for the distribution to be increased by double digits, this year it may be high double digits. G&K is, or was rather, another strong payer of dividends. As of the last payment annual distribution was $1.56 which works out to roughly $0.28 or 0.22% per Cintas share. Cintas' payment last year was $1.33, up 26.7% from last year. Assuming only a 10% organic increase and a possible $0.28 from G&K we could easily see distribution go up as much as $0.41 or 30.8%.
Valuation And Targets
Cintas typically trades in a range between 20X and 25X earnings. The stock is on the move now to come back into line with new expectations and there is still room to go higher. Assuming organic growth remains steady, and the addition of G&K, forward looking annualized earnings could rise as much as 10%, doubling existing growth estimates in the least. This estimate puts annualized earnings, post-merger, in the range of $5.12 for the forward looking 12 months. This gives me a price target of $128 in the near term and $145 to $150 in the long term as synergies lead to cost reductions and expanding business.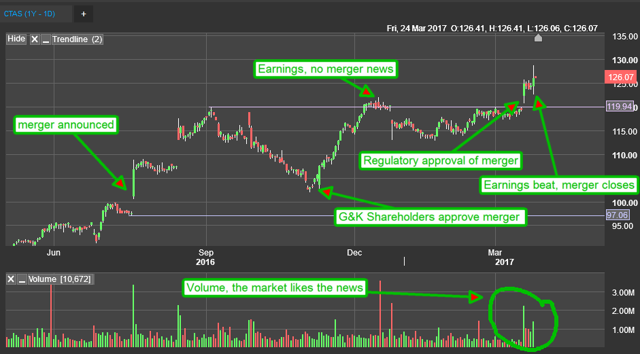 The stock broke out of a 9 month trading on the news already, on high volume. This range is entirely built on current operations and G&K outlook. It spans roughly $20 and is driven on the initial announcement, the vote by shareholders, an earnings report that was good but without merger news and then Finally the merger itself. This range is the basis for longer term targets with a minimum upside target of $140 in the next 6 to 9 months.
Disclosure: I am/we are long CTAS.
I wrote this article myself, and it expresses my own opinions. I am not receiving compensation for it (other than from Seeking Alpha). I have no business relationship with any company whose stock is mentioned in this article.