Much to the dismay of fast-fashion retailers such as H&M (OTCPK:HNNMY) and Zara (OTCPK:IDEXY), recent data indicates that consumers are spending less at bricks-and-mortar fast-fashion retailers and instead are focusing their spending online and on leisure activities. Whilst this could mean a drop in sales for the two aforementioned retailers, it could be a boost for fast-growing online retailer ASOS (OTCPK:ASOMY). Is now the time to invest despite it recently hitting a 52-week high?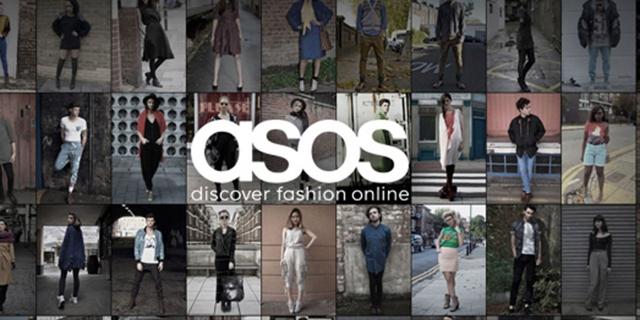 As has been the case for a number of years, recent data shows that online shopping continues to grow in popularity with consumers - especially Millennials. This is not only a big problem for traditional bricks-and-mortar retailers, but it also seems fast-fashion retailers are not immune either. While in the last decade fast-fashion retailers have won the hearts and, more importantly, the spending of consumers despite online shopping's rise, retailers like H&M and Zara have started to show signs of weakness in recent quarters, with both retailers reporting a drop in profits recently.
There are a number of reasons why this is happening. Firstly, as traditional retailers have found, millennial shoppers are not as loyal to brands as previous generations. What is popular one year with millennial consumers, unfortunately has no reason to expect to be popular the next year. Another reason we believe this is happening is the power of Facebook (NASDAQ:FB) and Instagram. Online retailers big and small are able to market products to their target markets extremely efficiently, seizing on the Millennials' want it now mentality. Last year, Facebook commanded an estimated 50 minutes of its users' days on average. That's an enormous amount of time for targeted adverts to grab the attention of consumers. It's no wonder then that U.S. e-commerce sales continue to grow as a percentage of total retail sales, as shown below: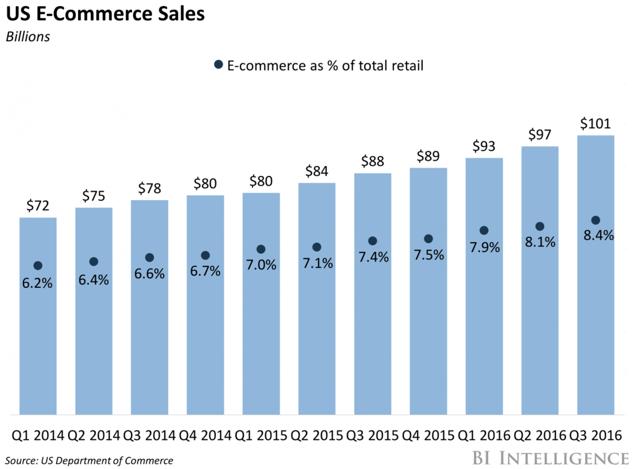 One company that continues to benefit from the trend is UK retail giant ASOS. Its talented management team understands exactly what millennial shoppers want and has delivered on it successfully. It offers a wide selection of clothing (over 80,000 branded and own-brand products) and delivery as quickly as physically possible (one-hour delivery option for its customers in the UK and worldwide delivery within two days in certain areas). As well as a high-traffic and user-friendly website, the company's app allows the business to be more accessible than ever, taking advantage of the millennial habit to spend 3.5 hours a day on their phone. It is for this reason that we think investors should look to invest in online retailers like ASOS, rather than fast-fashion retailers like H&M and Zara.
Especially with its retail sales growing at such a rapid rate. For the four months to December 31, ASOS grew total retail sales by 36% to £605.70 million. Despite the UK going through the Brexit, sales in its biggest segment rose 18% to £244 million. Sales outside the UK grew even quicker, even in constant-currency terms. International retail sales grew 52% (41% in constant currency) to £361.7 million. This was driven by continued strong customer engagement, which led to active customers increasing 25%, the average basket value climbing 2%, and the average order frequency increasing 6%.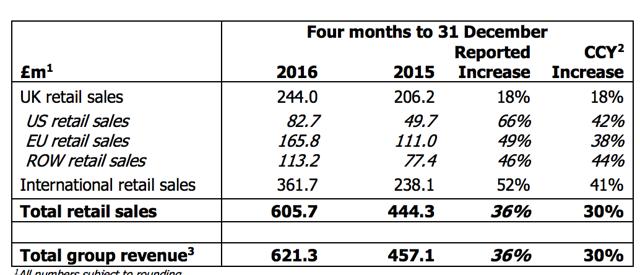 Source: Company report
Thanks to fast-fashion falling out of favor with consumers and online shopping growing strongly, we have forecast ASOS's sales growing to £1.9 billion over the next 12 months.
But with ASOS's share price having had such a stellar run in the last 12 months, a lot of investors will no doubt be concerned that it might be too late to invest. But we don't believe it is.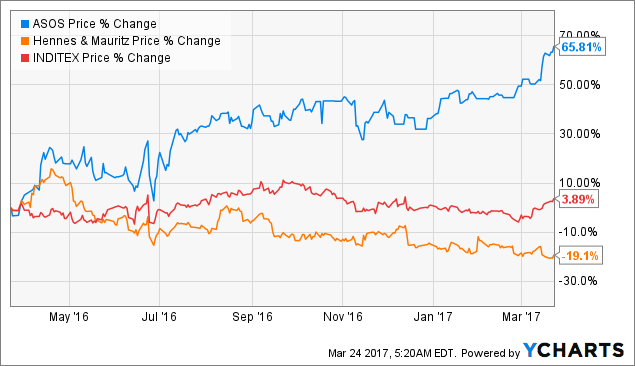 We think that 3x sales is a fair multiple for ASOS to trade at. Whilst it may be a premium to H&M at the moment, it is only because of H&M's slowing growth that the market is unwilling to pay as great a premium as it has in the past. When the retailer was delivering the goods in previous years, like ASOS is now, the market had no issue paying 3x sales to own its shares.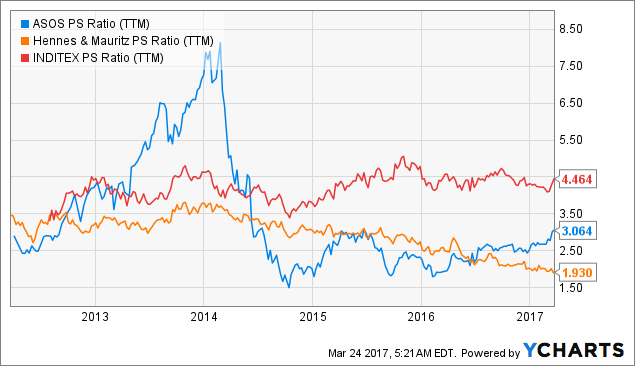 Based on this multiple, our forecast for sales growing to £1.9 billion in the next 12 months, and an estimated 83.4 million shares outstanding, we have a target price of £68.34 ($85.32) on its shares. From the current share price, this would mean a return of 14.6%. We think this is a great potential return, which makes it a strong buy today.
Disclosure: I am/we are long ASOMF.
I wrote this article myself, and it expresses my own opinions. I am not receiving compensation for it (other than from Seeking Alpha). I have no business relationship with any company whose stock is mentioned in this article.
Editor's Note: This article discusses one or more securities that do not trade on a major U.S. exchange. Please be aware of the risks associated with these stocks.