Investors have been increasingly searching for yield in dividend-paying equities recently, in the absence of attractive-enough yields in the bonds market. An article in The Wall Street Journal (WSJ) Monday discussed a potential shift in this strategy, as treasury rates were climbing. The 10-Year Treasury note yield at around 2.4% (down from a recent 2.6% high) is currently topping the ~1.9% dividend yield on the S&P 500 (NYSEARCA:SPY). This is a good discussion, but in our view the article misses an important point - share buybacks. In our view, besides the outlook for the economy and the potential impacts from President Trump's agenda (and how it should move in Congress), share buybacks have played an important role in driving the stock market in recent years and may continue boosting equities if companies can continue to borrow money at very low interest rates.
The chart below misses one important factor in total shareholder yield - share buybacks.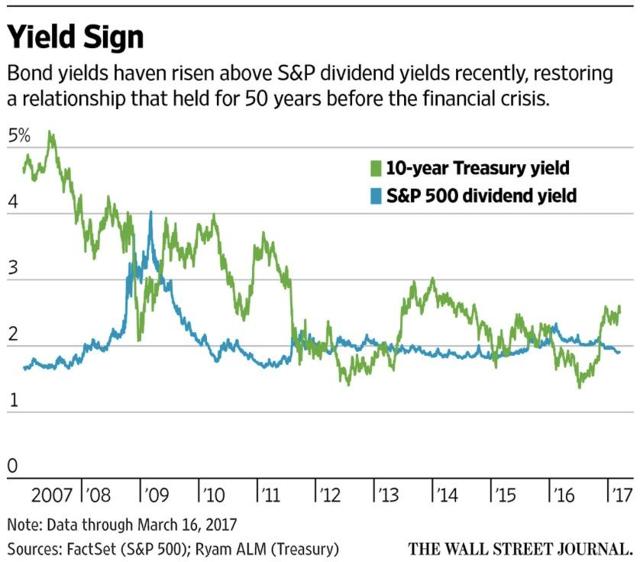 Dividend yields in the stock market indeed got relatively more attractive when compared to bonds yields in these past years of ultra-low interest rates. This can be seen looking at the performance of Vanguard High Dividend Yield ETF (NYSEARCA:VYM) vs the 10-Year Treasury Rate.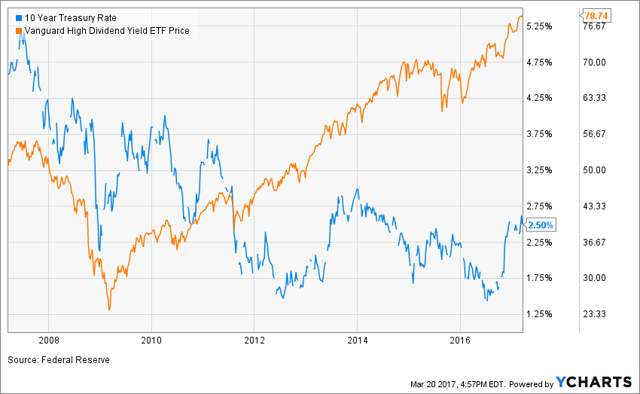 However, a major driving force behind the equities valuations strength has been share buybacks, which have injected trillions of dollars into investors' pockets in the past few years. Below is a chart with historical share buybacks in the S&P 500, according to FactSet.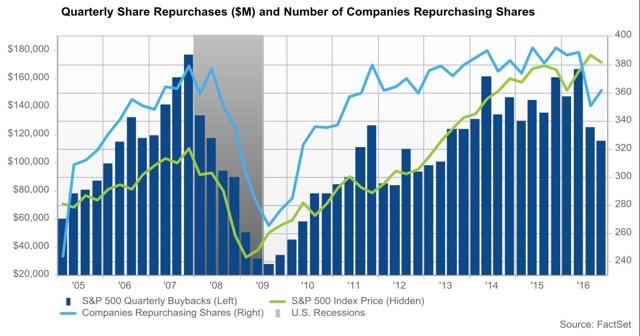 Despite a sharp YoY decline in buybacks in the second half of 2016, the money returned to shareholders through this modality has been quite significant. In fact, share buybacks have accounted for a greater volume in USD terms than dividends.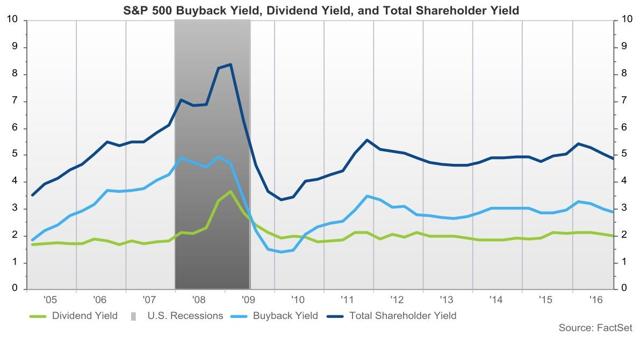 As you can see, when we combine dividends and share buybacks, total shareholder yield is around 5% for the S&P 500, twice as much as the current 2.4% yield on the 10-Year Treasury note. Moreover, in the long run earnings are expected to rise (say, approximately 2% in real terms per year as a long-term growth rate), which turns the scale even more in favor of equities vs. bonds.
With very low interest rates, companies took cheap credit to buy their own shares, even with earnings decelerating, which contributed to increase their leverage. This can be seen in the charts below: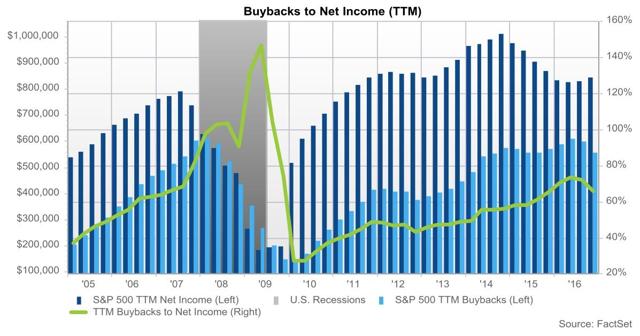 Companies ability to continue borrowing to distribute cash to shareholders certainly have a limit. It depends highly on the interest rate they can get, but also on the outlook for earnings growth. Expecting a continued increase in the debt/equity ratio just to keep money flowing into investors' pockets is too aggressive in our view. But with persistently low interest rates, companies could sustain the current leverage and distribute most of the cash generation to shareholders, maintaining the total shareholder yield at an attractive level.
This trend surely helped to push the stock market higher.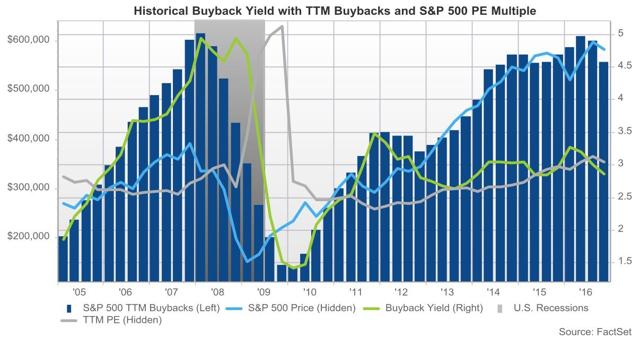 So assuming that companies can keep returning cash to shareholders via dividends and share repurchases, we could say that the attractiveness of stocks versus bonds will remain robust enough, even with moderately higher interest rates. This represents a robust support for the SPY in our view. Assuming that investors' concerns regarding President Trump's policies do not increase dramatically, we believe that stocks will remain attractive even at the current levels.
Disclosure: I/we have no positions in any stocks mentioned, and no plans to initiate any positions within the next 72 hours.
I wrote this article myself, and it expresses my own opinions. I am not receiving compensation for it (other than from Seeking Alpha). I have no business relationship with any company whose stock is mentioned in this article.