International Paper (NYSE:IP) has seen some tough times throughout the digital revolution. As the world's biggest paper company, it has experienced a sharp decline in demand as more and more media is consumed digitally. But it has kept its chin up and struggled through, looking for opportunities within other parts of the market. Although sales of regular copy-paper remain subdued due to eBooks and general digitization, there is an existing market which is set to boom, and it's all thanks to - you guessed it - the baby boomers. The adult diaper industry is set to have waves of new customers as the baby boomers come of age, and we think the profits could be enormous. With massive acquisitions and expansions to existing facilities, International Paper is poised to take advantage of a rapidly expanding market.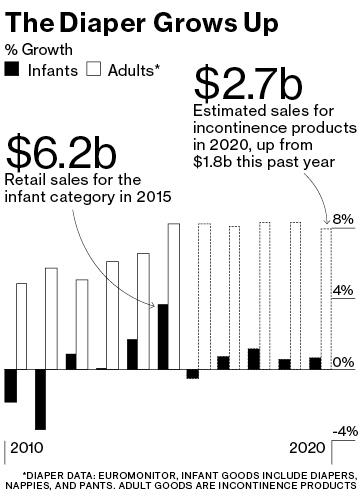 As you can see above, demand for adult incontinence products is projected to grow approximately 8% per annum through to 2020, significantly outpacing traditional infant diapers. This will lead the market to be worth an estimated $2.7 billion a year by 2020 according to Euromonitor. The catalyst for this is of course aging baby boomers and the bladder problems that come with growing older. With as many as one in three adults experiencing bladder control issues, we expect the advancements in the discreetness of incontinence products will lead to the realization of Euromonitor's forecasts. Especially with an estimated 10,000 baby boomers celebrating their 65th birthday every day until 2029 according to Pew Research. With healthier lifestyles leading to longer life expectancies, this is clearly a market with significant long-term growth.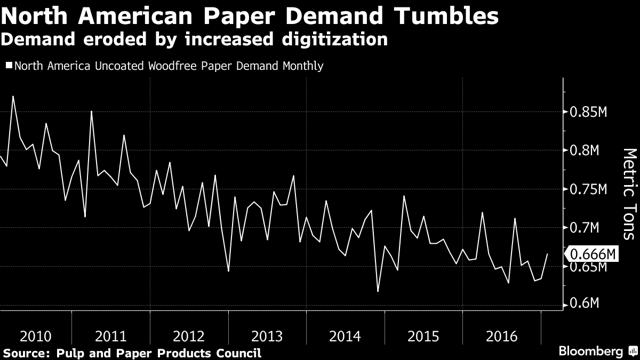 Which is great news for International Paper. The decline in paper demand throughout North America prompted a change in approach for the company. It has changed from being a paper-maker to a fiber innovator. Last year, International Paper acquired Weyerhaeuser Co. (NYSE:WY) pulp business for $2.2 billion and made alterations to an existing mill in North Carolina, which allows it to produce fluff and softwood pulp. This means that it now has the ability to produce its own material at a lower cost. Fluff pulp is the highly-absorbent material which is derived from softwoods and is the main material used in diapers for both young and old. Sales of fluff are attributable to its Global Cellulose Fibers segment, which contributes just under $1.1 billion in sales. We think this has the potential to grow considerably in the future.
Its uses are shown below: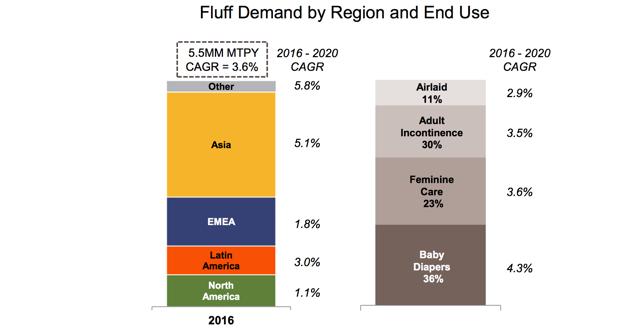 We think this is exactly what the company needed to do to address its flagging performance. After all, net sales have been on a steep decline, most recently dropping 6% in FY 2016 to $21 billion. As can be seen on the chart below, this was the third year of sales declines in a row and a massive drop from its peak in FY 2013.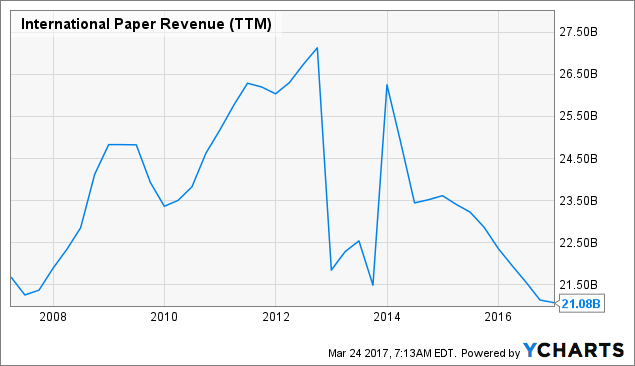 Thanks to this acquisition and the growth in fluff sales from adult diaper use, we expect International Paper to finally return to top-line growth in FY 2017. Furthermore, we expect the company's cost reduction efforts will result in improvements in its margins, boosting its profitability and leading to earnings per share growth of 11% to $2.42. This is a little ahead of the analyst consensus.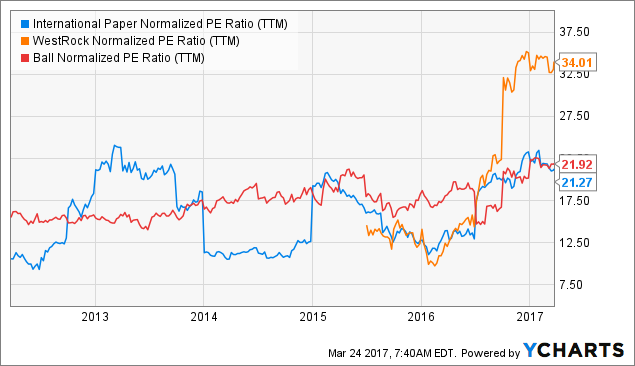 As shown above, International Paper and peer Ball Corp. (NYSE:BLL) have had a tendency to trade at around 22x earnings in recent times. Whilst this is a premium over the market average, we think their defensive qualities and improved performances justify this premium. As a result, we have chosen to value International Paper on a 22x earnings multiple. Which, with our earnings per share forecast of $2.42 in FY 2017, gives us a price target of $53.42 on its shares. This is the equivalent of a share price return of 3.8% from the last close price. Whilst this return is not necessarily going to cause a great deal of excitement for many investors, when you factor in its generous dividend, things certainly start to look a lot better. Including its predicted $1.85 full-year dividend, the potential return on investment increases to approximately 7.7% over the next 12 months.
Overall, although International Paper has had an incredibly difficult time in the last few years, we are finally starting to see a little glimmer of light at the end of a very dark tunnel. With its fluff business driving the company forward, we think that now could be an opportune time for investors to jump on board.
Disclosure: I am/we are long IP.
I wrote this article myself, and it expresses my own opinions. I am not receiving compensation for it (other than from Seeking Alpha). I have no business relationship with any company whose stock is mentioned in this article.