Verizon (NYSE:VZ) is seen as a safe and defensive stock for investors. While I do not disagree with this 100%, when I take a closer look at the stock and company, I spot some troubling trends. These trends are in my opinion a good reason not to invest in Verizon for now and go look for a good investment opportunity somewhere else.
Deteriorating results
The first thing that pops out when looking at Verizon's financials is the revenue growth, or lack of revenue growth.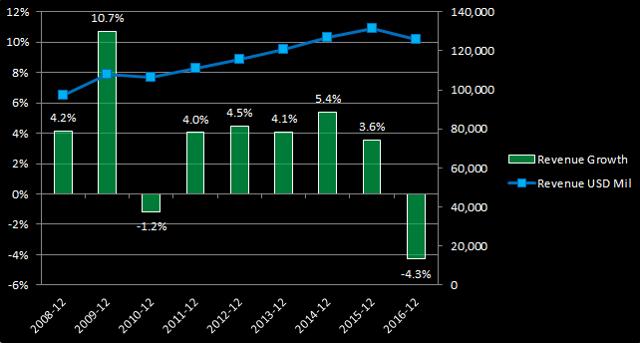 Seeing a sudden plunge to a revenue decline of 4.3% always is a disturbing sign. This revenue decline was due to its two largest segments: Wireless and Wireline. Besides seeing a revenue decline 4.3%, EPS declined to $3.21 in the most recent fiscal year from $4.37 in fiscal year 2016. It looks as if Verizon is having trouble with generating growth.
Since Verizon's shares have not been able to break through to new 52-week highs since August, I believe that the number of investors that choose to stay away is growing. Because of the decline in revenue with no real short-term solution to turn this around, I understand the pessimism. But when taking a closer look it becomes clear that management is not just standing by. The only question is whether it is enough.
5G for growth
Part of the lack of growth is due to the 4G market getting saturated. It is therefore exciting news that 5G is almost here to take over. The company expects to pilot its 5G service in 11 markets by mid 2017. A successful launch of 5G will be able to offset 4G difficulties for the company and create revenue growth.
Acquisition of Yahoo
Another way management looked to spur revenue growth was by acquiring Yahoo (NASDAQ:YHOO). This deal was settled earlier this month for $4.48 bln. Yahoo, together with AOL, will give Verizon 1.3 bln users and provide it with added scale and content. Management's goal is to use this to make Verizon a competitive force in digital advertising. Management said it expects this market to reach $90 bln by 2020.
We will have to wait and see how this acquisition plays out. There are a lot of investors who are not too happy about this acquisition. After Verizon made its first bid of $4.83 bln for the company, it became known that major security and data breaches had occurred at Yahoo. Because of this Verizon managed to lower the bid to $4.48 after a failed attempt to lower it by almost $1 bln. The negative thing about this acquisition is that Verizon will have to share future liabilities that result from the recent security and data breaches. We will have to wait to find out how much this will cost the company.
Verizon's debt burden
A major problem that I see at Verizon currently is its debt position. It has about half the value of its market cap ($202 bln) in debt ($108 bln) on the balance sheet, while only having less than $3 bln worth of cash.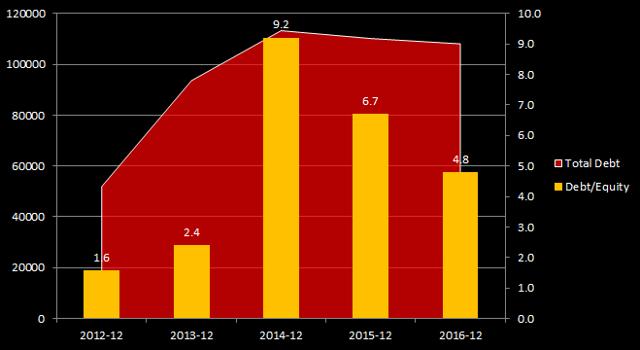 Despite a decline of the debt/equity ratio that Verizon has seen the past two years, it is still abnormally high. This is definitely the case when compared to its competitor AT&T's (NYSE:T) debt/equity ratio of only 1.0. Also, as you can see the total debt position of Verizon has not declined as much the past two years. During the past two years total debt has only contracted by about $5 bln, less than 5%.
As time progresses this could become a growing problem. With interest rates rising, Verizon would see growing interest payments. Because of Verizon's lack of cash on its balance it would also become increasingly difficult to expand its business by acquisitions. If management decides to do this anyway it would have to take on additional debt, which would do more harm than good. Unfortunately the cash flow is no reason for celebration either.
Cash flow
For the past three years Verizon has seen its FCF shrinking.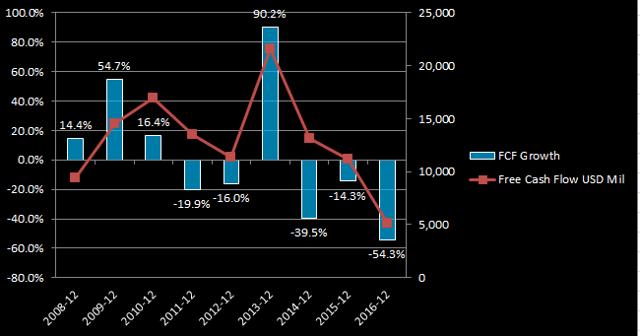 Because of this the company has less money to improve its balance sheet or return cash to shareholders without hurting its balance too much. FCF after dividends looks even worse. This is because Verizon's dividend per share has gone up for the past 10 years while the number of shares outstanding has also grown considerably. The dividend yield currently stands at 4.65%
In 2007 the dividend per share was $1.67 with 2,902 million shares outstanding. In 2016 the dividend per share had grown to $2.29, a 37% increase compared to 2007. But thanks to the increase in outstanding shares, the total amount that Verizon had to spend on paying out its dividend increased 93% in this same period to well over $9 billion.
It is good that management wants to address this problem of a high number of total shares outstanding. At the beginning of March it announced a share buyback program of 100 million shares. While the idea is good, the problem with this is that it is facing difficulty generating cash and lowering its debt already. This will only cause additional pressure on its balance sheet.
Tax rate
One thing that might be a big plus for Verizon is tax rate reform by the Trump administration. This has been mentioned a lot and is actually seen as a very likely scenario. How much the tax rate would be lowered is uncertain, but there is a possibility that it could be brought down to 25%.
Any lowering of the tax rate would give Verizon a boost. I talked about the difficulty that the company is facing in terms of its debt and generating cash. A lower tax rate results in more cash to be spent on its shareholders and balance sheet. Right now this tax rate reform is far from certain, but it is definitely something to look out for.
Conclusion
While Verizon is not necessarily a bad company and maintains an attractive dividend yield, I do not think that investors should get in at the stock's current levels and the company's current conditions. Management is trying to position the company for future growth, but there are still too many uncertainties and troubles surrounding the company. We will have to wait and find out how the Yahoo acquisition plays out, if the 4G market will face more difficulties before the launch of 5G and how successful management will be in battling its debt problem.
Because of these problems I do not consider Verizon a buy. I would suggest you look somewhere else for an investment opportunity. I actually prefer AT&T, about which I have written an analysis as well. Verizon's P/E might indicate an undervaluation at 12.5 vs AT&T's 20, but Verizon's P/B (9) and debt/equity (4.8) seem too troubling. Considering Verizon's and AT&T's fundamentals, I would recommend investors to stay away from Verizon and look at AT&T instead.
Disclosure: I/we have no positions in any stocks mentioned, and no plans to initiate any positions within the next 72 hours.
I wrote this article myself, and it expresses my own opinions. I am not receiving compensation for it (other than from Seeking Alpha). I have no business relationship with any company whose stock is mentioned in this article.