Hasbro (NYSE: HAS) was the subject of a recent article published in the Los Angeles Times. The topic focused on the toy company's future ambitions in creating Hollywood franchises. Management seems to want in on the action.
This is as important as it was predictable. Hasbro is a buy based on the thesis of the company getting further into storytelling as executed on multiple media platforms.
That article is worth a read as it describes an easy-to-understand game plan. Hasbro has licensed its intellectual properties to studios in the past, but as the linked piece points out, the upcoming cartoon based on the My Little Pony trademark is all Hasbro - the company paid for it and will distribute it under its own label. Animated offerings are popular and they help to move merchandise. It wasn't long ago when Hasbro wanted to buy DreamWorks Animation (that business went to Comcast (NASDAQ:CMCSA)).
Hasbro sells licensed toys such as figures based on Star Wars. That model supplies a good amount of cash - cash that can then be invested in the company's own tent-pole strategy. Using Transformers as the easy example, that series of films has helped to move figures and playsets, and the movies themselves obviously were dependent on the toy line and cartoons from years ago. Does any of this sound familiar?
Of course, it does. It reminds one of Disney (NYSE: DIS). Disney has opened the door for a new era of blockbuster movies, a golden age that benefits from fandom that is facilitated with minimal friction across the platforms of social media. Disney, the king of merchandising and consumer products, is showing everyone how it is done. It was inevitable that Hasbro would want to not only license intellectual property from Disney content, but to create and prime its own content/merchandising engine.
Hasbro is fundamentally sound enough to take some risks in moving its toy lines from retail shelves to multiplex screens. This Seeking Alpha article from last month mentions, among other positive aspects, a 12% rise in the company's dividend. The company beat expectations on both the top and bottom lines in the recent earnings report. The article, another good read, talks about how Hasbro has the cash to not only afford dividend increases but to return value to shareholders in the form of repurchase activity. It is against this background that further investments in franchise-building make the stock attractive to me.
Let's now turn to a stock chart.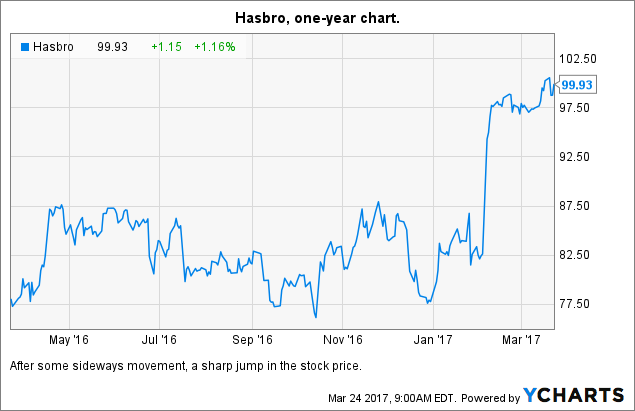 Hasbro has had a recent jump in price and many might fear buying now because of that increase. If one intends on holding the company for the long term, buying now to start a position probably wouldn't be a bad move (perform your own due diligence, of course, before investing). To me, management's signal to investors that the company wants to become more aggressive in Hollywood makes the business very attractive. However, some pundits have wondered if the stock is expensive at this point, so it is something to consider.
There are risks, though; there always is. Hasbro might end up overpaying for talent - producers, directors, actors - as it builds out its own studio system. I'd keep a watch on that. I'd also keep a watch on how it engages partnerships in the industry - too many of those can distract from the core activity of content-making, in my opinion. I'd also watch to see what kind of specific strategies the company engages. As an example, will the company just focus on family stuff, or will it explore low-budget horror films as well, creating iconic creatures that can launch their own lines of collectible merchandise? I do want to see diversity of genre in Hasbro's content slate.
For now, though, I find Hasbro stock to be a buy for a long-term portfolio in the media space.
Disclosure: I am/we are long CMCSA, DIS, HAS.
I wrote this article myself, and it expresses my own opinions. I am not receiving compensation for it (other than from Seeking Alpha). I have no business relationship with any company whose stock is mentioned in this article.