Shares of tobacco giant Altria (NYSE:MO) are down slightly after an RBC Capital downgrade from Sector Perform to Underperform. The firm also set a $62 per share price target, 17% below the current price of ~$74 per share. While Altria may be trading at a slightly elevated valuation, I would not bet on it underperforming the market for any long stretches of time.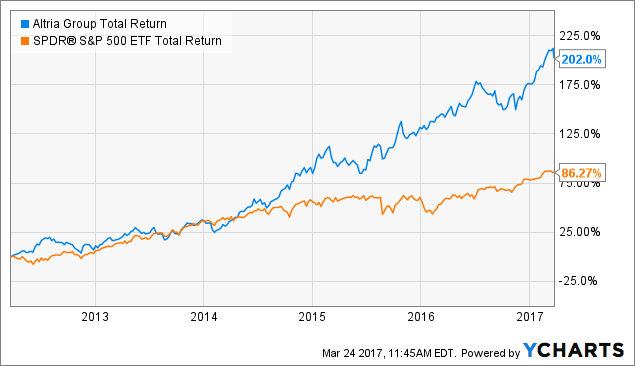 MO Total Return Price data by YCharts
RBC downgrade doesn't make sense
In the note, RBC Capital analyst Nik Modi cited several concerns regarding Altria, ranging from higher gasoline prices cutting into disposable incomes, rising interest rates lessening Altria's appeal as an income play, and a high valuation based on P/E and EV/EBITDA. Modi also is not buying the hype about a possible Altria acquisition by Philip Morris (NYSE:PM) seeing it as a see a very low probability event.
Quite frankly, I disagree with this assessment. I'll take on each point individually.
Regarding higher gasoline price, Altria did not really see a pickup in cigarette volumes as oil prices came down in late 2014 and there is not much reason to think of this as a headwind as oil has not really recovered.
Furthermore, while cigarette volumes are in secular decline as less and less people smoke, Altria's premium Marlboro brand is actually holding onto market share at 44% despite higher pricing. This suggests considerable pricing power.
As for rising interest rates hurting Altria's appeal for income investors, it is still way too early to make that call. The Fed raise rates by just 25 basis point at its March meet - rates are still very low. Indeed, the 10-year rate is actually declining - pulling back from 2.60% to 2.40% and not basically flat since 2014 - as it seems the market got ahead of itself. We are still living in a near ZIRP environment, and Altria's 3.3% still provides above average income.
An area where Altria is not as attractive as it once was is in its valuation. The stock is trading in line with Reynolds American (NYSE:RAI) using both PE and EV/EBITDA [when backing out recent one-time gain from the Anheuser-Busch InBev (NYSE:BUD)/SABMiller merger], but it is actually cheaper than Philip Morris on both fronts.
On the dividend front, Altria and Reynolds both offer a 3.3%, but Philip Morris is higher at 3.7%. However, Altria (and Reynolds) grew dividends much faster averaging 9-10% growth per year versus the back to back 2% increases for Philip Morris.
Altria a buyout target? Unlikely
The only point where I agree with RBC is with the speculation regarding a buyout from Philip Morris - this does not seem very likely to happen. Altria has been growing at a faster rate and the merger premium would need to be hefty to make it happen. Another issue is debt - Philip Morris has seen its net debt increase, doubling to ~$25 billion over five years. Paying cash to buy out Altria would put in jeopardy the investment grade "A" credit rating while issuing equity may prove to be too dilutive to generate meaningful EPS growth.
Conclusion
In the words of one very prominent politician, the RBC downgrade is "fake news." Sure, Altria is trading at a lofty level. But the same can be said about most of the market. It is hardly the worst offender. In addition, Altria's large rally is not without merit. BUD's buyout of SABMiller unlocked a lot of value from a "hidden" asset and the company some very strong operational results (~13% EPS growth after items). Altria remains one of the better long-term dividend growth stocks out there.
Note: If you liked this article, please consider following me. It really helps a lot and will allow you to get more of my work even faster. Thank you.
Disclaimer: The opinions in this article are for informational purposes only and should not be construed as a recommendation to buy or sell the stocks mentioned. Please do your own due diligence before making any investment decision.
Disclosure: I am/we are long MO, PM.
I wrote this article myself, and it expresses my own opinions. I am not receiving compensation for it (other than from Seeking Alpha). I have no business relationship with any company whose stock is mentioned in this article.