GameStop (NYSE:GME) reported earnings yesterday after the bell and is down over 11% in the pre-market, trading at around $21 per share. GME missed on the topline, reporting revenue of $3.05 billion, down 13.4% y/y, which missed estimates by $50 million. However, GME did beat on the bottom line, reporting Q4 EPS of $2.38, coming in $0.09 above estimates. Nonetheless, when including charges such as asset impairments, the quarter saw GAAP net earnings of $2.04 per share, which is down from the prior-year's quarter of $2.36 per share.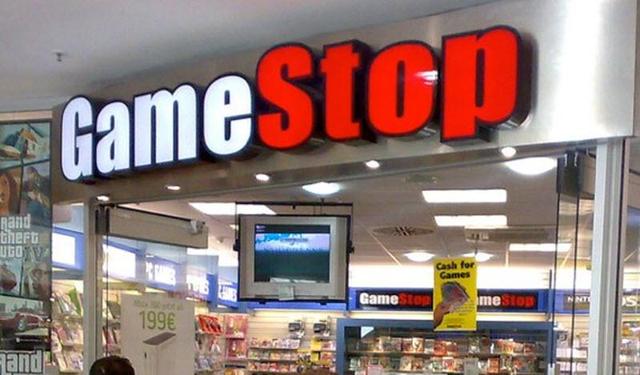 Source: TechnoBuffalo.com
Delving further into the quarterly report shows that the sales decline was worse than their top line figure indicates. Comparable store sales declined 16.3% overall, with a 20.8% decrease in the U.S. and 4.6% drop-off internationally. In the press release, management blamed the declining sales on weak sales of certain titles and aggressive console promotions by other retailers on Thanksgiving Day and Black Friday.
It is worth mentioning that GME's Technology Brands segment, which is not included in comparable store sales, increased 43.9% to $256 million last quarter. However, that growth was driven "primarily by year-over-year store growth," which shows that this segment is not gaining favor with customers, and increased sales is just a function of these goods being rolled out in more stores. Specifically, GME added a net of 486 stores in 2016. It is less profitable for sales to be growing by adding stores, as compared to comparable store sales growth, because it is expensive to ship the goods to more locations.
Furthermore, this entire segment represents less than 10% of GME's total sales, which will not be enough to offset GME's declining revenue in its game and console segments. Moreover, in the earnings call, management said they expect this segment to only increase between 30% to 40% in 2017, which shows that they expect revenue growth to already decline in this new segment.
Positives From the Release
Returning Cash to Shareholders
During the fourth quarter, GME repurchased 1.66 million shares at an average price of $23.56. And as of yesterday, there was $170.2 million remaining on its share repurchase program.
GME also announced that it will pay its quarterly cash dividend of $0.38 per share on March 28th, which was increased by 2.7% on March 1, 2017.
These shareholder-friendly capital policies will temporarily buoy the stock price since investors will be drawn to this dividend, which is currently yielding around 7%. However, such a high dividend, especially in this ultra-low interest rate environment, shows that many investors do not believe GME will be able to maintain this dividend level in the future.
Negatives From the Release
No More Quarterly Guidance
Analysts and investors like receiving quarterly guidance so they can more accurately project future earnings and cash flows. However, GME's CFO Rob Lloyd announced that they will no longer be providing quarterly guidance. Specifically, in the press release, he stated:
Going forward, GameStop will provide annual guidance, and no longer provide quarterly EPS or same store sales guidance. We believe that providing only annual guidance will reduce investor distraction as we continue to diversify the company and seek to maximize long-term shareholder value. It also benefits our organization in that it concentrates attention on longer-term targets and reduces the focus on short-term results, which can be volatile given the current business environment.
With comparable store sales declining, and GME carrying a significant debt load, investors are going to be much more hesitant to invest in GME when they do not provide quarterly guidance.
Weak Annual Guidance
GME reported net earnings for full-year 2016 of $390.9 million, or $3.77 per share, which is down from 2015, when GME reported $415.6 million, or $3.90 per share. Moreover, in their 2017 outlook, management expects another EPS decline, giving a range of $3.10 to $3.40. Management also guided for comparable store sales to decline an additional 5%.
Despite its comparable store sales and earnings declining, and GME taking on more debt, which I'll discuss further below, management has increased its dividend. It is quite apparent that this trend is not sustainable.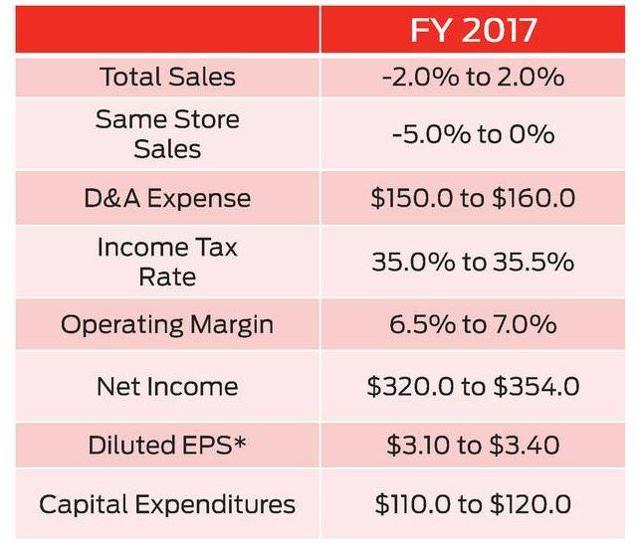 Source: Q4 Earnings Presentation
Digital Sales
Management noted that the cause of physical games was partially caused by the penetration of game downloads increasing 2 to 8 points in 2016. This could be a positive for GME, if it is able to capture these sales and close some of its expensive brick-and-mortar locations.
In the past few years, management has focused on shifting to digital sales as it is apparent that brick-and-mortar represents an outdated business model in their industry. However, digital receipts actually declined 7% in the fourth quarter. It is clear that GME is not necessary in the industry and is being cut out by developers who are vertically integrating to improve their margins.
Liquidity
In March 2016, GME issued $475 million of unsecured senior notes at a rate of 6.75%, due March 15, 2021, in order to bolster its cash position.
As of January 28, 2017, GME had $669.4 million of cash on its balance sheet. However, it also sits with $1.76 billion in current liabilities and total liabilities of $2.72 billion. GME's only other current asset that is fairly liquid is its roughly $220 million of accounts receivable. As such, if GME begins to generate losses, it will face liquidity constraints. In 2017 alone, GME expects free cash flow to decline $300 million. Further, I believe these estimates are overly sanguine since I think its comparable store sales will decline much more precipitously than management is projecting.
With GME's current dividend requiring roughly $160 million per year to maintain, I believe it is only a matter of time before management must reduce this path of appeasing shareholders to buoy the stock in the short term.
Summary of My Prior Coverage
If you would like to learn more about my thesis on GME and view my prior coverage, here are links to my previous articles:
I first initiated coverage of GameStop (NYSE:GME) on January 16, 2014, and wrote an article, here on Seeking Alpha, entitled "A Sweeping Change That Is Disrupting An Industry: The Inevitable Fall of GameStop." At the time of publishing, GME was trading at $45.52. In that article, I opined that the gaming industry would be shifting to the cloud, which would make GameStop unnecessary.
On January 12, 2016, in my article entitled "GameStop: The Downward Spiral Will Become Much More Significant In 2016," I discussed how, despite GameStop being cash flow positive, I didn't believe they were capable of maintaining their current dividend and stock repurchase programs.
At the time of that publication, GME was trading down to $29.40. The main reason I didn't believe GME was on a sustainable path was because they were taking on more debt that was paying a higher interest rate than its dividend was providing. Without a stable path to maintaining these shareholder-friendly programs, I opined that they were temporarily keeping the stock price buoyed.
More recently, on March 2, I wrote an article entitled "GameStop: Likely to Follow GNC's Path." At the time of publication, GME was trading at roughly $25 per share. In that article, I discussed how Microsoft's announcement of a subscription gaming plan would further cut GME out of the industry. Moreover, I outlined my argument about why GME will have to reduce its shareholder friendly capital policies and will follow GNC's path.
Final Remarks
With management removing quarterly guidance, on top of comparable store sales declining, I am staying away. Moreover, GME has become riskier with it taking on debt to continue its shareholder-friendly capital return policies. Without a clear path to reduce its comparable store sales decline, I warn investors to not get enticed by the hefty dividend yield, which I do not believe will be sustainable in the long-run.
Note: If you like my material and want to see more, scroll to the top of the article and hit "Follow." I also often write several "breaking" articles, which are time sensitive, actionable investing ideas. If you would like to be among the first to be updated, be sure to check the box for "Real-time alerts on this author" under "Follow."
Disclosure: I/we have no positions in any stocks mentioned, and no plans to initiate any positions within the next 72 hours.
I wrote this article myself, and it expresses my own opinions. I am not receiving compensation for it (other than from Seeking Alpha). I have no business relationship with any company whose stock is mentioned in this article.