If you like big, safe, growing dividend payments, then you might want to consider the dividend aristocrats. To be included in S&P's "High Yield Dividend Aristocrats Index," a company must have increased its dividend every year for at least 20 years in a row. Currently, there are only 108 companies in the SPDR Dividend ETF (NYSEARCA:SDY) that tracks this index, and we have listed all of them below. Our list also includes a variety of financial information about each company. And finally, we provide a ranking and additional analysis for 10 attractive high-yield dividend aristocrats that we believe are worth considering.
For starters, here is the list and data for the 108 dividend aristocrats included in the index: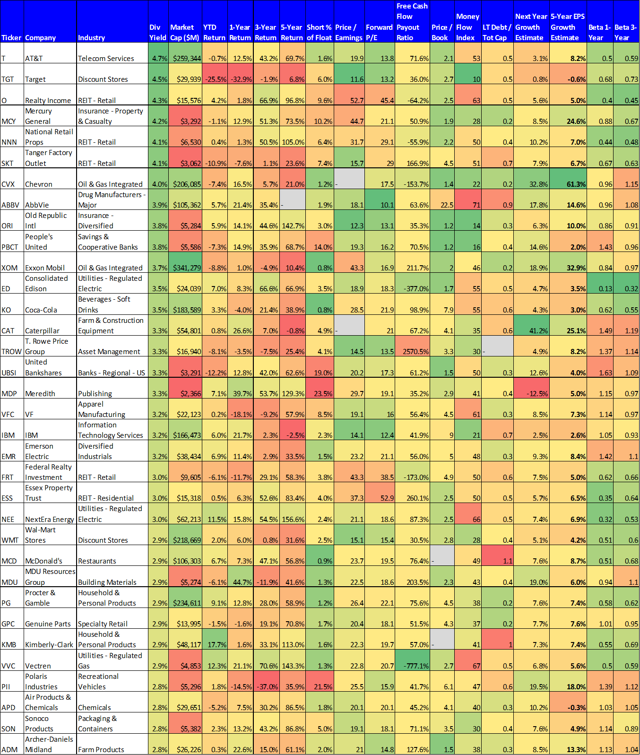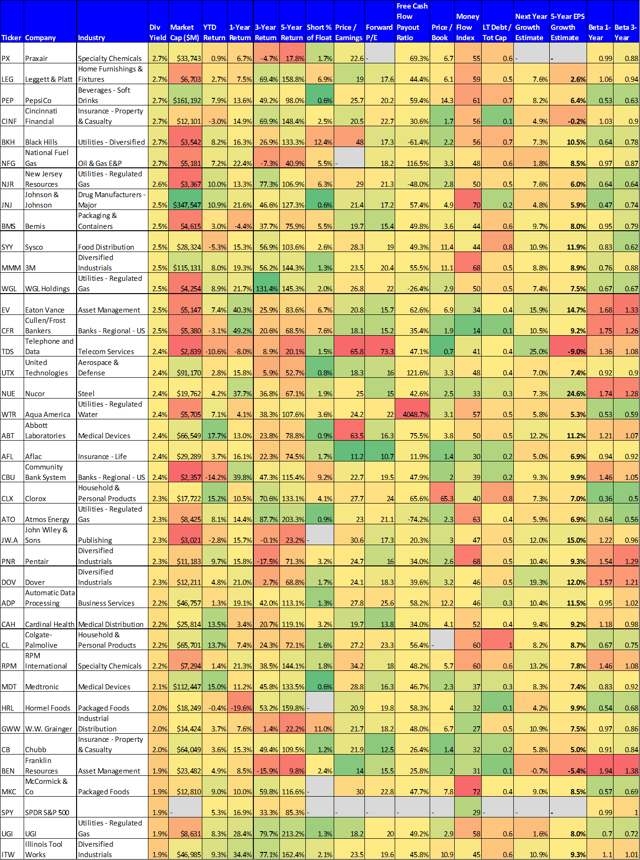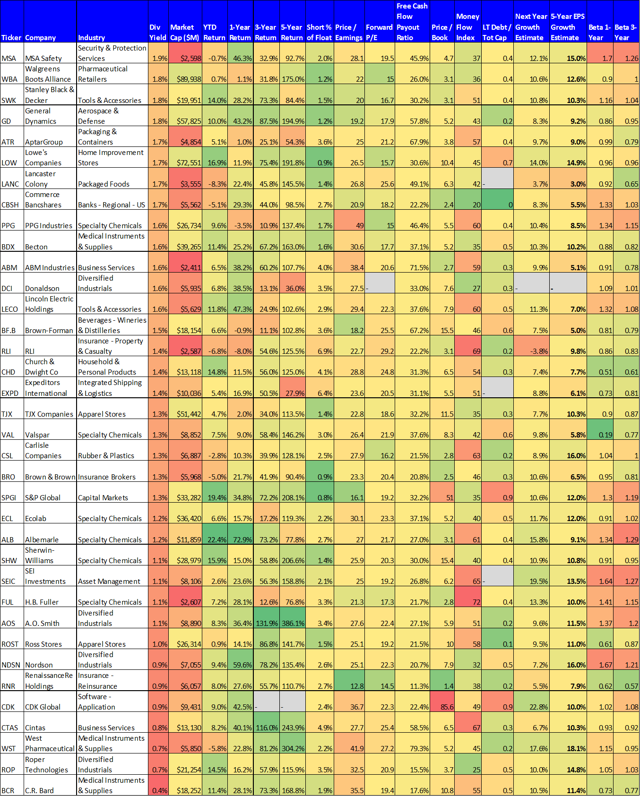 (Data Source: Stock Rover)
Before getting into the dividend aristocrats we like, we first share one that we don't like…
Target (NYSE:TGT), Yield 4.5%
Target currently offers an impressive 4.5% dividend yield, but we are not interested in owning the shares. The yield is high because the share price has fallen. And the shares have fallen because the growth prospects are not encouraging.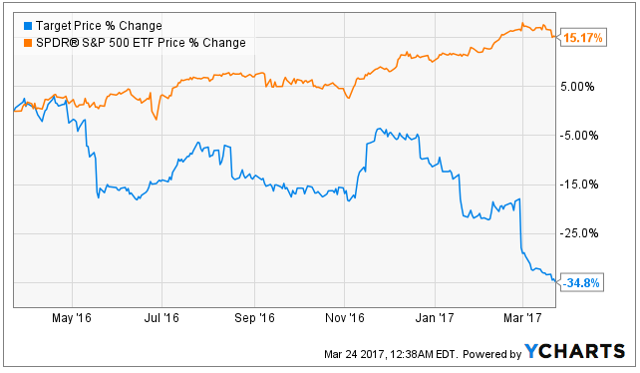 Specifically, as shown in our earlier dividend aristocrat table, analysts expect Target's five-year EPS growth rate to be negative! This is because Target faces challenges from online retailers like Amazon (NASDAQ:AMZN). Also, Target has no real competitive advantage considering its products are not differentiated and it is not the cost leader. Additionally, Target's revenues and operating margins are declining as shown in the following charts: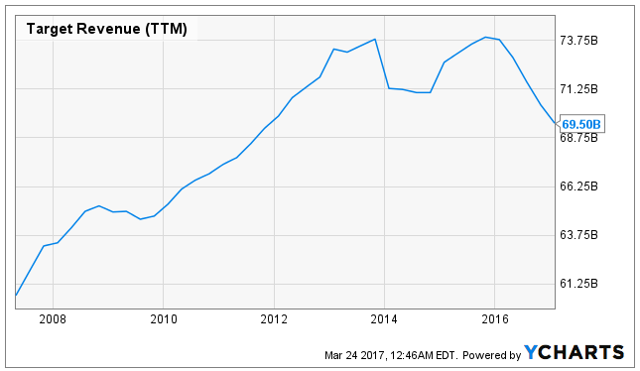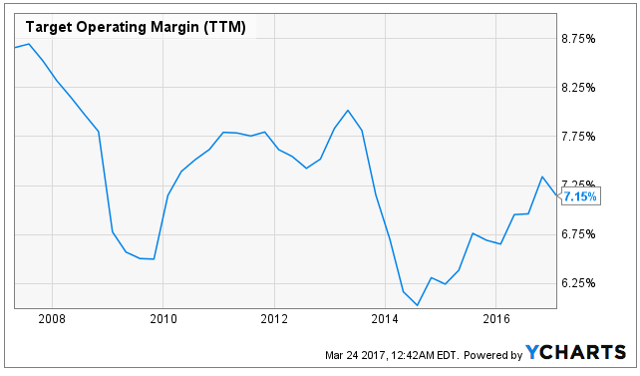 Further, Target has a high level of short interest (6.0%), especially for a dividend aristocrat, as investors are starting to line up just to bet against this one. As a company, Target's business is getting worse. And as a stock, Target is a dividend aristocrat that we are not interested in owning.
And now for the dividend aristocrats we do like…
14. AT&T (NYSE:T), 4.7% Yield
If you are afraid the market's eight-year rally (since the financial crisis) may be coming to an end, and you'd prefer to invest in something that has lower volatility and pays a very healthy dividend, then you may want to consider stalwart dividend aristocrat, AT&T. The company has relationships with literally millions of customers, and it has plenty of free cash flow (as shown in the following chart) to reinvest in its network and to support its big dividend payments.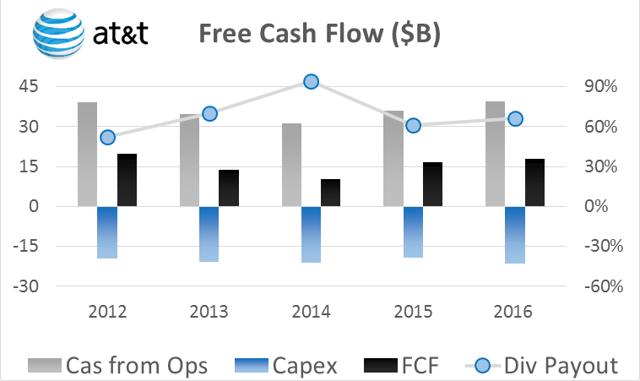 (Data Source: Company Financials)
Additionally, AT&T (along with Verizon (NYSE:VZ)) has a far superior network than the many smaller telecoms that are struggling (for example, Frontier (NASDAQ:FTR)). And finally, if you are a contrarian, AT&T's price has lagged the overall market so far this year (it's down nearly 2% while the S&P 500 is up nearly 5%).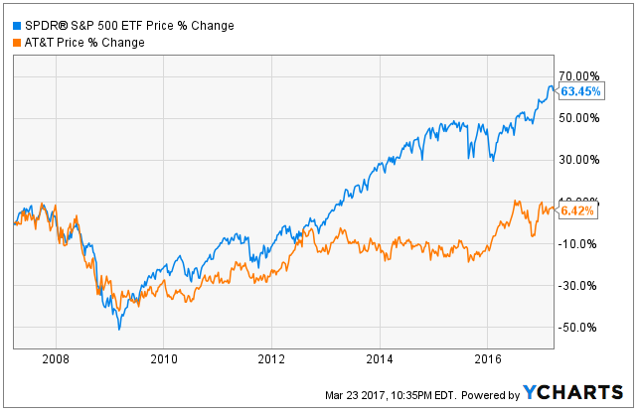 13. MDU Resources (NYSE:MDU), 2.9% Yield
With widely recognized AT&T at #15, we move to the lesser-known MDU Resources at #14. MDU is engaged in regulated energy as well as construction materials and services. In some regards, investors get the best of both worlds with MDU because the regulated energy business ($92.7 million in 2016 earnings) provides the safety and security of a regulated business (this helps keep the dividend very safe), and the construction materials and services business ($136.6 million in 2016 earnings) provides growth opportunities. For example, MDU expects growing demand in construction and services due to the $305 billion, five-year highway bill for funding of transportation and infrastructure. Also worth noting, on January 1st, MDU closed on the sale of its 50% interest in its Pronghorn processing plant to further reduce its exposure to commodity prices. Importantly, MDU has paid a dividend for 79 consecutive years, and it's increased it in each of the last 26 years.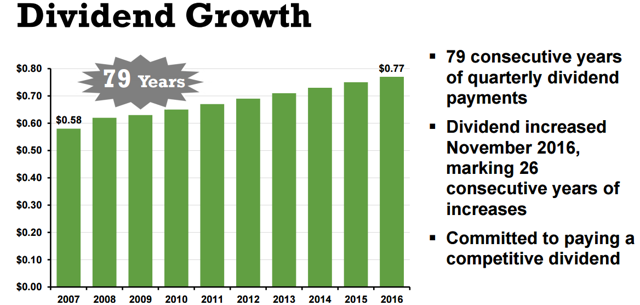 (Graphic Source: MDU Investor Presentation)
Also worth noting, if you are a contrarian, MDU's price and forward price-to-earnings ratio have come down this year, as shown in the following chart (i.e. it's on sale):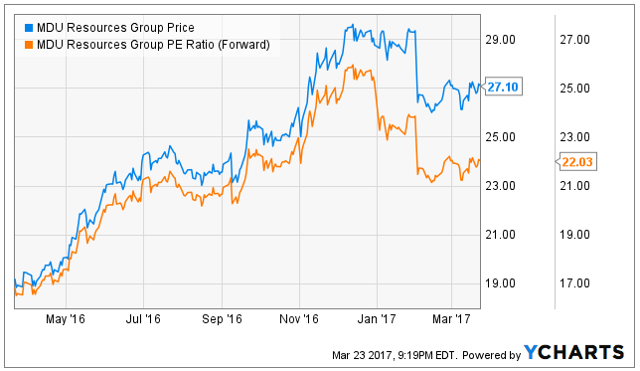 12. AbbVie (NYSE:ABBV), 3.9% Yield
With all of the political uncertainty surrounding healthcare reform in the U.S., the healthcare sector has been beat up. And If you are a contrarian investor (i.e. "be greedy when others are fearful"), you view this as an opportunity.
AbbVie is a research-based biopharmaceutical company engaged in the discovery, development, manufacture and sale of a range of pharmaceutical products. And as the following chart shows, the sector has underperformed over the last six months: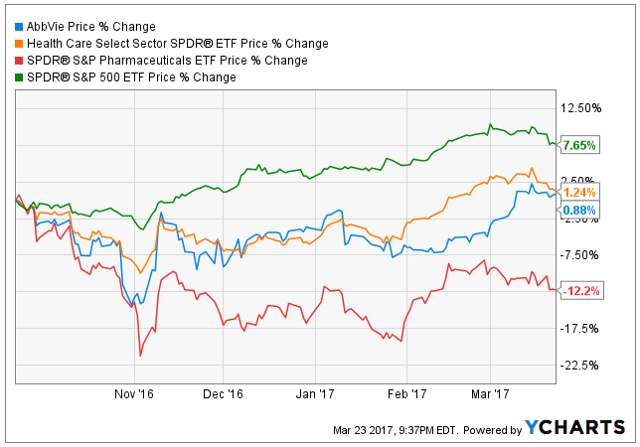 We like AbbVie because it's cheap. As our earlier dividend aristocrat table shows, AbbVie has plenty of free cash flow to keep covering its big dividend (63.6% payout ratio), and analysts are forecasting significant growth over the next one and five years (+17.8% and +14.6%, respectively). Yet, despite the growth, AbbVie's price-to-forward-earnings ratio has come down as shown in the following chart (i.e. it's on sale):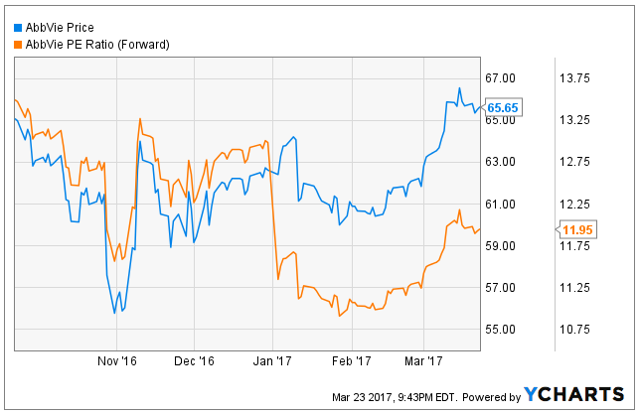 From a fundamentals standpoint, Humira (AbbVie's immunology drug) has high margins and will support the dividend for more than at least a few years while AbbVie's healthy pipeline (focusing largely on promising cancer drugs) continues to develop.
11. Consolidated Edison (NYSE:ED), 3.5% Yield
Next on our list is a very low risk, low beta, utilities company. Consolidated Edison is a holding company providing steam, natural gas, and electricity to southeastern New York, including New York City. As the following chart shows, utilities have missed out on most of the "Trump rally," but with increasing interest rate expectations largely affirmed and the Trump rally potentially about to run out of steam, Consolidated Edison is a safe place to put your money, and to collect a big dividend.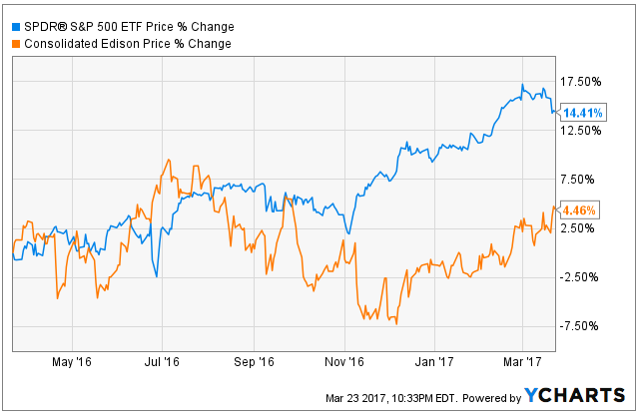 The company has raised its dividend for 42 consecutive years, and is committed to continuing its streak. Also, considering its geographic location, it should continue to experience growth, as analysts are forecasting 4.7% growth next year and 3.5% per year for the next five years.
10. Chevron (NYSE:CVX), 4.0% Yield
If you like big-dividend contrarian opportunities then Chevron may be right up your ally. Given the declines in energy prices since mid-2014 and the environmental agenda of the previous guy in the White House, Chevron has significantly underperformed the S&P 500 in recent years as shown in the following chart: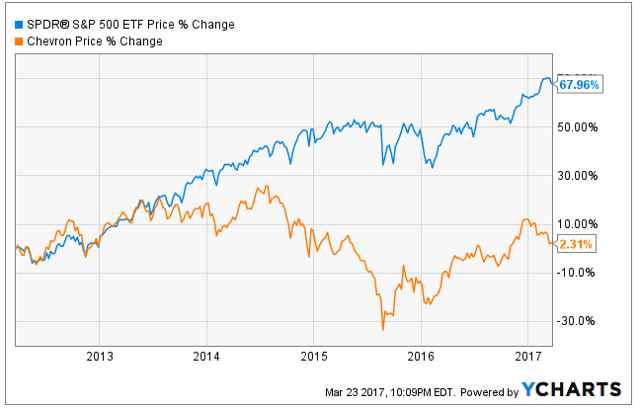 However, growth is expected to pick up from new projects including the Gorgon and Wheatstone projects.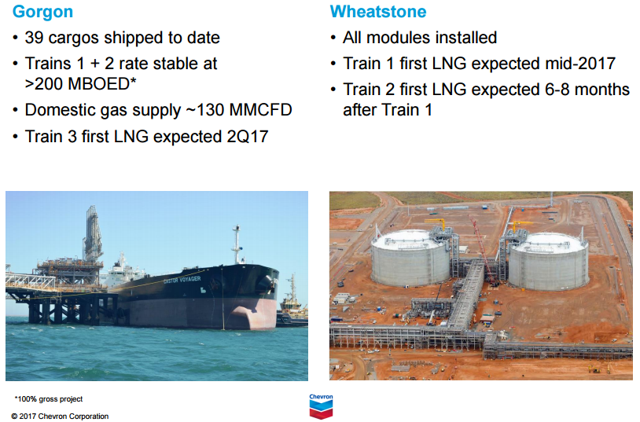 In fact, per our earlier dividend aristocrat table, analysts are expecting 32.8% EPS growth next year, and an average of 61.3% over the next five years. Granted oil prices are always a wildcard, but through growth (or through asset sales if necessary), Chevron has the wherewithal to support its big dividend for many years to come. If you are a long-term, income-focused, contrarian investor, Chevron is worth considering.
9. Realty Income (NYSE:O), 4.3% Yield
Realty Income is an income-investor favorite because it pays big safe monthly dividends. Additionally, the dividend payment has increased for 77 consecutive quarters. We believe O is worth considering now because its business remains strong, but its valuation has come down. Specifically, the following chart shows that Realty Income's price versus its Funds From Operations (FFO) has come down significantly since last summer (i.e. the shares are on sale).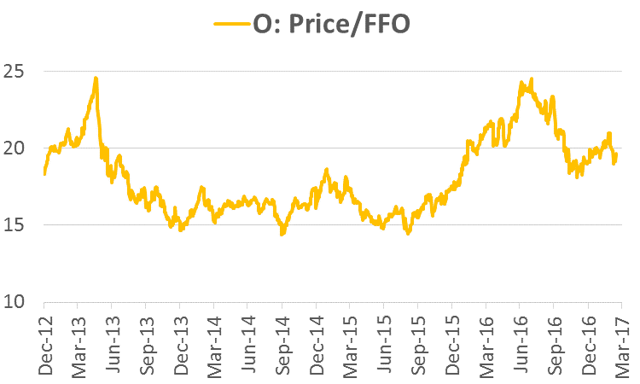 (Data Source: Company Filings and Yahoo Finance)
If you are not aware, Realty Income is a large REIT that invests in commercial/retail properties spread across the US. And it has a reputation as an attractive, safe, blue-chip REIT, and it only expects to pay out ~83% of its adjusted FFO as dividends in 2017, which is a healthy margin of safety for this low beta company. Investors have been afraid of how rising rates will impact REITs, and the whole group has sold off. However, we believe the fear is already baked in, and Realty Income's dividend is very safe. And if you are a long-term, income-focused, value investor, Realty Income is worth considering.
8. Automatic Data Processing (NASDAQ:ADP), 2.2% Yield
ADP is a boring, safe, company with an above-average dividend that has grown for 40 years in a row. If you are not aware, ADP is a provider of human capital management solutions including payroll services, benefits administration, time and attendance management, and others. It's basically a permanent fixture at literally hundreds of thousands of companies because once ADP solutions are in place, it's far easier for a company to keep them than to replace them. It only pays out around 58% of its free cash flow as dividends, and analysts are forecasting its EPS to grow significantly over the next year (+10.4%) and over the next five years (+11.5%). It also has low debt, and its price-to-earnings ratio can go higher, as shown in the following chart: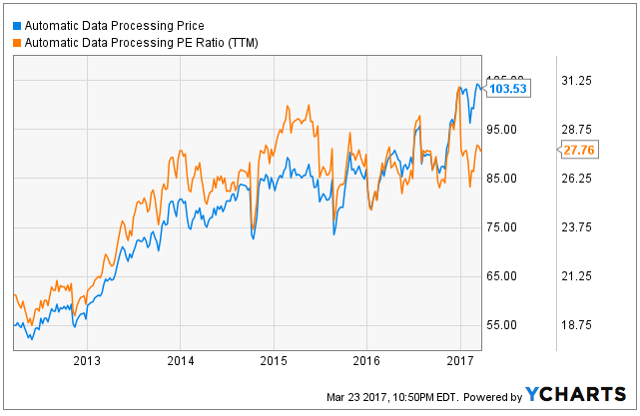 If you are looking for a very healthy safe dividend and a company with continued long-term growth potential, ADP is worth considering for an allocation with your diversified investment portfolio.
7. Old Republic (NYSE:ORI), 3.8% Yield
If you are looking for a big growing dividend, from a company with a differentiated earnings stream, then Old Republic may be worth considering. This insurance underwriting company has been growing its dividend for over 20 years, and it has been generating the cash flow to make this possible from a diversified base of fees across industries as shown in the following graphic: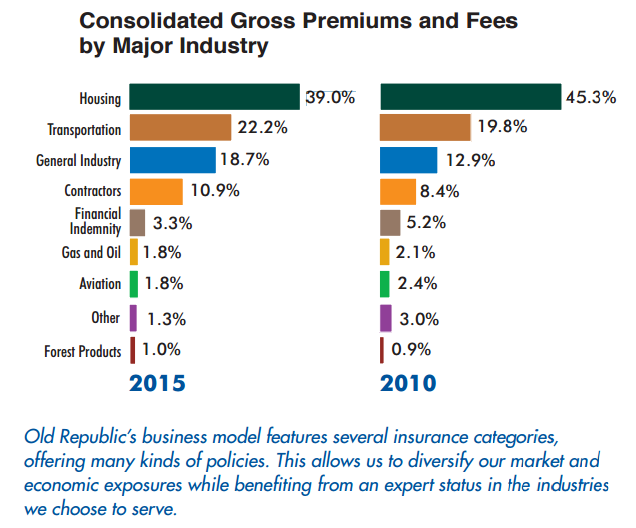 (Image Source: Annual Report)
Warren Buffett's mentor, Benjamin Graham, was a big advocate of using book value in valuating stocks, and by that measure, Old Republic has done very well over the long term, as shown in the following chart: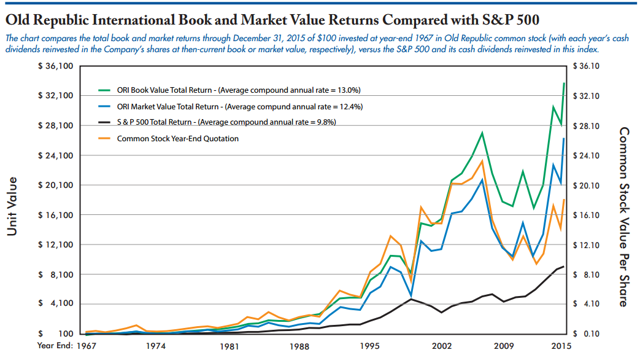 This company is not flashy, but it is a well-managed dividend aristocrat worth considering if you are a long-term income-focused investor.
6. United Technologies (NYSE:UTX), 2.4% Yield
In addition to the big growing dividend payments, we like United Technologies because the business is set to benefit from global economic growth. If you are not aware, UTX is a diversified industrial conglomerate that sells aerospace and building components and systems. It will continue to benefit from increasing urbanization and growth in emerging markets. In fact, analysts expect the company to deliver 7.4% annual growth over the next five years (this is according to our dividend aristocrat table provided earlier).
We also like UTX because it is an efficient allocator of capital. For example, it has continued to buy back its own shares while keeping a steady and healthy balance sheet as shown in the following charts: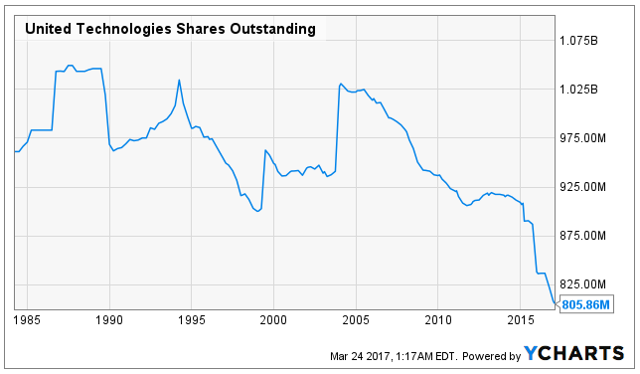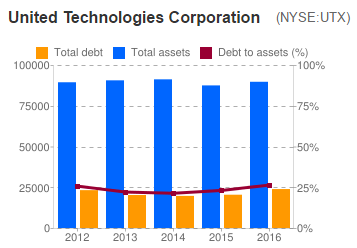 (Chart Source: Google Finance)
Also, UTX expects additional share repurchases of $3.5 billion in 2017. Also worth noting, UTX's return on capital (according to GuruFocus) is 13.81%, which exceeds its 8.95% cost of capital. This means it is creating value for every new dollar it invests (a good thing). And as the following chart shows, UTX has been increasing its dividend for over 20 years: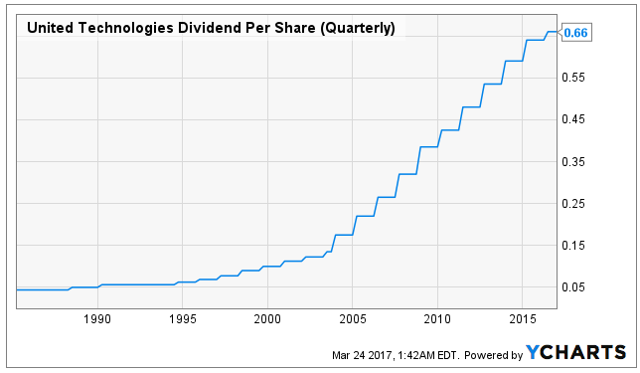 5. Nucor (NYSE:NUE), 2.4% Yield
If you believe in the United States infrastructure growth story (and you like big growing dividends), Nucor is worth considering. Nucor uses electric arc furnaces (EAFs), which are significantly more efficient than the blast furnaces used by most of the global steel industry, thereby giving NUE a cost advantage.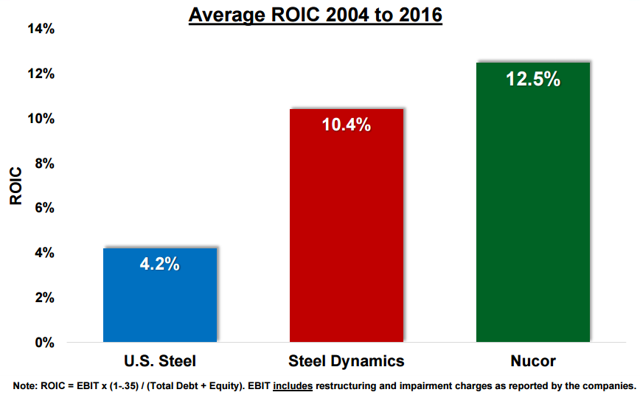 (Image Source: Company Investor Presentation)
And according to analysts covering the company (see our earlier dividend aristocrats data table), Nucor has very high earnings per share growth expectations over the next one (+7.3%) and five years (+24.6% annually). Also, the company's price to (forward) earnings ratio has recently come down (a good thing) as shown in the following chart: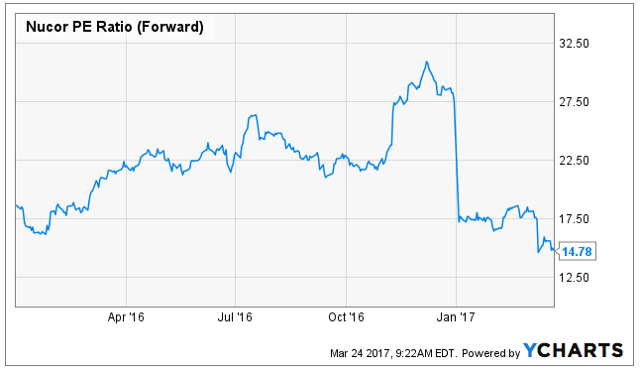 Further, the company has an impressive history of prudently returning capital to shareholders, as shown in the following graphic: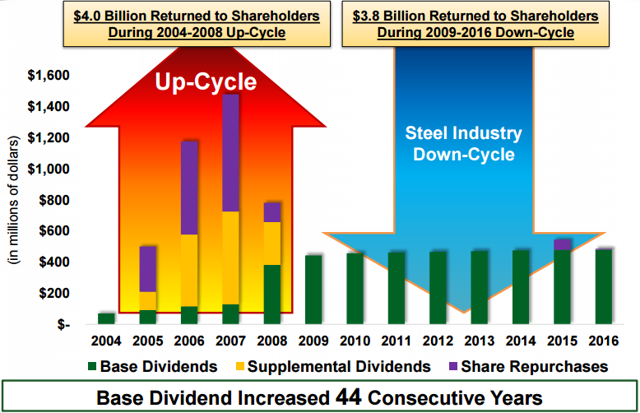 (Graphic Source: Investor Presentation)
Overall, if you believe that the infrastructure growth cycle is turning up in the US, and you like big growing dividends, Nucor could be a very powerful addition to your investment portfolio.
The Top 4
Our Top 4 High-Yield Dividend Aristocrats are reserved for members only. You can access them within our newly launched service, The Value and Income Forum. If you are not already a member, please consider joining. The objective of the service is to help investors identify exceptional high-income value opportunities, and to give them a forum to discuss them with other skilled investors.
Disclosure: I/we have no positions in any stocks mentioned, and no plans to initiate any positions within the next 72 hours. I wrote this article myself, and it expresses my own opinions. I am not receiving compensation for it. I have no business relationship with any company whose stock is mentioned in this article.