It's getting hot and dusty on the old bargain-hunting trail. In fact, we started following the sun, and ended up tracking down a solar high dividend stock, 8point3 Energy Partners LP, (NASDAQ:CAFD). This is a change of pace for us, since most of our articles cover fossil fuel-related high dividend stocks.
However, this stock has 2 other attributes, which are common themes in our coverage universe:
1. Long-term contracts - it has an average of over 20 years remaining on its contracts: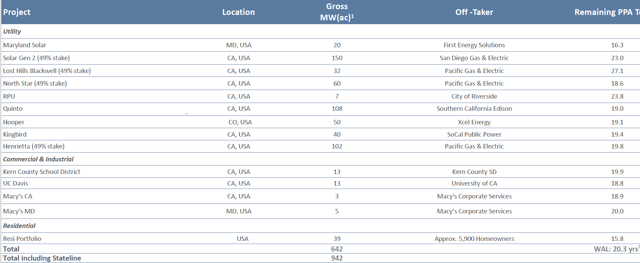 (Source: CAFD Q4 '16 report)
2. A supportive sponsor with a large asset dropdown pipeline. In fact, it has 2 sponsors - First Solar Inc., (NASDAQ:FSLR), and SunPower, (NASDAQ:SPWR), which have 900 megawatts of dropdowns for CAFD.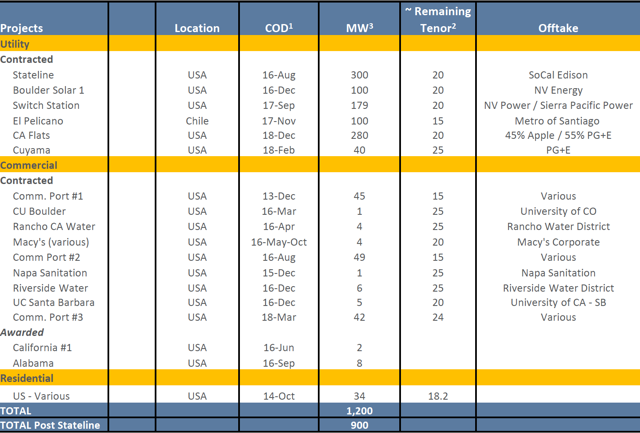 (Source: CAFD Q4 '16 report)
CAFD is a "yieldco," which is "a company that is formed to own operating assets that produce a predictable cash flow, primarily through long term contracts. Separating volatile activities (e.g. Development, R&D, construction), from stable and less volatile cash flows of operating assets can lower the cost of capital. Yieldcos are expected to pay a major portion of their earnings in dividends, which may be a valuable source of funding for parent companies which own a sizeable stake in them." (Source: Wikipedia)
Profile: 8point3 Energy Partners is a growth-oriented limited partnership formed by First Solar and SunPower to own, operate and acquire solar energy generation projects. Our primary objective is to generate predictable cash distributions that grow at a sustainable rate. We intend to achieve this objective by acquiring high-quality solar assets primarily developed by our Sponsors that generate long-term contracted cash flows and serve utility, C&I and residential customers in the US and other select markets.
As of 11/30/16, CAFD owned interests in 9 utility-scale solar energy projects, and 4 commercial and industrial solar energy projects, as well as a portfolio of residential distributed generation solar assets with a total capacity of 642 megawatts. 8point3 General Partner, LLC serves as the general partner of the company. The company was founded in 2015 and is headquartered in San Jose, California.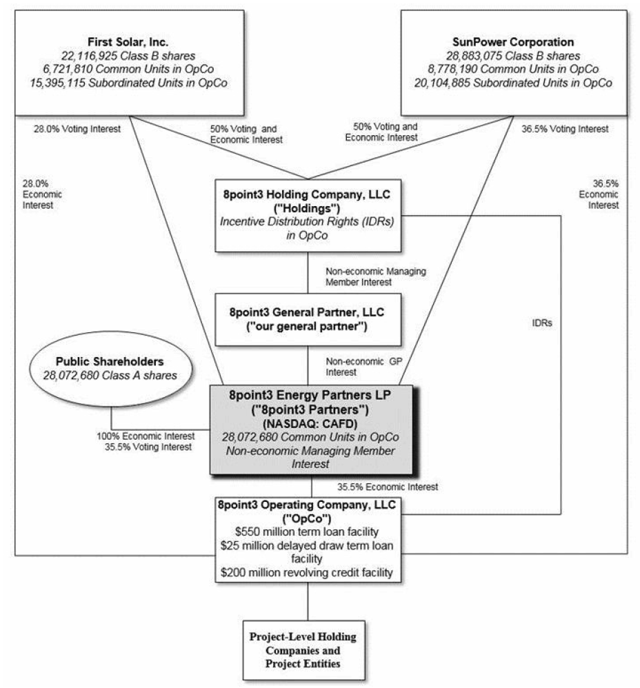 (Source: CAFD Q4 '16 report)
Distributions: Management just declared its 6th straight dividend hike today, 3/24/17, and raised its quarterly payout by 3% once again - it goes ex-dividend on 3/31/17.

You can now track CAFD's price and distribution yield in the Utilities section of our High Dividend Stocks By Sector Tables.
Management has increased the quarterly distributions by 3% to 3.5% over the past 6 quarters, including this new payout. They also guided to a 12% total distribution hike for 2017, so this pattern should continue this year.
(Source: NASDAQ)
CAFD's sponsors' Incentive Distribution Rights don't kick in until the quarterly distribution exceeds the $.31455 level:

(Source: CAFD '16 10K)
As a solar stock, CAFD's weakest quarter is Q1. Why? Because the sun isn't as strong then, so they have lower "insolation" from their assets.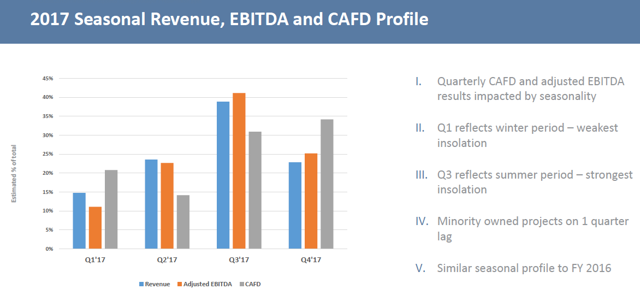 (Source: CAFD Q4 '16 report)
CAFD's fiscal year ended on 11/30/16. Coverage dipped big time, but it was mainly due to a timing issue - on the Q4 earnings call, management explained that, "Our CAFD results were impacted by a slight timing delay in a network upgrade refund from PG&E that was contracted to be received in the fourth quarter. We received the payment shortly after the quarter ended, and if included, we would have exceeded our guidance by $2 million."
Although its ticker is CAFD, (Cash Available For Distribution), the company's distribution coverage/unit is profiled according to Net Income per Class A Shares - the trailing payout ratio was around 73% for fiscal 2016: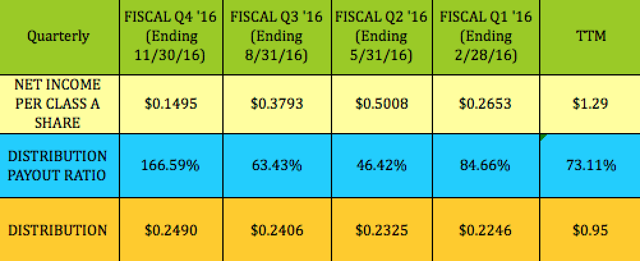 They also list Cash Available For Distribution in their reports, but curiously, they don't do any kind of coverage metrics with it. We included distributions they paid to sponsors, and net distributions paid to Tax Equity investors in fiscal 2016, to see how the total coverage stacked up.
It looks quite healthy, at a payout ratio of just 48%, which should give them more room to keep increasing payouts in 2017 and 2018.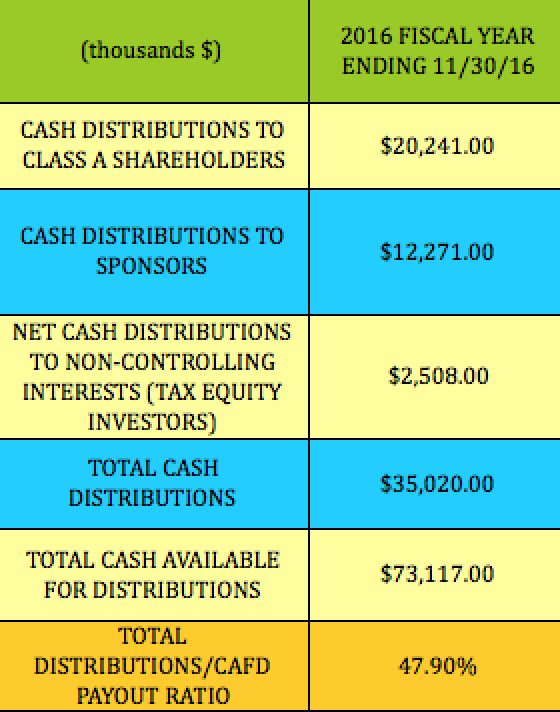 Options: We've just added this September 2017 put-selling trade to our Cash Secured Puts Table. The bid is $1.05, which gives you a break-even of $11.45, $.59 below CAFD's 52-week low of $12.04.

CAFD's covered call options aren't that attractive now, but you can see details for 25 other trades in our Covered Calls Table.
Earnings: CAFD IPO'd in June 2015, so their comps are pretty wild - as a new company, we'd expect growth to be strong, and it was, all across the board.
They also did a secondary offering in 2016, which pumped up the A shares count by 40%.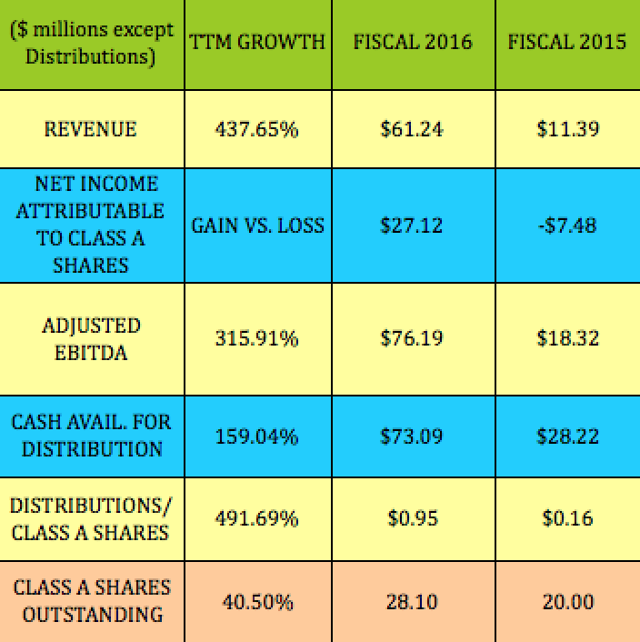 Here are their EBITDA and Cash Available For Distribution calculations from their 2016 10-K. They own pieces of various assets, (unconsolidated affiliates), from which they receive substantial distributions. (See the Notes section at the end of the article for more details):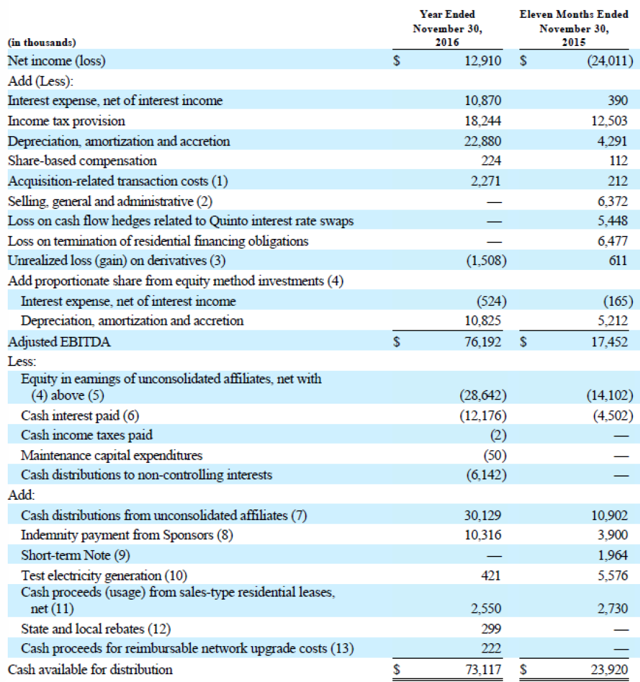 2017 Guidance: Management has issued guidance for Q1 and full year 2017. The cash available for distribution looks steady.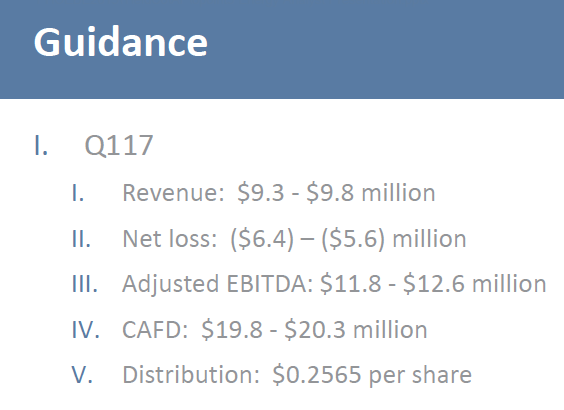 (Source: CAFD Q4 '16 report)
Revenue and EBITDA will be substantially higher than Q1 '16, and cash available for distribution will also increase: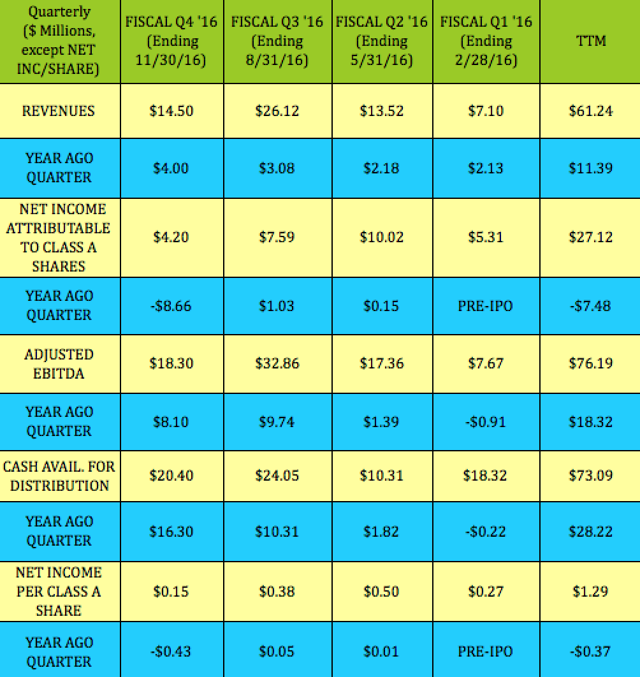 We compared their full year 2017 guidance ranges to their reported 2016 figures - cash available for distribution is projected to grow by 25%-38%; EBITDA by 40%-48%; Revenue by 3%-9%; and Net Income will be roughly flat to up 20% - (quite a range).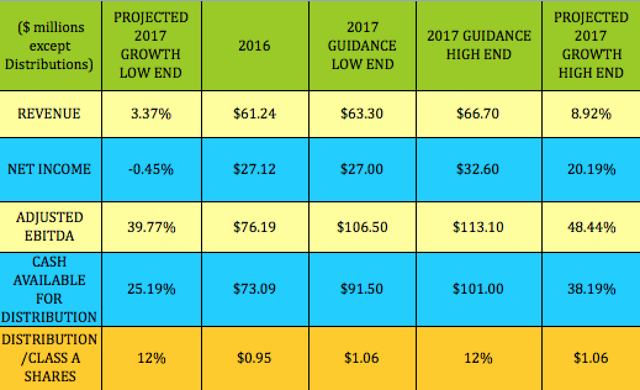 Another plus is that they made 2 acquisitions in fiscal 2016, which have only just begun to start kicking in some earnings - Henrietta closed on 9/30/16, and Stateline on 12/1/16, after the end of fiscal 2016: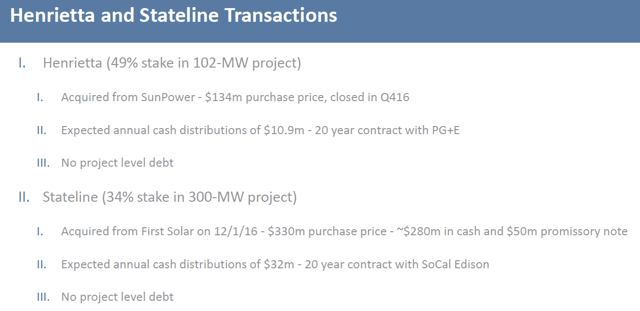 Analysts' Targets: So, you'd think that with all of this growth and a nice yield, CAFD would be getting major support from the market. Alas, such is not the case - as you may have read, there has been a lot of fallout in the solar industry over the past 2+ years - with multiple bankruptcies, and there's uncertainty about the new administration's policies toward the industry going forward.
However, as other SA contributors have pointed out, CAFD's assets are tied to state-level contracts, not federal ones. (FYI, there are several excellent articles on SA detailing solar stocks and solar industry events - just enter any of the tickers you see in the Valuations table below, for some good coverage).
CAFD has lagged the market over the past month, quarter, year, and year to date. Of course, if it hadn't, we may never have come across its high yield in the first place, so, we're not exactly complaining:

CAFD is now nearly 24% below analysts' consensus $16.53 price target: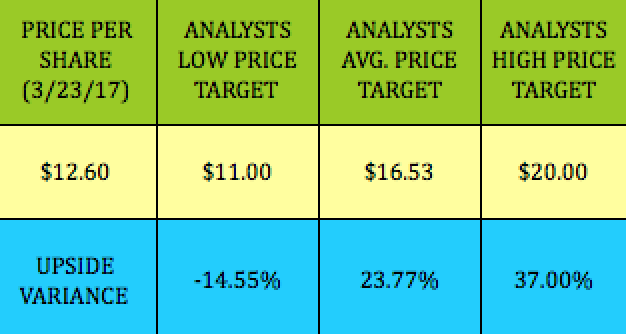 Valuations: Trying to value and compare solar stocks can be about as fun and rewarding as herding cats - some of them use varying coverage metrics, with often rather complex financial statements involving several one-off expenses, etc. We were ready for a few tall cold ones, after this exercise.
Even though they don't pay dividends, we listed CAFD's 2 sponsors, FSLR and SPWR in this table, along with Pattern Energy Group, (NASDAQ:PEGI), and NextEra Energy Partners LP (NYSEMKT:NEP).
CAFD looks cheaper than the other 2 dividend-paying stocks in this little group, PEGI and NEP, on a P/E basis, which is stricter than PEGI's Price/CAD valuation. However, NEP has a lower Price/Book, Price/Sales, and EV/EBITDA. But then again, CAFD yields over 8%, while NEP only yields over 4%, with very similar payout ratios.

Financials: CAFD has a much lower Net Debt/EBITDA ratio of 4.86 than PEGI and NEP, and stronger ROA, ROE, and Current Ratio figures.

Debt: CAFD's debt is all structured to mature in 2020, giving them breathing room over the next few years, as they build up their operation.

(Source: CAFD Q4 '16 report)
Notes: The 2016 10-K had this explanation of the unconsolidated affiliated assets: "A subsidiary of Southern Company owns a 51% economic interest in, and we own a 49% economic interest in, each of the Henrietta Project Entity, the Lost Hills Blackwell Project Entity, the North Star Project Entity and the Solar Gen 2 Project Entity. In addition, on December 1, 2016 we acquired the Stateline Project and a subsidiary of Southern Company owns a 66% economic interest in, and we own a 34% economic interest in, the Stateline Project Entity. Collectively, these five project entities in which we own minority interests constitute over 68% of the MW of the projects in our portfolio of solar assets as of January 23, 2017."
Concerning taxation of distributions: "Even though we are organized as a limited partnership under state law, we are treated as a corporation for U.S. federal income tax purposes. Accordingly, if we make distributions from current or accumulated earnings and profits as computed for U.S. federal income tax purposes, such distributions will generally be taxable to Class A shareholders as ordinary dividend income for U.S. federal income tax purposes. Distributions paid to non-corporate U.S. shareholders will be subject to U.S. federal income tax at preferential rates, provided that certain holding period and other requirements are satisfied. We estimate that we will have limited earnings and profits for eight or more years." (Source: 2016 10-K)
All tables furnished by DoubleDividendStocks.com, unless otherwise noted.
Disclaimer: This article was written for informational purposes only, and is not intended as personal investment advice. Please practice due diligence before investing in any investment vehicle mentioned in this article.
Disclosure: I am/we are long CAFD.
I wrote this article myself, and it expresses my own opinions. I am not receiving compensation for it (other than from Seeking Alpha). I have no business relationship with any company whose stock is mentioned in this article.