Coffee should be having a positive 2017. Report

s are that the early season has been strong, with exports to January rising by 8.9%, with Brazil having to actually import beans to meet domestic demand. While as reported by the FSDA in Brazil, and Economic Calendar, dry seasons continue:
After three years of drought conditions have left razor-thin supplies of Robusta beans.
In February, the Brazilian Minister of Agriculture agreed the 'temporary importation of coffee'. However, according to a daily letter produced at njdouek.com, open interest in coffee is the lowest it's been for three years.
Although coffee stock charts suggest some positive momentum is building, investment interest seems lackluster.
The recent lack of direction of the market is failing to attract participants, as evidenced by the open interest that in the lowest level of the last three years. Recent data also shows that the non-commercial position net long position declined 3,291 lots as of last Tuesday to 10,985 lots. In macroeconomic factors, the dollar, and the stock market declined on concerns that the promises of the new government will become a political match and could trigger a correction of the markets. Crude oil declined $0.75 to $48.16 per barrel.

While in London:

...Values observed a holding pattern through much of the afternoon before early longs looked to liquidate, triggering technical selling stops at the 20 day moving average at $2169 en route.
As I wrote in a recent article about gold, the weakness in the US dollar is currently due to a counter-cycle strength in the Euro. Should this be outweighing supply/demand issues?
Coffee Trade Statistics, January 2017
ICO reported a rise in coffee exports of 8.9% for the first four months of the 2016-17 season:
World coffee exports amounted to 9.84 million bags in January 2017, compared with 9.22 million in January 2016. Exports in the first 4 months of coffee year 2016/17 (Oct/16 to Jan/17) increased by 8.9% to 39.98 million bags compared to 36.71 million bags in the same period in the last coffee year. In the twelve months ending January 2017, exports of Arabica totaled 74.04 million bags compared to 70.88 million bags last year; whereas Robusta exports amounted to 45.37 million bags compared to 43.25 million bags.
Coffee beans are traded by variety: ICO Indicator prices
Investing in Coffee
According to Vantage Point, The International Coffee Organization says:
Coffee is the second most commonly traded commodity in the world (measured by monetary volume), trailing only crude oil as a source of foreign exchange to developing countries.
Vantage Point also provides a couple of commodity trading tips:
Veteran traders will give you a couple of tips about trading related to weather:

Never be short orange juice going into January.
Never be short coffee going into July.

In the case of coffee futures, a freeze or threat of a freeze in Brazil that could be severe enough to damage coffee trees and reduce coffee production, perhaps for several years, can have a substantial impact on prices because of the dominant role Brazil has in the world coffee market.

...Coffee futures prices have been relatively quiet for a number of years but are not immune to blow-off price explosions, as older price charts will reveal.
While the International Commodity market for coffee trades in London, the US coffee market trades in New York. Coffee trading is international, with the bulk of supply coming from Brazil, and as an agricultural product, supply is heavily influenced by the weather.
The US Coffee Market

Coffee futures and options are traded in New York on the Intercontinental Exchange (ICE, formerly the New York Board of Trade).

The size of the Coffee "KC" futures contract is 37,500 pounds
Coffee commodity trading is now done electronically.
Coffee futures prices are quoted in cents per pound, and the minimum price fluctuation is 5/100 cent/pound, equivalent to $18.75 per contract.
A 1-cent change in price equals $375.
The coffee futures contract months are March, May, July, September and December.
The contract prices physical delivery of exchange-grade green beans from one of 19 countries of origin in a licensed warehouse to one of several ports in the United States and Europe.
Seasonal Strength: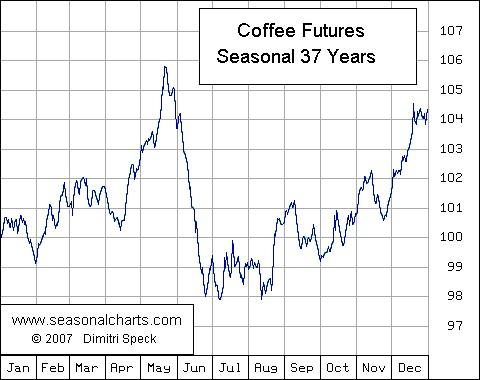 Source: Seasonalcharts.com
Over 37 years, coffee shows a marked rise in value from April to May, a correction, then further general rise into December.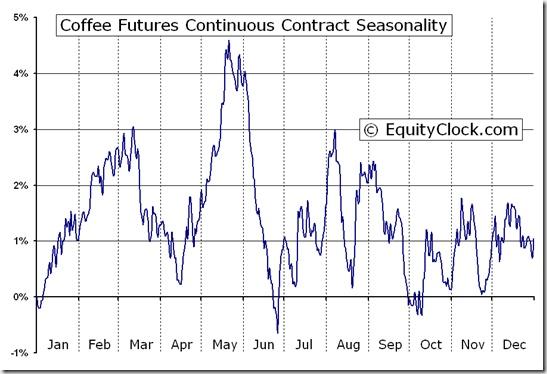 This chart source: EquityClock.com tracks coffee over the last 20 years, and also shows a market rise in values over the April to May timeframe, a correction into June, followed by more moderate rises into the end of the year.
Speculation has its part to play in seasonal swings, as we can see from the long-term coffee stock chart. In 2014, coffee found a multi-year low, which led to a significant rise into May, and having corrected into an early July low, a further rise into October.
Coffee is currently in a strong technical position on its stock chart, and due an April rise. Although there's some possible near-term weakness appearing on the fast stochastic, positive divergence is already developing on the RSI oscillator.
Coffee Stock Charts
Coffee has completed a correction from the wave 5 high to a low marked wave 'C' in red. It's comparable to the low in January 2016 which was also at the end of a long term wave 'C' correction. The smaller correction wave 'c,' which is now breaking out and up from the 'outer Fibonacci circle', is comparable to either of two minor waves illustrated in the first series (highlighted yellow), and labeled 2 'b' and 'c'. Although the current wave appears about the same scale as 1 in the first series, so far it's actually smaller, and so as a new 'wave 1' in the current series, has to be incomplete.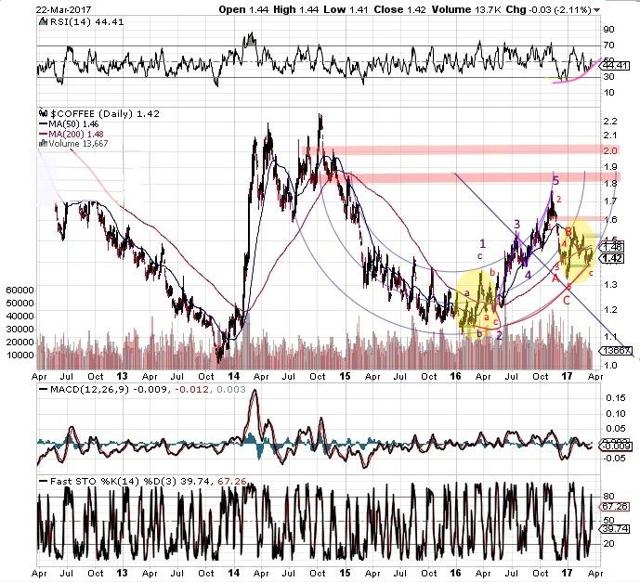 Although waves can mutate with time, the current 1 appears to extend to the next level of selling resistance which I've highlighted in light red at about $1.6. Since corrections are likely to be minimal in the coming seasonal time frame, moves up through the Fibonacci circle appear 'tight', and so 'could' support moves to the higher resistance levels illustrated, with lower levels providing chart support. An example of a possible rising correction pattern is from Nov 2013, while the spike which followed 'c' in 2016, occurred after the April high.
COT Position
The latest COT chart is below, and shows that recent trading has found support on the highs of July 2015-March 2016, and recently re-tested that low. Also the COT positions are closely aligned to seasonally relevant March-May 2016.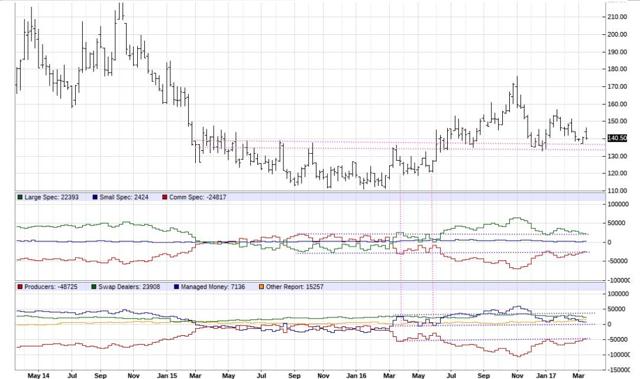 Source: barchart.com
Coffee ETF Investments (US Trading)
There are two ETFs to invest in. Both carry an expense ratio of 0.75%, which needs to be factored into costs (a ratio calculator is linked below). JO is an ETN operated by Barclays iPath, while CAFE reduces the risk and effect of backwardation. There are other key differences, described here.
ETF Expense ratio calculator.
Market participants seems to be overreacting to the US Dollar and ignoring the fundamental position of Brazil having to import coffee beans in a seasonal period when it's "ever a good time to be short coffee."
Although the overreaction to the weaker US Dollar can't be ruled out, (and risk managed accordingly), the technical chart position for coffee supports an imminent rise, as does the COT position, which is close to that of April 2016.
Disclosure: I/we have no positions in any stocks mentioned, and no plans to initiate any positions within the next 72 hours.
I wrote this article myself, and it expresses my own opinions. I am not receiving compensation for it (other than from Seeking Alpha). I have no business relationship with any company whose stock is mentioned in this article.