Psychemedics (NASDAQ:PMD) is a U.S.-based drug testing company that uses a patented technology to release drug particles from hair before measuring the compounds via mass spectrometry. Revenue has grown exponentially after an expansion into the Brazilian market.
The Brazilian market is a unique opportunity because the Federal Government of Brazil requires professional drivers to pass hair drug tests whenever they obtain or renew their licenses. Licenses are valid for five years, and this is why hair testing, as the drug testing method with the farthest reach, is preferred over urine and saliva samples.
Psychemedics has a Brazilian subsidiary called Psychemedics Brasil Exames Toxicologicos Ltda or "Psychemedics Brazil." This subsidiary recently lost legal action against another hair testing facility called Omega Labs over anti-competitive practices. Psychemedics claims that it is not liable for any settlement against its subsidiary, but the problem is not necessarily a monetary fine.
Short Thesis
Psychemedics depends on its Brazilian expansion for growth, and whatever anti-competitive actions the subsidiary was engaged in will no longer be available. On top of this, the Brazilian economy is in a full-scale recession, and Psychemedics' business is highly business cycle dependent.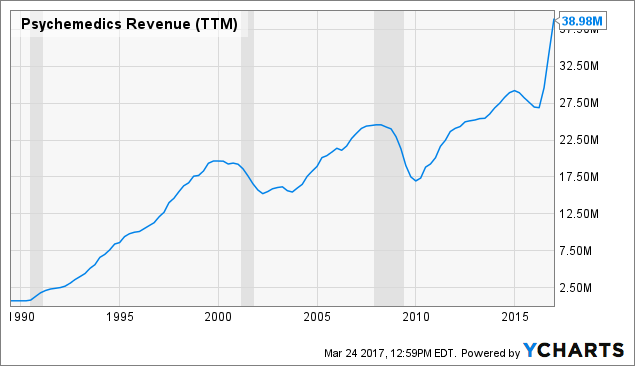 PMD Revenue (TTM) Data by YCharts
The correlation between Psychemedics' sales and the U.S. business cycle (this is practically identical to the S&P 500) before the Brazil expansion suggests the firm's U.S. business is mature and does not deserve growth stock valuations. The confluence of challenges in Brazil suggests revenue growth in the market will stall. PMD's revenue may fall significantly in the next few years.
Valuation
PMD has a market cap of $111m, and its enterprise value is virtually the same. Revenue is $39m and has begun an exponential growth pattern after the Brazilian expansion.
There is a strong correlation between PMD's revenue and the overall stock market and measured by the S&P 500 index (NYSEARCA:SPY). PMD's revenue is clearly dependent on the business cycle, and this is probably because employment increases along with demand for drug testing products during expansionary periods.
The problem is that if PMD's history is anything to go by, the company has probably maxed out its annual U.S. revenue at around $30m. The U.S. unemployment rate can't go much lower than where it is without exerting unwanted inflationary pressure on the economy. The Federal Reserve usually steps in to prevent this through rate hikes and other monetary policy decisions.
If U.S. revenue is maxed out, PMD must depend solely on Brazilian earned revenue for growth, and there are two problems with this strategy going forward:
1.) Even through PMD isn't liable for the legal settlement against its Brazilian subsidiary, it may still face financial setbacks due to lost revenue and more effective competition. This could cause revenue growth to stall or even fall in the coming quarters.
2.) Brazil's economy is in a full-blown depression with double-digit unemployment. This recession has much to do with the recent commodity slump that has cut Brazil's exports substantially. A smaller Brazilian economy means less economic activity, and less economic activity means fewer truck drivers who need drug testing.
Conclusion
Psychemedics is a drug testing company with some serious challenges going forward. The company's revenue is highly business cycle dependent, and U.S. revenue growth has closely tracked the business cycle.
It is reasonable to assume Brazilian revenue is also macro-dependent and may suffer due to the economic contraction in the Brazilian economy. The lawsuit against PMD's Brazilian subsidiary, although unlikely to result in a monetary fine, will present another serious headwind to the company's revenue growth.
PMD looks likely to see revenue growth slow down or even decline in the coming quarters, and the stock may face downward pressure in light of these concerns.
Disclosure: I am/we are short PMD.
I wrote this article myself, and it expresses my own opinions. I am not receiving compensation for it (other than from Seeking Alpha). I have no business relationship with any company whose stock is mentioned in this article.