Earnings Reporter
My goal in this segment is to unlock both short-term and long-term growth in stocks that have just reported earnings. These stocks are specifically subject to enormous volatility, as earnings reports are seen (and rightfully so) as a significant display of a company's progression in the market. What I offer you is an analysis of the economic well-being of the company, and whether I think the stock is a buy, hold or sell for either (or both) the short term or long term. To get used to the format of this segment, take a look at my last article on Adobe (NASDAQ:ADBE)
After careful consideration, I have rated Duluth Holdings (NASDAQ:DLTH) as a Buy for the long term.
Tuesday's Report
Earlier this week, Duluth Holdings reported Q4 earnings, and absolutely crushed expectations. The company reported an Earnings Per Share figure of $.43 and a sales figure of $174.65 Million, which is a 24.4% increase compared to the previous Q4. What's key for Duluth is their unparalleled marketing campaigns, leading Stephanie Pugliese, the CEO, to say:
We made great progress executing our strategic objectives for the year. We have increased our aided brand awareness year-over-year, demonstrating the continued effectiveness of our marketing campaigns. Retail sales grew 76% year-over-year, and they now account for 18% of total net sales. We are also capturing a greater share of the household closet with a broader assortment of men's products and with women's apparel continuing to outpace our overall growth.
Take a look at how the share price responded after the positive report was released: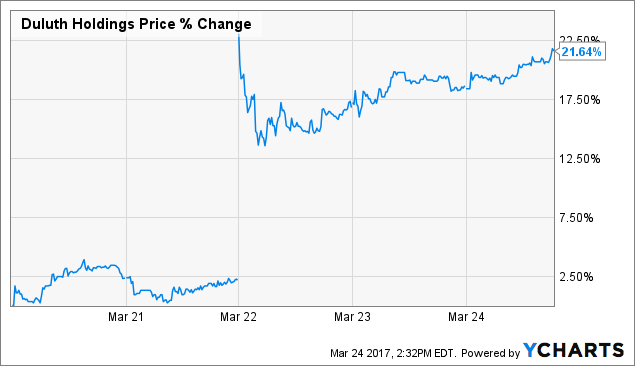 DLTH Price data by YCharts
Investors were absolutely thrilled with the operating results of the company, and the potential for future growth over the coming years.
Gross margin did decline 70 basis points, but came in at a strong $96.8 Million, as opposed to last year's $78.8 Million. SG&A expenses drastically increased, but that is expected as the company was attempting to (and ultimately successful in) boost its sales despite warmer weather in the United States. The domestic environment for retailers in the US has been a difficult one to navigate as well. Duluth only makes around 18% of its sales from retail (most revenue comes from direct), but it is a number that has been increasing as of late (has gone up over 75% Y/Y). The US government has been contemplating a border tax adjustment on goods sourced outside of the US, and this would surely harm retailers. I believe that Duluth has a unique enough product offering and consumer base that they would be a strong bet to weather this potential economic headwind.
Who Does Duluth Cater To?
Duluth caters to those who have outdoor work and hobbies. Companies like REI have been extremely successful as of late due to its reliable outdoor-friendly consumer base, and much of that story is the same for Duluth. Below is a slide depicting their consumer base and how they effectively market to them: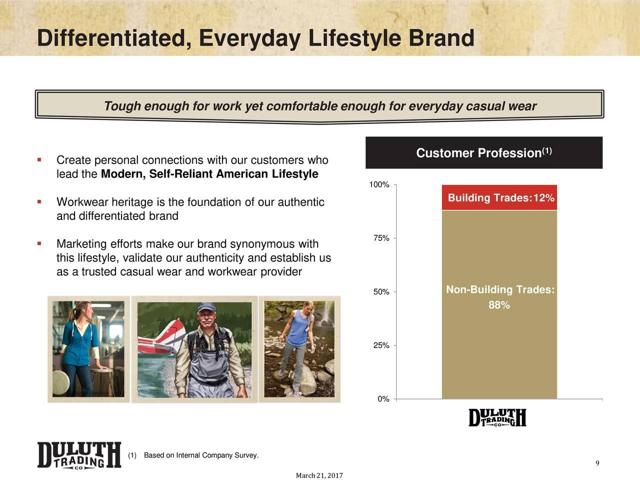 Duluth uses funny, quirky, and memorable advertisements to promote their products. They address an issue, and offer their product as a solution. It's marketing 101, but Duluth adds such a unique flair to it all. Storytelling is a way that they are able to connect on a closer, more personal level with consumers. They now have more brand awareness than they have had in the past, sitting at 67% based on a retail survey.
Through direct sales networks, Duluth is able to maintain margins while selectively offering products to interested consumers. This direct network includes catalogs and e-commerce, but is mostly driven by the latter (83% of direct sales). Relying more on e-commerce than brick and mortar stores can help Duluth minimize labor force and maintenance costs. It can also help simplify the distribution channel, and help avoid logistical problems. This is what also helps give the company a leg up.
Looking Forward
Duluth has made it known that they are bent on increasing the growth of its women's segment, something that has finally started to see some traction as of late (in fact, it now contributes 21% to net sales). They are also determined to expand retail through the construction of new stores (around 9 planned for FQ2017), and to broaden the assortment the of men's product offering. The company can look into acquiring smaller, outdoor companies due to their miniscule debt (sitting at under $1 Million), and decent cash flow. Those worried about the future issues that retail may face in the future have valid concern, but CEO Pugliese said the following that really highlights the structural uniqueness of Duluth:
In closing, we believe that we have built a powerful and highly differentiated omnichannel platform. While we're not insulated from issues that affect the whole retail industry, such as unpredictable weather or significant changes in consumer buying patterns, we're very fortunate to have many structural advantages.

We're in total control of our own distribution. Unlike wholesalers, we're out of harm's way when major retailers close their doors or downsize their store count. We concentrate on core and evergreen products and avoid the pitfalls of many fashion-forward brands
Conclusion
Duluth had another great quarter, but is undergoing a strategic shift that offers new opportunity. The company is becoming more retail-oriented, and is stressing its women's line more than ever. The unique structure of Duluth, however, makes it one of the safer investments in the industry, while its track record and strong management indicate that there are substantial earnings to come down the line.
Disclosure: I/we have no positions in any stocks mentioned, and no plans to initiate any positions within the next 72 hours.
I wrote this article myself, and it expresses my own opinions. I am not receiving compensation for it (other than from Seeking Alpha). I have no business relationship with any company whose stock is mentioned in this article.