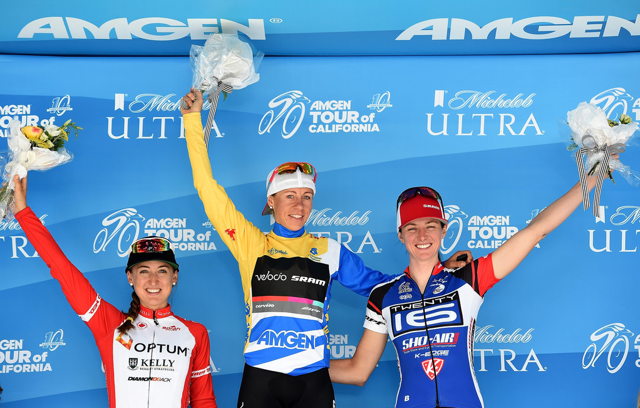 IBD: Competitors Can Crush Amgen
Thursday's Investor's Business Daily included an inauspiciously-titled article for Amgen (NASDAQ:AMGN) longs: "Regeneron, Sanofi Looking To Crush Amgen, And Rivals Say They Can". Drawing on reporting from the recent Biotech Mountain Summit, IBD's Allison Gatlin discussed the vulnerability of Amgen's cholesteral drug Repatha:
Regeneron (NASDAQ:REGN) expects to top No.1 biotech Amgen's cholesteral drug with its own medication in reducing the risk of heart attack, stroke and angina -- and it's getting a vote of support from some unexpected quarters.

Regeneron is teaming up with Sanofi (NYSE:SNY) and their upcoming study results on teh drug Praluent hope to blow Amgen's Repatha out of the water. Repatha disappointed in its own recent heart-drug testing.

What's unusual is that rivals from The Medicines Company (NASDAQ:MDCO) and Alnylam Pharmaceuticals (NASDAQ:ALNY) agree Regeneron and Sanofi have a better chance of succeding.
This isn't the only are where Regeneron and Sanofi have teamed up against Amgen recently: as Seeking Alpha News Editor Stephen Alpher reported earlier this week, the two companies have sued Amgen over patent issues relating to their asthma drug Dupixent.
Dark Pool Traders Have Been Bearish On Amgen Too
After reading IBD's bearish take on Amgen, we checked Squeeze Metrics to see if institutions trading in dark pools -- those private exchanges where they go to avoid front runners -- were bearish as well. It turns out that they have been bearish on Amgen recently. We pulled up this chart from Squeeze Metrics showing the dark pool trading in AMGN over the last 10 trading days.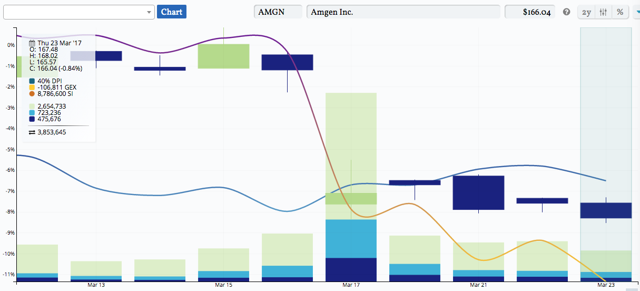 A quick note about the time frame we used here: the site lets you pick whichever time frame you want; we picked 10 days because we feel it's more informative than a shorter time period. The reason we didn't go out longer is because the chart would be harder to read here. We've highlighted Thursday in the chart so you can see the DPI, or Dark Pool Indicator, the percentage of trades that were buys, was 40% (the number of buys and sells often don't match up in dark pools, because some sales are aggregated by liquidity providers and routed to public markets). A DPI below 50% is considered bearish, and Amgen's DPI was in bearish territory for 10 of the last 10 trading days.
There was a small silver lining in Thursday's trade though: the GEX, or Gamma Exposure of -106,811 shares. That means option market makers would have to buy 106,811 shares of AMGN if the stock rises 1%.
Adding Downside Protection To Amgen
If you own Amgen, and want to stay long because you are still bullish on it, but want to limit your downside risk in case your bullishness ends up being wrong, we'll show two ways of doing so below. You can use the process we laid out here to manually find the optimal, or least expensive, hedges that fit your parameters. For these examples we used the Portfolio Armor iOS app, which automates that process.
Both examples are designed for investors unwilling to risk declines of more than 14% over the next several months. You can, of course, use different parameters when finding your own optimal hedges, but the costs may vary.
Uncapped Upside, Higher Cost
These were the optimal puts, as of Thursday's close, to hedge 1,000 shares of AMGN against a greater-than-14% drop by late October.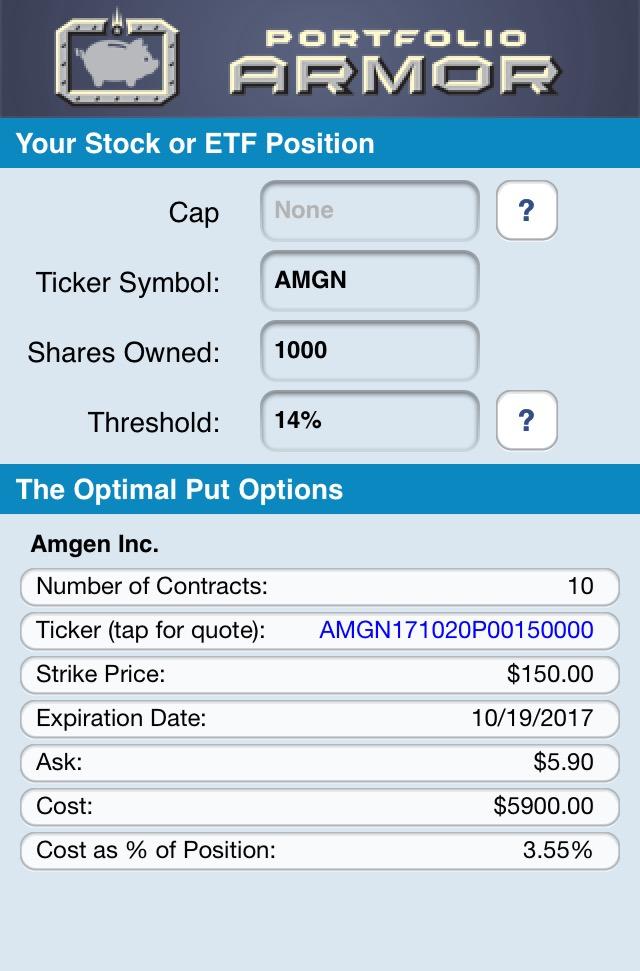 As you can see above, the cost here was $5,900, or 3.55% of position value. That cost was calculated conservatively though, using the ask price of the puts: you can often by puts for less (at some price between the bid and the ask).
Upside Capped at 8%, Negative Cost
Bear in mind that the potential return for Amgen over the next six months implied by Wall Street's consensus 12-month price target (via Nasdaq, below) is about 6%, so 8% isn't an unreasonably low cap here.

This was the optimal collar to hedge 1,000 shares of AMGN against a greater-than-14% drop by late October, without capping your upside at less than 8% by then.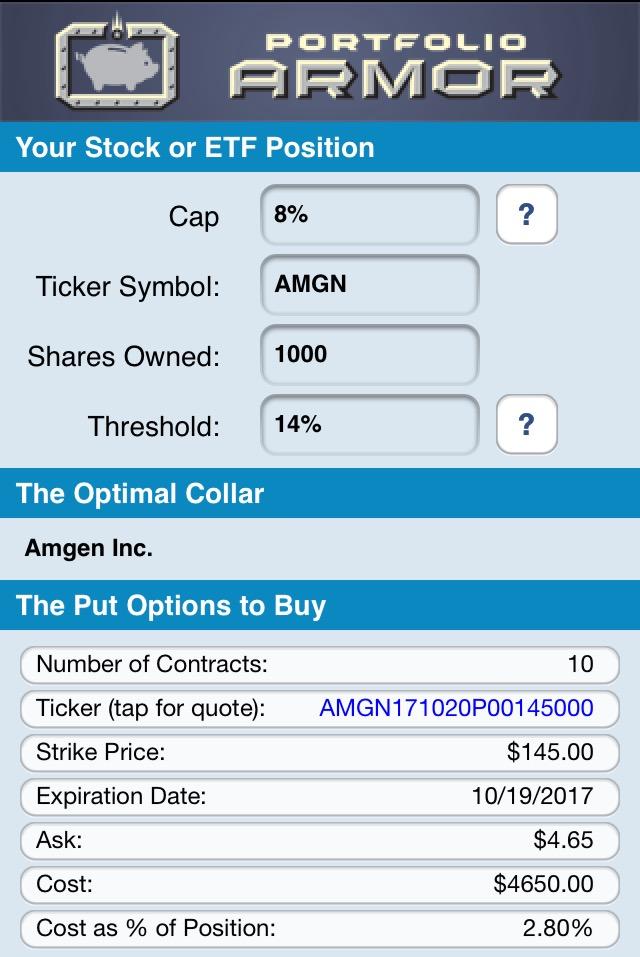 The first thing you'll notice above is that this is a different strike than the puts in the first hedge. That's due to an iterative process that enables the use of a less expensive put leg when the income from the call leg is high enough to warrant that. So the cost of the put leg above was $4,650, or 2.8% of position value. But the income generated by the call leg below was a bit higher, $5,050, or 3.04% of position value.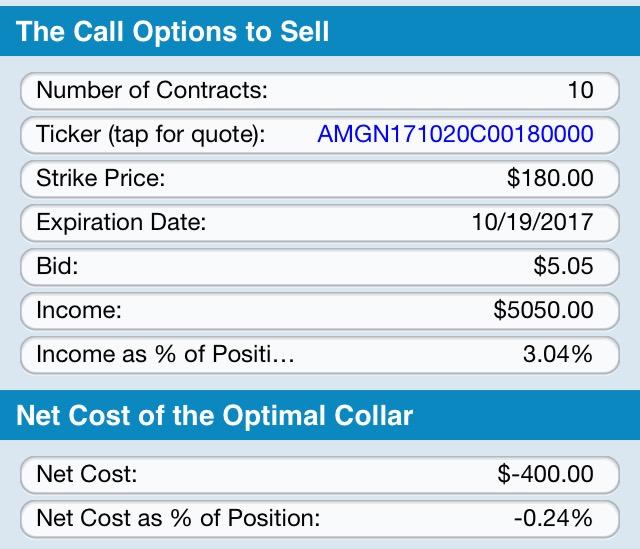 Which meant that the net cost of the collar was negative, so you would have collected $400, or 0.24% of your position value when opening this on Thursday, assuming you bought the puts and sold the calls at the worst end of the spread. If you bought and sold them within the spread, you would have collected more than $400.
Disclosure: I/we have no positions in any stocks mentioned, and no plans to initiate any positions within the next 72 hours.
I wrote this article myself, and it expresses my own opinions. I am not receiving compensation for it (other than from Seeking Alpha). I have no business relationship with any company whose stock is mentioned in this article.