(Note: Daily Pain is part of the HFI Research premium daily series. This write-up was first released to premium subscribers on March 21. If you would like to see more, please sign up here. For more info on premium, please read this.)
By Pain Capital
Today, we saw the S&P 500 (NYSEARCA:SPY) break its silence and trade lower by over 1%. Before the move lower today, stocks haven't traded lower by 1% for over 109 days. With the negative price action taking place before quarter end (eight days), fund managers are likely scrambling to dump positions and shore up cash to deliver a "good quarter."
The pain will be felt in the most crowded trades going towards the end of the quarter. Commodity funds that went long energy names will bare most of the pain with tech funds now dumping shares in droves as QQQ finished the day lower by 1.52%. None of this should come as a surprise as complacency has taken over the market, but the investors that have their eyes fixated on the short term will undoubtedly be punished for their short-term centrism.
The brutal pain is also felt across most Canadian energy producers as positions I hold in my fund along with positions widely held by HFI Research subscribers continue to take a beating as the market sell-off spares no one. I have been exhausting my cash reserve over the last two weeks, and I'm close to using up all my ammunitions. My fate will rest in Mr. Market now.
While most of us here espouse the virtues of long-term thinking, short-term events that are undoubtedly painful cannot be ignored. Market is an ever-changing beast, and while I believe that my long-term thesis in natural gas and oil will pan out, these short-term gyrations do shake the foundation of my core theses once in a while.
What are the markets saying about oil prices?
If you did not get a chance to read this, I encourage you to do so.
So far this week, the market has been skeptical of any "media pumping" from OPEC. Instead, the market continues to rebalance the lofty speculative long positioning. As Energy Aspects said in its report, most oil watchers are losing faith that global crude storages could really decline.
There's a good psychological bias I would likely to point out from this observation - Recency Bias.
Market participants, especially traders, have the tendency to watch price action and develop a self-belief that they can predict where prices will be headed next. Overconfidence on the historical trend is normally a sure way to go bankrupt. In the case of oil inventory, the market has grown accustomed to seeing nearly two and a half years of inventory builds. Without the lack of an immediate fall-off in crude storage, the market will remain skeptical of any rebalancing that's taking place.
Therefore, you will see Seeking Alpha contributors write articles extrapolating historical data from the last two years and use them as a guide for forecasting the future.
Where was EIA, IEA, or OPEC in 2013 and 2014 predicting $50 oil?
If you went back and read commentaries from IEA in 2013, phrases were used to point out that oil prices needed to remain at a level in which it provided sufficient incentive to invest in long-term capex projects.
What's so different now?
I don't blame the markets. Traders inherently want an oversupplied market, because contango price structures lead to more profits for themselves, but ignoring a dynamic shift in the global supply is a red herring.
As oil prices remain below $50 for the time being, I'm not one bit concerned about the macro outlook for oil prices. Fundamentals will swing the pendulum back in motion, and when it does, nothing will stop it in its motion. That is what the bull oil thesis is dependent on, so why bother fretting over the short-term moves?
On a trend-line basis, oil (NYSEARCA:USO) prices are still in an uptrend. WTI, on a continuous contract basis, closed below the 200-day moving average, but the momentum indicators, along with RSI points to a bottom pattern forming.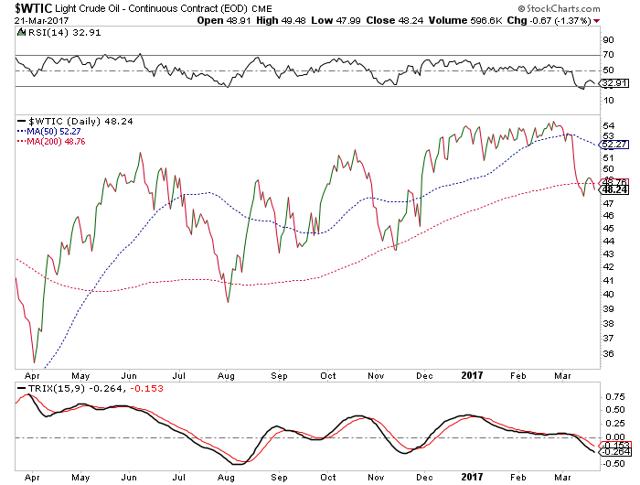 The market is now too overconfident on the bearish side, and the fundamental wrecking ball will be one hell of a wake-up call.
Birchcliff Energy
Birchcliff (OTCPK:BIREF, (BIR.TO)) announced today that it's looking to sell its Charlie Lake Light Oil Resource Play. The deal metrics are below: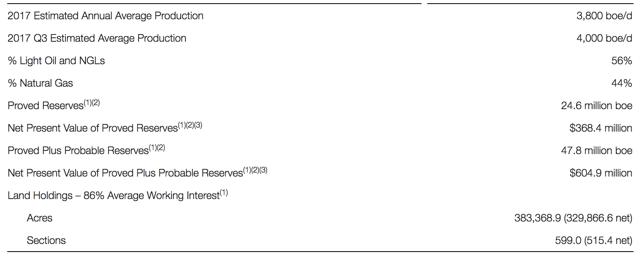 I first wrote-up Birchcliff last year on VIC. The write-up came after the Gordondale acquisition, which I thought was very accretive at the time. Birchcliff has always been known to be a conservative operator, so with DACF now falling below its stated capex program, the board/management is likely to look at ways to de-lever the company further.
This also comes at a time when Birchcliff well results are exceeding its risk-type curves. It does make sense to dispose assets that you do not plan on developing and reinvesting the proceeds to growing production and paying down debt.
My back of the envelope calculation pegs these assets selling for somewhere around C$50k per flowing boe/d or a netback multiple of 8x. This would give Birchcliff about C$200 million it can use to fund the budget gap difference and pay down debt.
I don't see BIR selling those assets for the NPV of the proved reserves. Most acquirers will use STRIP and this NPV is not using STRIP.
On a technical basis, the shares also appear to be flattening out. It needs to break higher to form a definitive bottoming pattern.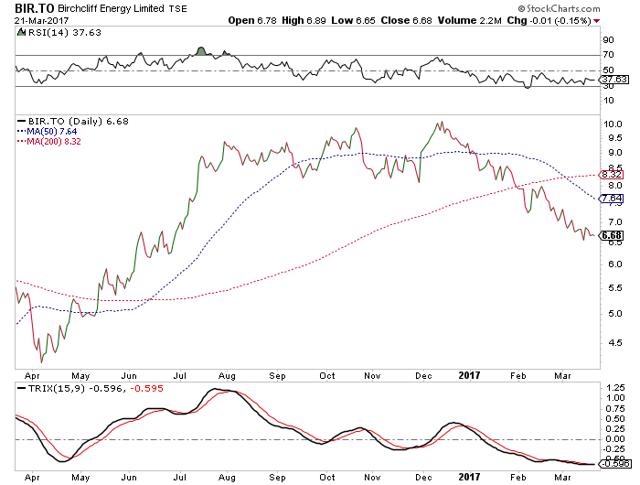 Painted Pony
Wow, this company is giving me all sorts of pain. The worst thing a company can do at the moment is issue a 60% dilution to buy land!
I just had a great discussion with an investment banker in Calgary today, and he told me that the market is just puzzled by the recent acquisition by Painted Pony (PPY.TO, OTCPK:PDPYF). Some sell-side analysts have pegged the deal as a total game changer, while others have said this is the worst deal Painted Pony could've made. I think everyone is still waiting for what the management expects the well results from UGR acreages will deliver. Will Painted Pony recover from these levels?
Certainly, but negative market forces and confusion in the market could see its shares trade even lower.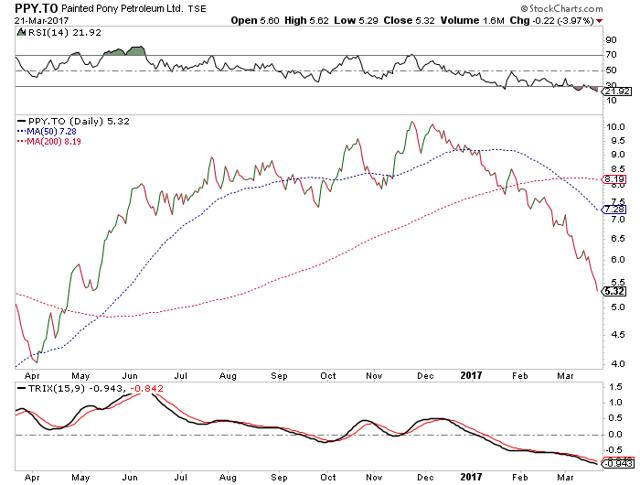 For the time being, the pain will likely continue despite oversold conditions.
Disclosure: I am/we are long BIREF, PDPYF.
I wrote this article myself, and it expresses my own opinions. I am not receiving compensation for it (other than from Seeking Alpha). I have no business relationship with any company whose stock is mentioned in this article.
Editor's Note: This article discusses one or more securities that do not trade on a major U.S. exchange. Please be aware of the risks associated with these stocks.